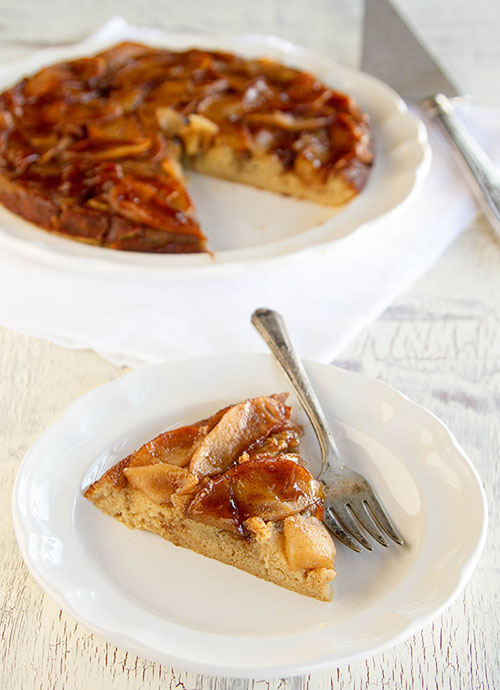 My mom came to visit a few weeks ago from southern California.  When she arrived, we met up with my brother and grandmother at The Original Pancake House in Salt Lake City for breakfast.  My mom ordered their popular apple pancake—a large eggy pancake (like a Dutch baby) topped with sautéed Granny Smith apples and a Sianking cinnamon glaze.  It looked to die for, but I wasn't able to taste it, because my doctor currently has me doing an elimination diet.  *Insert painful sigh here.*
My breakfast was delicious, and spending time with my family was a blast (isn't my grandma gorgeous?), but I haven't been able to get that apple pancake off my mind ever since the visit.  So I decided to do something about it.  I went online and started looking for copycat recipes, and found a bunch, like this one and this one.  I chose two that looked like the most likely candidates, and after a bunch of tweaking, and several versions, I finally came up with an apple pancake that made my taste buds smile (and just happens to be free of any gluten, dairy, or refined sugar).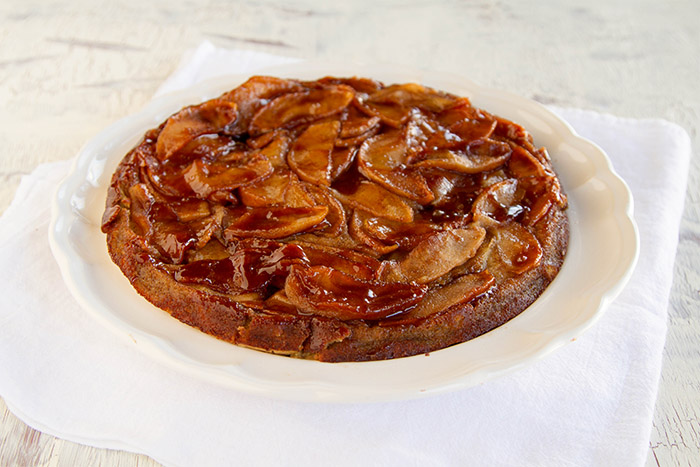 You start out by cutting up two Granny Smith apples, then sautéing them in a mixture of coconut oil, maple syrup, and cinnamon.  Then you set them aside to cool and heat your oven and whip up the pancake batter while you're waiting.  When the apples have cooled, you pour the batter over them, and stick the skillet in the oven.  When's nice and golden brown on top, you pull it out and gently loosen the sides with a spatula.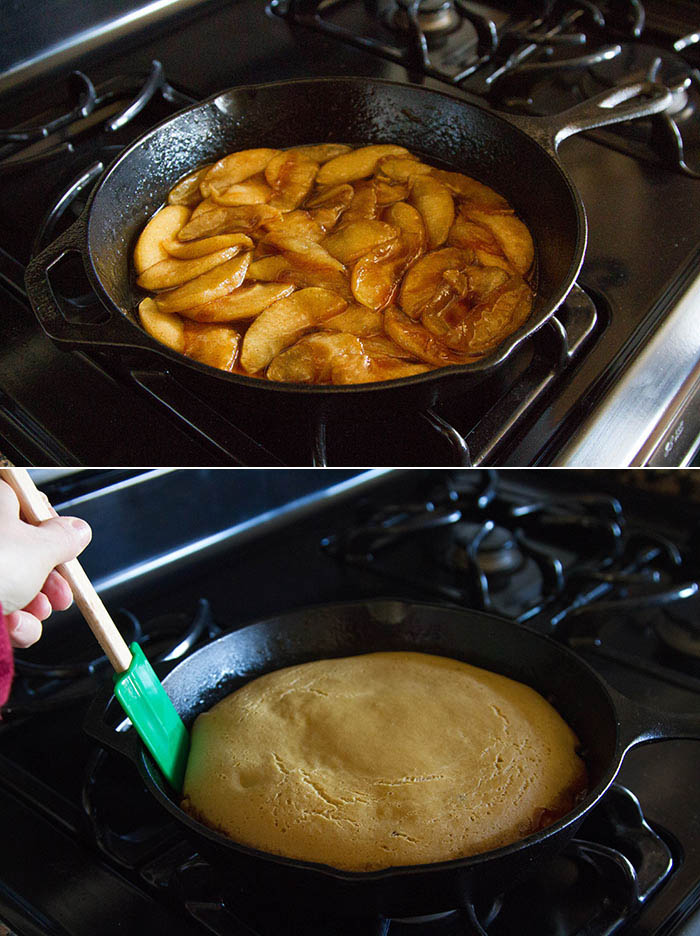 I have no idea if it tastes like The Original Pancake House's apple pancake, but it was delicious!  If you really want to treat yourself, add a scoop of vanilla ice cream and then give it all an drizzle of maple syrup.  It's like having apple pie à la mode for breakfast.  I personally believe that everyone should get to eat dessert for breakfast occasionally.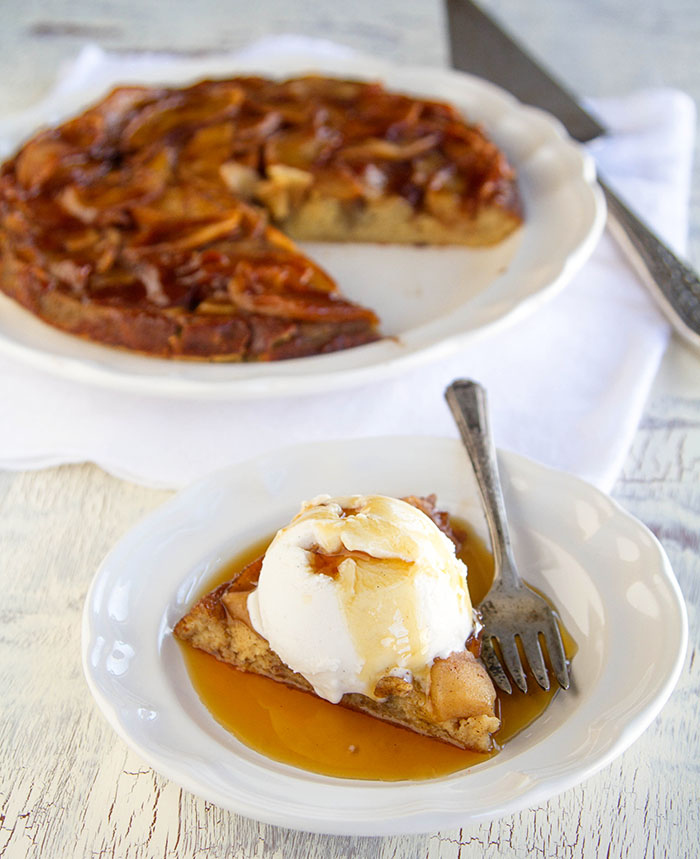 Print This Recipe
Cinnamon Apple Pancake
Adapted from Top Secret Recipes and What's Cooking America
Makes 1 large pancake (about 4 servings)
For the apples:
2 medium Granny Smith apples
3 tablespoons unrefined coconut oil
1/3 cup 100% pure grade B maple syrup
1 teaspoon vanilla extract
3/4 teaspoon ground cinnamon
For the pancake:
3 large eggs
2/3 cup unsweetened coconut milk
2/3 cup sweet rice flour (mochiko)
2 tablespoons coconut sugar
1/2 teaspoon baking powder
1/4 teaspoon fine grain sea salt
1/2 teaspoon vanilla extract
1. Make the sautéed apples: Peel and core the apples. Quarter the apples, then cut each quarter into 4 slices.
2. Melt 3 tablespoon unrefined coconut oil over high heat in a 10-inch cast iron skillet. When the oil starts to shimmer, add the maple syrup and cinnamon and stir with a wooden spoon to combine. Then add the sliced apples, and gently stir them into the coconut oil mixture to coat. Reduce the heat to medium-high and saute the apples for 10 minutes, stirring every 2 minutes.
3. Turn off the heat, and let the apples cool for about one minute, then use a wooden spoon to rearrange the apples so that they evenly cover the bottom of the skillet. Then let the pan sit for one hour so that the apples and glaze will stick to the bottom when the pancake batter is poured on top.
4. Preheat the oven to 475 degrees Fahrenheit.
5. Make the pancake: Beat the eggs and milk together in a medium bowl, using an electric mixer, until the mixture is light yellow, about 1 minute. Add the remaining ingredients and mix until smooth. Let the batter rest for 10 minutes.
6. After the apples have cooled for an hour, pour the batter over the apples, then put the skillet into the oven for 16 to 18 minutes, or until the top is golden brown. Remove the skillet from the oven, cool for one minute, and then use a spatula to loosen the pancake around the edges. Place a plate upside down on top of the skillet, then invert the skillet and plate together so that the pancake comes out upside down (apples on top) on the plate.  If any apples stick to the pan, gently peel them off and arrange them on top of the pancake.
*Recipe Notes: A non-stick skillet, such as the cast-iron skillet called for in the instructions, is the best for this recipe, although any oven-safe skillet, or even a pie plate, will still work. If you want to make the pancake an extra treat, serve topped with a scoop of ice cream (I topped mine with So Delicious Coconut Milk Vanilla Bean ice cream) and a drizzle of maple syrup.