This post is brought to you by the Alaska Seafood Marketing Institute.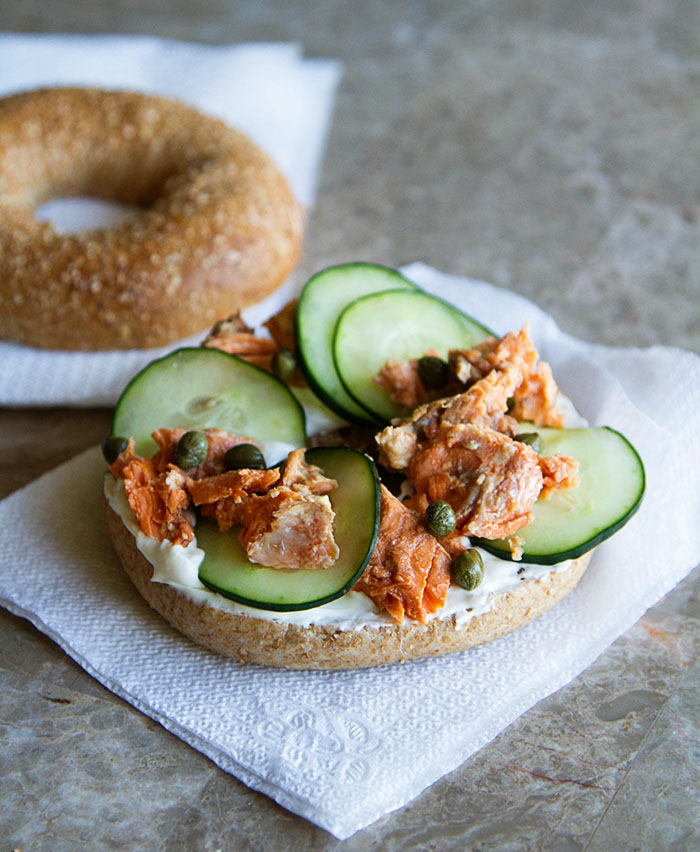 Cooking together is about so much more than preparing food.  By pulling our kids into the kitchen, we can teach them how to feed themselves, but also give them a better understanding of where their food comes from.  But cooking together is also about connecting—spending that time working together side by side, opens up spaces of time where you can build on relationships.  Growing up, I always loved being able to talk to my mom while she was cooking, because the act of cooking took some of her attention off of me, making hard topics easier to discuss.  With Squirrel being in school all day, I don't have as much time with her in the kitchen as I used to, and that realization has me cherishing the moments I have with Bug until she starts kindergarten in August.  It really is best to start cooking with them while they're young! 
Both of my girls are good eaters, but lately Bug has been going through a bit of a picky phase.  Depending on the day, and her mood, she will have a laundry list of items that she says she "doesn't like."  I've found that one of the best ways to get around this list is to get her into the kitchen, using those very ingredients.  It's amazing what a kid will put in their mouth when they were involved with making it!  I know that when it comes to certain foods, like fish, parents sometimes struggle to get their kids to eat it.  In fact, many children (and adults) aren't getting the USDA recommended 2 servings of seafood per week.
My friends at the Alaska Seafood Marketing Institute (ASMI) decided to try and help out with this problem, and partnered up with with some pint-sized chefs (ages 5 to 16) to produce Alaska Style Recipes for Kids, a children's cookbook that shares some delicious and fun ways to prepare seafood for kids of all ages.  ASMI sent me a care package with a few items to get my kids excited about cooking, including a copy of the book and some cooking gear.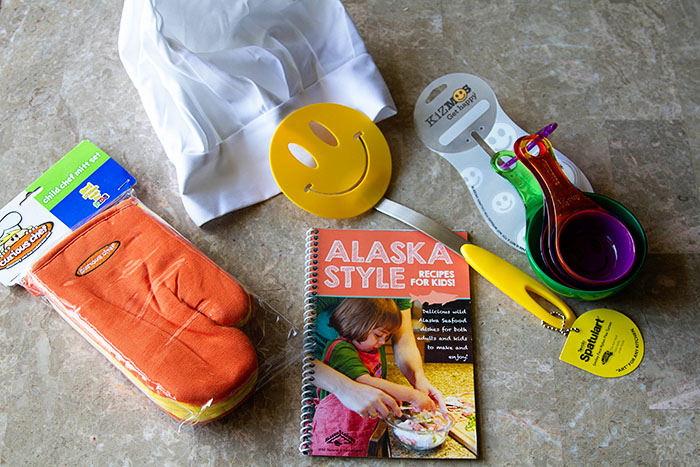 Bug and I sat down one afternoon and flipped through the book, looking at the pictures and reading different facts about Alaska (she has decided she wants Minke whale, living in the Alaskan waters, and eating salmon every day).  Then Bug chose a recipe for us to make—Wild Alaska Salmon and Cream Cheese Bagels with Cucumber.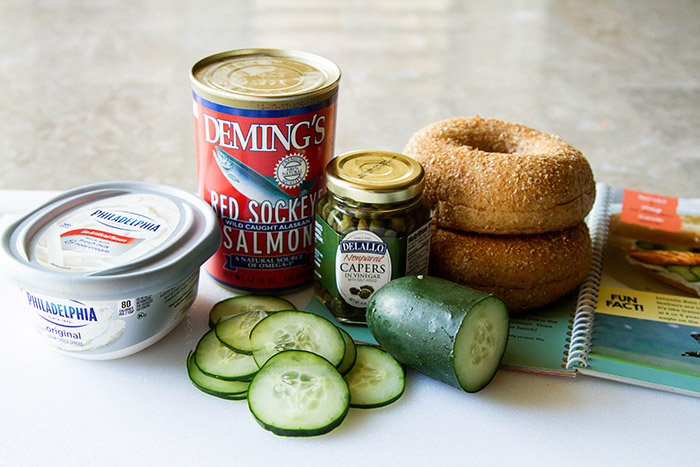 I pulled out the ingredients and set up a little cooking station for her at the kitchen table, and then let her go to work.  All I did was read the steps of the recipe to her and take pictures.  She was pretty darn proud of herself, showing me how her bagel looked "just like the book bagel."  Before she finished making her bagel, she ate quite a bit of the salmon.  I think she's already halfway to her goal of becoming a Minke whale.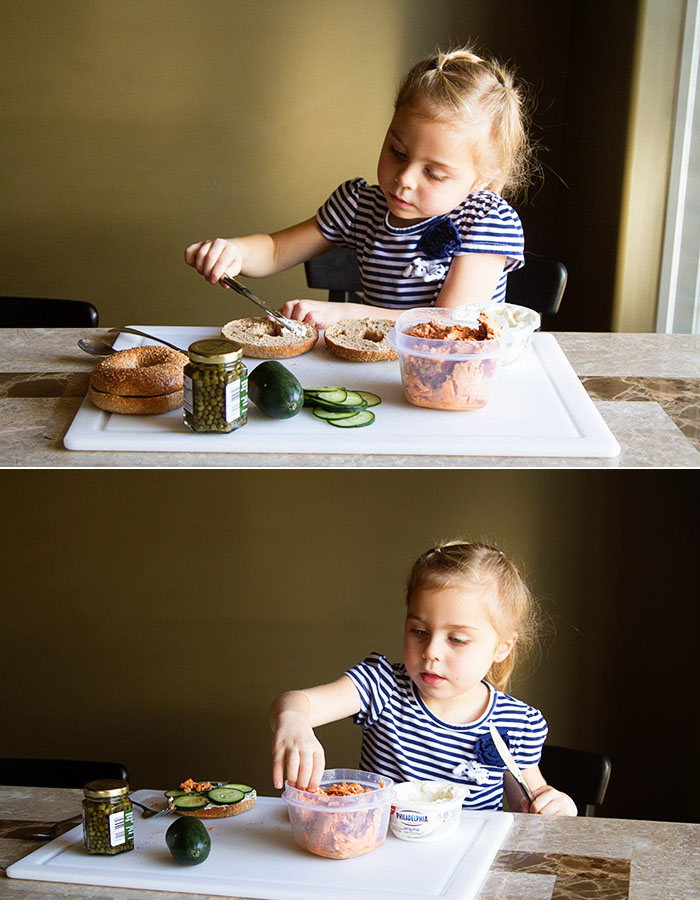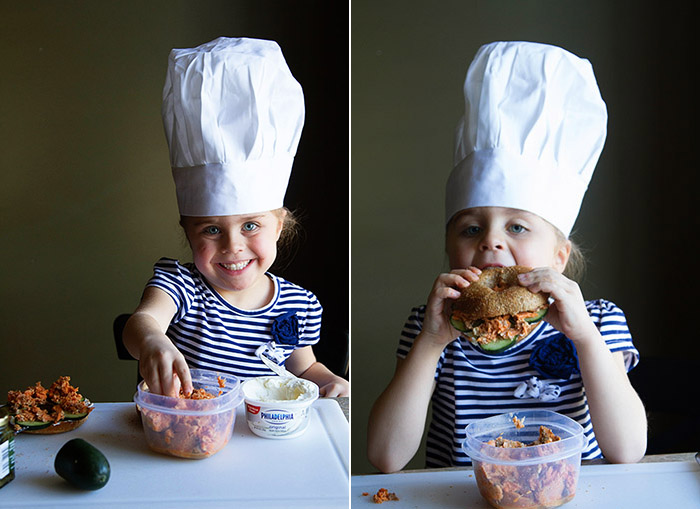 The book is available to download for free, along with an additional book about Alaskan seafood COOK IT FROZEN techniques, teaching how to go from the freezer to the table in minutes.  Grab the books and then get cooking!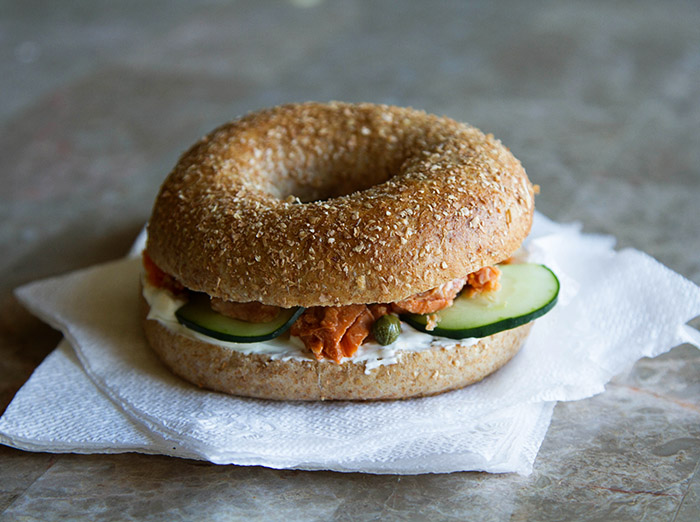 *Disclosure: The Alaska Seafood Marketing Institute provided me with the care package pictured in the post at no cost to me.  I was not otherwise compensated for my time or for writing this post.  As always, all experiences and opinions are my own!