I'm really lucky to have married Mr. Fuji (hopefully he doesn't read this, or I'll never hear the end of this one).  One of the benefits of having married him, is having his mom as my mother-in-law.  Yep, you read that right.  Not only is she an amazing woman and not at all the nightmare of a mother-in-law that so many women claim to have, but she is an amazing mother.  I'm grateful for this, because she raised an amazing son, and now my own children are spoiled to get to be with her (though we wish she lived closer!).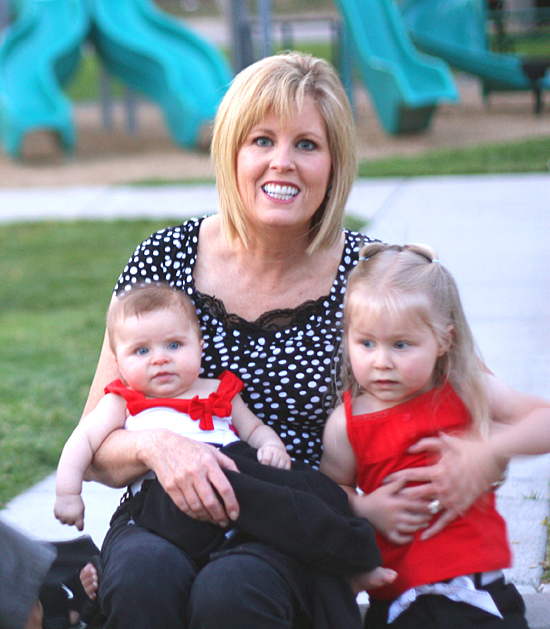 She was the type of mother who believed in having hot meals on the table for her family, and it helped that she's a wonderful cook.  One of the recipes she shared with me when Mr. Fuji and I were newlyweds, was her recipe for caramels.  These are the best homemade caramels I've ever had, and they are easy to make!  You can make them with or without nuts—I prefer them without.  Unfortunately, these caramels have highly addictive qualities, and thus I must urge you to exercise extreme caution when using this recipe.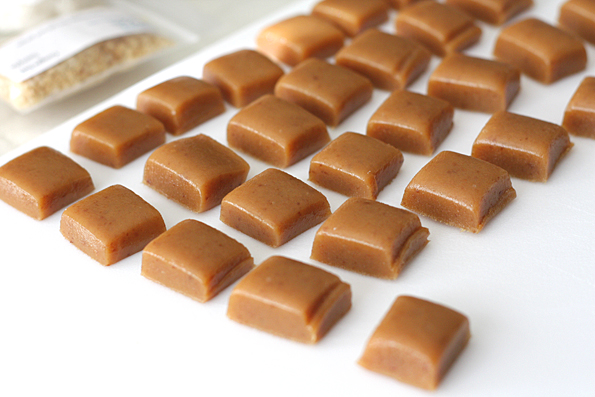 The only hard part about making these, is after you have brought your mixture to a boil and have reduced the heat and are slowly bringing the temperature up to the point where the mixture reaches the firm ball stage—it feels like it's taking FOREVER!  But the mixture does slowly change color and the number on the candy thermometer will finally start to climb again, and then before you know it, it's done and you add in some vanilla extract and nuts if you want them.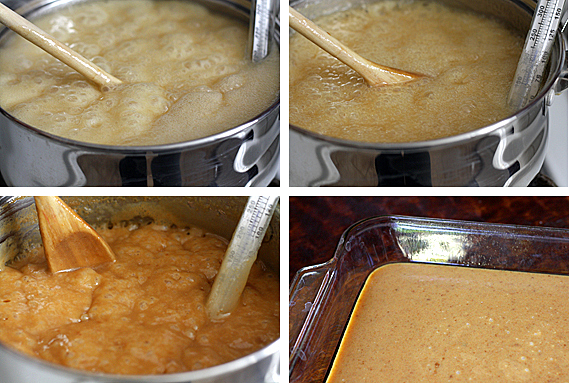 Then you pour the caramel into a greased 13×9-inch pan and set it aside to cool.  I guess this part is hard too if you're like me, because I'm kind of impatient and I have the hardest time refraining from digging in with a spoon at this point.  The only thing preventing me from doing so is the fact that the caramel is way too hot and I'd burn my tongue, and that's really not fun.  When the caramel has finally set, you lift it out of the pan (I use a butter knife to peel up an edge and then pull the whole thing out with my fingers), cut it into strips, and then cut the strips into little squares.  Then, all that's left to do is wrap each square in some wax paper or just pop them straight into your mouth!

This time when I made these caramels, I realized after I'd already measured out all of the other ingredients and put them into my pot, that I didn't have enough light corn syrup.  So, I used half light corn syrup and half dark corn syrup.  This was a fabulous accident, because the dark corn syrup added even more flavor to the caramels.  These caramels are so creamy and wonderful that you will have a difficult time stopping yourself from reaching for another one.  They make a wonderful treat to give to a friend or to set out at a holiday party.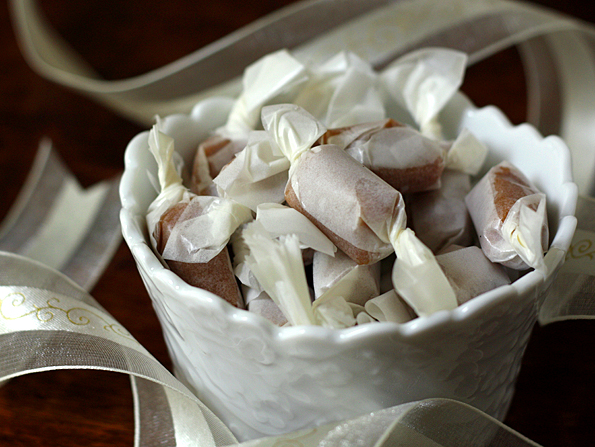 Print This Recipe
Creamy Caramels
Makes one 13×9-inch pan of caramel (actual number of caramels varies depending on how big you make the pieces when cutting up the caramel)
2 cups granulated sugar
8 ounces butter
1 3/4 cups light corn syrup
14 1/2 ounces evaporated milk
1 1/2 tablespoons vanilla extract
1 cup nuts, chopped (optional)
1. Butter a 9×13-inch pan and set aside.
2. Place the granulated sugar, butter, light corn syrup, and evaporated milk in a heavy saucepan (minimum size of 3 quarts)  and cook over high heat while stirring until the mixture reaches 210 degrees Fahrenheit.
3. Reduce the heat to medium and continue cooking and stirring constantly until the mixture reaches 245 degrees Fahrenheit (firm ball stage).
4. Remove the pan from the heat and add the vanilla and nuts and stir quickly.  Pour the caramel into the buttered 9×13-inch pan and set aside to cool.
5. When the caramel has cooled completely, cut into squares and wrap.
Coming Next: Caramels Part 2: Taking caramels to the next level.