When I was growing up I always looked forward to Christmastime and to visiting my maternal grandmother who was German.  She would always have a big platter of Christmas goodies on hand for us to nibble on.  But these weren't just any Christmas goodies, these were
German
Christmas goodies—goodies that she had bought at the German deli, or had brought back from one of her trips home to Germany during the year.  One of the items that was always present was
Pfeffernüsse
, a traditional Christmastime cookie whose name translates to "pepper nuts" in English.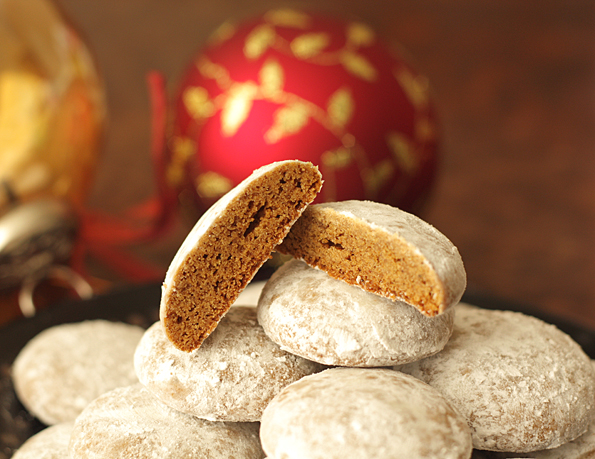 Pfeffernüsse are slightly spicy, small round cookies made with all kinds of good things like butter, molasses, and spices (including pepper, are you surprised?), and I LOVE them.  Pfeffernüsse are hard when they are first baked, but they gradually soften as they age.  With this Christmas being the first without my grandma, I find it appropriate to be making my own Pfeffernüsse.  Celebrating my family heritage brings a bit of her into my family's Christmas season and I have pepper nuts for my Squirrel—it couldn't be more perfect.
If you make these within the next couple of days they'll be perfect for sharing on Christmas Eve or Christmas Day!  They're so easy to make–just mix the dough and chill it.  Then roll the dough into a bunch of little balls (I used a melon baller to keep my dough balls evenly sized),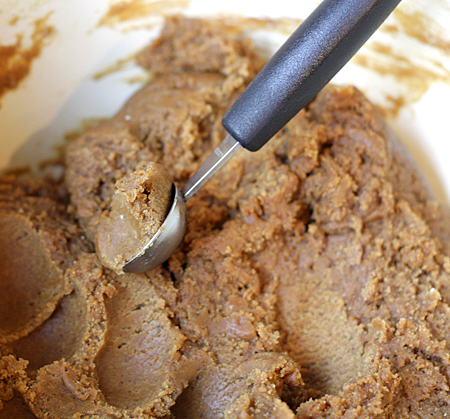 and put them on greased baking sheets,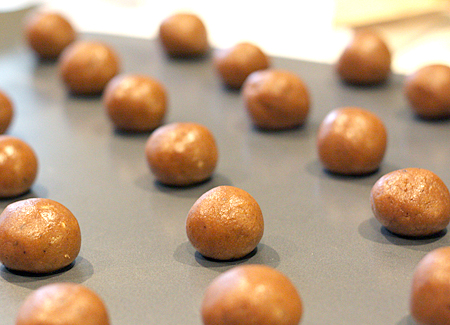 and bake them!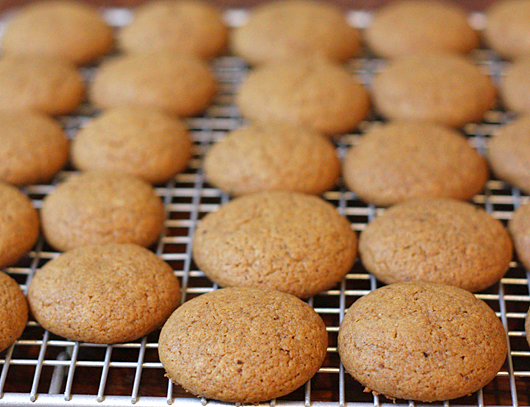 Once they've cooled, you roll them in confectioners' sugar and put them in an airtight container,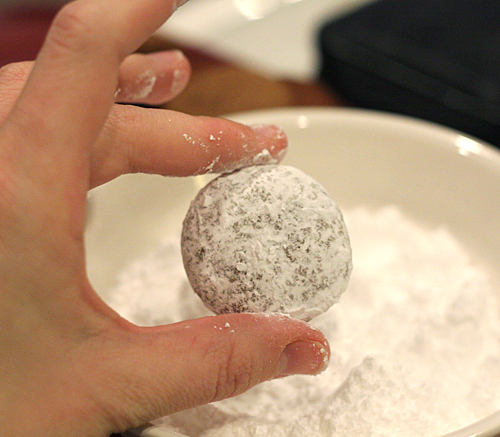 and then let them age a few days (if you can stand it!), and then eat!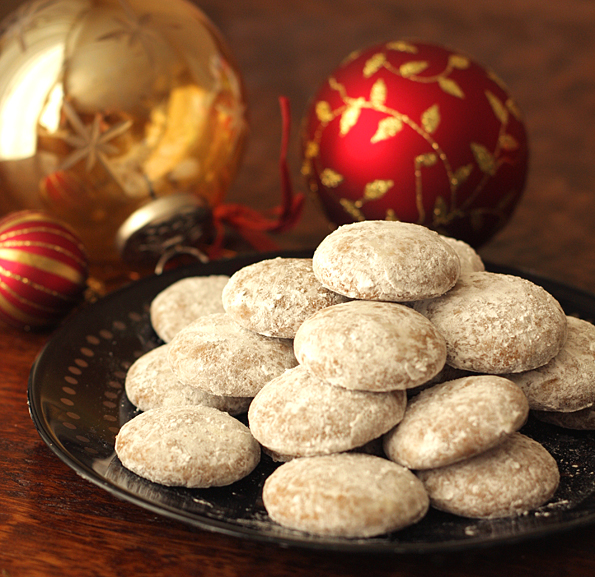 Print This Recipe
German Pfeffernüsse ("Pepper Nuts") Cookies
Makes about 10 dozen cookies
1/2 cup molasses
1/4 cup honey
1/2 cup unsalted butter
4 cups all-purpose flour
3/4 cup white sugar
1/2 cup brown sugar
2 teaspoons ground cinnamon
1 1/2 teaspoons baking soda
1 1/2 teaspoons ground cardamom
1 teaspoon ground allspice
1 teaspoon ground nutmeg
1 teaspoon ground cloves
1 teaspoon ground ginger
1 teaspoon ground black pepper (freshly ground is best)
1/2 teaspoon table salt
2 eggs, lightly beaten
2 teaspoons anise extract
1 cup confectioners' sugar for dusting
1. In a heavy bottomed, nonreactive, 1 to 1-1/2 quart pot, combine the molasses, honey, and butter.  Place the pot over low heat, stirring often until the butter has melted, all the ingredients are completely combined, and the mixture is creamy.  Do not boil.  Remove the pot from the heat, pour the mixture into a large bowl, and set aside and allow the mixture to cool to room temperature.  Stir in the beaten eggs and the anise extract.
2. While the mixture is cooling, sift together the flour, white sugar, brown sugar, cinnamon, baking soda, cardamom, allspice, nutmeg, cloves, ginger, black pepper, and salt in a separate bowl.  When the molasses mixture has reached room temperature, stir in the beaten eggs and the anise extract.  With a large wooden spoon, gradually stir in the sifted dry ingredients until everything is thoroughly combined (the dough will be a stiff dough by this point).  Chill the dough in the refrigerator for a minimum of 2 hours.
3. After the dough has chilled, preheat the oven to 325 degrees Fahrenheit.  Grease several baking sheets.  Roll the dough into small balls (about 1/2-inch in diameter).  Place the balls on the greased baking sheets, spacing them at least 1 inch apart, as they will spread slightly.
4. Bake the cookies in the preheated oven for 12 to 15 minutes, until the cookies have lost their shiny look and are slightly firm to the touch (but still soft).  The cookies may have some small cracks as well.  Using a thin spatula to remove the cookies from the baking sheet, move them to a rack to cool.  Once the cookies have cooled completely, roll each cookie in sifted confectioners' sugar to coat thoroughly.  Store in an airtight container with wax paper between the layers at room temperature.  Allow the cookies to "age" at least 24 hours before serving (a few days to a week is even better).  If desired, roll cookies in confectioners' sugar to coat them once more before serving.
==============================================
The 12 Days of Sharing is almost over, so please give the gift of a full tummy to one of the 17 million hungry children in this country by donating now.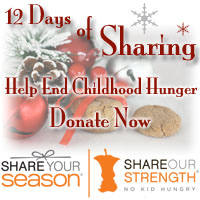 Visit me at Oprah.com where I'm a featured blogger along with some of my dear friends and amazing bloggers, Jaden Hair, Jennifer Perillo, Diana Bauman, and Jen Schall.