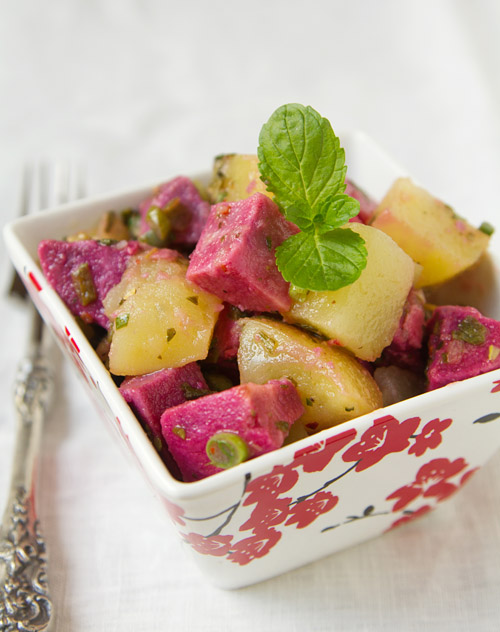 I'm a potato lover.  After my trip to Idaho last fall, I went from being a Russet girl (though I still love my Russets!) to being a Klondike Goldust devotee.  I cannot get enough of their beautiful color and creamy flesh (and thin skin that I don't have to peel!).  And then there are my beloved purple sweet potatoes…so what's a potato lovin' girl to do?  Why, make potato salad of course!  My two favorite spuds marry beautifully in this potato salad.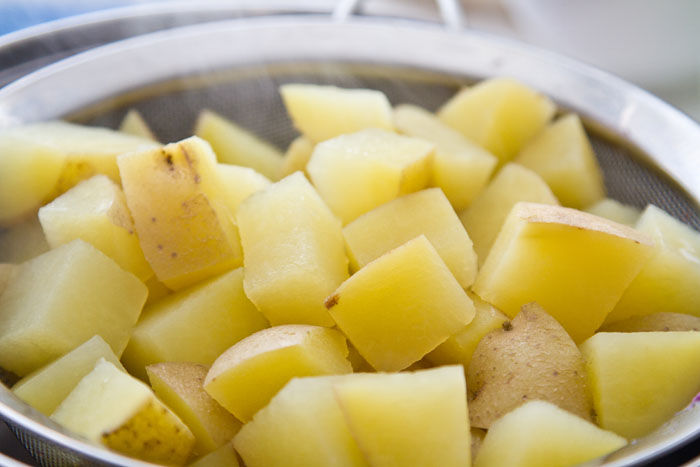 The salad is made with a lemon juice, olive oil, and rice wine vinegar dressing that you pour over the potatoes while they're still hot, and then you put it into the refrigerator to chill for about an hour, so that the potatoes soak in all of the flavorful goodness from the dressing (much like making a German potato salad).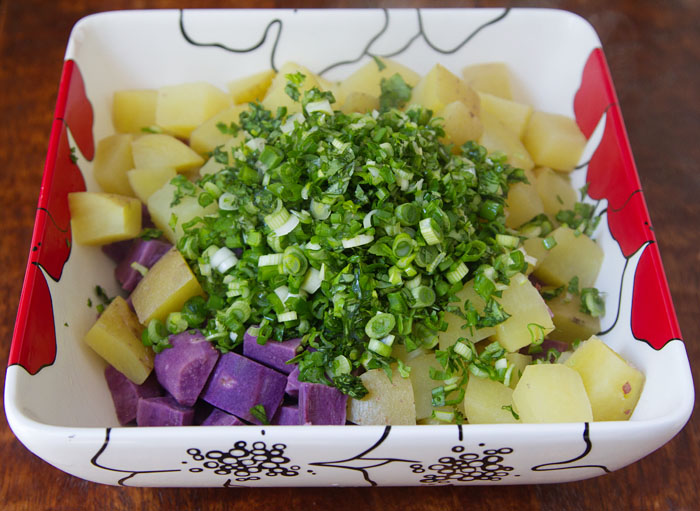 At this point I like to pull it out and serve it, because I find that the flavors are perfect.  You can let it chill for longer and it will still be delicious, but the purple potatoes will start to bleed into the dressing ever so slightly.
Not only is this salad delicious, but it packs a nutritional punch.  One serving of Klondike Goldust potatoes (5.3 ounces) provides 45% of your daily requirement of Vitamin C and 6% of your daily requirement of iron!  Purple sweet potatoes are unusually high in antioxidants, such as the ones found in blueberries, and they have a low glycemic index.  Talk about tuberrific!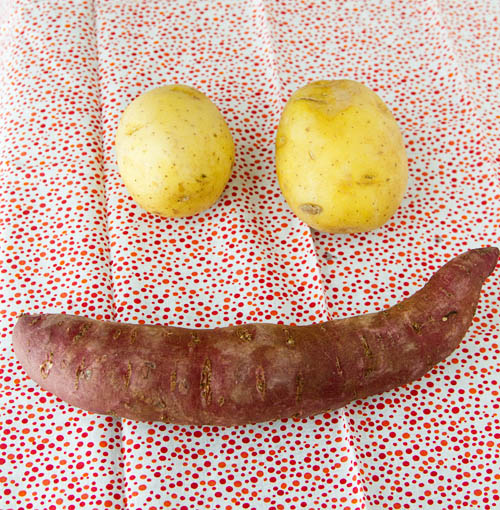 Golden Purple Potato Salad is a vibrant potato salad sporting gold and purple hues (surprise, surprise!) from Klondike Goldust potatoes and purple sweet potatoes.  It's dressed with a tangy dressing made with lemon juice, olive oil, and rice wine vinegar, plus lots of fresh herbs and spices.  It's the perfect salad for Mardi Gras because of its colors, or for your Super Bowl party, considering the Super Bowl is in New Orleans this year!  It's also perfect "just because" . . . because it's delicious!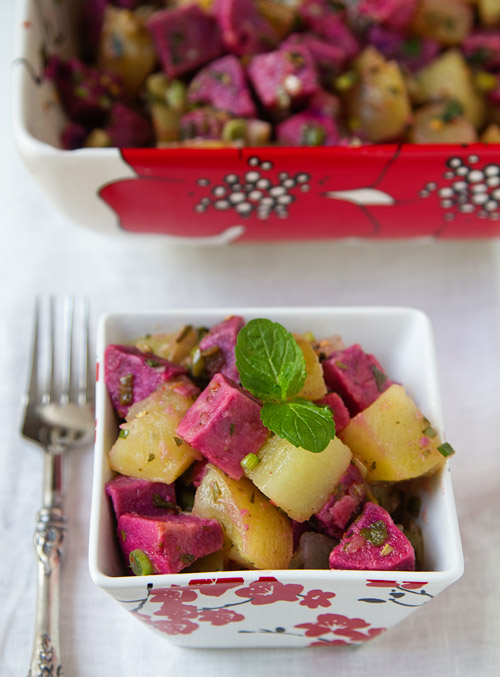 Print This Recipe
Golden Purple Potato Salad
Makes approximately 6 to 8 servings
1 1/2 pounds Klondike Goldust potatoes (or other yellow-fleshed potatoes), scrubbed but not peeled
1 1/2 pounds purple sweet potatoes, scrubbed and peeled
1/4 cup fresh mint, chopped
3 tablespoons fresh basil, chopped
9 green onions, thinly sliced
6 tablespoons freshly squeezed lemon juice
1/2 cup extra virgin olive oil
2 tablespoons rice wine vinegar
3/4 teaspoon crushed red chili pepper flakes
3/4 teaspoon freshly ground black pepper
3/4 teaspoon fine grain sea salt
1. Cut the potatoes into small cubes. Put the pieces in a medium saucepan and add enough water to cover them. Cook the potatoes over medium heat until soft, then drain the water and place the potatoes in a medium bowl.
2. While the potatoes are cooking, cut the sweet potatoes into small cubes and cook them the same way you cooked the potatoes in step 1. Put the cooked sweet potato pieces into the bowl with the potatoes.
3. Add the mint, basil, and green onions to the potatoes and mix well, being careful not to crush the potatoes.
4. Whisk the olive oil and lemon juice together in a small bowl, then stir in the red chili pepper flakes, black pepper, and salt. Pour the dressing over the potatoes. Cover the salad with plastic wrap and chill in the refrigerator for an hour before serving.
*Disclosure: I was not compensated by either Klondike Brands or Frieda's for this post. I just love their spuds!