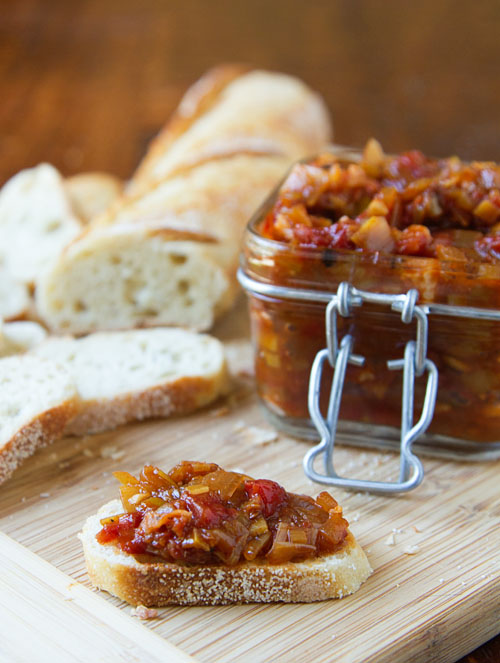 The story of my tomato bacon chutney is one of sheer will and determination triumphing over my proverbial MBS ("Mommy Brain Syndrome").  Tomato bacon chutney is one of those condiments that could be eaten on so many things that I should just plan on always having a container of it sitting in the fridge.  Versatility is a huge asset, don't you think?  A couple of weeks ago I received an email from Muir Glen Organic with some recipes to look at as inspiration for any recipe development I might be doing for the Super Bowl.  I love these types of emails, as they can be great catalysts for brainstorming new ideas.  The email contained a link to a recipe on Muir Glen Organic's website for Bacon Ketchup, which I immediately clicked on, because really, who wouldn't?  (Ok, if you wouldn't, I don't want to know, and don't know if we can be friends anymore, unless you have a tomato allergy or something.  Ok, just kidding, that might be a bit extreme.  But really?)  I scanned the list of ingredients and looked at the method and then got distracted and forgot about it.  Then a few days ago I started doing some inventory on my pantry and while organizing my cans of tomatoes and tomato paste, my cans of Muir Glen Organics tomatoes reminded me of that Tomato Bacon Ketchup recipe.  So I hopped online and realized that the recipe would be the perfect way to use up a half package of smoked bacon that was in my refrigerator needing to be used.  I didn't have any green bell peppers and fresh thyme, however, and when I went to get my balsamic vinegar from the pantry, there were only a few drops sitting forlornly at the bottom of the bottle.  Never mind, I was not going to let this deter me, nor was I going to make a special trip to the grocery store.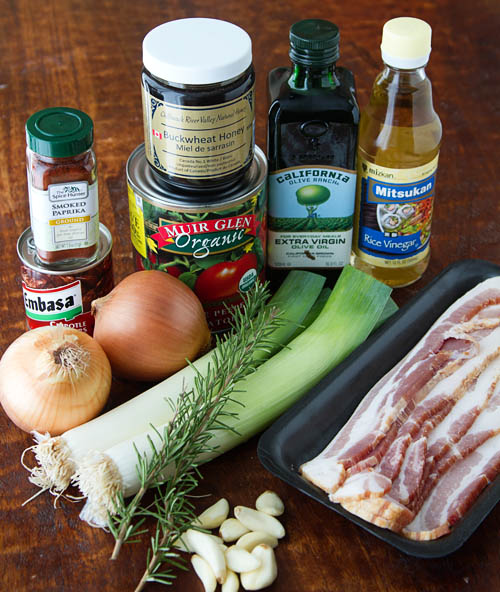 I substituted two orphaned leeks for the green bell peppers and added an extra onion.  Instead of fresh thyme, I snipped a sprig of rosemary from my garden, and just because I felt like it, I pulled out a can of chipotle peppers in adobo sauce from the pantry and chopped up one of them as well.  In place of the balsamic vinegar, I used rice wine vinegar, which I buy by the bucketload because I use it so often, and while I was on a roll, I decided to substitute some buckwheat honey that I had purchased in Vancouver, Canada last November for the brown sugar called for in the original recipe.  I laughed as I noticed my lineup of ingredients before I started cooking.  It consisted of some of my most favorite things!  *Cue Julie Andrews singing My Favorite Things here*  Smoked paprika and smoked bacon (yeah, I love anything smoked!), onions, leeks, garlic, rosemary, Muir Glen organic tomatoes (they have the best taste!), dark buckwheat honey from Chilliwack River Valley Natural Honey, Mitsukan rice vinegar, and extra virgin olive oil from California Olive Ranch.
I got the ingredients going, but at the point when I was supposed to let the mixture simmer for an hour, I realized that I needed to go and pick up Squirrel from school.  Mommy brain strikes again!  But I was on a roll, remember?  Undeterred, I pulled out my slow cooker and transferred everything into it and set it to cook on high.  By the time I got home I had time to cook up the bacon and clean the kitchen up a bit before I had to finish up the cooking process.  Score!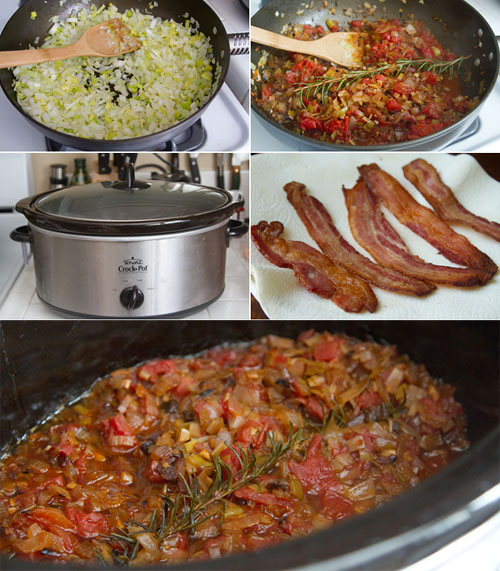 The result was less of a ketchup and more of a sweet, spicy, and tangy chutney.  I cut a baguette into thin slices and liberally applied the chutney for an afternoon snack.  The score for this round: Rachael = 1 vs. Mommy Brain = 0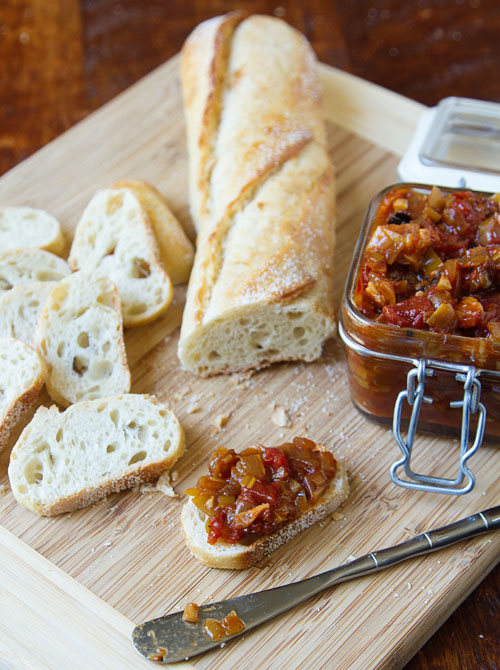 Print This Recipe
Tomato Bacon Chutney
Makes about 3 1/2 cups
Adapted from Muir Glen Organic's Bacon Ketchup Recipe
2 medium yellow onions, diced into small pieces
2 leeks, chopped
10 cloves garlic, diced into small pieces
2 tablespoons olive oil
1/3 cup honey (the darker the better!)
1 can (28 ounces) whole peeled tomatoes, strained and chopped
1 chipotle pepper, diced into small pieces
1 teaspoon smoked paprika
1 sprig fresh rosemary
Salt and pepper to taste
2 tablespoons rice wine vinegar
5 pieces thick smoked bacon
1.Preheat the oven to 350 degrees Fahrenheit.
2. Saute the onion, leeks, and garlic until tender in the olive oil.
3. Add the honey to the onion mixture and cook for a couple of minutes until the honey is well integrated. Then add the tomatoes, chipotle pepper, paprika, and sprig of rosemary, and stir to combine.
4. Finish on the stovetop or in a slow cooker:
-To finish on the stovetop—Let the chutney simmer over low heat for about 1 hour.
-To finish in a slow cooker—Transfer the chutney to a slow cooker. Cover the slow cooker and cook on high heat for 2 hours.
5. While the chutney is simmering, place the bacon strips on a foil-lined baking sheet and cook them in the preheated oven until they are crispy all over. Drain the bacon on paper towels and then dice into small pieces and set aside.
6. After the chutney has finished simmering, add salt and pepper to taste, then stir in the rice wine vinegar. Remove the sprig of rosemary, then fold in the diced bacon. Serve as a warm condiment or chill to use as a cold condiment. The chutney will keep in the refrigerator in an airtight container for about three weeks.
*Disclosure: I was not compensated in any way for this post. I'm just a big fan of the products I mentioned and wanted to share!