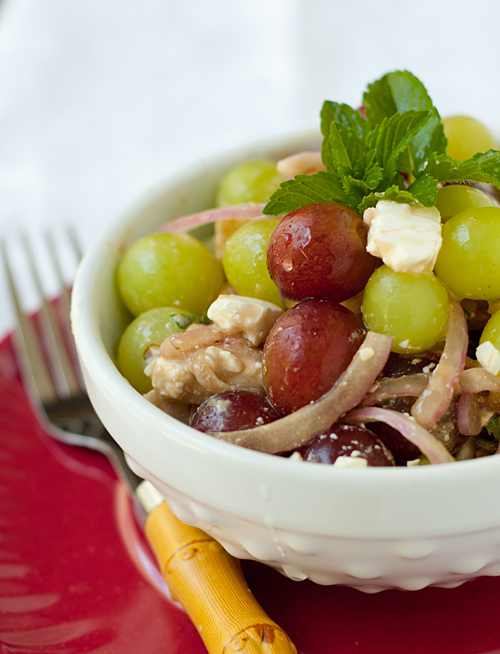 Happy 2nd day of Grape Week!!  Today I've got a salad recipe coming your way, AND a giveaway! (Details after the recipe!)  A few years ago a family friend visited from England and made us a wonderful dinner during her stay.  One of the things she made was a watermelon and feta salad, a salad popular in Greece during the hot summer months.  I was pregnant with Squirrel at the time, and this refreshing salad really hit the spot.  When I was planning Grape Week I remembered that visit and thought that a grape-ified version might be wonderful.  I had no idea how right I was!  This was one of those creations that happened to be even better in reality than what I had dreamed up in my head.  I mixed red and green grapes for color and for maximum flavor.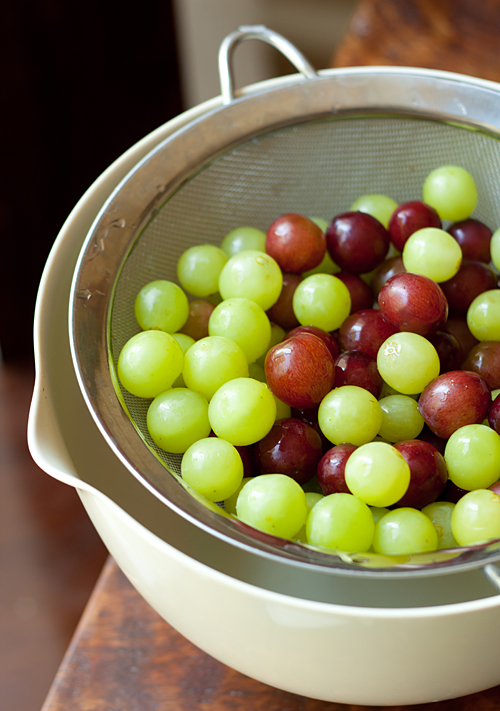 I soaked thin slices of red onion in lime juice for a few minutes to soften their "onion" flavor so that my girls would eat them, and to add some citrusy tang.  Then I mixed everything together!  The result? A refreshing salad with saltiness from the feta, tang from the lime juice and red onions, hint of minty freshness from fresh mint, and juicy bursts of sweetness from the grapes.  Not only is this salad refreshing, but it's good for you too!  A 3/4 cup serving of grapes contains only 90 calories, no sodium or cholesterol, and virtually no fat.  Grapes contain potassium and vitamin K, as well as a small amount of fiber and other vitamins and minerals.  Another great (or should I say grape?) thing about this salad is that it keeps really well in the fridge, so that if you don't eat it all the first day, it will still be delicious the next!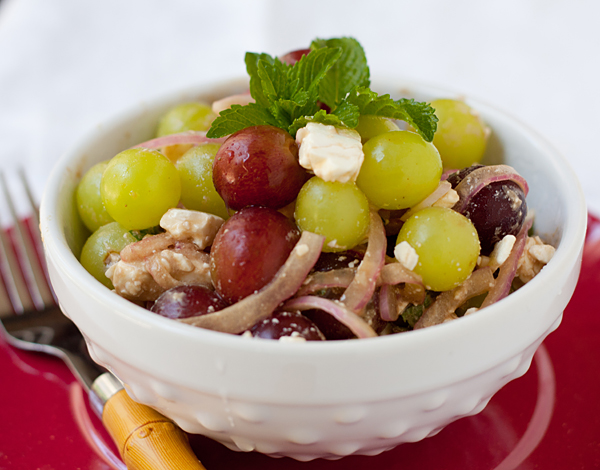 Print This Recipe
Grape and Feta Salad
Makes 6 servings
1/4 medium red onion, cut into thin slices
1 tablespoon lime juice
1 1/2 cups red grapes
1 1/2 cups green grapes
3/4 cup feta cheese, crumbled or cubed
1 tablespoon chopped fresh mint
3/4 teaspoon balsamic vinegar
mint sprigs, to garnish
1. Soak the sliced red onion in the lime juice for about 10 minutes.
2. Gently combine all the ingredients in a large serving bowl. Garnish with fresh mint sprigs and serve.
=======================================================
GRAPE GIVEAWAY! Win a copy of the cookbook Green Black Red: Recipes for Cooking and Enjoying California Grapes
The California Table Grape Commission has generously offered a copy of their cookbook, Green Black Red: Recipes for Cooking and Enjoying California Grapes (mentioned in my post about Grape and Rosemary Focaccia) for one of my lucky readers!
To Enter:
1. Leave a comment on this post telling me your favorite way to cook with fresh grapes. The winner will be picked, using Random.org.  The winner will receive a copy of Green Black Red: Recipes for Cooking and Enjoying California Grapes.  Contest starts today, June 7, 2011 and will end on June 11th, 2011 at 10pm PST.
Bonus Entry:
2. Tweet about this giveaway, then come back and leave a second comment on this post telling me you did so.  To make it easy, you can just copy and paste this tweet if you'd like: A Grape Cookbook #Giveaway from @fujimama and California Table Grape Commission!: http://su.pr/1rtxtW #CAGrapeWeek