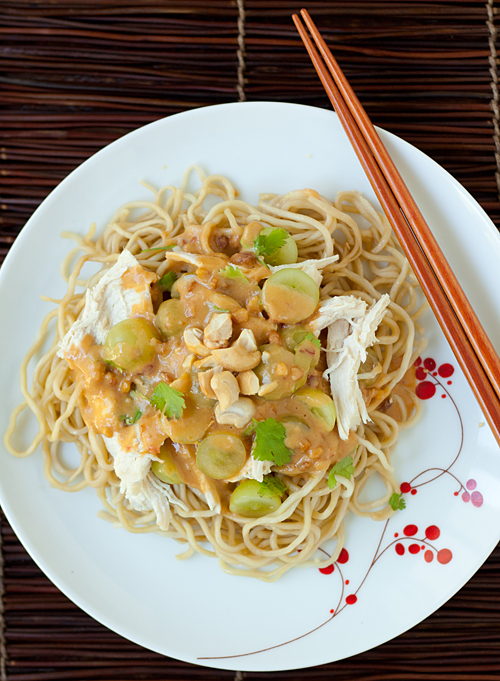 When I was growing up, one of my favorite dinners that my mom made was a dish called "Creamy Chicken and Grapes."  It consisted of pieces of chicken in a creamy sauce with whole green grapes that was eaten over fat egg noodles.  The main dish idea I'm sharing with you today for Grape Week was inspired by that recipe.  This recipe also features chicken, grapes, and noodles.  But instead of egg noodles it uses chilled chuka soba ("ramen" noodles) and features a spicy peanut sauce instead of a mild cream sauce.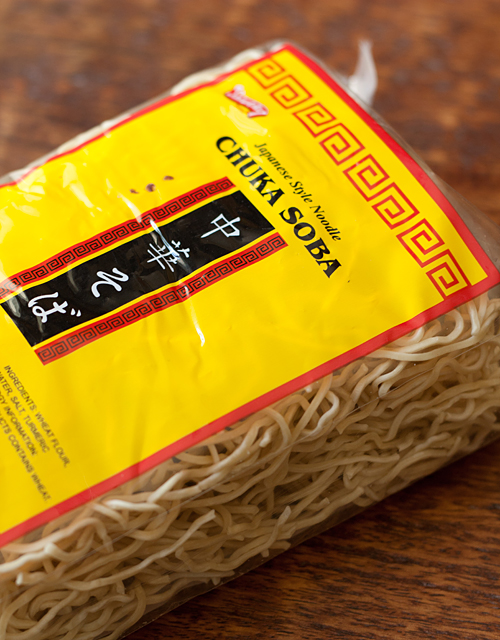 I decided to cut the grapes in half instead of leaving them whole so that they don't go rolling off the plate, but you can leave them whole if you prefer!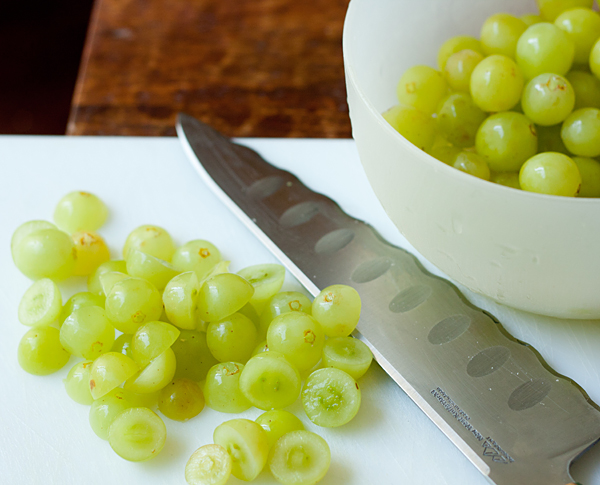 This is a great summer meal because all of the elements can be made ahead and then assembled when you're ready to eat, all without spending much time cooking and heating up the kitchen!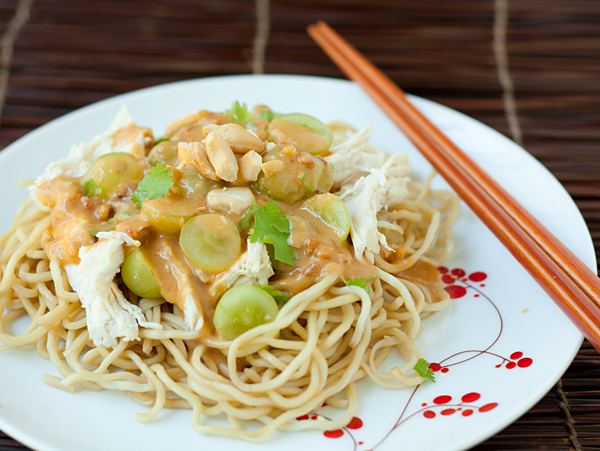 Print This Recipe
Grape and Chicken Noodle Salad with Peanut Sauce
Makes 5 to 6 servings
8 ounces dried chuka soba noodles, cooked according to package directions
2 tablespoons soy sauce
1 teaspoon toasted sesame oil
4 skinless chicken breast fillets (about 2 pounds)
For the peanut sauce:
2 tablespoons peanut oil
2 teaspoons grated fresh ginger
1/3 cup crunchy peanut butter
2 teaspoons sambal oelek (chili sauce)
2/3 cup vegetable stock
2 cups halved green grapes
1 small handful freshly chopped cilantro
1 large handful chopped salted cashews, to garnish
1. Toss the cooked noodles in the sesame oil and soy sauce, cover and chill until needed.
2. Boil the chicken until cooked (about 10 minutes, depending on the thickness of the breast). Drain and shred by hand.
3. Make the peanut sauce: Mix all the ingredients in a medium saucepan and heat over medium-high heat until the sauce starts to bubble. Turn off the heat and transfer to a bowl. If the sauce is too thick, add water to reach the desired consistency.
4. Top the noodles with the shredded chicken, grapes, and cilantro. Drizzle the warm sauce over the top, then sprinkle with cashes and serve immediately.