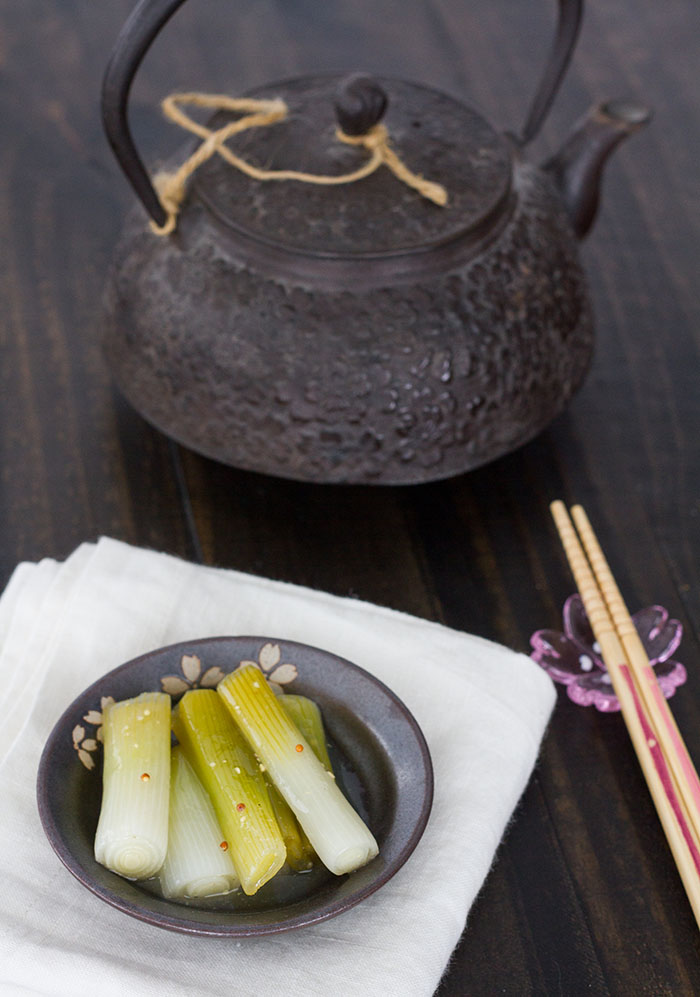 My friend Noriko makes the best marinated naga negi (negi no doresshingu zuke . . . "dressing preserved onions").  She has made them the last couple of times we have visited and I've had to restrain myself from being rude and eating the whole batch.  Naga negi translates directly to mean "long onion" in Japanese.  It's a type of onion that looks like a giant scallion and has a similar texture and taste, though the taste is slightly more mild that scallions.  Some people have compared the texture to leeks and I always tended to agree, until recently.
I have been craving Noriko's marinated naga negi ("negi no doresshingu zuke") and decided it was time for me to figure out the best way to make them here in the US, since naga negi can be a bit harder to find, depending on where you live.  I purchased some naga negi from the Asian market that's about 30 minutes away, as well as a bunch of scallions and leeks, and started experimenting.  I made several batches with each, experimenting with boiling the onions versus steaming, and playing with the amounts of the ingredients to match the variation in flavor of the various onions.  I found that contrary to my previous opinion, scallions are much more like naga negi than leeks.  Naga negi get nice and tender when cooked, whereas leeks have a firmer core and stay a bit "woodier" than naga negi, unless cooked longer, but then they lose the texture I was looking for.  With naga negi I liked both boiling and steaming, but with scallions I felt like steaming resulted in the best texture.  Another added bonus of steaming, versus boiling, is that you retain more of the nutrients.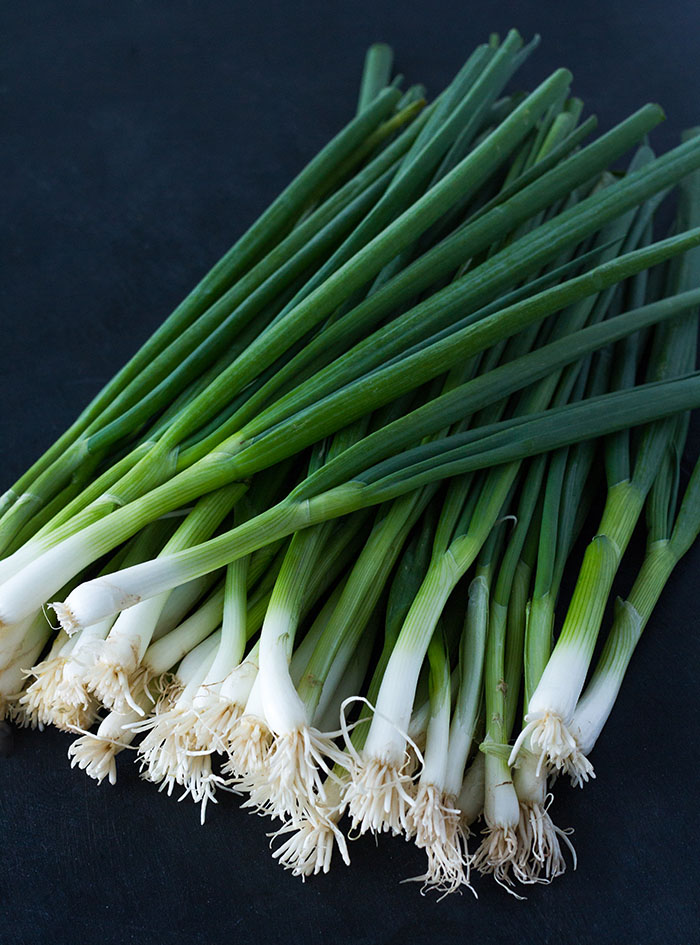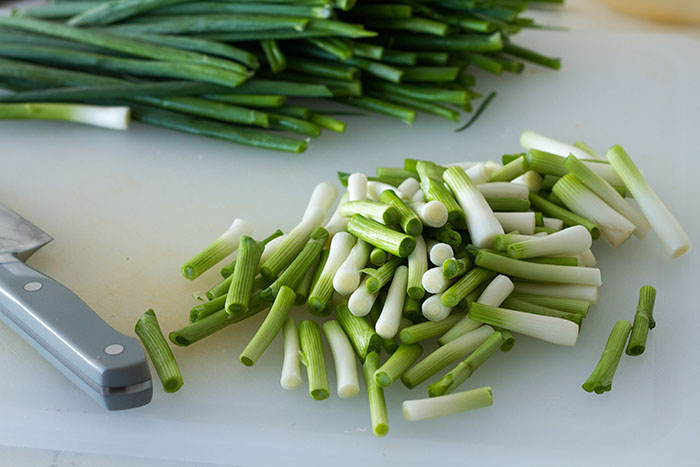 The marinade is made with mustard, vinegar, oil, salt, and pepper.  You can also stir in some freshly chopped parsley if you like.  I've been trying to reduce the amount of oil I'm using in cooking and so replaced the oil in this marinade with a water and arrowroot powder substitution that I love.  Seriously.  In dressings like this my family can't tell the difference.  You could also use cornstarch, but I personally like the results better when I use arrowroot powder.  The only downside to this substitution is that it requires a bit of advanced prep.  Once this is done you just whisk in the rest of the ingredients.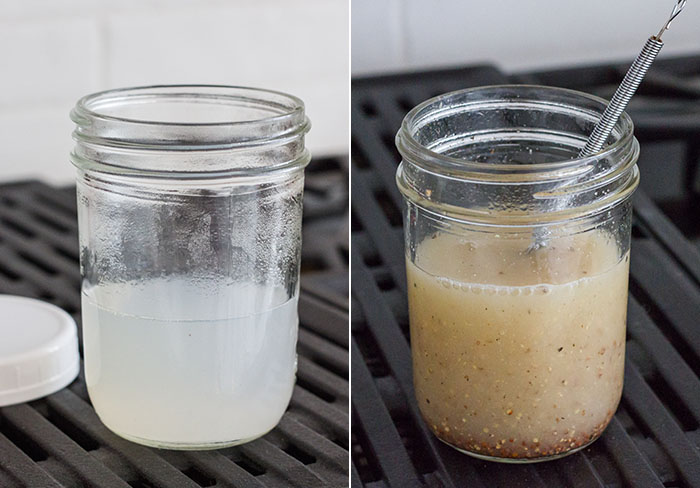 I like to make the marinade first and then steam the scallions until they are just tender.  Then I put the scallions in a container and pour the marinade over them while they are still hot, which allows them to soak up more of the flavor.  I let them sit until they have cooled before covering them with a lid and putting them in the refrigerate to chill, so that no unwanted bacteria grows (bacteria loves a warm, moist environment).
Once chilled they make a great side dish.  I like to serve them like any Japanese tsukemono (Japanese preserved vegetables), which are a traditional accompaniment to rice and miso soup. They are also delicious in a sandwich!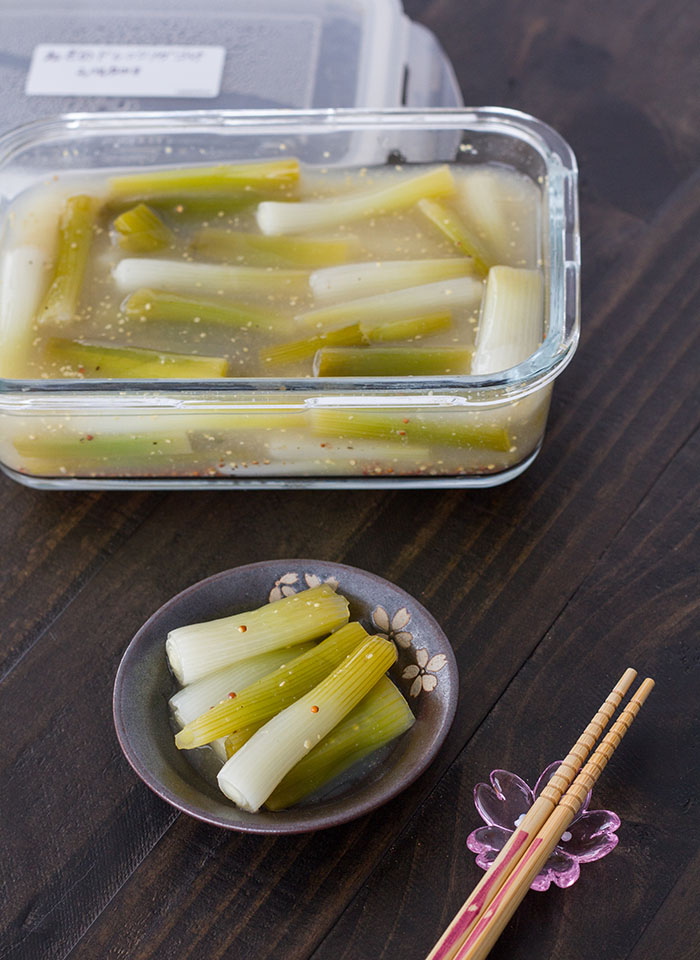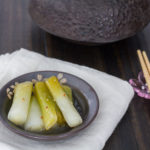 Marinated Scallions -- Negi No Doresshingu Zuke
These marinated scallions are a take on Japanese tsukemono (Japanese preserved vegetables) and make a wonderful side dish or sandwich topping!
Ingredients
1

cup

water

1

teaspoon

arrowroot starch

4

tablespoons

unseasoned rice vinegar

4

teaspoons

whole grain mustard

1/2

teaspoon

fine grain sea salt

1/4

teaspoon

freshly ground black pepper

1 1/2

pounds

scallions, white and light green parts cut into 2-inch long pieces
Instructions
Whisk the arrowroot starch with a small amount of the water in a small saucepan. Once that is mixed, slowly whisk in the rest of the water. Bring the water to a boil over medium-high heat, then reduce the heat to maintain a simmer and continue simmering for 5 minutes. After 5 minutes, remove the saucepan from the heat and pour the liquid into a heat resistant container, like a glass jar and let it cool until it's warm. Cover the container with a lid and refrigerate. Once it is chilled, it is ready to use.

Once the arrowroot mixture has chilled, whisk in the rice vinegar, whole grain mustard, salt and pepper, then set aside.

In a saucepan fitted with a steamer basket, bring 1 inch of water to a boil. Add the scallions to the steamer basket, cover and steam until just tender. Steaming time will vary depending on how thick your scallions are, but begin checking them after 3 minutes of steaming time.

Drain the scallions and put them into a container for marinating. Pour the marinade immediately over the scallions and gently stir so that the scallions are completely coated. Let the scallions cool before putting a lid on the container and putting it in the refrigerator to chill. The scallions are ready to eat once chilled. They will keep in the refrigerator for about a week.