My Mexican Pizza topped with a fragrant tomato sauce, creamy queso fresco, red onion, and escabeche (pickled jalapenos and carrots) was inspired by a pizza I ate pool-side more than once during my trip to Cancun last month with Mr. Fuji.  The resort has a pizza oven outside next to one of the pools, and during the day you can go over and order a personal sized pizza to go.  The crust is thin and chewy, with that delicious smokey char flavor that you can only get from a pizza oven.  They top their pizzas with pizza sauce, cheese, chorizo, onions, and pickled jalapenos and carrots.  It was surprisingly good and extremely addictive.  ManPans has a new pizza pan out, and when I came home from Cancun I knew exactly what I wanted to make to try out the new pan! (Disclosure: ManPans sent me a pizza pan to try out.)
I took a ball of pizza dough and rolled it out into a thin circle, then topped it with a simple tomato sauce I made using crushed tomatoes and spices, then some crumbled queso fresco cheese, sliced red onion, and escabeche.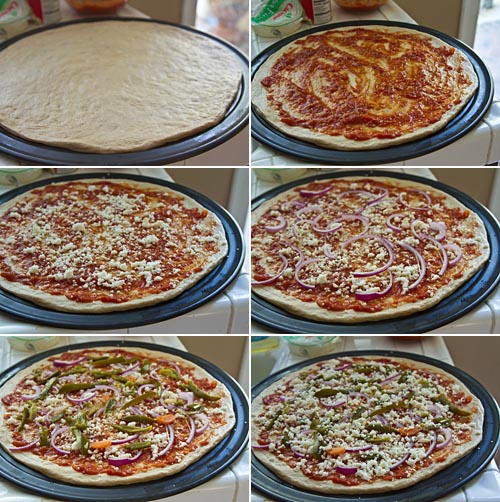 I cheated and used canned escabeche, but you can always make your own!
The ManPans pizza pan has a perforated surface, which helps the crust get a beautiful browned non-soggy bottom (plus clean-up is snap)!  Score!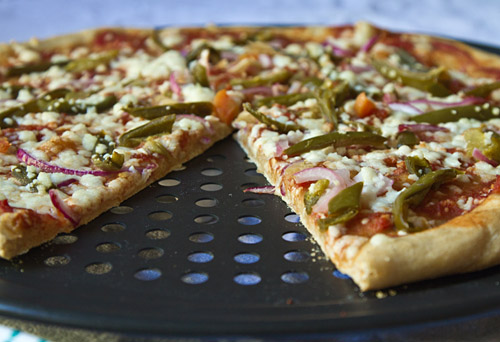 So although I don't have a pizza oven, so my pizza wasn't quite as amazing as the pizza at our resort, it still had all the flavors and wonderful chewy crust that I loved so much.  Bake yourself up a slice of Yucatan sunshine with this oh-so-easy Mexican Pizza!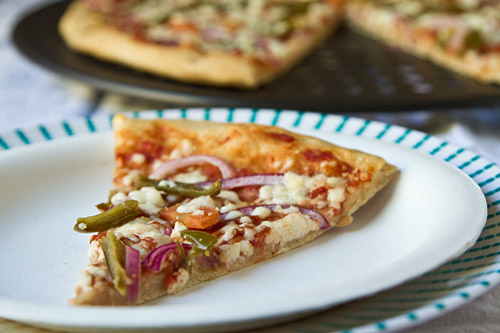 Print This Recipe
Mexican Pizza
Makes one 16-inch pizza
Recipe note: You can use any pizza dough recipe you like.  If you don't have a favorite, try out this basic pizza dough recipe from Bon Appetit magazine.
1 ball (1 pound) pizza dough
olive oil, for brushing on top of dough
For the pizza sauce:
1/2 cup crushed tomatoes
1/2 teaspoon salt
2 cloves garlic, minced
1/2 teaspoon cumin
1/4 teaspoon cayenne pepper
5 ounces queso fresco, crumbled
1/4 medium red onion, thinly sliced
1 can (7 ounces) escabeche, drained (about 1/2 cup)
1. Preheat the oven to 425 degrees Fahrenheit.
2. Roll or hand stretch the pizza dough into a 14-inch circle. Place the dough on a lightly greased pizza pan. Brush the top of the crust with olive oil (to help prevent a soggy crust).
3. Make the pizza sauce: Mix the crushed tomatoes, salt, garlic, cumin, and cayenne pepper together in a small bowl. Spoon the sauce onto the dough and spread evenly over the surface. Sprinkle half of the cheese over the sauce.
4. Arrange the red onion slices and escabeche on top of the cheese, and then sprinkle the remaining cheese evenly over the top.
5. Bake in the preheated oven for approximately 12 minutes, or until the crust is golden brown. Remove the pizza from the oven and let it cool for one minute before slicing.