Sticky toffee pudding.  Those three little words are enough to make me go weak in the knees.  This British dessert is one of my all-time favorites, and with the Olympics being the main attraction at our house right now, and the added excitement of the Queen's Diamond Jubilee this year, I was very excited when my friend Gerry of Foodness Gracious agreed to share some sticky toffee pudding love with us.  I had the pleasure of meeting Gerry for the first time at Camp Blogaway this year and am tickled pink to have him posting here on LFM today!  After you've drooled over his post, make sure you head on over to his blog and check out all of his delicious creations.  Take it away Gerry!
————————————————————————-
I was really excited and somewhat honored when Rachael asked me if I'd like to share a guest post on La Fuji Mama. This is the blog of a very experienced and respected food blogger and someone I enjoyed listening to while I was at Camp Blogaway this year. Rachael spoke with another fantastic foodie, Dara from Cookin Canuck and between them I scribbled notes on how I could improve and make my blog better. They had some great advice to share!
You're probably aware that the Olympics are going on at the moment and being from Scotland, I feel a yearning for some British fare. Whenever I head back home I make sure to leave some extra space in the suitcase for my return journey swag. It's nothing amazing, more of the little things which remind me of my days growing up. I wanted to give La Fuji Mama a quintessential British dish and without a second thought, I knew it had to be sticky toffee pudding. The sweet, caramel, buttery dessert is almost as famous as OO7 and don't forget that "pudding" back home is just another word for dessert, not to be confused with our American pudding. The dense sponge cake is filled with chopped dates and dark brown sugar and is knighted with a thick toffee sauce, I mean really what's not to like in this dessert? Maybe you don't like dates, I can understand that but if you need to overcome your date fears then this is how you do it, I promise you won't know you're eating dates.
Many people have claimed to be the originators of sticky toffee but no one has been given the green light to call it theirs. Truth is who cares? As long as it's readily available in almost every pub in Britain and even in some restaurants here in the States nobody needs to worry.  I highly recommend you make your own sticky toffee and get ready to watch the reaction when your guests take that empty spoon from their mouths.  Thanks again Rachael for having me over!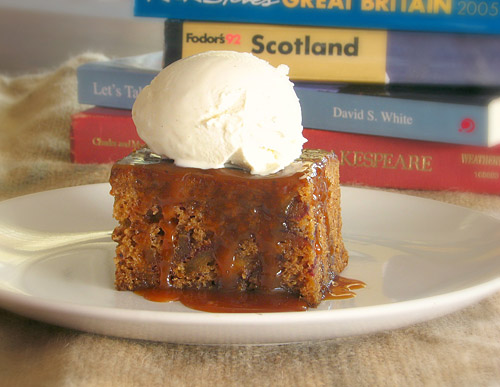 Print This Recipe
Gerry's Gold Medal Sticky Toffee Pudding
Recipe courtesy of Gerry of Foodness Gracious, slightly adapted from David Lebovitz
For the cake:
6 ounces chopped and pitted dates
1 cup water
1 teaspoon baking soda
1 1/4 cups all-purpose flour
1 teaspoon baking powder
1/2 teaspoon sea salt
4 tablespoons softened butter
3/4 cup dark brown sugar, packed
2 large eggs
1 teaspoon vanilla extract
For the toffee sauce:
2 cups heavy cream
1/2 cup dark brown sugar, packed
2 1/2 tablespoons molasses
1 pinch sea salt
1. Preheat the oven to 350 degrees Fahrenheit and then grease an 8×8 square baking pan and line it with parchment paper.
2. Make the cake: Combine the dates and water in a sauce pan.  Bring the water to a boil, then remove the saucepan from the heat and stir in the baking soda, then set the saucepan aside.
3. Sift the flour, baking powder, and salt together into a bowl.
4. In a separate mixing bowl, using an electric mixer, beat the butter and brown sugar together until light and fluffy, scraping down the sides of the bowl with a spatula a few times.  Add the eggs one at a time and beat until combined. Next add the vanilla and mix until incorporated.
5. Add half of the flour mixture to the butter mixture and mix on low.  Then add all of the date mixture and mix to combine, then finish by adding the remaining half of the flour mixture and mix until incorporated.
6. Scrape the mixture into the prepared baking pan and bake in the oven for about 35 minutes, or until the cake is springy in the middle. Let the cake cool for 20 minutes and then poke holes in it with a skewer.  While the cake is cooling prepare the toffee sauce.
7. Make the toffee sauce: Combine all the sauce ingredients in a sauce pan and bring to a boil.  Let the sauce boil until it thickens and coats the back of a spoon.
8. Pour 1 cup of the sauce over the cake and let it soak in until ready to serve.  Use the rest of the sauce for serving along with some vanilla ice cream or whipped cream. This cake is best served warm!