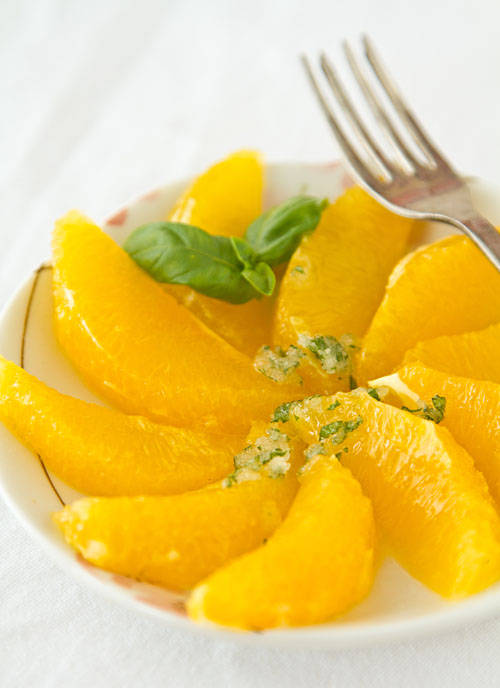 Orange slices topped with a basil lime sugar is one of my favorite quick snacks, or simple appetizers to whip up when I'm craving citrus.  I hesitate to call it a recipe because there's really nothing to it, but I'm sharing it with you nonetheless.  This dish is also a great way to work on some of your knife skills, because you can practice segmenting an orange and chopping fresh herbs.  New West KnifeWorks, makers of some of my all-time favorite knives, recently contacted me to see if I would be interested in helping them promote a giveaway of their 7 piece Fusionwood block knife set by doing a feature of one of the knives from the set.  I decided to try out a type of knife that I'm not usually fond of, the utility knife.  Because I could easily write love sonnets about my New West KnifeWorks, I thought it would be good to really test them out by trying a type of knife I don't usually like using, even though it comes in most knife sets—the utility knife.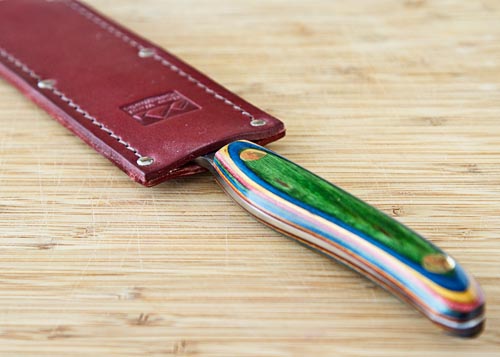 New West KnifeWorks calls their utility knife the Petty Utility Knife, and the description provided describes it as a knife that "challenges the notion" that you really only need two kitchen knives—a paring knife and a chef knife.  I know that some people prefer a utility knife to a larger chef's knife, but usually I find utility knives are too narrow for chopping things on a cutting board because they don't have any knuckle clearance, and too long to use for things I would normally use a paring knife for, like trimming vegetables in my hand.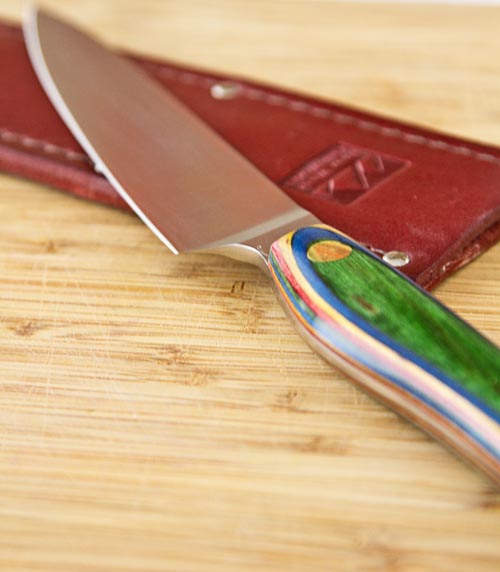 So what better way to challenge the Petty utility knife than by whipping up some orange segments topped with basil lime sugar, a snack that I would normally use both a paring knife and chef's knife to prepare.
Usually when I segment an orange, I use a paring knife, because paring knives are perfect for making small, fine cuts. This is one of my favorite techniques, because it gives you beautiful citrus slices without any of the bitter rind or pithy membranes.  I start out by cutting off each end of the orange, so that the a bit of the flesh is exposed.  Then I set it on one of the cut sides and use a paring knife to cut off the peel in strips, carefully following the curve of the fruit.  Once I've removed all of the peel, I cut down alongside the membranes on each side of the segments, so that the fruit is released and can be removed.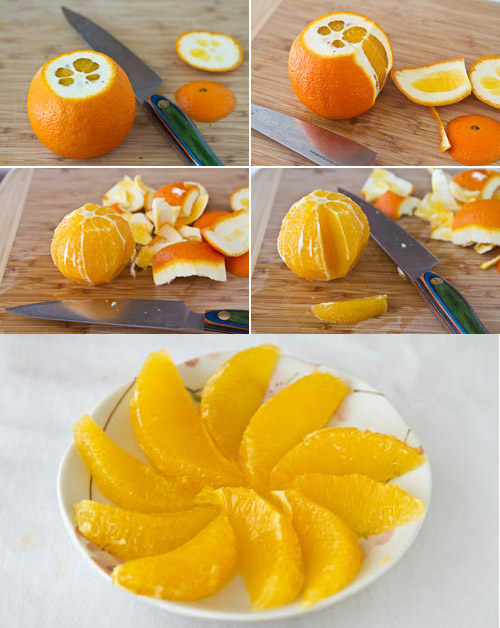 I was fully expecting to not like using the Petty utility knife to segment the oranges for our snack, but was pleasantly surprised at how well it maneuvered the tight, delicate turns of the orange.  Okay New West KnifeWorks, you won that one.
To make the basil lime sugar to sprinkle on top of the segments, you have to mince fresh basil.  Usually when I chop fresh herbs, I use a chef's knife because it gives me plenty of knuckle clearance and I can rock the blade as I chop.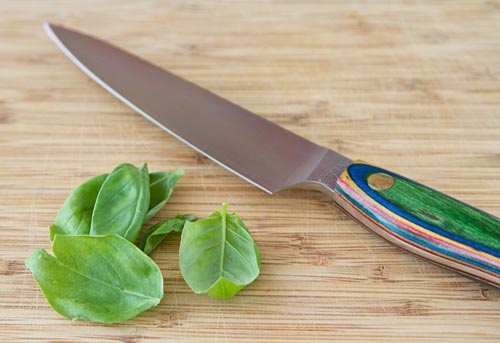 The Petty utility knife didn't fare as well for me here, as the blade is still too narrow to have any real knuckle clearance that would allow for rocking the knife blade as I chopped.  However, the curve of the edge and overall shape of the knife did allow for a comfortable slicing motion.
Verdict?  Although I don't know if I'm sold on utility knives, the New West KnifeWorks Petty utility knife is by far the best one I've tried.  If I need both a paring knife and chef's knife for a small job, I might be more likely to pull out the Petty utility knife, rather than have to clean two separate knives.  However, if I've got lots of chopping to do, I will continue to pull out my chef's knife, as the Petty utility knife would get tiring to use.  If you don't like using a chef's knife because it feels too big, then you would like the Petty utility knife.  As a side note, I used the Petty utility knife to peel the outer rind of the watermelon I carved recently, and for that, I would use it any day! My other knives were way more awkward.  Make sure you enter the New West KnifeWorks giveaway so that you can have a change to win a set of their knives—you will love them!  Now go make yourself a snack, you earned it.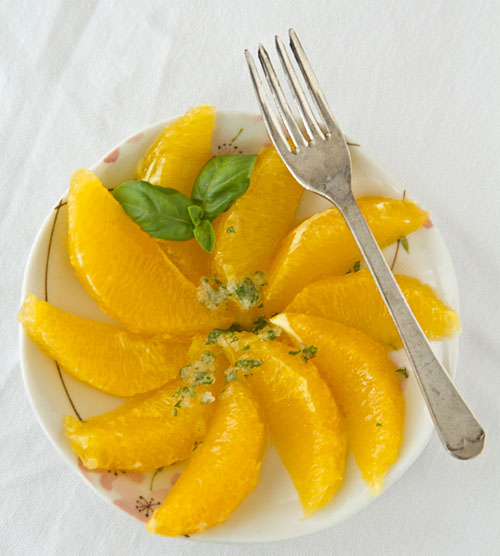 Print This Recipe
Orange Slices with Basil Lime Sugar
Makes 4 servings
4 oranges, segmented
For the basil lime sugar:
1 tablespoon granulated sugar
1/4 teaspoon fresh squeezed lime juice
4 fresh basil leaves, minced (about 1/2 teaspoon)
pinch of sea salt
1. Orange the orange segments on plates or a serving platter.
2. Make the basil lime sugar: Mix the sugar, lime juice, basil leaves, and salt in a small bowl with a fork until well-incorporated. Sprinkle the sugar mixture over the top of the orange segments and serve.