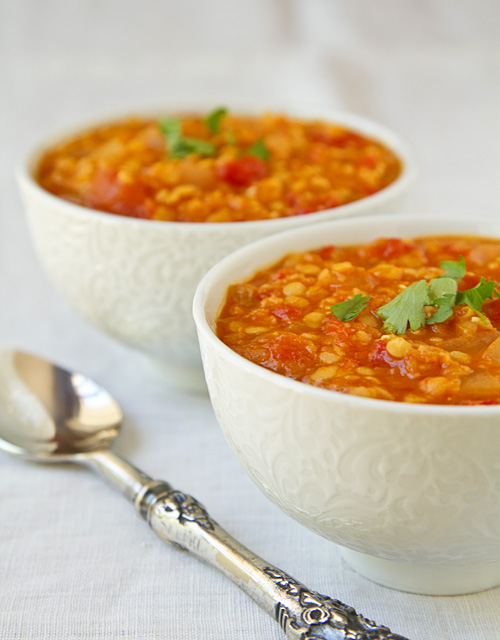 Red lentil dal—a thick stew made from red lentils, tomatoes, herbs, and spices—is one of my favorite comfort foods for more than one reason.  First off, red lentil dal tastes darn good.  Then if you add in the fact that it is easy to make and uses lentils and tomatoes (two of my favorite things) . . . how can you loose?  And if for some reason that list of reasons hasn't thrown the winning punch yet, how about the fact that lentils and tomatoes are both phenomenally good for you?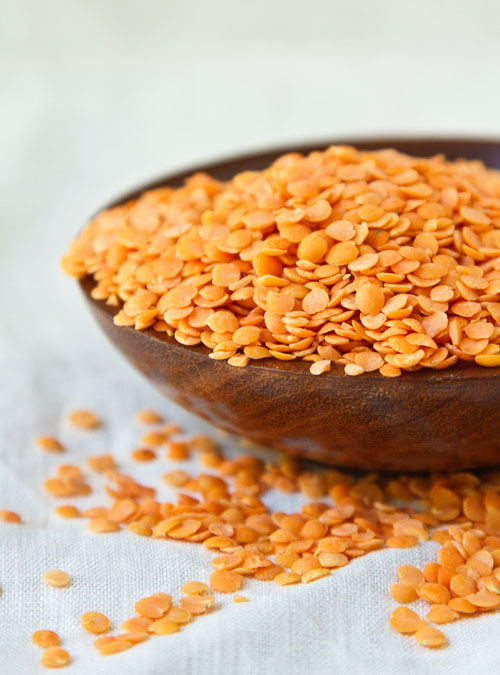 Lentils are high in fiber, protein, folate, magnesium, and iron, and are a great source of B vitamins.  Tomatoes are rich in phytonutrients, vitamin C, and beta-carotene, and are a great source of manganese and vitamin E.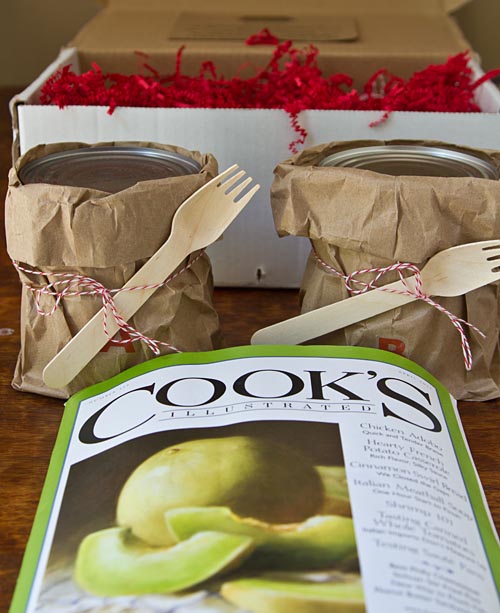 Cook's Illustrated recently asked the question: "Are San Marzanos really the ultimate canned whole tomatoes?"  Twenty-one staff members sampled 10 brands of supermarket canned whole tomatoes in three different blind tastings (plain, simmered in quick-cooked tomato sauces, and simmered in long-cooked tomato sauces), and rated the samples on tomato flavor, texture, and overall appeal.  The answer to the tastings was a big fat "no"—the San Marzano samples scoring well below several of the domestic samples.  The favorite was Muir Glen's Organic Whole Peeled Tomatoes.  Muir Glen challenged me to do my own taste-off, sending me my own blind tasting between a can of Muir Glen Organic Whole Peeled Tomatoes and San Marzano Whole Peeled Tomatoes.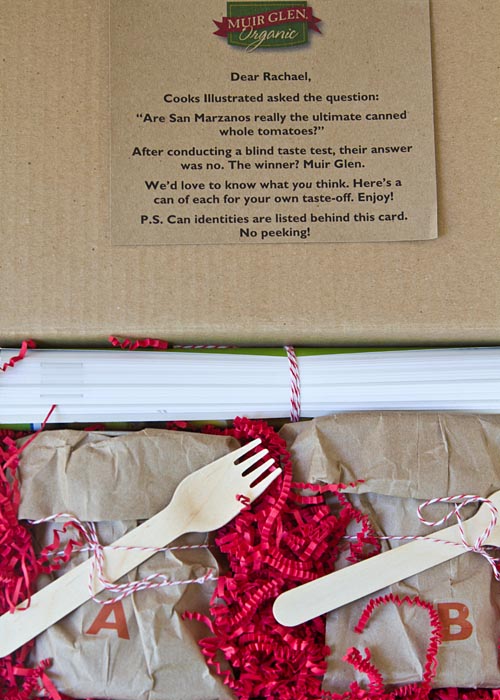 I was more than a little curious to find out what my own taste preferences would reveal.  I started out by tasting each of the tomatoes straight out of the can, and quickly picked sample B as my favorite because its flavor was bright and tasted like ripe summer tomatoes, whereas sample A was just plain boring.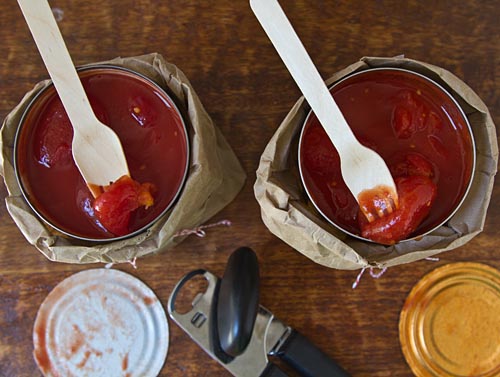 Then I decided to make a batch of red lentil dal with each sample to see if my preference would remain the same in a cooked application.  Yep, without a doubt!  The dal made with sample A required the addition of more seasoning than the dal made with sample B, and the flavor was better in general.  After this test, I could no longer restrain my curiosity, and I flipped over the sample card to discover which brand sample B actually was.  Cook's Illustrated got it right—my taste buds chose Muir Glen Organic Whole Peeled Tomatoes by a land slide.  I'm particularly happy about this considering the Muir Glen brand is an American product and is considerably kinder on the food budget.  So now you know.  But you don't have to take my word for it!  Do your own tasting and whip up a batch of my Red Lentil Dal to make your tummy and your health happy.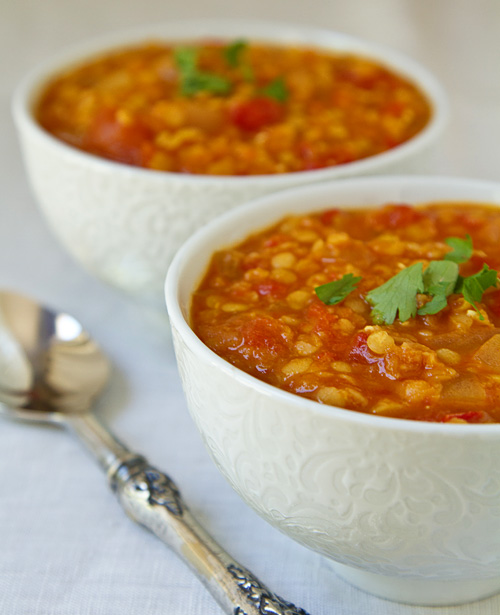 Print This Recipe
Red Lentil Dal
Makes approximately 6 to 8 servings
2 cups water
1 1/2 cups red lentils, rinsed and picked over for debris
1 medium onion, finely chopped
1 can (28 ounces) whole tomatoes
1 green serrano chile, seeded and minced
3-inch piece gresh ginger, peeled and minced
5 cloves garlic, minced
3 tablespoons canola oil
1 1/2 teaspoons ground cumin
1/2 rounded teaspoon turmeric
1 teaspoon paprika
1/2 teaspoon sea salt, plus additional as needed
1/4 cup fresh squeezed lime juice
fresh cilantro, for garnish
1. Combine the water, drained lentils,onion, tomatoes, chile, ginger, and garlic in a 4-quart saucepan. Bring the mixture to a boil over medium heat, then lower the heat to a simmer and cook until the lentils are tender, approximately 25 to 35 minutes. Whisk the cooked lentils to break them down slightly. This gives the soup a nice texture and also helps the lentils to release some of their natural starch, which thickens the soup.
2. Warm the canola oil in a small saucepan over medium heat. When the oil starts to shimmer, add the cumin, turmeric, paprika, and salt and let the spices cook for 30 seconds until they become fragrant. Make sure to monitor the spices carefully so that they do not burn.
3. Pour the seasoned oil over the cooked lentils and stir to combine, then stir in the fresh squeezed lime juice. Add additional salt, to taste. Ladle the soup into bowls and garnish with cilantro.