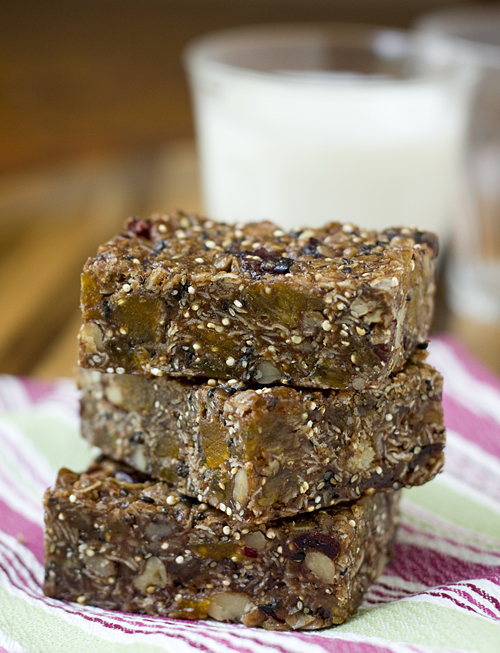 Have you ever glanced at the clock to see that it is almost lunchtime and realize that you never ate breakfast?  I seem to have that happen to me all too often.  I spend the mornings getting my girls ready for the day, making sure they eat a healthy breakfast, deal with work emails, etc., and forget to feed myself in the process!  I've been trying to come up with things that I can make for those days when I need something that I can just grab and eat as I go about doing all the things that need to be accomplished. I love chewy granola bars, so decided to come up with a breakfast version that would be filling, healthy, and delicious.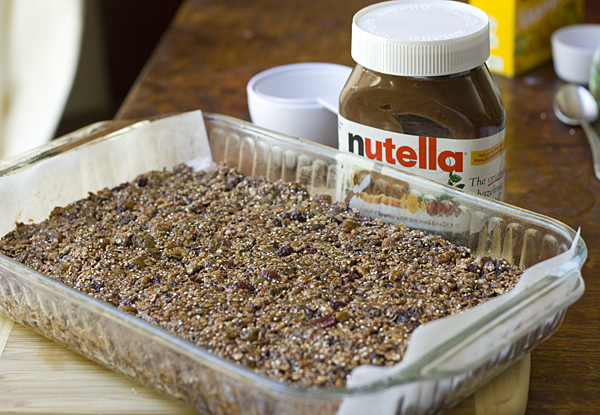 These Nutella Fruit & Nut bars are all of those things.  You make them ahead, then wrap them up and grab them when you need them!  They will stay fresh in the refrigerator for up to a week, or in the freezer for about 5 months.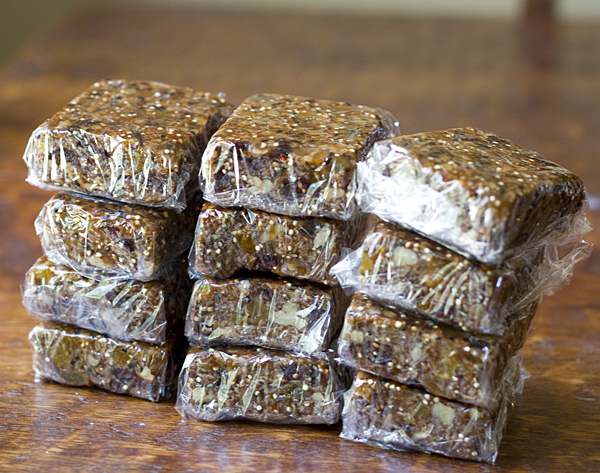 You can make a pan of these on the weekend, and then have something to grab as a breakfast on-the-go, or as an energy boosting afternoon snack during the coming week.  Not only will you love these, but so will your kids.  They are packed full of whole grains, dried fruit, seeds, and nuts—all items that are nutrient rich and filling.  Plus you get a hint of chocolate from the Nutella.  I call that a win-win situation!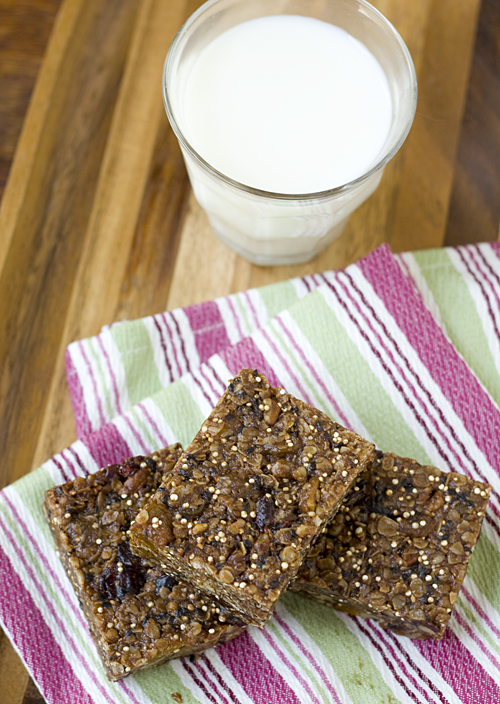 Print This Recipe
Nutella Fruit & Nut Bars
Makes 24 servings
2 1/3 cups quick rolled oats
1/2 cup granulated sugar
1/2 cup whole wheat flour
3/4 teaspoon salt
1 cup golden raisins
1 cup dried cranberries
3/4 cup chopped dried apricots
3/4 cup chopped pecans
1/3 cup toasted black sesame seeds (white sesame seeds can be substituted)
1/3 cup uncooked quinoa
2/3 cup Nutella
2 teaspoons vanilla extract
8 tablespoons (4 ounces) butter, melted
2/3 cup honey
1 1/2 tablespoons water
1. Preheat the oven to 350 degrees Fahrenheit.
2. Line a 9″ x 12″ baking pan in one direction with parchment paper (so that the parchment paper goes up two opposing sides). Lightly grease the parchment paper and any part of the pan that is exposed.
3. Stir together all the dry ingredients, including the fruit and nuts, in a large bowl.
4. In a separate bowl, whisk together the wet ingredients. Add the wet ingredients to the bowl containing the dry ingredients. Toss everything together until the mixture is evenly combined (the mixture will be crumbly).
5. Spread the mixture into the prepared pan, pressing firmly into the pan to form a firm layer.
6. Bake the bars for 30 to 40 minutes, until the edges are starting to darken. The bars will seem underbaked, but they will start to firm up as they cool. Cool the bars in the pan completely on a cooling rack. Once cool, place the pan in the refrigerate to complete setting for approximately 30 minutes. After chilling, cut the bars into pieces with a sharp knife sprayed with cooking spray (helps prevent the bars from sticking to the knife). Store in an airtight container, or wrapped individually in plastic wrap, in the refrigerator. The bars will stay fresh in the refrigerator for up to about a week. The bars also freeze well and will keep for up to about 5 months.