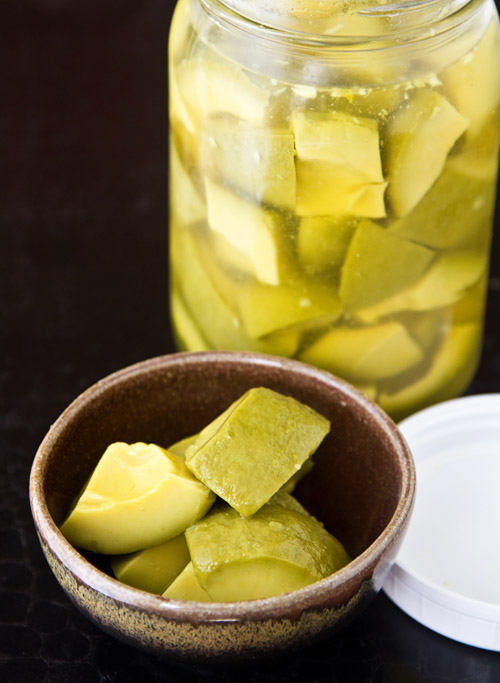 The inside of my refrigerator is starting to look like one big lab experiment.  I seem to have developed an obsession with putting things in jars. There's a batch of Mark Bittman's easy  kimchi, several jars of Three Pepper Jelly, some sliced variegated pink lemons marinating in honey, several different types of tsukemono (Japanese pickles) slowing aging their way to perfection, and finally, my fourth batch of pickled avocados.  Nope, you didn't read that wrong: pickled avocados.  And although I may be jar obsessed, this was not the reason that I went down the path of avocado pickling.
Nope.  I pass all culpability for that path choice to the California Avocado Commission, who, upon seeing my obsession with putting things in jars on my Instagram feed, asked if I had ever pickled avocados.  The answer was no, but they had pushed the start button on my wheels of thought, and I knew that I was going to have to try out avocado pickling.  If eggs can be pickled, why not avocados?  In short, I became obsessed, and here we sit, four batches and four different pickling brines later.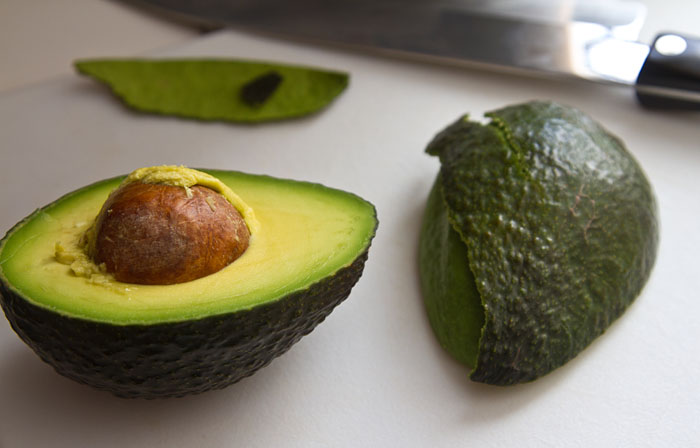 For the first brine I tried rice vinegar, which I thought would be a natural fit, since I love sprinkling rice vinegar on slices of fresh, ripe avocado.  Nope, not even close.  The natural sweetness of the vinegar turned to cloying sweetness during the pickling process.  For the second brine I used apple cider vinegar, which was better, but it was lacking in the "oomph" department and tasted a bit muddied with the creamy avocado.  For the third brine I went with a plane white vinegar and things started to click.  But the brine was too sweet.  Finally, on the fourth batch I went with a simple white vinegar, water, and salt brine.  The verdict?  I wish I had started with that first!  When in doubt, keep it simple, right?
By the fourth brine, I had also learned the optimal time to pickle an avocado—when the fruit is on the firm side, slightly too firm to eat plain, and the pit is a bit hard to remove, but the fruit still cuts and peels without any problem. I used Fuerte avocados, which peel beautifully.
To pickle avocados, once you've got those perfectly slightly ripe, yet still firm, Fuerte avocados, all you have to do is heat some white vinegar, water, and salt in a saucepan on the stove until the mixture comes to a boil.  Then you cut your avocados in half, remove the pits, peel the halves, then cut the halves into chunky pieces, which you then fill a glass quart jar with.  Finally, you pour the boiling into the quart jar, over the avocados, let the brine cool, then put a lid on them and stick them into the refrigerator to marinate for a couple of days before using them.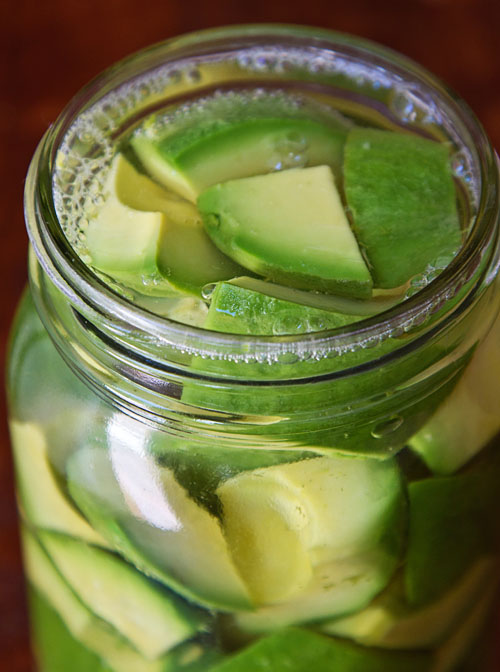 Another very important thing to note is that if you have any fellow avocado lovers around when you are in the middle of pickling avocados, make sure that you have extra fruit on hand to help placate them.  If someone were to tell me that those avocados they were cutting up couldn't be eaten for another few days, I'd be grumpy too!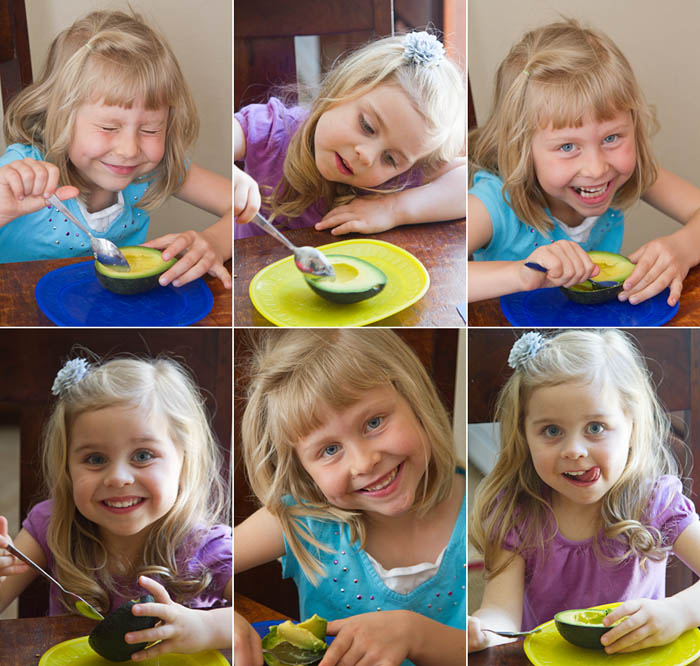 "Why pickle an avocado?" you may be thinking.  If you happen to be lucky enough to have a surplus of avocados, then pickling several of them is a great way to prolong their shelf-life.  The longest I've kept a batch of pickled avocados so far is two weeks.  At the two week mark the avocados are a more muted green in color, and softer than when I pickled them, but have not yet turned into mush.  Right now I'm still exploring the uses for pickled avocados, but as of today I know that I like them in salads, on toast, and in a yet-to-be-revealed third application, which you'll have to patiently wait to discover  as a topping on pizza!  But for now, with March being the official kick-off of the peak California avocado season, let's rejoice in our native Green goddesses and revel in the creamy perfection that is the California avocado.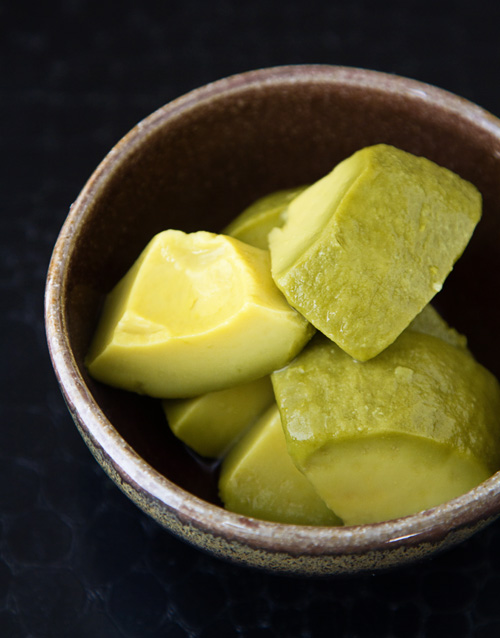 Print This Recipe
Pickled Avocados
Makes 1 quart jar
3 medium avocados
1 cup white vinegar
1 cup water
1 tablespoon non-iodized sea salt, or kosher salt
1. Cut the avocados in half, and remove the pits, then carefully peel away the skin from the fruit. Cut the avocados into large chunks and gently pack them into a clean glass quart jar.
2. Combine the vinegar, water, and salt in a medium saucepan and bring to a boil.
3. Pour the brine over the avocados in the jar. Wipe any vinegar spills from the jar rim with a clean towel or paper towel and gently screw the lid onto the jar.
4. Let the jar sit until it has cooled down.  Once the jar is fairly cool, it should be put into the refrigerator for at least 24 hours before eating to give the flavors time to meld. The avocados will keep, tightly sealed in the refrigerator, for up to 2 weeks.