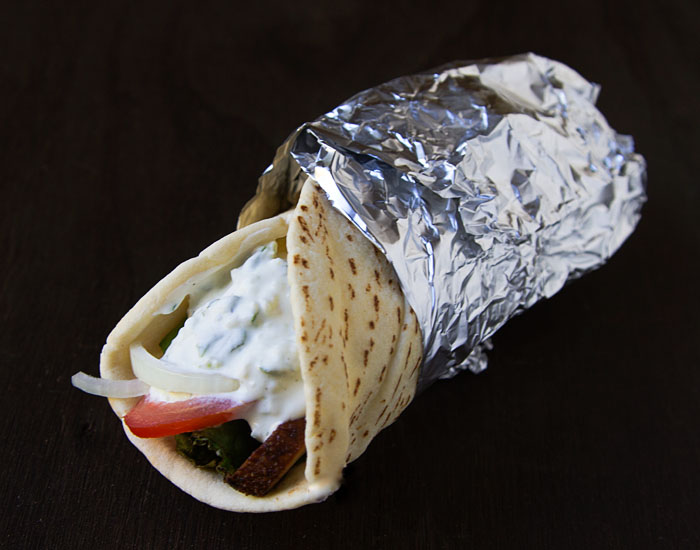 Half way through completing my undergrad degree in French and French literature, I spent a semester studying in Paris.  I went to class in a fantastically old building in Le Marais, a historic district of Paris.  Between the closest metro station to school and the school building there was an amazing tiny little takeout restaurant that served nothing but different kinds of les grecs (pita gyros).  Thinly sliced juicy meat piled generously into a warm piece of pita bread, along with some slices of fresh tomato, onion, and lettuce, and topped with a creamy tzaziki (cucumber yogurt sauce).  I have always loved a good pita gyro, but this particular version made me weak in the knees, and it was very difficult to exercise self-restraint and not stop every day after class to purchase one.  When I took Mr. Fuji to France for the first time, I dragged him across Paris just to go and eat one.  

I was recently invited to participate in a Kitchen PLAY Progressive Party with The Mushroom Council. They challenged me to create an original main course recipe featuring mushrooms as part of a six-course progressive party. It's part of their "Swap It or Top It" campaign (see more info after the recipe—you could win $5k!)  It so happened that the day I got my assignment, I had also flipped through my photo album from my time in Paris and had a crazy craving for my beloved Parisian pita gyro.  I decided to whip up a version where I swapped out the gyro meat for seasoned and grilled portobello mushrooms.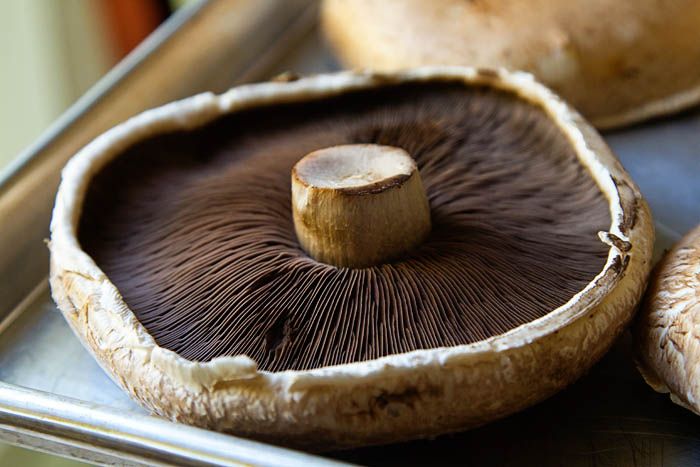 I mixed up my own gyro spice mix, which I then rubbed into the caps of my portobello mushrooms, which I had brushed with olive oil.  Then Mr. Fuji grilled the mushrooms until they were dark and juicy.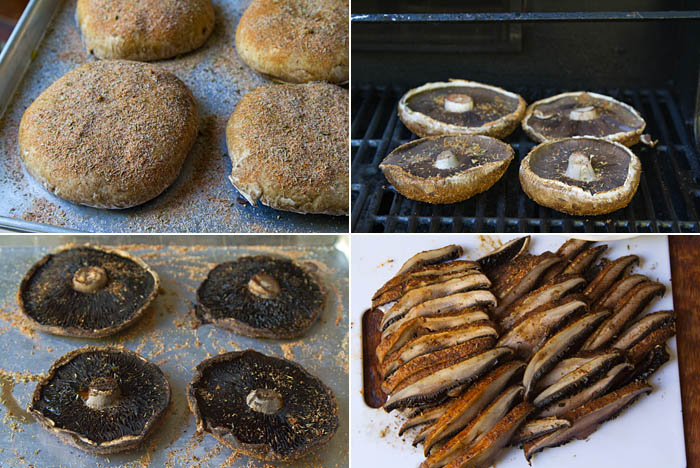 I sliced up the grilled mushrooms and served them in warmed pita bread with lettuce, tomato, onion, and tzatziki sauce.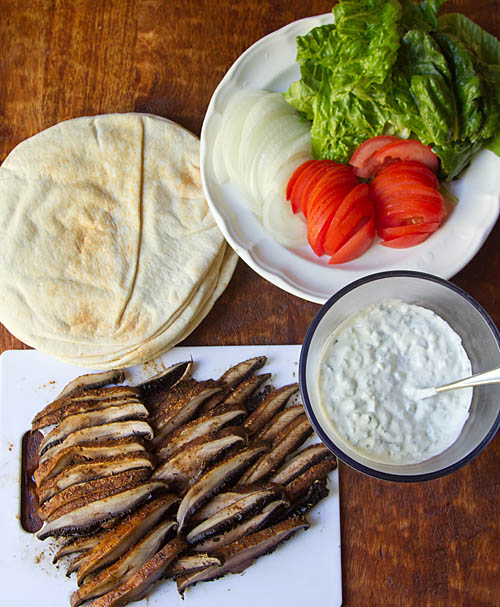 The Fujilings are really good eaters, so most meals are eaten without complaint, but this particular dinner was inhaled.  Home run!!!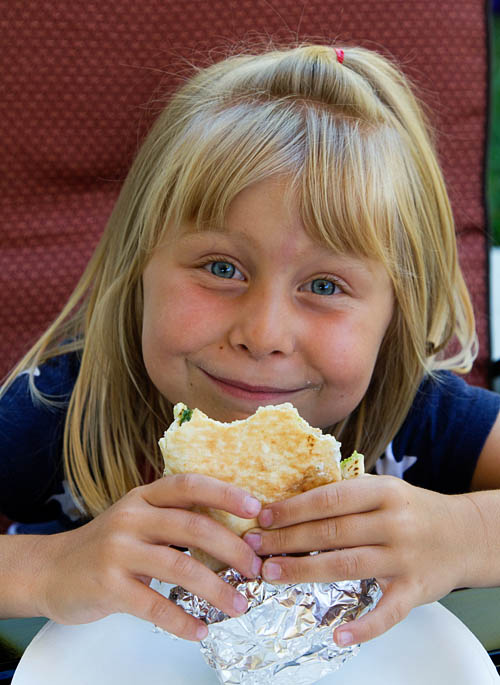 Not only are these pita gyros delicious, but they are lighter than the traditional pita gyro, and pack in an extra dose of Vitamin D.  Mushrooms are the star of this dish!  Did you know that mushrooms are the only form of produce that serve as a natural source of Vitamin D?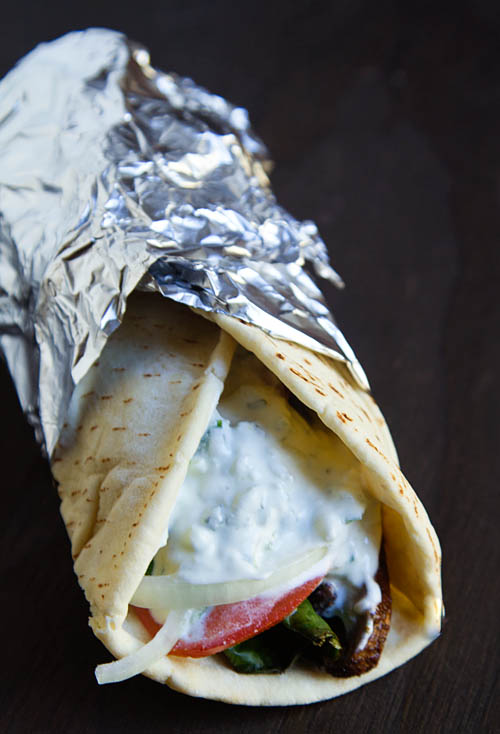 Print This Recipe
Portobello Mushroom Pita Gyros
Makes 4 servings
For the tzatziki:
1 cup Greek yogurt
1/2 cucumber, deseeded and finely chopped
1 lemon, juiced and zested
3 garlic cloves, minced
1 tablespoon chopped fresh mint
Fine sea salt and freshly ground black pepper, to taste
For the spice mix:
1 teaspoon onion powder
1 teaspoon paprika
1 teaspoon dried thyme
1/2 teaspoon fine sea salt
1/2 teaspoon garlic powder
1/2 teaspoon dried coriander
1/2 teaspoon dried oregano
1/4 teaspoon freshly ground black pepper
1/4 teaspoon ground cayenne pepper
4 large portobello mushrooms
Olive oil, to brush on mushrooms
4 pitas
2 Roma tomatoes, thinly sliced
1/2 sweet onion, thinly sliced
1/2 head romaine lettuce, ribs removed and cut into large pieces
1. Make the tzatziki: Put the Greek yogurt in a cheesecloth lined strainer set over a bowl and let it drain for 24 hours in the refrigerator. Put the strained Greek yogurt in a small bowl and mix in the rest of the tzatziki ingredients. Cover the sauce and put it in the refrigerator to chill, for at least an hour.
2. Make the spice mix: Mix together the spice mix ingredients in a small bowl.
3. Grill the mushrooms: Preheat an outdoor grill to medium-high heat. Brush one of the portobello mushroom caps liberally with olive oil, sprinkle the cap with the spice mix, then rub it gently into the mushroom. Repeat with the remaining mushrooms. Grill the mushrooms for 3 to 4 minutes on each side, starting with the cap side first, until the mushrooms are dark and tender. Remove the mushrooms from the grill and cut them into thin slices.
4. Assemble the pita sandwiches: Wrap the pitas in a damp paper towel (to prevent them from drying out) and warm in the microwave or oven. Spread a spoonful of the tzatziki sauce down the center of one of the pitas, add a few pieces of lettuce, then add grilled mushroom slices, sliced tomato, and sliced onion, then top it with another generous spoonful of tzatziki. Fold the pita over and wrap with a piece of foil to hold the sandwich together for easy eating. Repeat with the other pitas. Serve immediately.
=======================================================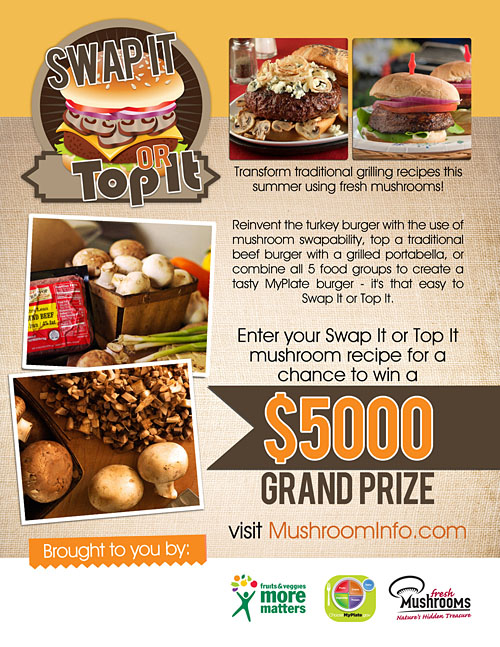 You can join the Swap It or Top It event too, and have a chance to win $5000. Click the picture above for more details!
*Disclosure: I was compensated for my time spent developing this recipe and writing this post. All opinions are my own!