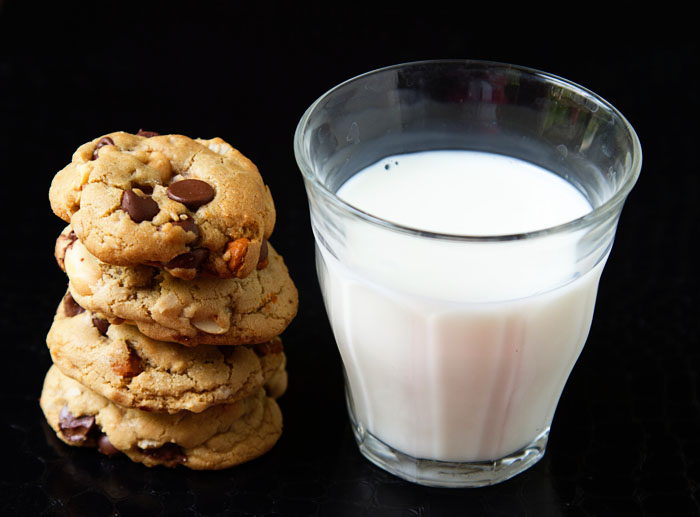 When I moved to Paris I had several bags of chocolate chips tucked into my suitcase so that I could whip up a batch of chocolate chip cookies if I got homesick.  Luckily, when we moved to Japan, we had access to Costco, who conveniently carried chocolate chips, making room for other things in my suitcase.  Chocolate chip cookies will always be one of those things that puts a smile on my face and makes a place feel like home.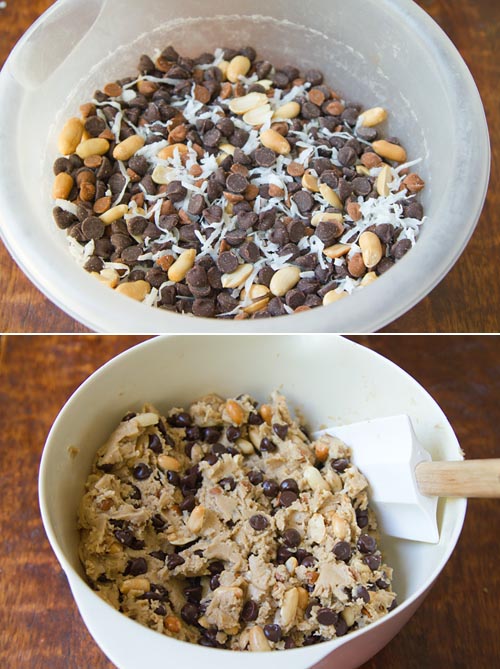 Recently I've been throwing lots of other stuff into my chocolate chip cookie dough batter.  We've started calling these cookies "kitchen sink" chocolate chip cookies.  My current favorite combination is chocolate chips, roasted and salted peanuts, cinnamon chips, and sweetened, and flaked coconut.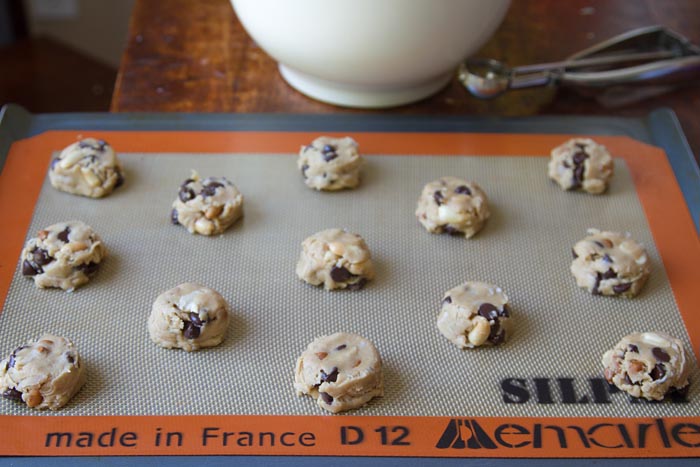 But really the sky is the limit!  Walnuts? Pecans? Why not!  Pretzel bits? Toffee Bits?  Heck yeah!  These cookies provide a great way to use up the last little bits of things.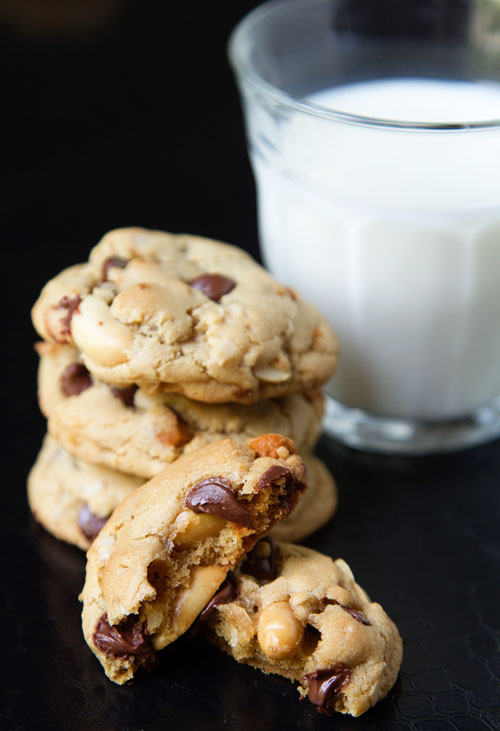 Plus, if you use pasteurized eggs, then your kiddos can have a spoonful of cookie dough without fear of salmonella!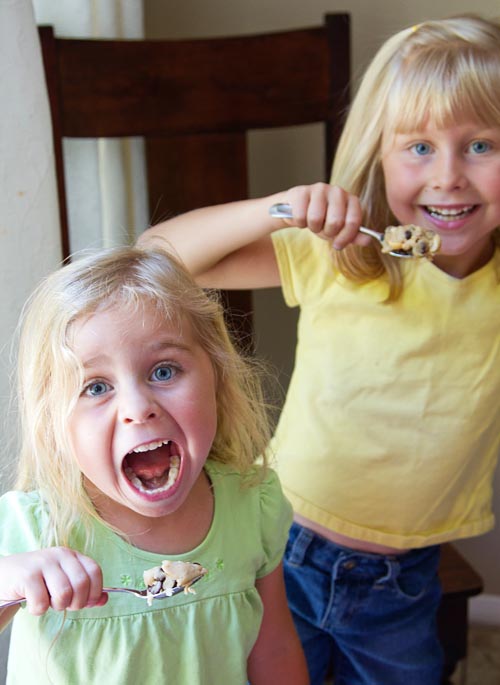 These cookies a filled to bursting with goodies, and the roasted and salted peanuts add a wonderful savory balance to the sweetness of the other ingredients.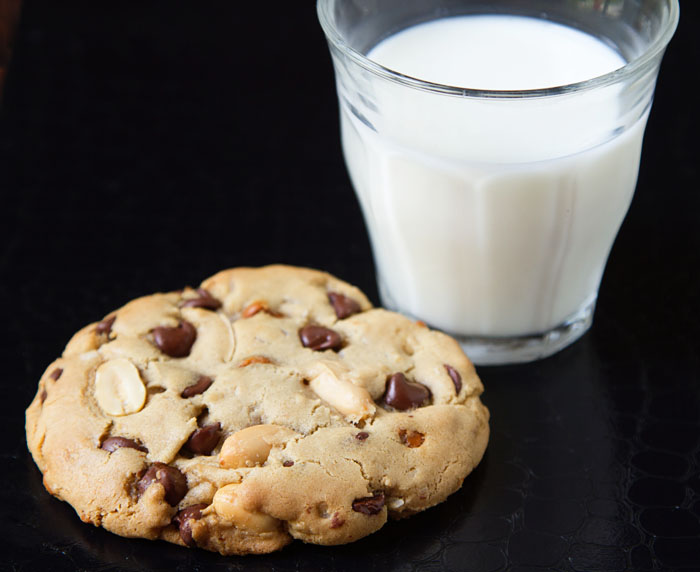 Print This Recipe
"Kitchen Sink" Chocolate Chip Cookies
Makes approximately 36 cookies
*Recipe Notes: Starting with your butter and eggs at room temperature is key. When creaming the butter and sugars together, if the butter is at room temperature and is beaten long enough, tiny pockets of air will form and help give the cookies a little extra lift. At room temperature, ingredients like eggs and butter bond and form an emulsion that traps air. During baking, the air expands, producing light, airy, evenly baked treats. Batters made with room temperature ingredients are smooth and evenly incorporated. Using cold ingredients results in a dough that doesn't come together properly.
If you use a small cookie scoop to make mini cookies, this recipe will yield 60 cookies. If you use an ice cream scoop to make large cookies, this recipe will yield 18 cookies.
2 1/4 cups all-purpose flour
1 teaspoon baking soda
1 teaspoon fine grain sea salt
1/2 cup (4 ounces, or 1 stick) butter, at room temperature
1 cup packed (7.55 ounces) brown sugar
1/2 cup (4 ounces) granulated sugar
1 teaspoon vanilla extract
2 large eggs, at room temperature
2 cups (12 ounces) semi-sweet chocolate chips
3/4 cup (4.5 ounces) roasted, salted peanuts
1/2 cup (3.25 ounces) cinnamon chips
1/2 cup (1.5 ounces) flaked sweetened coconut
1. Preheat the oven to 375 degrees Fahrenheit.
2. In a small bowl, combine the flour, baking soda, and salt.
3. In a separate large mixing bowl, start to beat together the butter, brown sugar, granulated sugar, and vanilla extract on low speed. When everything is well incorporated, increase the speed (medium-high on a stand mixer, or high on a hand mixer). Scrape down the sides of the bowl with a rubber spatula and continue mixing until the sugar mixture is lighter in color and texture.
4. Add the eggs, on at a time, beating the dough well after each addition. Then gradually beat in the flour mixture. Stir in the chocolate chips, nuts, cinnamon chips, and flaked coconut. Scoop out rounded tablespoons of dough and place 2 inches apart on ungreased baking sheets (or baking sheets lined with silicone baking mats).
5. Bake the cookies for 8 to 10 minutes, or until golden brown. Cool on the baking sheets for 2 minutes and then remove the cookies to wire racks to cool completely.
==================================
* Disclosure: I am being compensated for this post as part of my ambassador work as one of the Darling Dozen for Safest Choice Eggs.  Safest Choice Eggs is sponsoring this giveaway.  All opinions are my own.