I LOVE LOVE LOVE æbleskivers (little round Danish pancake-like pastries–read more about them here).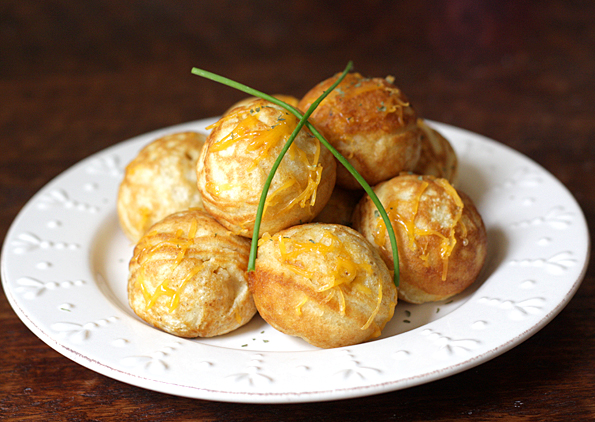 Last month I told you about my favorite food finds from the Foodbuzz Bloggers Festival, which included æbleskivers from Aunt Else's Æbleskiver. Chad Gillard, the president of Aunt Else's, and his wife were at the Foodbuzz bloggers festival making æbleskivers with their æbleskivers mix and promoting their cast iron aebleskiver pan.
I was totally coveting the pan–a gorgeous heavy 9-hole cast iron pan (my own æbleskiver pan has only 7 holes). Imagine my delight when I received an email from Chad a few weeks ago offering to send me a starter kit to review! Um…yes?!?!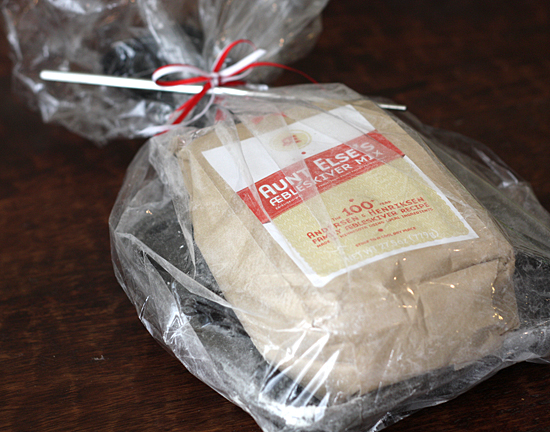 Aunt Else's was established in 2008 as a way of sharing the family æbleskiver recipe passed down by Else (Andersen) Jacobsen and Florence (Andersen) Henriksen. The company was named in honor of Else, and the æbleskiver pan they sell is modeled after Else's own æbleskiver pan.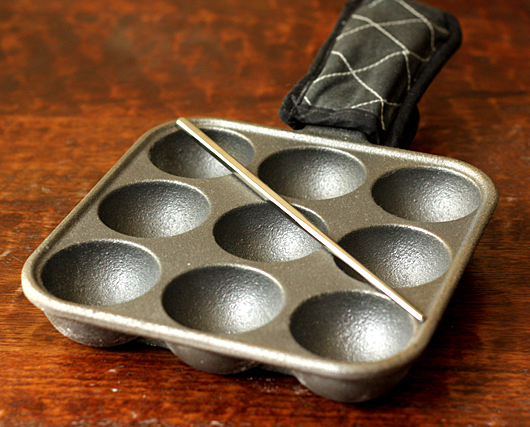 When I received my starter kit (the Starter Kit includes Aunt Else's 9-Hole Cast Iron Æbleskiver Pan, Aunt Else's Organic Æbleskiver Mix, a handle hot pad, and a stainless steel chopstick for turning the æbleskivers as they bake), I started out by seasoning my pan. When it was finally ready (I'm very impatient when it comes to getting to eat my favorite treats!), I whipped a batch of cheesy æbleskivers using Aunt Else's mix and the pan. These are so easy to make. All you do is mix up some æbleskiver batter and make the æbleskivers, adding a 1/2-inch cube of cheddar cheese. When they are finished cooking, I like to top them with a bit of minced parsley and some grated cheese.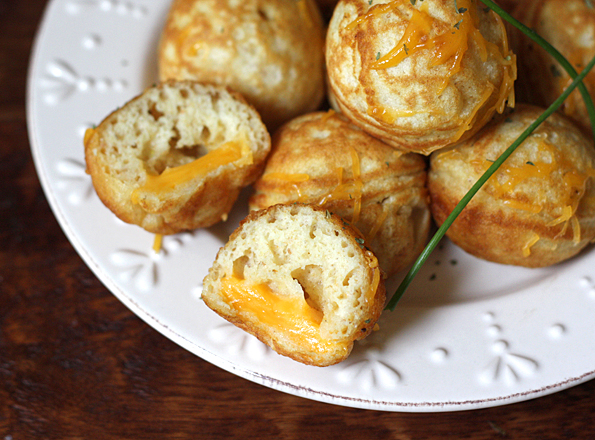 If you've never made æbleskivers before, Aunt Else's has a fabulous how-to video that makes it oh-so-easy!
So what did I think of my Starter Kit? The pan is definitely an upgrade from the one I've been using. It is much heavier–a huge benefit because the pan maintains its temperature much better, making it easier to cook perfect æbleskivers. The holes are also slightly bigger than the holes in my pan, which I loved. And then, of course, there's the benefit of having 9-holes instead of 7! The mix was delicious, making a wonderfully flavored batter. I love that they use organic ingredients.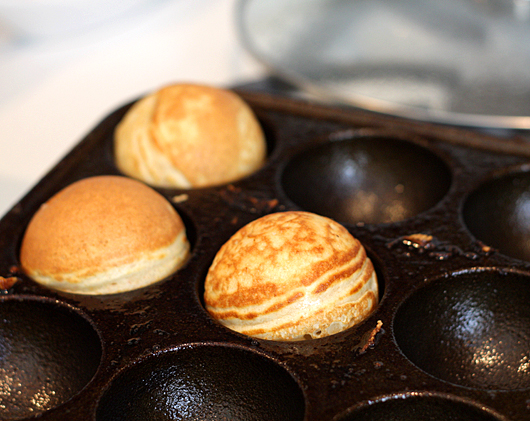 Ok, the best part is that Aunt Else's has agreed to give one of you your very own Aunt Else's Æbleskiver starter kit! If you aren't the lucky winner, Aunt Else's has also agreed to give you a 10% discount on any purchase on www.AuntElse.com. And, if you act fast (before the holidays) you can take advantage of free domestic shipping on any orders over $50! To get the 10% discount, fan or follow Aunt Else's on Facebook, Twitter, Foodbuzz, or YouTube. Then just include the fan/follow option you chose & "La Fuji Mama" in the "Add special instructions to the seller" section during the checkout process!


How to Enter:
For your first entry, please leave a comment telling me how you would eat your first batch of æbleskivers–what fillings or toppings would you use?
For Extra Entries:
Leave a separate comment for each entry:
1. Follow Aunt Else's on Twitter.
2. Become a fan of Aunt Else's on Facebook.
3. Become a fan of Aunt Else's on Foodbuzz.
3. Become a fan of La Fuji Mama on Facebook.
Make sure you leave a separate comment for each entry, or your extra entries will not count!
I will keep the comments open until this Saturday, December 12th, 10 PM PST, and announce the winner (using a random number generator) on Sunday (December 13th). This giveaway is open to the Continental US only. GOOD LUCK!!
Update 12/12/09: Comments for the giveaway are closed, and I'll announce the giveaway winner tomorrow! (December 13, 2009) them!]
Update 12/13/09: The winner has been chosen–Congrats Molly!