"Rational habits permit of discarding nothing left over, and the use to which leftovers (and their economic allies, the wild things of nature) are put is often at the heart of a cooking's character." – Richard Olney (1835-1917)
If you make slow cooker kalua pig, you are bound to have some leftovers, unless you are feeding a very large family or a small army. Mary, the author of the wonderful blog One Perfect Bite, recently wrote in a post about bread pudding, "I'm probably a member of the last generation raised in kitchens where nothing was wasted, including stale bread and leftover rice." Too often these days I think this is true. We are raising our children in a consumer society where they learn that if something breaks you throw it away and buy a new something. A society where our groceries are handed to us in plastic or paper bags that are then discarded after the items in them have been brought home and put away. And the same goes for food. The bones of a chicken are thrown out and slightly sad looking vegetables are discarded. I feel it my responsibility as a mother to try and combat this destructive mentality by teaching my kids that there is a different way to live.
One of the ways I do this is by preparing for the eventuality of leftovers. Making kalua pig is a perfect example of this. I know that there are going to be leftovers, so I've developed methods of using the leftovers up. Granted, we are all looking forward to having more kalua pig on the second day. But on the third day? Not so much. One of the things I do is freeze a large portion of the leftovers. That way I can pull them out whenever I have a craving for kalua pig. I've also brainstormed a variety of ways to use the pork in other dishes. For example, leftover kalua pig makes a great pork sandwich. Another use of leftover kalua pig is making kalua pig tacos. The best part about these tacos, is that there is hardly any work involved.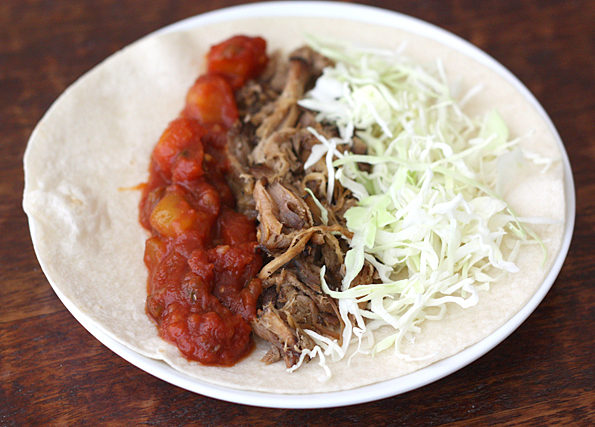 I love soft tacos, but you can use hard taco shells as well. I start out by shredding some cabbage, heating up the leftover kalua pig, and pulling out some peach mango salsa. Then I heat the soft taco shells in a skillet over medium heat. That's it for the prep. Now you just build your taco, roll it up, and eat! Of course, you can put whatever your heart desires on your tacos. This is just how I happened to make our most recent tacos. Not only are you making use of leftovers, but you've got wonderful juicy, flavorful, and easy tacos to eat. It's a win win situation!