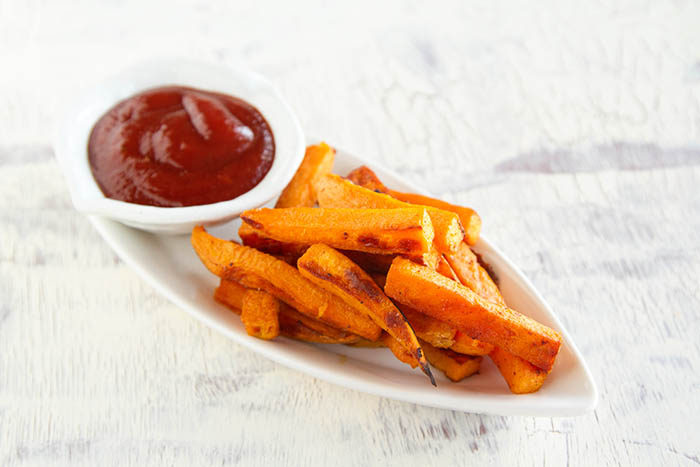 Four ingredients, and one of them is sweet potatoes . . . need I say more?  (Plus, it's never too early to start planning your celebrations for National Sweet Potato Day next February, right?)  I love sweet potato fries, but don't love the clean up, nor the added calories, that come with deep frying my own.  So I bake them.  I know this isn't a new idea, but I posted a picture of the fries I made to go with the cacao chili-rubbed flat iron steak that I posted earlier this week, so I figured I would share them.  Super simple, and just plain good.  I use a combination of olive oil, sea salt, and smoked paprika to dress my fries—I think the combination of these three things makes the flavors in the sweet potatoes sing.  But you can always switch things up.  These fries make a wonderful canvas for other flavors as well!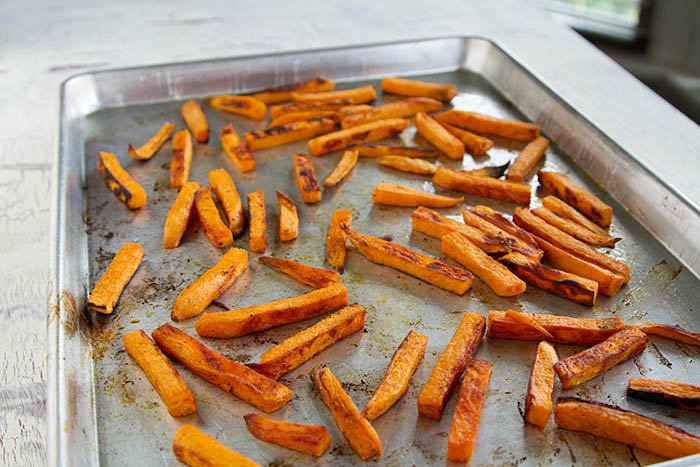 I have a couple of bottles of the most awesome ketchup that I won recently from a company called Ketch On Fire.  Their Ketchapeño ketchup is like a cross between boring normal ketchup and hot sauce.  Perfect for dipping sweet potato fries into!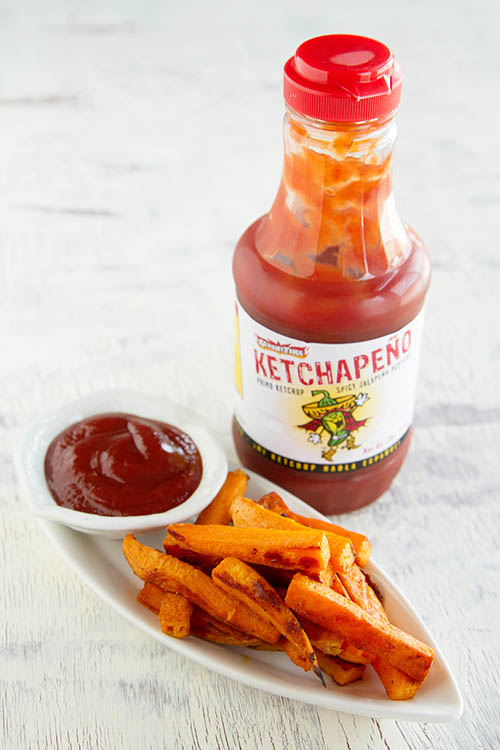 Print This Recipe
Simple Sweet Potato Oven Fries
Makes about 4 servings
2 pounds sweet potatoes
1/4 cup olive oil
1 tablespoon fine grain sea salt
1/2 teaspoon smoked paprika
1. Preheat the oven to 450 degrees Fahrenheit.
2. Peel the sweet potatoes, slice them lengthwise into 1/2-inch thick slices, then cut the slices into 1/2-inch wide strips.
3. Put the strips in a large bowl and toss them with the olive oil. Then add the sea salt and smoked paprika and toss them to coat. I find that using my hands for this step ensures more even coating.) Spread the strips in a single layer on an ungreased baking sheet, being sure not to overcrowd them. (I used two large baking sheets for this job.)
4. Bake the strips in the preheated oven until they are tender and golden brown, turning them occasionally so that they bake evenly, about 20 minutes.