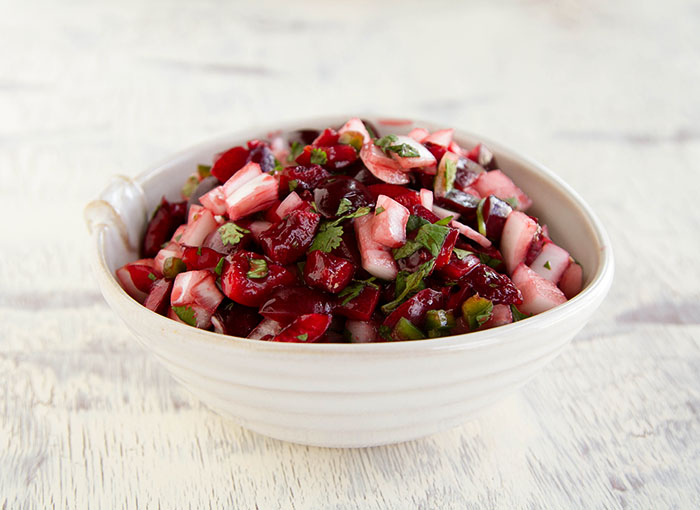 In my post last week about Cacao Chili-Rubbed Flat Iron Steak, I briefly mentioned the cherry pico de gallo that I made as an accompaniment.  But, it wouldn't be doing it justice to gloss over it, as it was maybe my favorite part of the whole meal, notwithstanding the sweet potato oven fries that were also a part of that meal!  I recently went on a cherry buying binge, due to a dip in prices, and have spent some time getting creative in what to do with them (although the large majority of them have found their way into our tummies as is).  Since I've already shared my recipe for cherry lime agua fresca, it's high time I share my cherry pico de gallo recipe with you.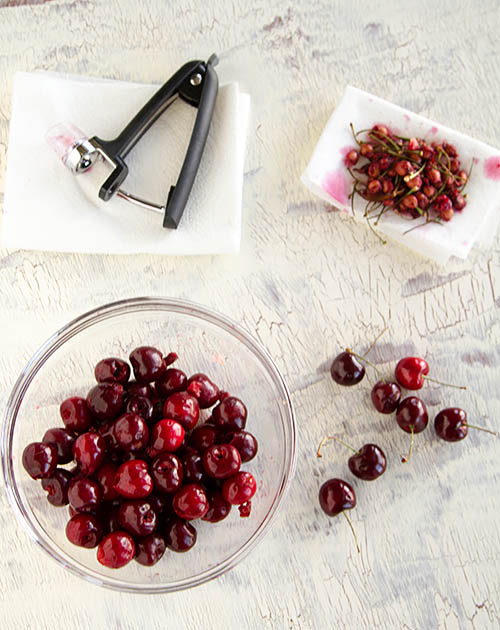 I love pico de gallo, a salsa made from fresh chopped tomatoes, white onion, and chilis.  I find it elegant in its simplicity.  After eating pico de gallo several times a day when we were in Mexico a couple of weeks ago, I've been going through withdrawals.  So I decided to whip up a bunch.  When I went to reach for the tomatoes sitting on my kitchen counter, there happened to be a bag of cherries sitting next to them, and I find myself grabbing those instead.  The result is a pico de gallo that is just a bit sweet, which makes a beautiful counterbalance to the other flavors in the salsa.  Dare I admit that I may like this version better than the traditional pico de gallo?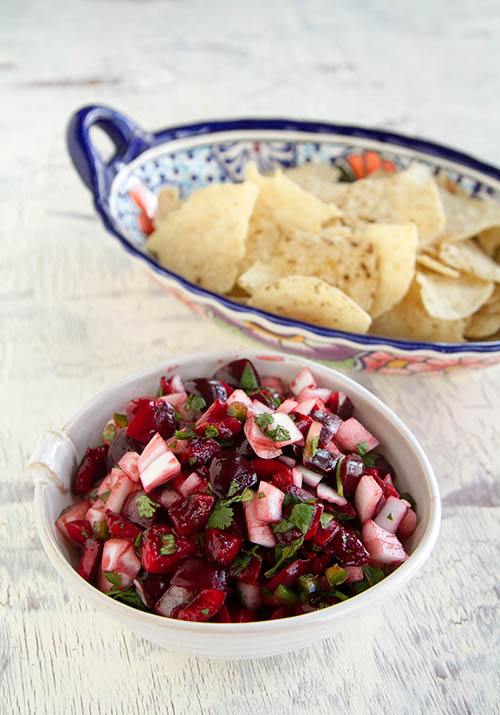 Print This Recipe
Cherry Pico de Gallo
Makes approximately 8 servings
10 ounces pitted cherries, chopped (about 2 cups once chopped)
1/2 medium white onion, chopped
1/4 cup roughly chopped cilantro
1 jalapeno, seeded and finely chopped
1 tablespoon freshly squeezed lime juice
Salt to taste
——————————————————————-
Combine all the ingredients in a bowl, stirring them together until they are evenly distributed. Cover the bowl with plastic wrap and refrigerate the pico de gallo for 30 minutes before serving, to allow the flavors to develop and meld.
*Recipe notes: This salsa is delicious served with chips and guacamole or as a topping on tacos.  It is equally delicious served as a light side salad with grilled meat!  If you don't have cherries, you can substitute fresh strawberries for a different summer twist.