This post is brought to you by
Harmons Grocery
.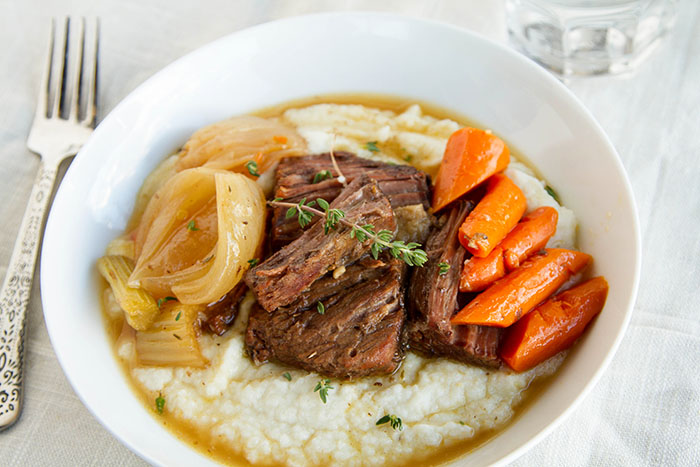 I know, I know,  you're thinking "Gluten free slow cooker pot roast?  Rachael, isn't a pot roast naturally gluten free?"  Well yes, and no.  It depends on how you make it!  If you make your own homemade beef stock without any added thickeners and you don't thicken your gravy at the end with a roux…then yes, probably.  This past weekend I went to the National Gluten Free Expo here in Utah, as a Harmons Grocery blogger, to explore all of the new things that are happening in the world of gluten free.  Harmons already has a ton of gluten free options on their shelves (look for the purple gluten free tags!), so I was interested to see what else might start showing up.  There were lots of the usual gluten free goodies (cakes, cookies, and more!), breads, flour mixes, etc.  But hidden among the usual suspects were some gems that I'm pretty excited about, including a product that is actually made locally here in Utah—WEDO Gluten Free Banana Flour—a gluten free flour made from unripe, green bananas.  The flour has a wonderful mild, earthy flavor, not the banana-y flavor I was kind of expecting.  I had actually seen a container of the flour a few weeks ago on the shelves at Harmons, but not knowing anything about it, didn't buy any.  The Expo gave me the chance to talk to the co-founder of WEDO about the product, and by the end of our conversation I bought two containers and couldn't wait to get home to start using it.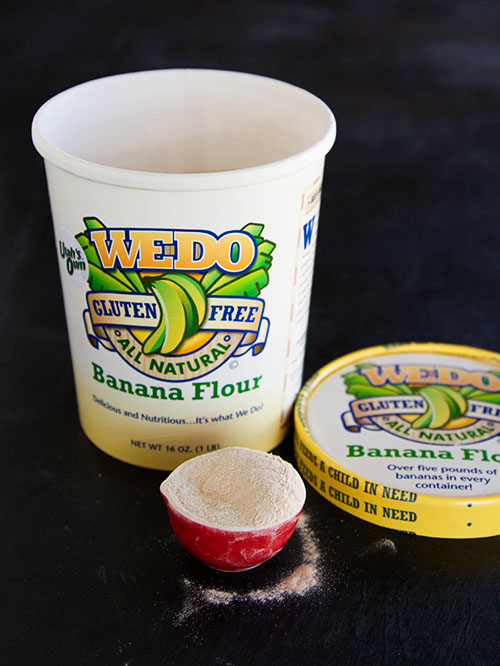 I figured that I would start out with something easy, like pancakes, to figure out how this flour worked, but then Mr. Fuji begged me to make pot roast for Sunday dinner, and I got the idea to use the banana flour as a thickener for the pot roast sauce.  Instead of adding a roux and thickening the sauce at the end of the cooking process, I cheated and dredged my roast in the banana flour before browning it and then putting it in the slow cooker to cook, along with the vegetables and some beef broth.  By dredging the roast in the flour and then browning it in oil, you are essentially making roux.  The meat mixes with the fat in the pan, and the flour provides thickening power when the additional beef stock is added.  The amount of flour used to dredge a roast doesn't make for a very thick sauce at the end—just enough to give it a bit more body, which I like.  The banana flour did this beautifully, delivery a flavorful, silky sauce to serve with the roast.  I served the roast with the vegetables and sauce alongside some mashed cauliflower and some mashed potatoes that Mr. Fuji made.  It was a perfect Sunday dinner.  In fact Mr. Fuji was wanting me to name this "Mr. Fuji's Favorite Pot Roast."
If you're in the Salt Lake City area, Harmons is having a big gluten free sale this week, so head on over and grab the ingredients to make pot roast this weekend, along with all of your other favorite gluten free staples!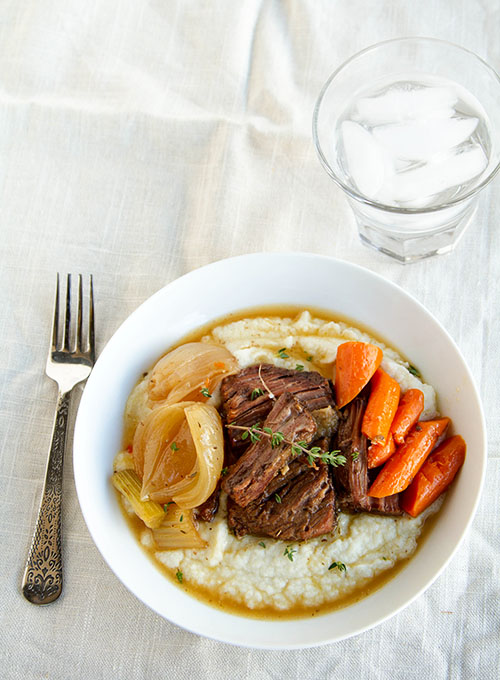 Print This Recipe
Slow Cooker Pot Roast
Makes 8 servings
1 beef chuck roast (approximately 4 pounds)
Fine grain sea salt and freshly ground black pepper
2 tablespoons banana flour
2 tablespoons olive oil
8 medium-size carrots, peeled and cut into 2-inch pieces
3 medium-size yellow onions, halved
2 stalks celery, cut into 2-inch pieces
2 cloves garlic, minced
3 sprigs fresh thyme, plus more for garnish (optional)
3 1/2 cups gluten-free beef stock*
1/4 cup apple cider vinegar
Directions:
1. Generously salt and pepper the chuck roast, then dredge the roast in the banana flour, coating all sides.
2. Heat the olive oil in a large saucepan over medium-high heat. When the olive oil starts to shimmer, place the roast in the pan and sear it for about one minute on all sides until it is nicely browned all over.
3. Meanwhile, place the carrots, onions, celery, garlic, and fresh thyme in a 5 or 6-quart slow cooker. Top with the browned roast.
4. Pour about 1 cup of the beef stock into the saucepan you browned the roast in, put the saucepan over high heat, and scrape up any browned bits that are stuck to the pan. When the bottom of the pan is deglazed, pour the liquid into the slow cooker along with the rest of the beef broth and the apple cider vinegar. Cover and cook until the beef and vegetables are very tender, 8 to 10 hours on low-heat or 4 to 5 hours on high-heat. Season with additional salt and pepper as needed, garnish with fresh thyme (optional), and serve with the vegetables and liquid. This is especially delicious served with mashed potatoes or mashed cauliflower.
*Recipe Notes: Make sure you read the ingredient label of the beef stock/broth you are buying, since some brands add ingredients to thicken the product, which contain gluten. If you don't have any banana flour on hand, you can just skip the step of dredging your roast. The broth after cooking will be slightly thinner, but will still be delicious!
===============================================
*Disclosure: I was compensated for my time spent developing this recipe and writing this post as part of my work as a blogger for Harmons Grocery.  All experiences and opinions are my own.