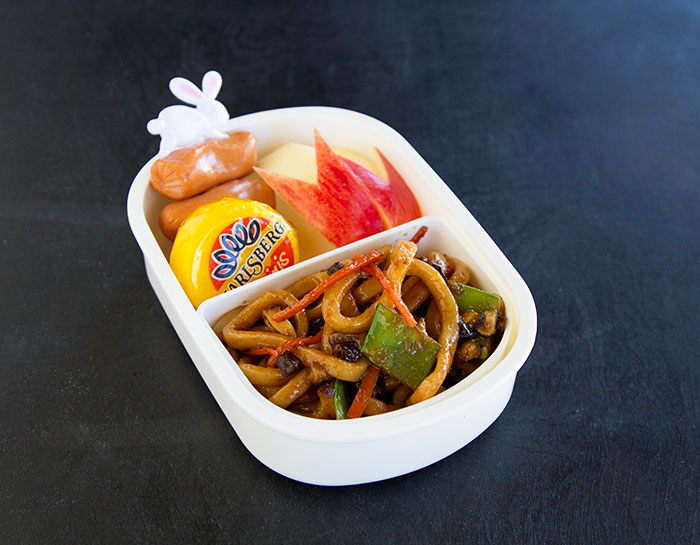 Squirrel's second grade class has been studying the moon for the past couple of weeks, and she's been charting the moon's changes each evening at home as an assignment for her Chinese class.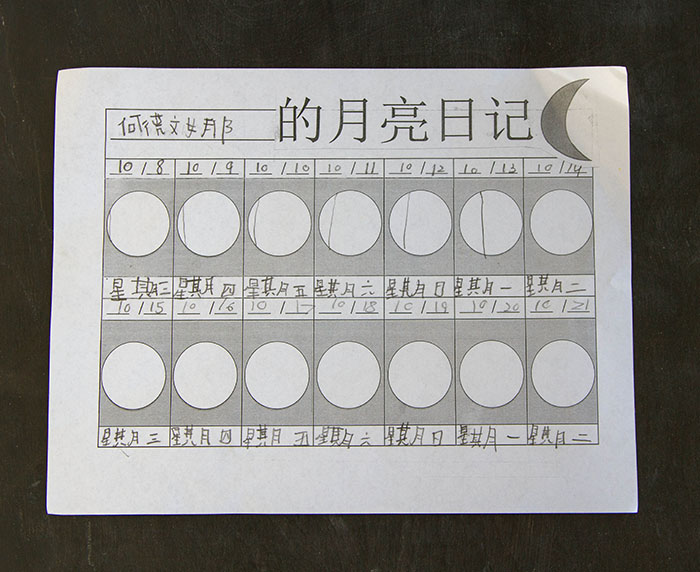 With this in mind I wanted to make her a moon-themed bento to add to all the fun.  Around this time of year in Japan, people throw tsukimi (moon viewing) parties, to celebrate the beauty of the moon, so the timing of this bento is even more appropriate, dontcha think?  I recently got a box of Jarlsberg's new Jarlsberg Minis in the mail to try, and immediately thought of using one to represent the full moon in my tsukimi bento.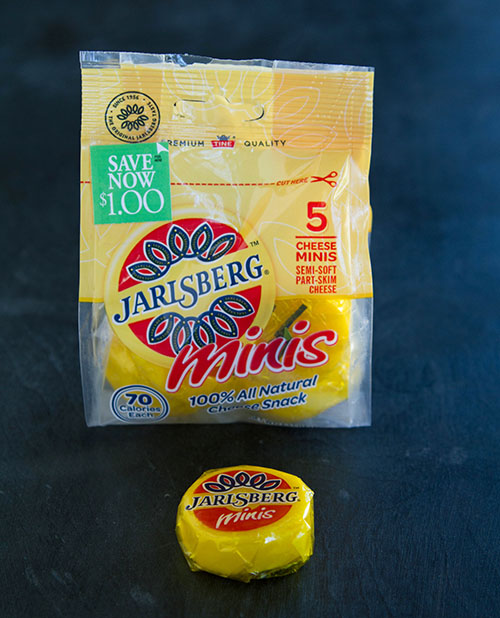 In Japanese lore, when you look at the moon, you see a rabbit pounding mochi (rice taffy), instead of a man in the moon.  So I used an Easter bunny cocktail pick, to represent the rabbit in the moon, to skewer some mini hot dogs.  But I wasn't happy with just one bunny reference, and I wanted to add some extra color in the bento, so I whipped up a pair of apple rabbits to pack as well.  Apple rabbits are super easy to make, as long as you are super careful with the final cutting step.  I like to use a crisp apple with red, or partially red skin.  I start by cutting an apple in half, then use a melon baller to remove the core.  Then I slice each half into 4 to 5 wedges.  Next I slice off a small portion of the straighter end of each wedge (this is optional, but it does make cutting the ears of the rabbit easier).  Then I use a paring knife to make 2 shallow cuts, deep enough to go through the skin, in a v-shape, with the point of the v pointing towards the curved end of the wedge.  Finally I carefully slip the paring knife under the skin of the blunt end of the wedge and cut up until I just pass the point of the v.  Now the skin that extends to the blunt end of the wedge should come right off, leaving two little spiky ears.  To make them curl up slightly, and to prevent browning of the apple, I put the wedges in a bowl of ice water with a bit of lemon juice added, and let them soak for about 5 to 10 minutes.  The closer to the skin you get with your knife and the longer you make the ears, the more they will curl up.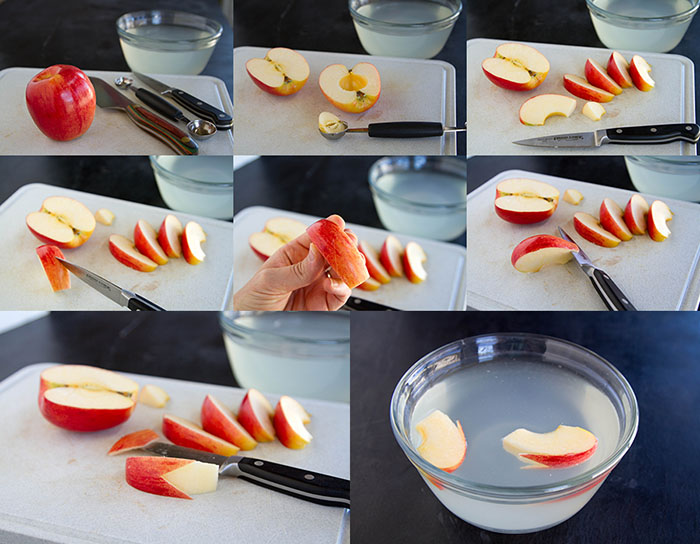 For the main dish, I decided to make some yaki udon, or pan-fried udon noodles.  There is a traditional Japanese noodle dish called tsukimi udon, or moon-viewing noodles, which consists of udon noodles in a hot soup broth topped with a poached egg.  The egg represents the moon, thus the name.  I decided yaki udon would be a subtle reference to this dish.  Since I had already included the mini hot dogs in the bento, I decided to make a vegetable yaki udon.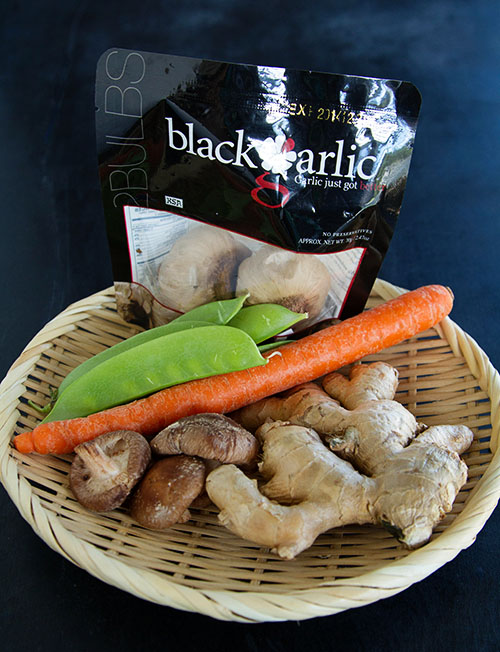 For a spooky twist, I used some black garlic from Frieda's produce, in place of fresh garlic.  Black garlic is made by aging whole heads of garlic for a month in a special high-heat fermentation process that turns each clove into a complex mélange of salty, sweet umami flavors.  I added some shredded carrot (gotta have orange when you have black for this Halloween season, right?), snow peas, shiitake mushrooms, and grated fresh ginger (you know me, I put ginger in everything these days!).  I stir fried the veggies first (forgive me for lumping the mushrooms and ginger into that category), then added the chewy udon noodles, and then finished everything off by adding a mixture of soy sauce and mirin, and kept stir frying until almost all of the liquid had evaporated.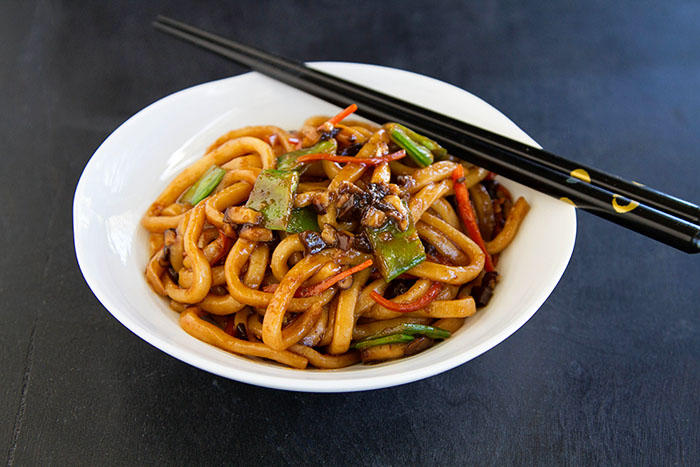 Print This Recipe
Vegetable Yaki Udon
Makes 1 to 2 servings
1 package fresh cooked udon noodles (approximately 8 ounces, varies slightly depending on the brand)*
1 tablespoon canola oil
1/4 medium carrot, peeled and cut into small strips
1/2 cup snow peas, cut into 1-inch pieces
1 to 2 large shiitake mushrooms, stems removed and caps chopped into small pieces
2 black garlic cloves, minced (or 1 clove of regular garlic)
1/2-inch piece of fresh ginger, peeled and minced
2 tablespoons soy sauce
2 tablespoons mirin
Directions:
1. Cook the udon according to the directions on the packaging.
2. Heat the oil in a wok or large skillet over medium-high heat. Add the carrot, snow peas, and mushroom, and stir-fry until lightly browned and still slightly crisp.
3. Stir in the garlic and ginger and cook until fragrant, about 30 seconds.
4. Add the noodles to the wok, or skillet, and stir-fry until lightly browned, about 1 minute. Then add the soy sauce and mirin and stir constantly until most of the liquid has evaporated, about 1 to 2 minutes. Serve immediately, or let cool before packing into a bento.
*Recipe Notes: This is how much I make when I'm making yaki udon for the Fujilings' bentos.  It makes more than enough for 2 child-sized servings.  If you're making these for an adult, or to serve as part of a meal, rather than as part of a bento, it makes enough for 1 adult portion.  If you want to be adventurous, you could always make your own udon noodles instead of using store bought!
==================================================================
*Disclosure: Jarlsberg sent me some Jarlsberg Minis and Frieda's Produce sent me some Black Garlic for me to try. I received no other compensation for this post, nor was I required to post about these products. I chose to write about them because I love them! All opinions and experiences are my own.