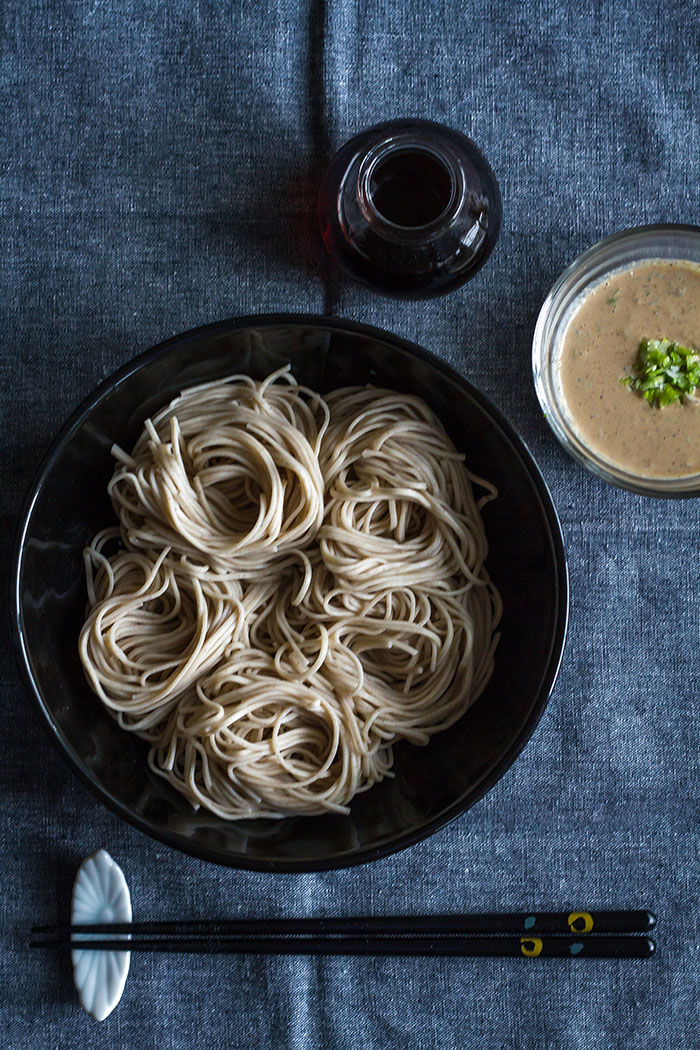 Before living in Japan for the first time, I always assumed Japanese food would be hard to cook.  Everything was so beautiful and so perfect.  I quickly learned, however, that while a few dishes were quite technical, most Japanese food is actually incredibly approachable and doable for the home cook.  Author Amy Kaneko, in her cookbook, Let's Cook Japanese Food: Everyday Recipes for Authentic Dishes, shows you just how doable, by demystifying everything from tofu to shellfish and and sukiyaki.  Amy is an American home cook who spent several years living in Japan with her Japanese husband and learned to cook Japanese food from her mother-in-law, Japanese family and friends.  She has taken that knowledge and distilled it into this beautiful book.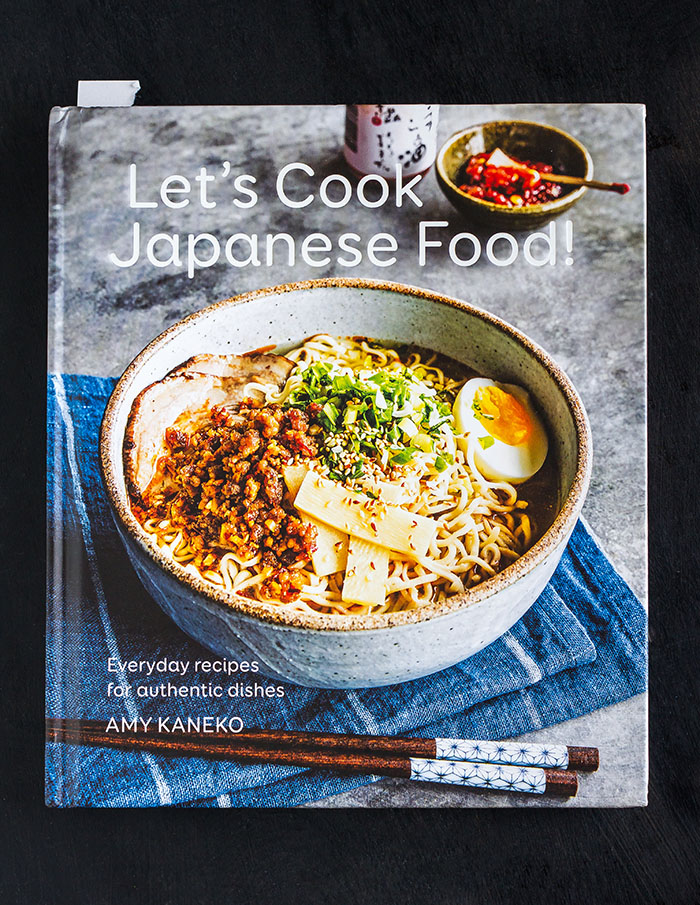 The book starts off with some basics, teaching you about some of the basic equipment, ingredients, and techniques, and then moves into recipes which are broken into 5 categories: Tofu & Eggs, Vegetables, Rice & Noodles, Fish & Shellfish, and Meat & Poultry. Anecdotes, tips, and tricks are also sprinkled throughout the book, making you feel like you are in Amy's kitchen learning from her instead of reading a book.  But most importantly is the fact that the recipes are easy to follow and result in delicious food.  The book talks the talk, but it also walks the walk.  You can learn to make agedashi dofu (fried soft tofu in a sweet soy sauce) with a perfect crispy outside and creamy inside, miso soup that most likely tastes just as good as, or better, than it does at your local sushi joint, perfect light tempura, or gyoza (panfried dumplings) that will make you never want to order takeout again.  My favorite recipe from the book so far, however, is the recipe for Kurumi Soba—chilled buckwheat noodles that are served with a sweet walnut dipping sauce.  I love nuts, but walnuts have never been my favorite.  This dish makes me want to have walnuts for every meal of the week.  To put it mildly, this dish is heavenly.  Amy writes, "My husband is from Nagano, the heart of Japan's soba country. His hometown has many soba-ya (soba restaurants), and every family member has a favorite. Mine is Kusabue, which serves kurumi soba, cold noodles with a sweet dipping sauce enriched with walnut paste. This is a micro-regional dish, essentially unknown outside the area. The sweet and nutty dipping sauce (a mixture of tsuyu, walnuts, and sugar) is a perfect counterpoint to the cool soba."  My opinion?  She undersells the sauce.  It is creamy and complex, which is surprising the first time you taste it because it is comprised of only a few ingredients.  But that is Japanese food in a nutshell.  Knowing how to take a few simple ingredients and transform them into something sublime.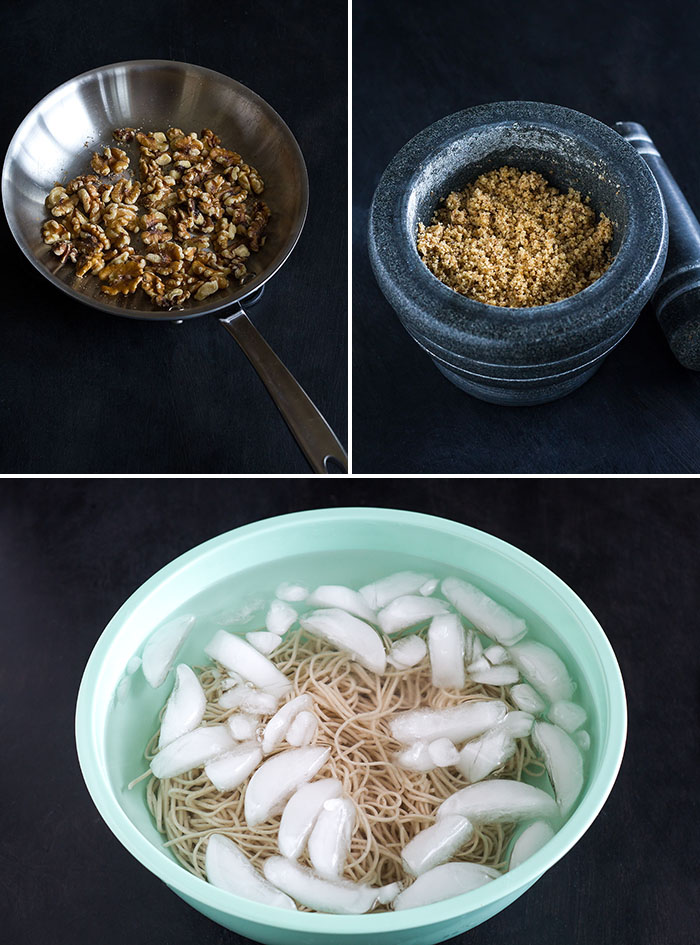 Kurumi Soba is easy to make.  To make the sauce you make a tsuyu, which is a combination of dashi, soy sauce, and miring.  Next you pan toast your walnuts, then grind them finely using a suribachi (Japanese mortar and pestle) or if you don't have one, a regular mortar and pestle.  (Can I just moan and complain about the fact that I set my suribachi aside as we were packing up my house and somehow it didn't make it to our temporary living space? I miss it.)  Then you add some sugar and enough tsuyu to make a thick paste.  Finally you cook your noodles, then chill them in an ice water bath.  Then it's time to eat!  Mix some more of the tsuyu into your walnut paste and stir in some minced green onions and wasabi (optional), dip your noodles into the sauce, then eat your noodles directly from the dipping bowl.  Just thinking about it has my mouth watering.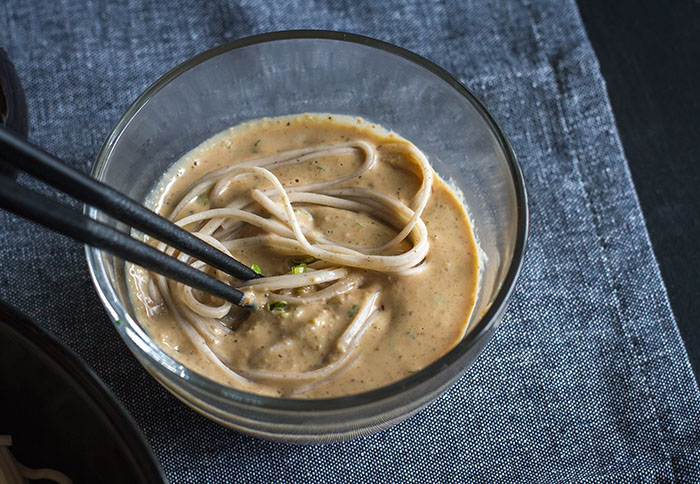 Now, if you're smart, you'll go order a copy of Let's Cook Japanese Food! so you can whip up even more deliciousness.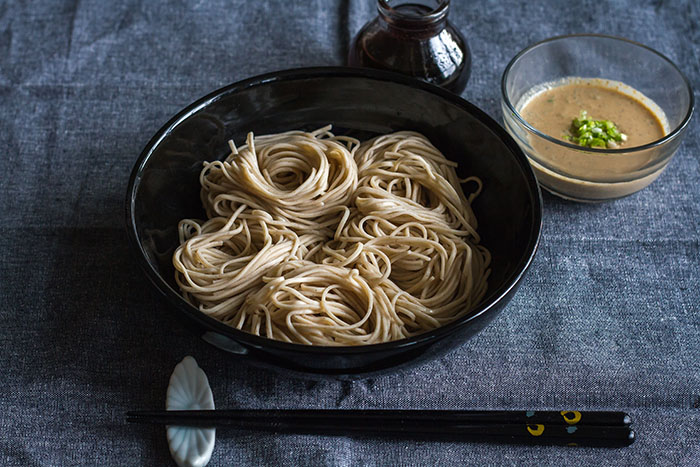 Print This Recipe
Kurumi Soba, Cold Soba Noodles with Sweet Walnut Dipping Sauce
Recipe reprinted with permission from, Let's Cook Japanese Food! Everyday recipes for authentic dishes (Weldon Owen, March 2017) by Amy Kaneko
Makes 2 servings
Ingredients:
1 1/ 4 cups dashi or water
2 tablespoons soy sauce
2 tablespoons mirin
1 cup walnuts
2 teaspoons sugar, plus more to taste
1 package (14 ounces) dried soba noodles
Wasabi for serving (optional)
4 green onions, including tender green tops, minced
Directions:
1. In a small saucepan over medium-low heat, warm the dashi. Add the soy sauce and mirin, stir until dissolved, remove from the heat, and let the tsuyu sauce cool.
2. Fill a large saucepan with water and bring to a boil.
3. In a small, dry frying pan over medium-high heat, toast the walnuts, shaking the pan to prevent scorching, until fragrant and the nuts have taken on a little color, about 2 minutes. Remove from the heat and let cool. Place the toasted walnuts in a zippered plastic bag, force out the air, and seal closed. Using a meat pounder or the bottom of a large can, crush the nuts until the size of peas. Transfer the crushed nuts to a suribachi (see page 12) or a mortar and grind finely.
4. Add 2 teaspoons sugar and grind the sugar into the walnuts. Taste and add more sugar if desired. Add up to 3 tablespoons of the tsuyu, reserving the remaining sauce for serving, and grind or mix until the sugar is incorporated and the mixture is a thick paste. Set aside.
5. Have ready a large bowl of ice water. When the water is at a rolling boil, add the soba and cook according to the package directions until al dente. Drain and immediately transfer them to the ice water. Using your hands, swish the noodles to cool them quickly. When cool, drain well and transfer to a large bowl.
6. To serve, place about 2 tablespoons of the walnut paste in each of 2 dipping bowls, add some of the reserved tsuyu and the wasabi (if using), and mix until well combined. Then stir in the green onions. To eat, pick up a biteful of the soba with chopsticks, drop it into the dipping sauce, then pick up and eat the soba directly from the dipping bowl.
*Recipe Notes: Soba noodles, which are made from buckwheat flour and have a firm texture and a slightly nutty flavor, are available in many different varieties in Japan. The most common type, which is a pale brown, is made with buckwheat and wheat flours, but some versions incorporate mountain yam, green tea, or other ingredients into the dough. Most of the soba noodles sold in the United States are made from a mix of buckwheat and wheat flours, and the most important thing to remember when boiling them is not to overcook them. They must never be mushy, especially when used in cold noodle dishes. In Japan, the water in which soba is cooked is thought to be full of vitamins and is thus drunk at the end of the meal, mixed with any leftover dipping sauce.
Hot soba variations: To make tempura soba, combine ½ cup soy sauce, ½ cup mirin, and 4 cups dashi or reduced-fat, low-sodium chicken broth in a saucepan to make the tsuyu broth and bring just to a boil. Follow the directions for cooking and draining (but not cooling) the soba and then divide between 2 large soup bowls. Ladle in the hot broth and top with Yasai to Ebi Tempura (page 49).
To make Tsukimi soba, make the tsuyu broth as directed and bring just to a boil. Follow the directions for cooking and draining (but not cooling) the soba and then divide between 2 large soup bowls. Ladle in the hot broth. Crack an egg into each bowl. The hot broth will partially cook the eggs (see note page 141). Garnish with green onions.
*Disclosure: I was sent a copy of this cookbook by the publisher for review. I was not required to write a post in return for receiving the book and I received no other compensation. All experiences and opinions are my own!