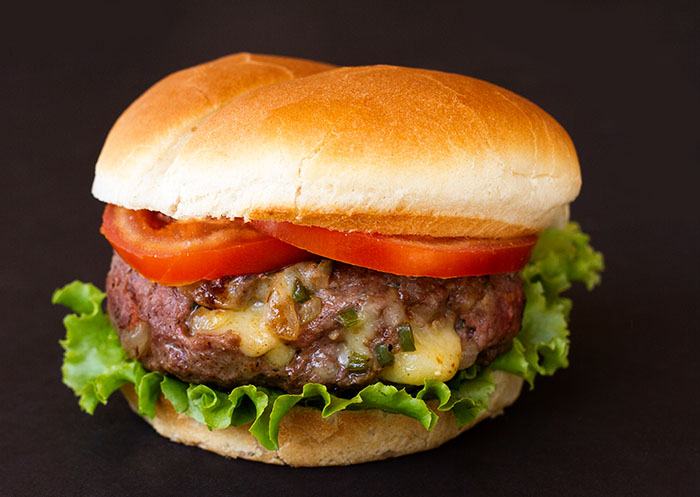 I am not a huge burger girl.  It's not that I don't like them, but if given the choice I'll choose the things that I like even more instead, like grilled chicken, steak, fish, bratwurst, etc.  There is one exception—if a burger contains ground lamb then I am all in.  I love lamb.  So when I found out that the next Kerrygold Blogger challenge was to come up with a burger recipe, I knew that mine had to include ground lamb.  We've been in Southern California visiting my parents for the past week and a half, so I took advantage of their taste-buds and whipped up a batch of spicy cheddar lamb burgers, a combo that had been bouncing around in my head for a while.  I sauteed some minced onion, jalapenos, and garlic until soft, then (after it cooled) mixed it into my meat.  I used 50% ground lamb and 50% ground beef, though you could use whatever percentages you prefer.  (I really love 100% lamb, but that is more on the expensive side of things and I find that not as many people are fond of the stronger taste you get when using all ground lamb.)  Then I folded in small cubes of Kerrygold Aged Cheddar, formed the mixture into patties, and pan-fried them (but you could grill them as well).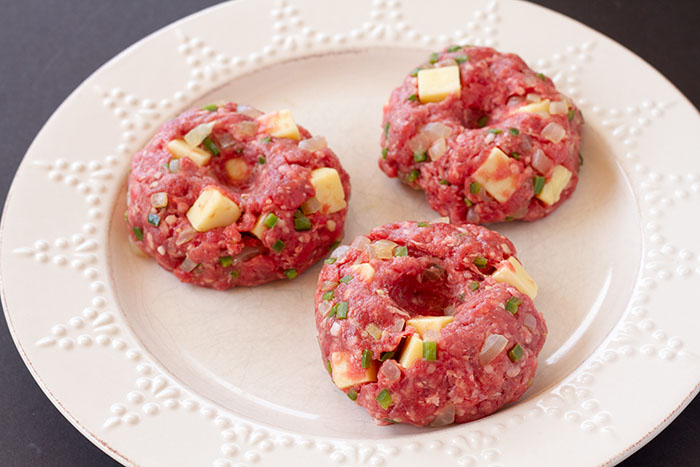 Putting the cheese into the meat mixture, instead of adding it in slices on top of the burgers like a traditional cheeseburger, helps keep the burger more moist, helps prevent it from becoming too dense, and gives the burger great flavor.  The tang of the aged cheddar combined with the slight bit of heat from the jalapenos makes for a burger that isn't lacking in flavor.  These burgers were a big hit with my family and will definitely be showing up again in our house.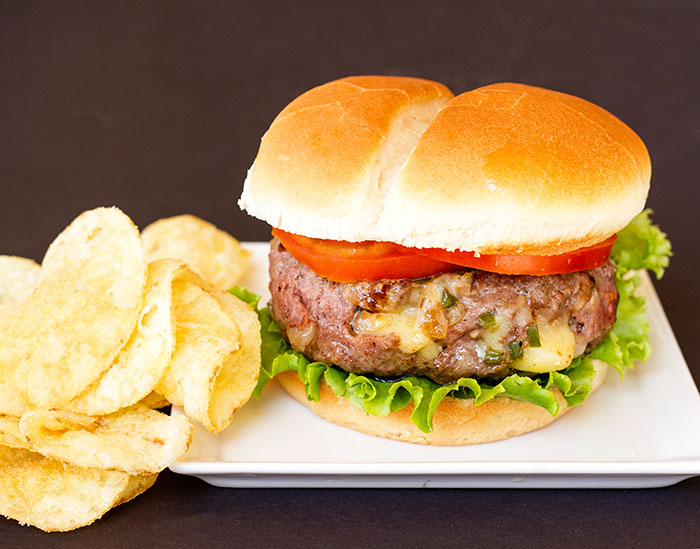 Print This Recipe
Spicy Cheddar Lamb Burger
Makes 4 burgers
Ingredients:
1 tablespoon grapeseed/sunflower oil
1/2 cup minced yellow onion
2 large jalapenos, seeded and minced
2 cloves garlic, peeled and minced
1 teaspoon fine grain sea salt
1/2 teaspoon freshly ground black pepper
1/2 pound ground lamb
1/2 pound ground beef
3.5 ounces Kerrygold Aged Cheddar, cut into 1/2-inch cubes
4 hamburger buns
Hamburger toppings: lettuce, tomato, etc.
Directions:
1. Heat the oil over medium heat in a saute pan. Saute the onions and jalapeno peppers until they soften. Add the garlic and saute until fragrant, then remove the pan from the heat, and put the mixture in a bowl to cool.
2. Once the onion mixture has cooled so that it is warm, but no longer hot, mix it with the beef and pepper until well blended. Then gently fold the cubed cheese into the mix.
3. Divide the mixture into 4 portions and shape each into a patty about 4-inches wide, or to be slightly larger in diameter than your burger buns, then gently press the middle in to create a small dimple (this will help prevent the burgers from shrinking or puffing up in the middle).  Right before you are ready to cook the burgers, season them with the salt.
4. Heat a teaspoon of oil or butter in a saute pan over medium-high heat. Put the burger patties in the hot pan, making sure to leave space around each burger (you've got to have room to squeeze a spatula in between them!), and let them cook for 3 to 5 minutes.
5. Flip the burger patties and let them cook for another 3 to 5 minutes until they are your preferred doneness.
6. Serve the hamburger patties on hamburger buns with your desired toppings!
*Recipe Notes: Not a fan of lamb? You can use all ground beef in this recipe (1 pound total) and it will be delicious! I use 80/20 beef which yields a nice juicy burger without being too greasy. Cooking times may vary slightly depending on how thick you make your burgers. I like a nice thick burger, so I took the full 5 minutes on each side to reach a nice medium on the inside.
*Cook them on the grill!  If you want to get out and do some grilling, prepare the burgers as directed, then grill them until they reach an internal temperature of 145 degrees Fahrenheit (use an instant-read thermometer, like my favorite Thermapen, to make taking temperatures easy), then move them to indirect heat for 8 1/2 minutes before serving them. Holding them at this temperature for the full 8 1/2 minutes will pasteurize the meat, making them safe to consume, without drying them out! This technique meets USDA standards. If you are cooking for anyone who is at risk (like young children, elderly, or pregnant), bring the center of the burgers to 160 degrees Fahrenheit, just to be safe.
——————————————————————————————–
*Disclosure: I was not compensated for this post, but I did receive free products from Kerrygold to use in my cooking as part of my participation in the Kerrygold blogger progam.