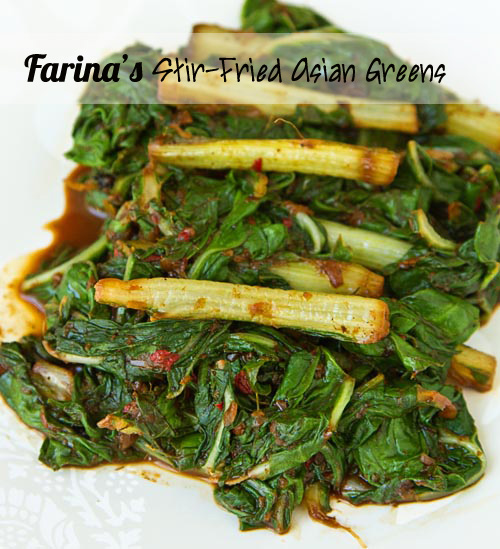 Dark leafy greens stir-fried in a smoky, sweet and spicy sauce make a wonderful addition to a fall or winter meal, and a fun way to explore the flavors of Southeast Asia.  I wrote recently about different ways to add more fruits and vegetables into your diet.  One idea I talked about was trying something new as a way to keep things interesting and fun.  I think this is applicable not only for feeding our families, but keeping things interesting for those of us spending our time cooking meals in our kitchens as well.  Please tell me I'm not the only one to find myself in a dinner rut, making the same things over and over again and feeling wholly bored and uninspired?  One of the things I've learned over the years, is that if I branch out into other cuisines and learn new ways to use familiar items, and also learn to use new ingredients, my time in the kitchen is much more pleasurable, and I'm way less likely to get into my cooking rut.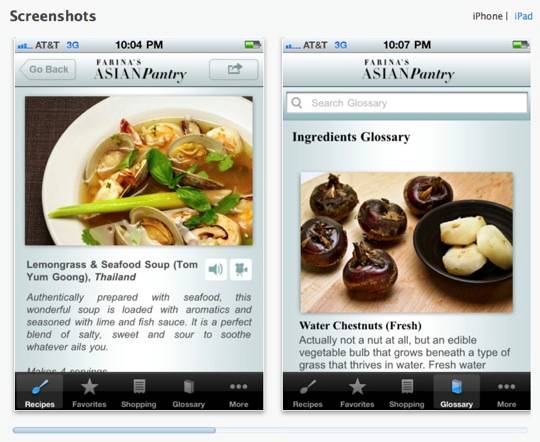 One of my twitter friends, and favorite cookbook authors, Farina Kingsley, has a new interactive Asian cookbook app, called Farina's ASIAN Pantry.  Farina is crazy talented (LOVE her cookbooks), and has a fascinating background.  When she asked if I would be interested in trying out her new app, along with one of her new pantry kits, I couldn't resist.  I decided to try her Southeast Asian Pantry Kit, because some of the ingredients are ones I am less familiar with, or have never used.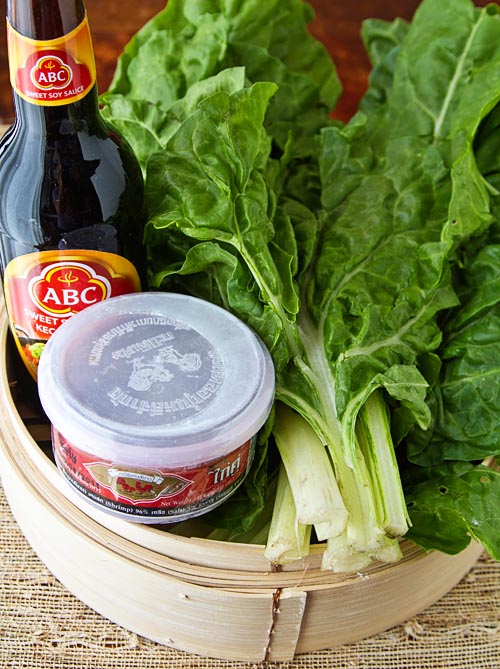 The app is easy to use, and a lot of fun.  Farina does a fabulous job of demystifying Asian cuisine in the home.  The app features more than 60 of Farina's recipes, along with photos of the dishes.  The app covers dishes from China, Japan, Korea and Southeast Asia.  It also includes some great "how-to" videos, an Asian market locator, and a detailed ingredient glossary (with pictures!), so that you're never alone in the cooking process.  If you're looking for a fun gift for someone who loves Asian cuisines and loves to cook, the app and a pantry kit would be an amazing gift!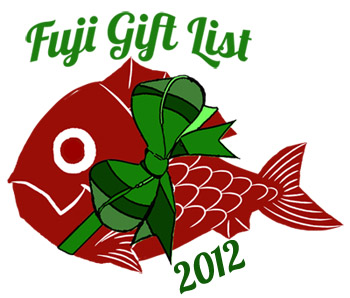 The pantry kit is full of ingredients needed to cook the various recipes featured on the app, and will get you excited to get into the kitchen to start cooking.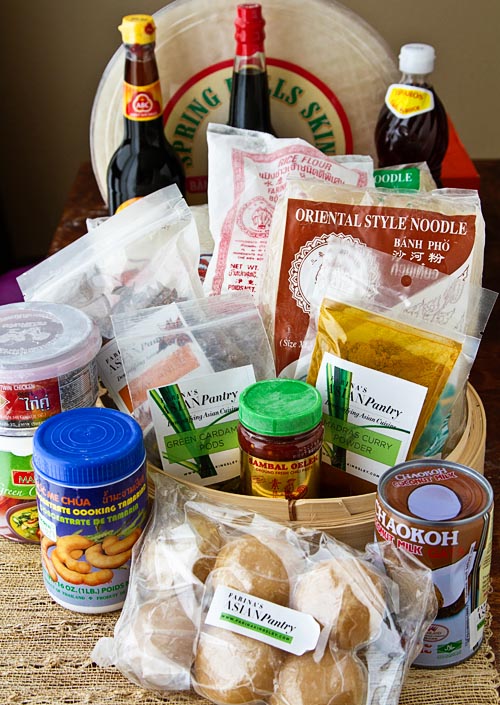 I started out simple, with Farina's recipe for Stir-Fried Asian Greens, a dish that features Indonesian and Malaysian flavors.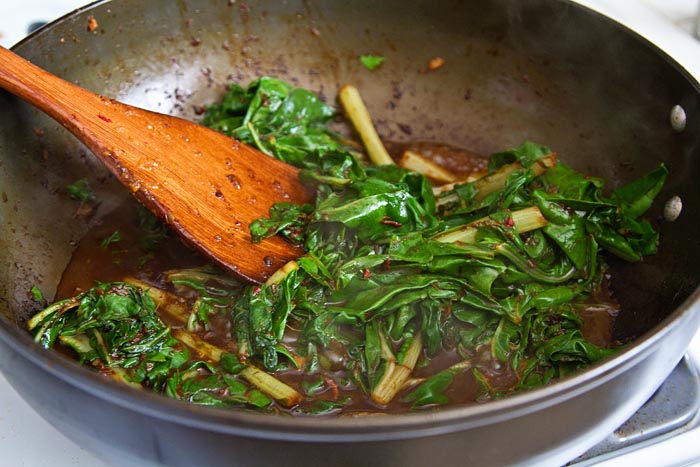 I had never used shrimp paste before, and was amazed at how its pungent odor and fishy flavor gave the greens a smoky savory flavor that was amazing.  I appreciated that Farina listed the traditional vegetable (Chinese broccoli) and then listed alternative substitutions.  I used Swiss chard, which is much easier to find where we live.  The greens were delicious—I could have eaten the entire pan all by myself.  This recipe has been added to my "go-to" list of side dishes, because it's easy and delicious.  Farina wants to help one of you stock your pantry with Asian ingredients, and is sponsoring a giveaway of one of her pantry kits!  Details are after the recipe below.  In the meantime, check out Farina's app and discover some new recipes for yourself!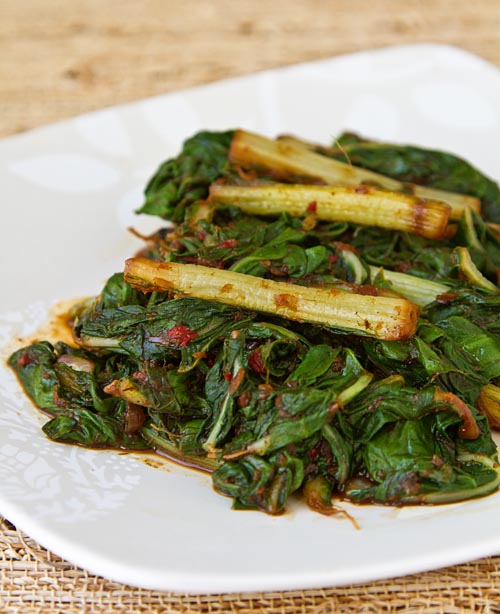 Print This Recipe
Farina Kingsley's Stir-Fried Asian Greens
Recipe reprinted with permission from Farina's ASIAN Pantry app
Makes 4 servings
For the greens:
2 bunches Chinese broccoli, Swiss chard or spinach
2 tablespoons canola oil
1 teaspoon shrimp paste
For the aromatic paste:
1 red Fresno chili, seeded and chopped
1 (1-inch) slice fresh ginger, peeled and chopped
2 shallots, peeled and chopped
2 cloves garlic, peeled and chopped
For the sweet soy sauce mixture:
2 tablespoons water
1 tablespoon sweet soy sauce
1/8 teaspoon cornstarch
1. Prep the greens: Trim the woody portion of the stems then cut the greens into 3-inch lengths, separating the stalks from the leafy portions. Wash the greens well to remove any dirt or grit, drain and set aside.
2. Make the aromatic paste: Use a mortar and pestle or mini-food processor to grind the ingredients for the aromatic paste until smooth and set aside.
3. Make the sweet soy sauce mixture: In a separate small bowl, combine the water, soy sauce and cornstarch.
3. Heat a wok or large saute pan over high heat. Once the pan is hot, add the oil and fry the aromatic paste for 1 minute. Add the shrimp paste and stir-fry until the mixture is fragrant and the paste turns a shade darker, 2 to 3 minutes.
4. Add in the stalks and fry until just tender, about 1 minute. Add in the greens and continue to stir-fryuntil the leaves have wilted. Stir in the sweet soy sauce mixture and stir-fry until well combined and the sauce thickens.
5. Drain the vegetables in a colander and transfer the greens to a warm plate and serve immediately.
==========================================
Farina's Asian Pantry Kit Giveaway!
There will be one (1) lucky winner who will receive their choice of one of Farina's Asian Pantry Kits, courtesy of Farina Kingsley!
Rules: The giveaway will close Tuesday, November 27th, 2012 at 12:01 am EST. The giveaway is open to all readers. The winner will be chosen randomly and notified by email. The winner will have 48 hours to respond before another winner is chosen.  To enter, please follow the steps below.