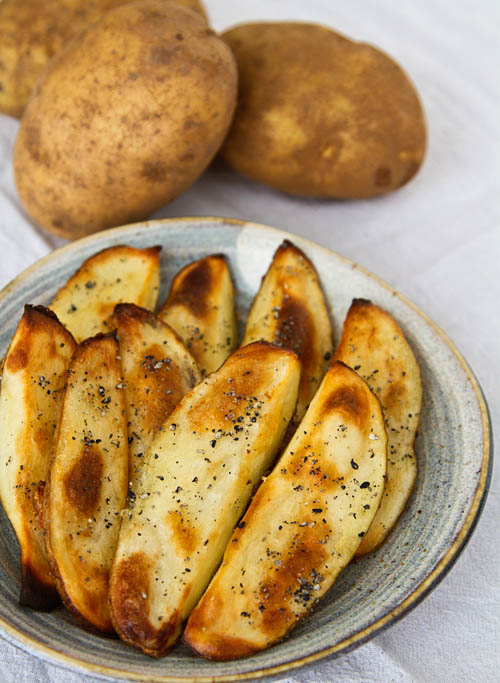 A match made in comfort food heaven: roasted potato wedges sprinkled with fragrant nutty gomashio—Japanese sesame salt, one of my all-time favorite condiments.  After my trip to Idaho to see the potato harvest, I was in the mood for something simple that would capture the essence of what the trip meant to me.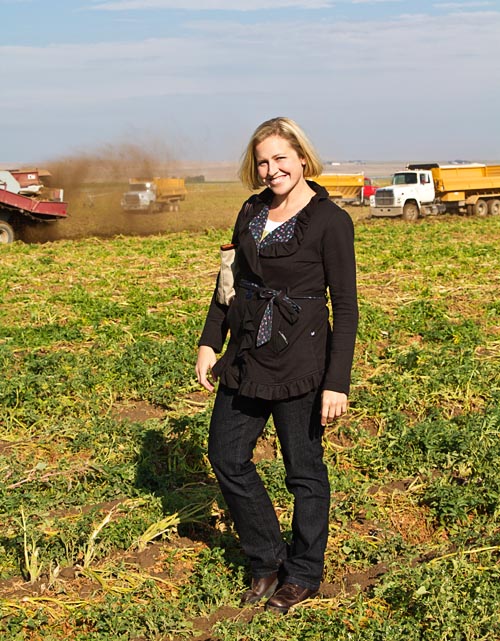 At one point on the trip, Don Odiorne, the Vice President of Food Service for the Idaho Potato Commission said, "Potatoes are not rocket science, but even the simplest things have been thought through."  Simple, yet still treated with respect and thought.  Simple, yet so versatile that many cultures around the world use them in their cooking.  What better way to pay homage to the potato than to treat them simply, and add a bit of an international Fuji touch?  Here's how I made them:
Golden wedges of Russet potato that are crisp on the outside and creamy on the inside, garnished with gomashio to give them a bit of nuttiness without covering up their wonderful flavor.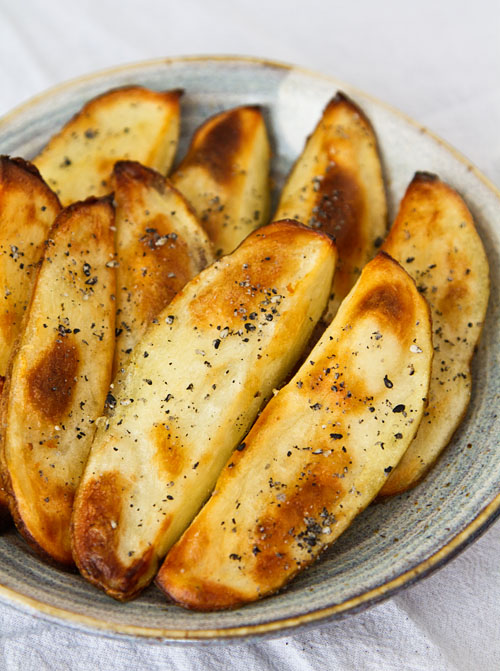 Print This Recipe
Roasted Potato Wedges with Gomashio (Japanese Sesame Salt)
Makes about 4 servings
For the potato wedges:
3 medium Russet potatoes (about 10 ounces each)
1 1/2 tablespoons olive oil
1/2 teaspoon fine sea salt
For the gomashio:
3 tablespoons unhulled raw black sesame seeds
1 teaspoon sea salt
1. Preheat the oven to 400 degrees Fahrenheit.
2. Make the potato wedges: Scrub the potatoes clean and cut off any bad pieces. Cut the potatoes into wedges (about six per potato). Transfer the wedges to a roasting pan and drizzle them with the olive oil and sprinkle with the salt. Toss the potatoes to coat them and then spread them out in a single layer, skin-side down.
3. Cook them in the oven for 25 to 30 minutes. The wedges are done when they are golden, crisp and cooked through.
4. Make the gomashio: While the potatoes are cooking, toast the sesame seeds and salt in a medium-size skillet over medium-low heat, turning frequently until the sesame seeds are fragrant and to avoid burning. Grind the sesame seeds and salt together in a suribachi (Japanese mortar and pestle) or spice grinder. Sprinkle the gomashio over the roasted potato wedges. Store the remaining gomashio in an airtight container at room temperature.