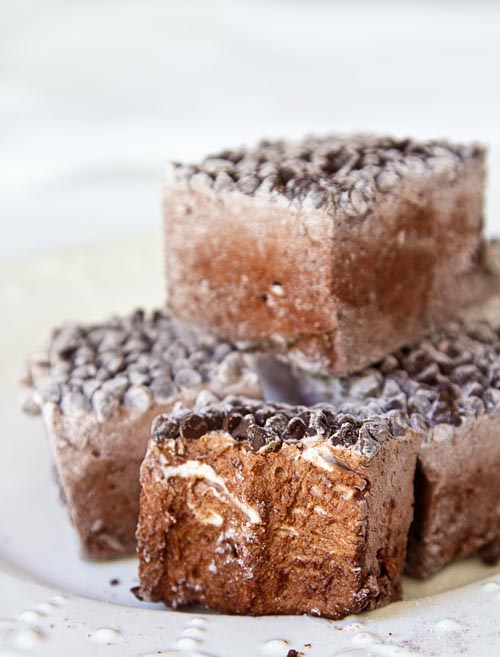 Giant Double Chocolate-Orange Marshmallows . . . the words alone are enough to make me swoon, but the actual finished marshmallows put me into a happy chocolate trance.  These marshmallows came from the genius baking mind of Abby Dodge, one of my favorite cookbook authors, and one of my favorite people in general.  Abby is supremely talented—she studied in Paris at La Varenne and has written nine cookbooks.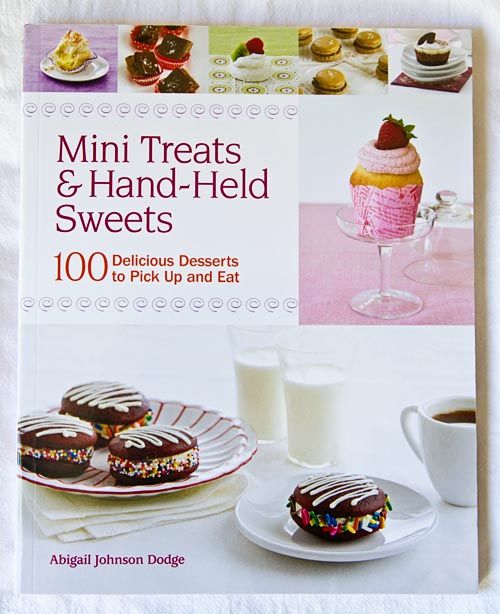 Abby has a new book out that is a must-own: Mini Treats & Hand-Held Sweets, 100 Delicious Desserts to Pick Up and Eat.  The book is filled with recipes for desserts that don't need a fork or spoon to eat, making them perfect to serve at a holiday party or even pack in a picnic!  The book would be a perfect gift for someone who loves to whip up sweet treats, which is why I'm putting it on the Fuji Gift List this year!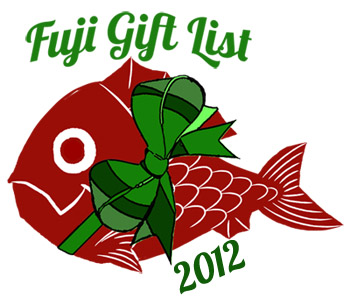 Abby took a break out of her busy schedule to chat with me about her new book.  I asked her how the new book came about and she said that it was the result of a conversation she had with her editor who was talking about being sick and tired of desserts being so big.  Abby's response was "Hold on! Why don't we take all those classic big birthday cakes and cheesecakes, and whoopee pies, and make them all minis?  Something that you can eat out of the palm of your hand?"  She went on to say, "I really feel that is the best part of my job, when I can have someone on Twitter, on Facebook, my editor, a friend, or a colleague say 'wow that's good, but if you added x, y, or z . . . what do you think?' And it turns into something even better.  I'm a big believer in sharing in the food world."  So Mini Treats & Hand-Held Sweets was born.  Not only did Abby dream up smaller versions of peoples' favorite sweet treats, but she also included a whole host of ways to switch things up.  She said that she really wants people to understand that there is so much you can do within one recipe.  "Just because you don't like nuts doesn't mean you shouldn't like that recipe!"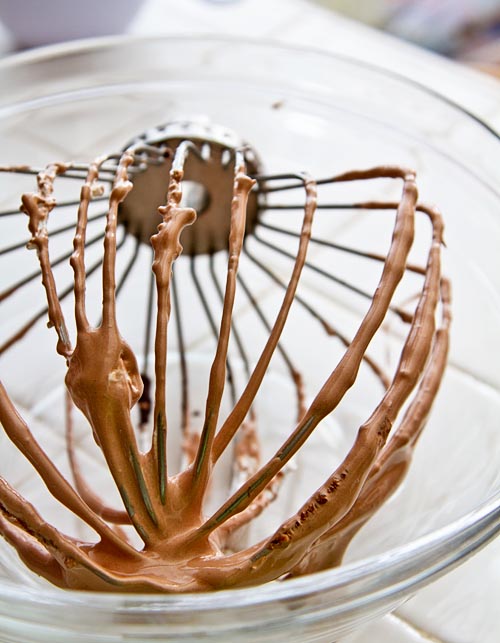 In the spirit of switching things up, Abby offered to dream up a Fujified version of one of the recipes in the book.  We decided on her recipe for Homemade Marshmallow Chicks and then consulted the Fujilings on flavors.  The result was this amazing recipe for double chocolate-orange marshmallows.  This recipe uses gelatin instead of egg-whites, making the process easier.  These squares of fluffy chocolaty goodness are hard to mess up, even if you forget to fold in the mini chocolate chips like I did the last time I made them!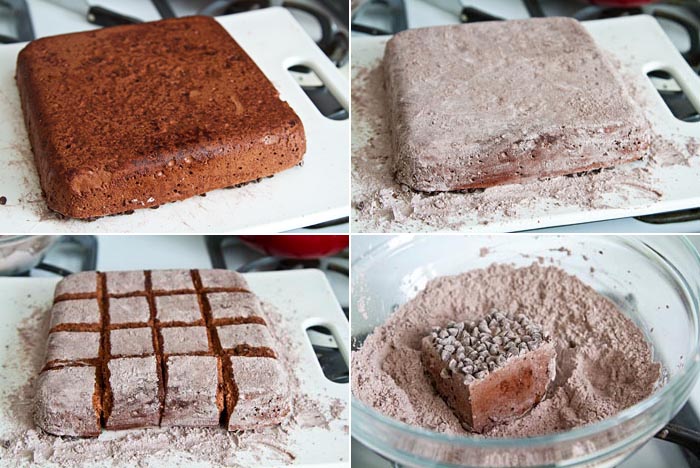 Although making homemade marshmallows requires a bit more effort than buying a bag of them at the store, I guarantee you that they taste a million times better!  These marshmallows are just the tip of the iceberg when it comes to drool-inducing creations that are in Mini Treats & Hand-Held Sweets.  The Fujilings agree:
Guess what? I have a copy to give away!!  So enter to win (details after the recipe below) and make yourself a batch of these double chocolate-orange marshmallows while you're waiting to find out if you're lucky.  Or, you could always order your own copy, and if you get lucky and win, you have a gift for the baker in your life!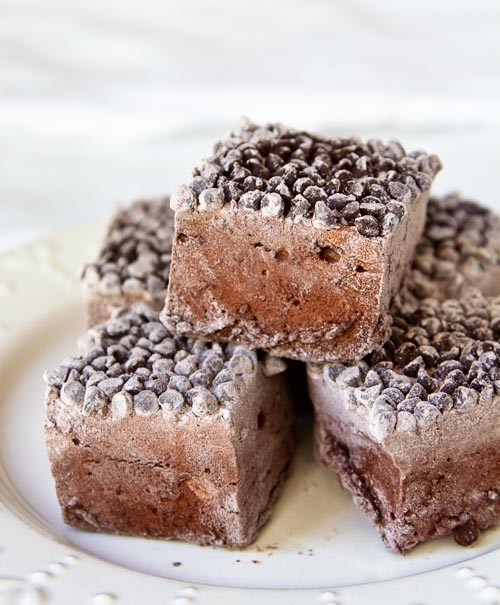 Print This Recipe
Giant Double Chocolate-Orange Marshmallows ~ Fuji Style!
Special recipe adaption by Abby Dodge, from Mini Treats & Hand-Held Sweets
Makes 16, 2-inch marshmallows
For dusting:
1/2 cup (2 ounces) confectioners' sugar
1/4 cup (1 ounce) cornstarch
1/4 cup ( ounces) natural, unsweetened cocoa powder
For the marshmallows:
1 3/4 cups water, divided
2/3 cup (2 ounces) natural, unsweetened cocoa powder
3 packages (1/4 ounce each) unflavored powdered gelatin
2 cups (14 ounces) granulated sugar
1/2 cup light corn syrup or golden cane syrup
1 tablespoon finely grated orange zest
1 teaspoon pure vanilla extract
Pinch of table salt
3/4 cup mini chocolate chips
1. To make the dusting mixture and prepare the pan:  Put the confectioners' sugar, cornstarch and cocoa powder in a small bowl and whisk until blended. Lightly grease a 8 x 8-inch baking pan (I use a straight-sided type for nice, straight-sided marshmallows) and sprinkle about one-third of the sugar-cornstarch-cocoa mixture evenly over the bottom and sides of the pan.
2. To make the marshmallows: Pour 1/2 cup water into a small saucepan and bring to a boil over medium-high heat. Slide the pan from the heat, add the cocoa powder and whisk until well blended and smooth. It will be very thick. Set aside. (This can also be done in a microwave using a small, heatproof bowl to bring the water to a boil.)
3. Pour 3/4 cup water into bowl of a heavy-duty mixer fitted with whisk attachment and sprinkle the gelatin over the water. Let sit until the gelatin is moist and plump, about 5 minutes.
4. Put the remaining 1/2 cup water, sugar and corn syrup in a medium, heavy saucepan. Cook, stirring, over low heat until the sugar dissolves. Set a candy thermometer in the pan and increase the heat to high and bring to a boil. Boil, without stirring, until the hot syrup is 258°F.
5. With the mixer on medium-low speed, slowly pour the hot syrup into the gelatin mixture in a thin stream down the side of the bowl (avoid pouring syrup onto the whisk, as it will splash against the sides of the bowl). Gradually increase the speed to medium-high and beat until the mixture is very thick, about 12 minutes. The outside of the bowl will still feel quite warm.
6. Stop the mixer, scrape the chocolate mixture into the mixing bowl and add the orange zest, vanilla and salt. Mix on medium high until well blended and cooled but not cold, about 5 minutes. The volume will decrease but that's to be expected. Add the mini chips and, using a rubber spatula, gently fold until evenly incorporated.
7. Scrape the cooked marshmallow mixture into the prepared pan and, using a lightly greased, offset spatula, spread evenly. Set aside, uncovered and at room temperature, until completely cool, firm to the touch, and no longer tacky, about 6 hours.
8. Using your fingers, peel the marshmallow away from the edges. The marshmallow will fall back to the edge but it will no longer be stuck. Sift about one-third of the remaining sugar-cornstarch-cocoa mixture over the top of the marshmallow and sift the remaining mixture into a medium bowl. Put a large cutting board on top of the pan and invert the pan onto the cutting board. Lift off the pan, using your fingers to help peel the marshmallow away from the pan, if necessary.
9. Using a lightly greased, sharp knife, cut the marshmallow lengthwise into 4 equal strips and then cut each strip into 4 pieces. Toss the marshmallows, in batches, in the remaining cornstarch-confectioners' sugar-cocoa mixture until lightly but thoroughly coated. The marshmallows will keep in an airtight container at room temperature for up to 1 month.
==========================================
Mini Treats & Hand-Held Sweets Cookbook Giveaway!
There will be one (1) lucky winner who will receive a copy of Mini Treats & Hand-Held Sweets by Abigail Dodge, courtesy of The Taunton Press!
Rules: The giveaway will close Friday, November 16th, 2012 at 12:01 am EST. The giveaway is open to all readers. The winner will be chosen randomly and notified by email. The winner will have 48 hours to respond before another winner is chosen.  To enter, please follow the steps below.