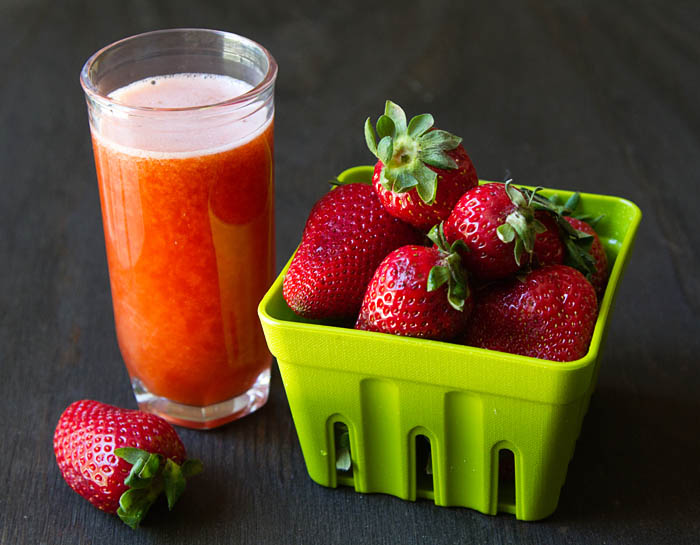 Who knew that I would taste the best lemonade I'd ever tasted in the middle of a strawberry field in Oxnard, California?  Random, I know, but those tend to be the best discoveries!  The Fuji family was invited by the California Strawberry Commission (CSC) on an "I Heart CA Strawberries" Blogger Field Trip with a group of bloggers and their families. We spent an amazing day at Bill Reiman's strawberry ranch in Oxnard, California.
Bill, a 5th generation Ventura County farmer who has been working in the strawberry industry since graduating from college and is currently Chairman of the CSC Research Committee, spent the day with us, answering our questions, and teaching us about the strawberry industry.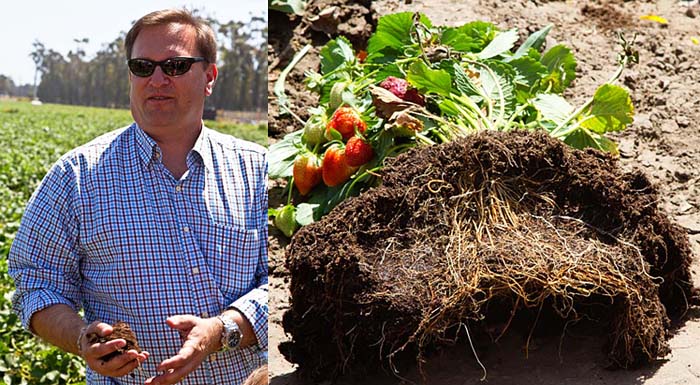 California leads the nation in strawberry production, growing about 88 percent of our country's strawberries. With our rich, sandy coastal soils, western ocean exposure and moderate temperatures, California provides the perfect environment for a year-round strawberry growing season.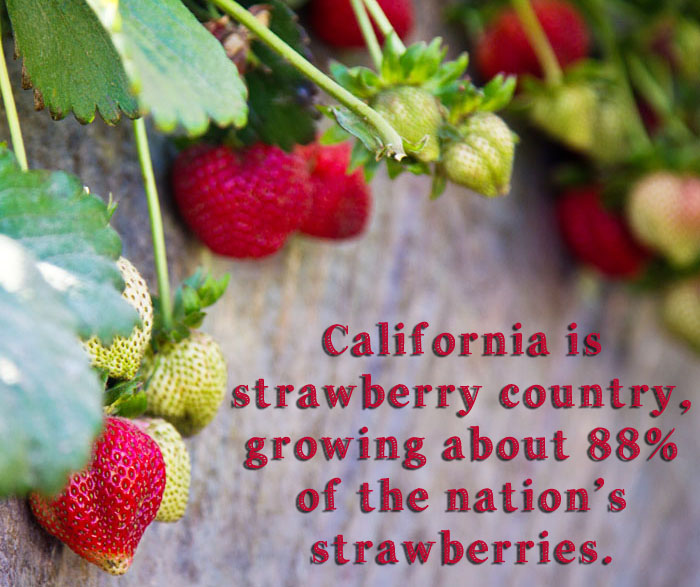 About 400 family farmers grow all of those strawberries on 40,000 acres of land. That is less than 1% of California's cropland, yet the industry creates nearly 10% of all California's farm-related jobs. Amazing!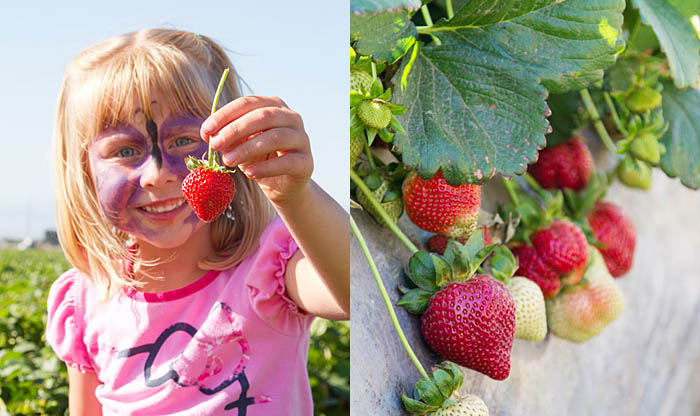 Not only does the industry pack a punch, so do the berries that it grows. 8 strawberries contain more vitamin C than an orange. They are low in sugar, a rich source of antioxidants and phytochemicals, and a great source of fiber, folate, and potassium.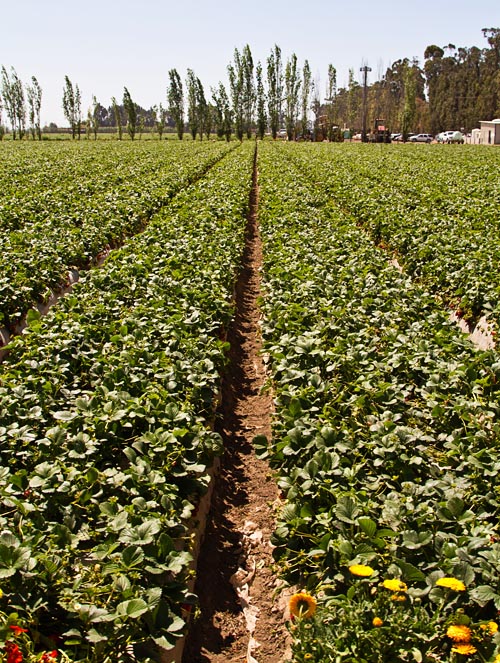 We had a blast spending the day together, learning, and eating.  The Fujilings were in heaven, being allowed to traipse through the fields and pick as many strawberries, one of their all-time-favorite foods, as their hearts desired.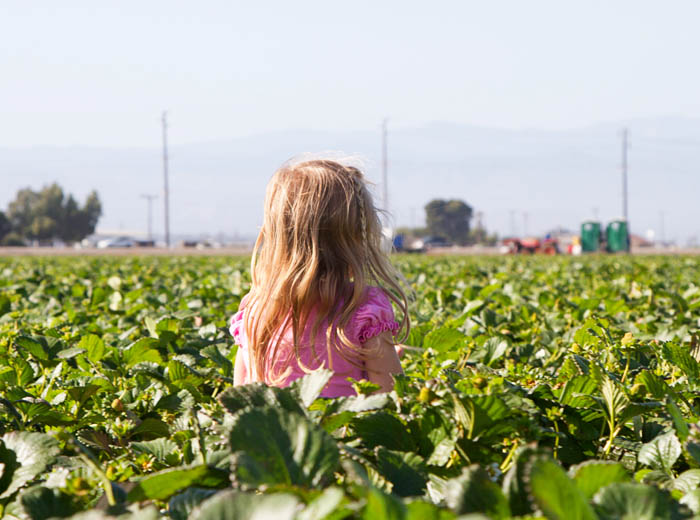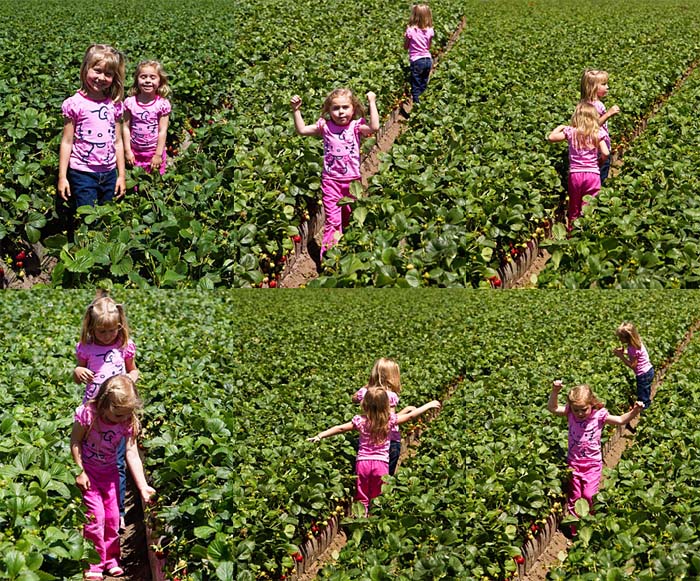 The food was killer. Dinner blew my mind. It was prepared by Chef Tim Kilycoyne, executive chef and owner of the famed farm-to-table SideCar restaurant in Ventura. We were fed bruschetta with fava bean ricotta, house made strawberry mustard and arugula, braised chicken enchiladas with Swiss chard and a roasted strawberry mole served with a black bean and quinoa salad, a chocolate genoise with strawberry mousse, and a ganache and white chocolate dipped strawberry.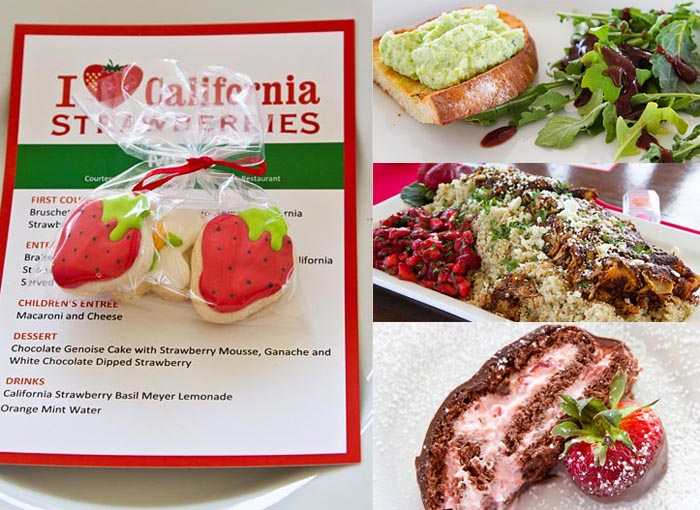 Oh, and a strawberry basil meyer lemonade. Holy guacamole was that lemonade good!  So good, in fact, that when we came home Bug started begging for me to make lemonade, making sure to emphasize that she wanted "red lemonade, like that red lemonade at the strawberry field." So I turned around and begged the California Strawberry Commission if they would ask Chef Tim Kilycoyne to share the recipe. Thank goodness that passionate food people love to share, because now I have the recipe and have been given permission to share it with you! With May being National Strawberry month, I figured it would be the perfect way to celebrate, along with an awesome giveaway, the cutest strawberry tea kettle (details after the recipe below)!  This lemonade made with fragrant Meyer lemons and a strawberry basil puree will blow your mind. Happy drinking!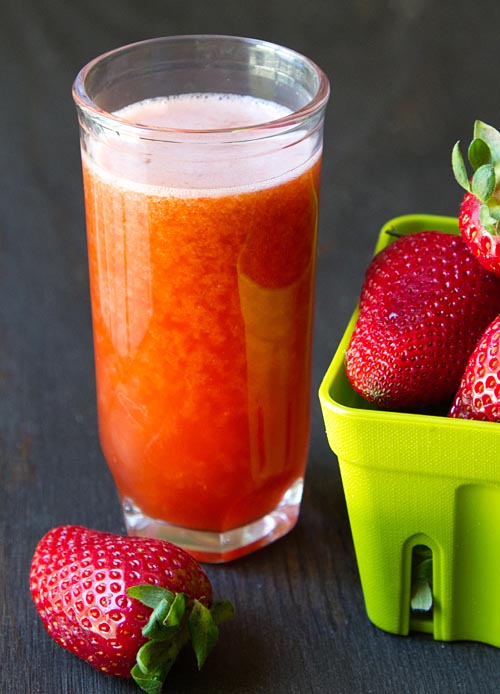 Print This Recipe
Strawberry Basil Meyer Lemonade
Recipe courtesy of the Chef Tim Kilycoyne and the California Strawberry Commission
Makes 3.5 quarts
3 cups fresh squeezed Meyer lemon juice
1 cup granulated sugar
2 cups strawberries, hulled and cut in half
1/4 cup fresh basil leaves
6 cups cold water
1. Combine the lemon juice with the sugar and mix until the sugar has dissolved in a pitcher.
2. Puree the strawberries and basil in a blender until smooth, then add to the pitcher.
3. Mix in the 6 cups of cold water and serve.
=============================================================
National Strawberry Month Giveaway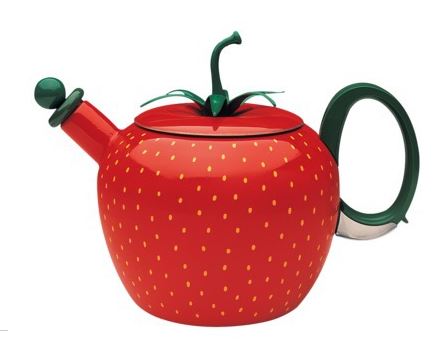 There will be one (1) lucky winner who will receive this awesome Copco Strawberry Tea Kettle!
Rules: The giveaway will close Wednesday, May 15, 2013 at 12:00 am PST. The giveaway is open to readers with a US mailing address. The winner will be chosen randomly and notified by email. The winner will have 48 hours to respond before another winner is chosen. To enter, please follow the steps below. Good luck!!
=============================================================
*Disclosure: My family and I were invited by the California Strawberry Commission to tour the strawberry fields of Catalinos Berry Farms.  I was paid a stipend to write about my visit.  The Commission is also providing the tea kettle for this giveaway.  All opinions expressed are my own.