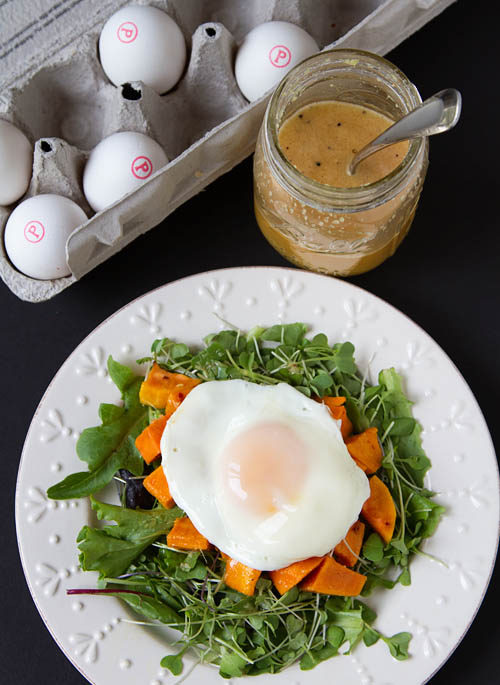 A fried egg, with a perfectly runny yolk, is one of my favorite comfort foods.  I personally think that adding a fried egg to a dish means doubling your pleasure.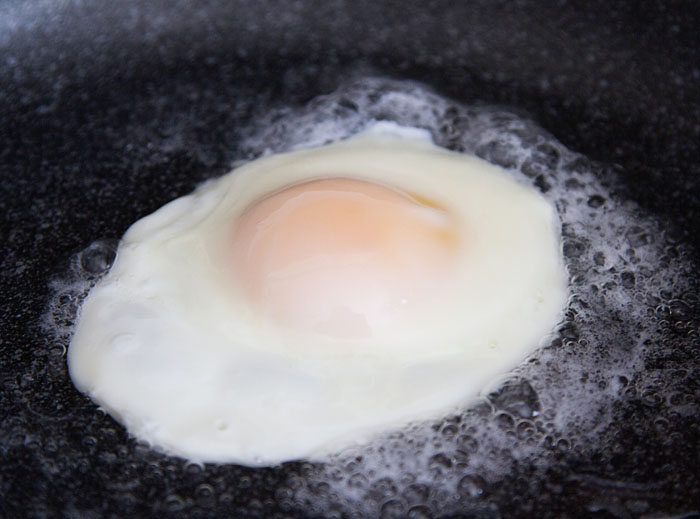 A word to the wise, however: a runny yolk is not always a safe yolk.  I've talked about the issue of eggs and salmonella before.  The CDC says, "Cooking reduces the number of bacteria present in an egg; however, a lightly cooked egg with a runny egg white or yolk still poses a greater risk than a thoroughly cooked egg. Lightly cooked egg whites and yolks have both caused outbreaks of SE infections." The FDA "safe handling instructions" for eggs advise, "To prevent illness from bacteria, keep eggs refrigerated, cook eggs until yolks are firm, and cook foods containing eggs thoroughly."  A fried egg with a runny yolk does not fall within those guidelines.  Unless the egg has been pasteurized!  See, there is a sunnyside to this story!!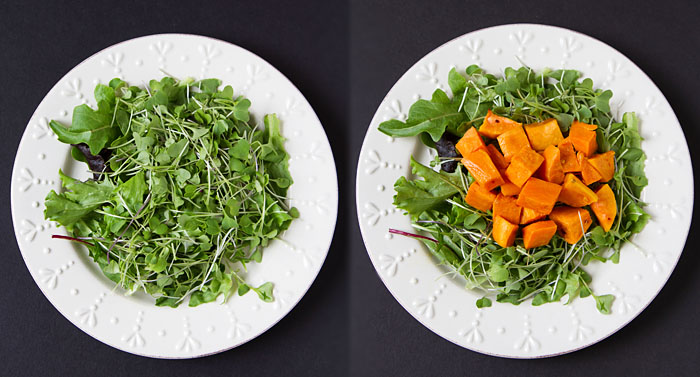 This week I added fried eggs to a simple salad made up of some roasted sweet potatoes nestled on a mix of baby greens and micro greens and drizzled with a ginger sesame vinaigrette.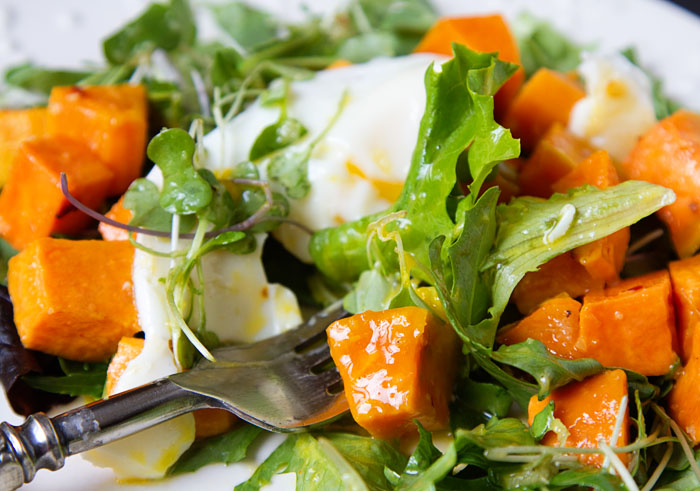 The vinaigrette is crazy easy to make, especially if you've got a glass jar lying around.  There's something immensely satisfying about throwing all of the ingredients into a jar, twisting the lid on tight, and then shaking it like there's no tomorrow.  If you throw in a little salsa dancing while you shake it, you get the added cardio workout and it will probably make your kids laugh too.  Just make sure the blinds are shut unless you want your neighbors catching a glimpse and thinking you're a nut.  (Though in my case, it's probably already too late—I think they already know I'm a head case.)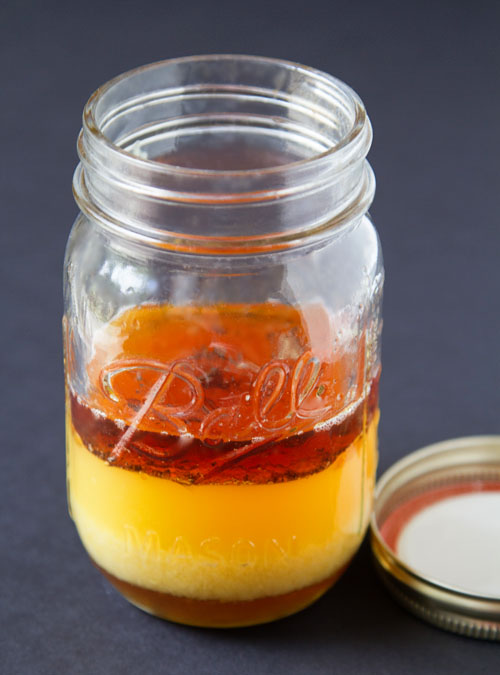 The best part of this salad is the moment when you take your fork and break into the yolk and all of that velvety golden goodness spills out onto the sweet potatoes and greens, mingling with the vinaigrette.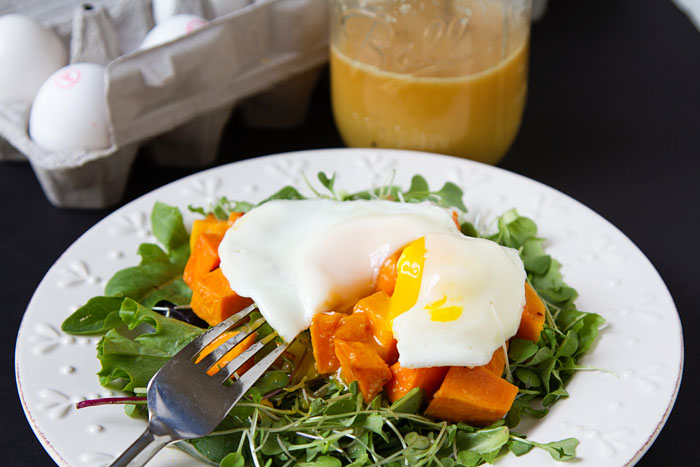 Print This Recipe
Roasted Sweet Potato Sunny-Side Up Salad
Makes 4 servings
For the roasted sweet potatoes:
2 orange-fleshed sweet potatoes, peeled and cut into small cubes
1 tablespoon canola oil
1 1/2 teaspoons fine grain sea salt
For the ginger sesame vinaigrette:
1/4 cup unseasoned rice vinegar
1/4 cup orange juice
2 tablespoons sesame oil
2 tablespoons canola oil
2 tablespoons honey
2 tablespoons grated fresh ginger
1/2 teaspoon salt
1/2 teaspoon freshly ground black pepper
4 large eggs
3 ounces mixed baby greens
2 ounces micro greens
1. Roast the sweet potatoes: Preheat the oven to 400 degrees Fahrenheit. Toss the sweet potato cubes with the canola oil and sea salt in a bowl until coated, then spread out on a baking sheet and place in the oven on the middle rack and bake until cooked through, approximately 40 minutes. Stir the sweet potato chunks several times during the baking to make sure that they cook through evenly. Once the sweet potatoes have cooked through, remove them from the oven and set them aside to cool.
2. Make the ginger sesame vinaigrette: Put all of the vinaigrette ingredients into a small mason jar, then
3. Make the eggs: Heat a bit of canola oil in a fry pan. Turn the heat to low and crack the eggs in. Cover the fry pan and cook the eggs slowly. After 2 minutes check the eggs. If the whites around the yolks look loose, cook, covered, for an additional 30 to 60 seconds
4. Assemble the salads: Divide the micro greens and baby greens between four plates. Top each plate with 1/4 of the roasted sweet potatoes. Drizzle with a few tablespoons of the vinaigrette, then top each salad with a sunnyside up egg and serve.
==========================================
* Disclosure: I am being compensated for this post as part of my ambassador work as one of the Darling Dozen for Safest Choice Eggs.  Safest Choice Eggs is sponsoring this giveaway.  All opinions are my own.