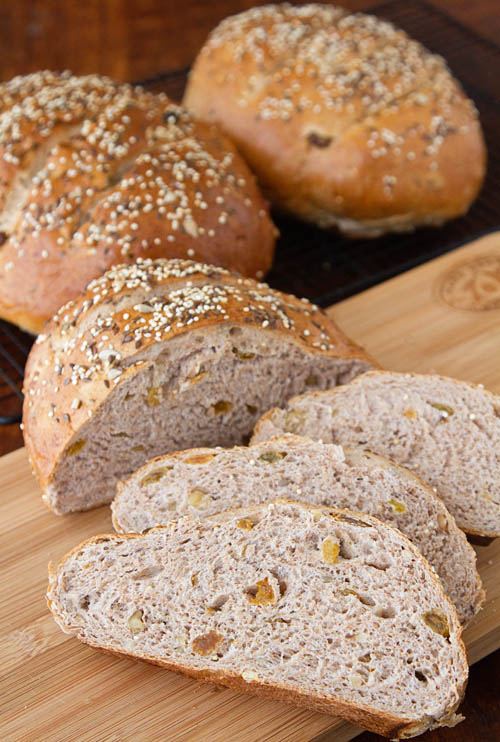 A couple of months ago my mom and I ran a 5k in Irvine. This was the first 5k I had run in almost 12 years, and my mom's first ever 5k. Needless to say, we were a bit proud of ourselves. We celebrated afterwards with a visit to my favorite bakery, 85°C Bakery Cafe.  One of the items we both purchased were gorgeous mini loaves of multigrain seed and nut bread.  Later we talked and both commented on how amazing the bread was, and I decided that I needed to come up with a recipe that was close enough in taste and texture that I would be able to bake up a loaf instead of hopping in the car and driving 45 minutes to buy a loaf, every time a craving hit me.
I've been working on the recipe ever since, slowly tweaking and adjusting, and I'm finally ready to share it.  I think my timing is perfect, with Mother's Day only 3 days away.  This is the perfect thing to whip up for your mom (or yourself!), and the perfect thing to serve up on a Villroy and Boch Cook for the Cure Plate.  The Cook for the Cure Pass the Plate program generates a $5 donation every time an individually numbered Villeroy and Boch serving plate is passed and registered at CookfortheCure.com/passtheplate.  Cook for the Cure is a partnership program between Susan G. Komen and KitchenAid.  Breast Cancer is one of the most common forms of cancer found in women, and according to the CDC, the second leading cause of cancer death among women in the US.  The National Cancer Institute estimates that 232,340 new cases of breast cancer in women (2,240 in men) in the United States in 2013, and that 39, 620 women will die.  Mother's Day is the perfect time to start supporting the cause that touches so many women's lives.  In addition to Pass the Plate, for every pink KitchenAid product that is purchased, money is donated to the foundation!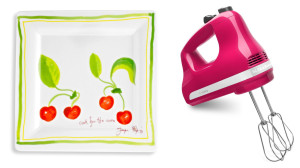 Okay, so this bread is super easy to make, and only takes about an hour and a half to whip up.  It features a mix of seeds, some golden raisins, and chopped walnuts, all of which give the bread great texture and flavor.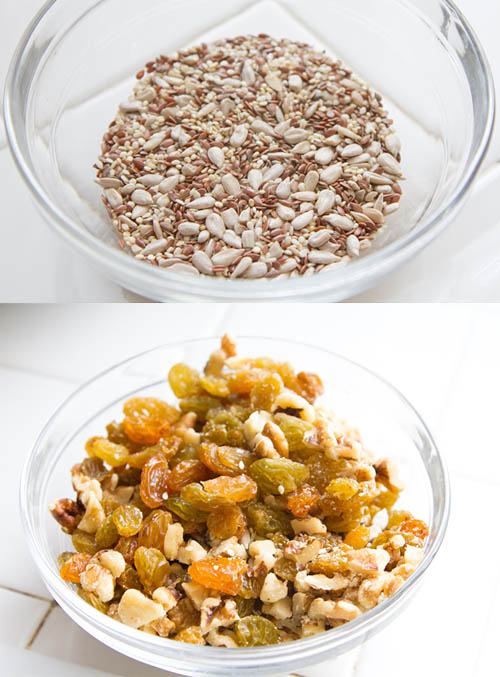 Using a stand mixer, like my beloved KitchenAid stand mixer, really simplifies bread making, because the mixer can do all the mixing and kneading for you.  If you're a busy mom like me, this is invaluable.  Ever since my first baby started walking, the days of making bread completely by hand have gotten fewer and fewer.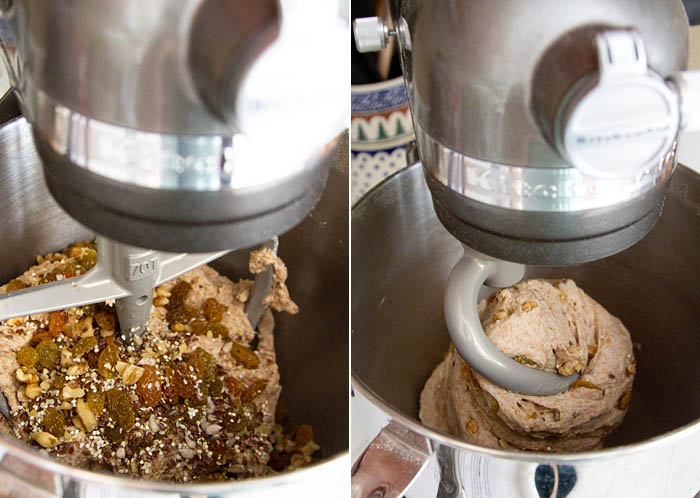 I discovered the hard way, that there's an awful lot that kids can get into while your attention is devoted to kneading a ball of dough for 10 minutes. (Squirrel, I'm looking at you! Yes you!  You may not remember emptying that bottle of honey on the family room carpet, but it happened!)  Not that you'd ever guess that my children would be mischievous  right?  Look at those angelic faces! Ha!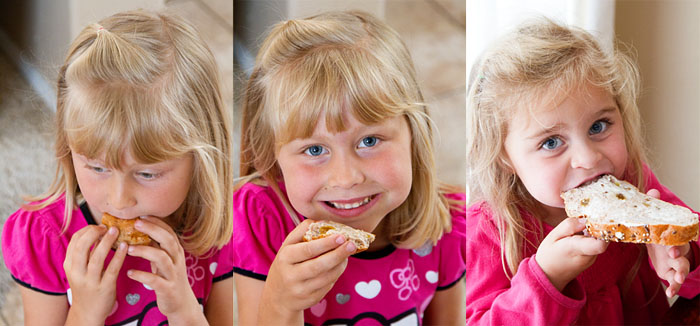 After kneading the dough, all that's left to do is to shape it into 3 loaves and let them rise, the brush them with an egg wash, sprinkle on the seed mixture, slash each one a few times, and then put them into the oven!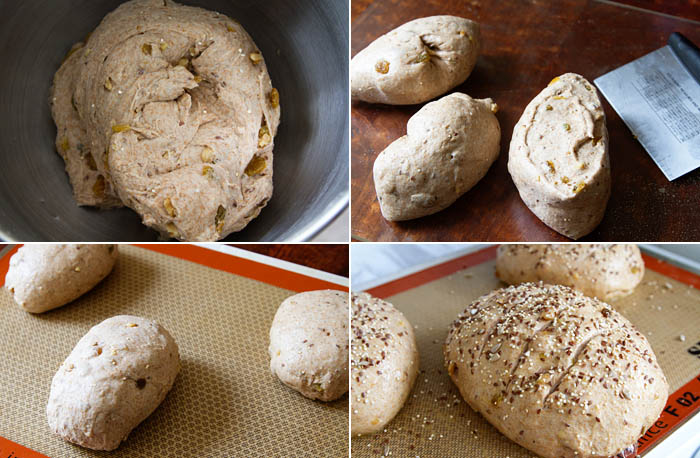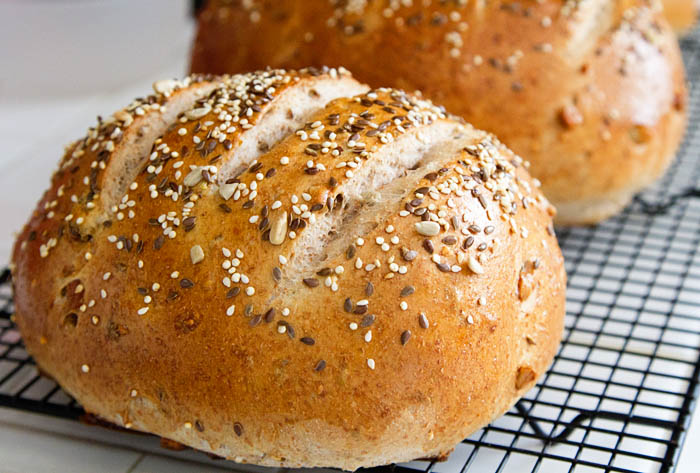 The hot loaves will be hard to resist as they cool!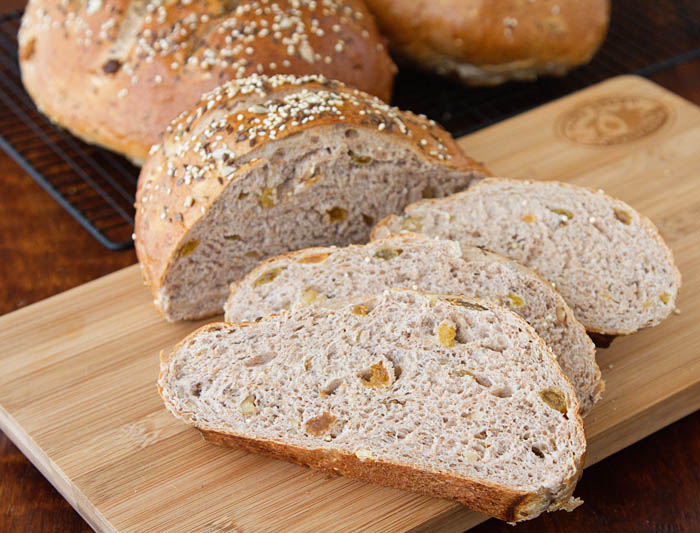 Print This Recipe
Seed Fruit & Nut Bread
Makes 2 to 3 loaves
For seed mixture:
2 tablespoons raw whole flaxseed
2 tablespoons raw sunflower seeds
1 tablespoon raw quinoa
1 tablespoon raw sesame seeds
For the bread dough:
3 cups whole wheat flour
2 1/4 cups bread flour
1/3 cup granulated sugar
2 tablespoons vital wheat gluten
1 1/2 tablespoons instant yeast
1 1/2 teaspoons fine grain sea salt
2 cups lukewarm water
1 1/2 tablespoons canola oil
1 cup golden raisins
½ cup coarsely chopped walnuts
For the egg wash:
1 large egg beaten with 1 tablespoon water
1. Make the seed mixture: Mix together the seed mixture ingredients in a small bowl. Set aside 1 1/2 tablespoons of the seed mixture to use on the top of the bread loaves.
2. Make the bread dough: Whisk the flours, sugar, vital wheat gluten, yeast, and salt together in the mixing bowl of a stand mixer. Add the water and oil and mix together for 1 minute, using the paddle attachment. Check the consistency of the dough. The dough should be sticky. If it is too dry, add a few tablespoons more water and mix briefly to incorporate.
3. Add the seed mixture, raisins, and walnuts, and mix briefly to incorporate.
4. Knead the bread dough: Switch to the dough hook attachment and mix the dough for 5 1/2 minutes. (Or knead by hand for about 12 minutes.)
5. Spray a clean flat surface with cooking spray and turn the dough out onto the surface. Divide the dough into 2 or 3 equally sized pieces and shape the dough into loaves, then place them on greased baking sheets. Cover the loaves with a large dish towel and set the aside to rise in a warm, draft-free area for 30 minutes.
6. While the loaves are rising, preheat the oven to 350 degrees Fahrenheit. When the loaves are ready to go into the oven, brush the tops of them with the egg wash, then sprinkle them with the reserved seed mixture. Use a sharp knife (you can lightly spray your knife with cooking spray to prevent dragging) to make several slashes in the top. Make each cut about 1/4-inch deep at a 30 degree angle.
7. Bake the loaves for approximately 25 minutes, or until they are golden brown and the internal temperature of the loaf is about 200 degrees Fahrenheit. Remove the bread from the oven and let it cool before slicing into it.
=================================================
*Disclosure: I am not being compensated for the post.  Cook for the Cure is a foundation which I love, and KitchenAid is a brand I adore.