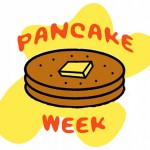 How's the pancaking going in your house?  Tomorrow, March 1st, is considered to be Pancake Day by some (and Mardi Gras being the other).  Are you celebrating?  Don't miss out on my post about my favorite Pancake Paraphernalia—things you never knew you needed, like Star Wars pancake molds.  I'm continuing my exploration of all things pancake with a post about pancake photography.  For such a simple food to make, pancakes can be tricky to photograph.  To discuss this very important aspect of pancakeology, I've brought in the awesome Taylor Mathis to give us some instruction.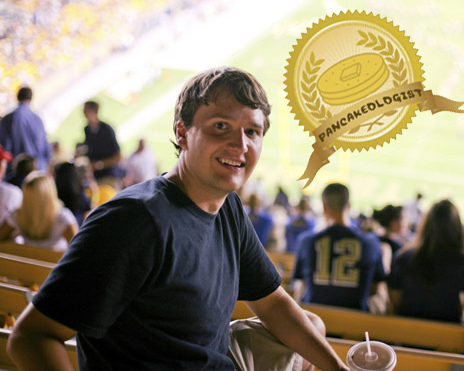 Taylor is a food photographer and food blogger living in Charlotte, NC.  Not only does he take beautiful pictures, but he's a bundle of fun. He does things like travelling 16,000 miles in 13 weeks to visit the 13 best tailgating sites in the country to write about the ultimate college football tailgating tour. This year, he's celebrating a national food day every Friday.  After you've learned his pancake secrets, make sure you check out his fabulous food blog, Taylor Takes a Taste.  If you're on twitter, his twitter handle is @taylor_mathis Take it away Taylor!
—————————————————————————————————————
Shooting Blueberry Pancakes
Before shooting, it is important to take the time to think about what you want your final shot to look like. This is especially important when it comes to pancakes. Pancakes are typically topped with syrup and butter. These two items have a very short life in front of the camera. If you aren't prepared, you will miss your chance at the best picture. To celebrate National Blueberry Pancake (Day January 28th) I wanted to shoot a stack of Blueberry Pancakes, I am going to walk you through my thought process of what I did to achieve the final shot.
Before I picked up the camera, I took a few minutes to think about what I wanted my final image to look like. I envisioned a light and fluffy stack of golden brown cakes topped with butter and syrup. In order to show this, I was going to need a camera angle that showed both the height of the stack in the front and at the same time the round shape of the stack in the back. I also decided my point of focus was going to be in the front. With these being blueberry pancakes, I felt a blue checkered tablecloth with a white plate were appropriate for props. Pancakes are fluffy and soft enough to eat only with a fork, so that was the only silverware I was going to use.
After thinking about what I wanted the final image to look like, I set up my lighting and my props. Now it was finally time to start making pancakes!
The Pancakes needed to be a uniform size, so that they would stack nicely, and at the same time, needed to have a nice golden brown color to them. To ensure this, I cooked my pancakes one at a time. The first few pancakes were not what I was looking for, but after I found the appropriate temperature and cooking time for each pancake, I was able to get a nice stack of 5. After cooking, let the cakes cool, so that they won't create condensation on the plate or change size as they cool in front of the camera.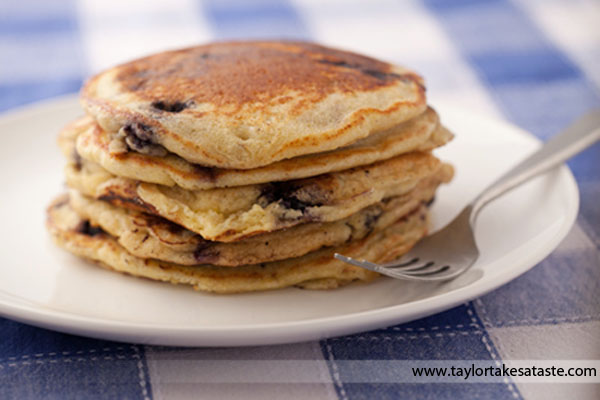 Here is the stack of 5 pancakes. I tried to make them as equal in size as possible, but some were slightly larger or smaller than one another. I placed the largest on the bottom and smallest on top. This would allow for the syrup to run and hang over the edges. Notice how my lighting, camera angle and background are all what I want for the final picture. Now is the time to get the picture how you want your final image to look.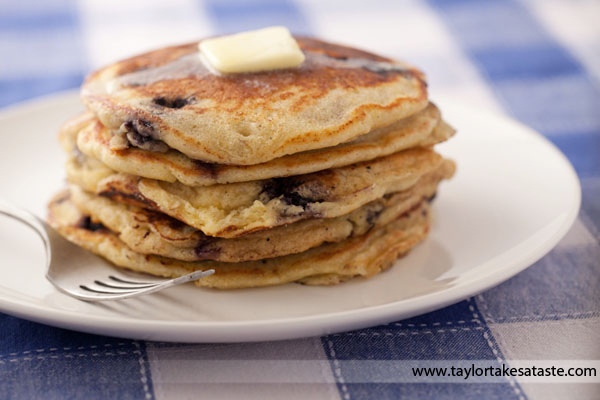 Before adding the butter, I decided to make one last change on fork position. To add the butter, I knew it needed to have the nice melted look that you get when they are on a hot stack of pancakes. The pancakes I were shooting with were cool, so they wouldn't melt the butter. There are many ways to get the melted butter look. Here is what I did. I placed a slice of butter in a pan on very low heat. I waited for the butter to melt and look the way I wanted it to for the final image. Using a spatula, I lifted it out of the pan and placed it on top of the pancake stack. I then poured liquid butter over the piece to help achieve the melted look. Next to add the syrup.
Here is the final image. The last step is to add the syrup. YOU MUST HAVE EVERYTHING SET BEFORE THIS. Your exposure, focus, camera angles, props etc.. must all be set before adding the syrup. Once the syrup is poured you will have a very short amount of time to capture the best picture. Since EVERYTHING is already set up, you don't have to look through the camera. If you are shooting by yourself, I would use a remote to fire the camera as you poured the syrup over the pancakes. If you have a helper around, have them pour the syrup as you fire the camera. I poured the syrup in the center and let it run down the sides pooling at the bottom. For the syrup, you want to make sure it is thick and runs slow. While you may heat the syrup when you are eating pancakes, this is not best for shooting. The hot syrup will quickly be absorbed into the pancakes and won't be visible on top. Whether you are using your own homemade syrup of store bought kind it doesn't matter.
As you can see, a great pancake shot doesn't just happen. You need to think about what you want your final shot to look like and plan ahead before adding the butter and syrup. I hope these tips have helped and enjoy shooting pancakes!
After I achieved the final shot, I played around with different angles and orientations. Here is a link to the original pancakes post: National Blueberry Pancake Day!