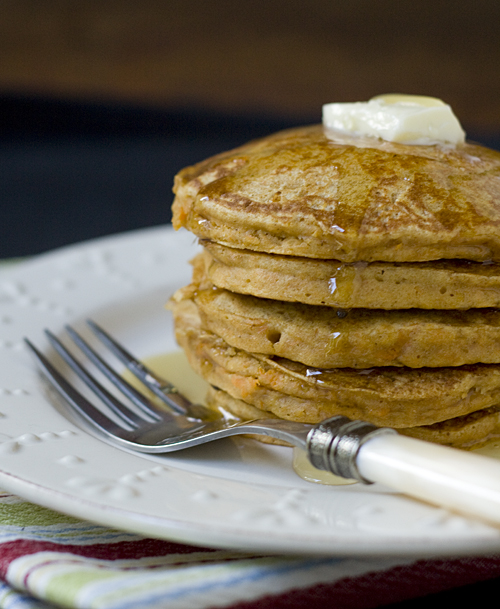 How's the pancaking going at your house?  If you're looking for a good basic recipe, make sure you don't miss yesterday's featured Pancakeologist, Josie of Daydreamer Desserts, who shared her favorite pancake recipe, Ruth Reichl's buttery pancakes.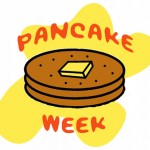 Today's pancake recipe is the result of a Twitter request from my sweet friend Damaris of Kitchen Corners.  I had been tweeting about my preparations for my Pancake Week celebrations and she sent me a tweet that said: "Make sweet potato pancakes please please please."  With that kind of plea, how could I not make sweet potato pancakes?  It helps that I love all things sweet potato (evidenced by a few sweet potato recipes here on LFM . . . Sweet Potato Fries, Sweet Potato and Cheese Croquettes, Creamy Kabocha Sweet Potato Pomegranate Soup, Sweet Potato Ginger Risotto, and Sweet Potato Quiche Cups).
Not only are sweet potatoes delicious, but they're a great healthy choice as well (I wrote recently about the health benefits of sweet potatoes in a post if you're interested).  These pancakes use a whole pound of delicious mashed sweet potato,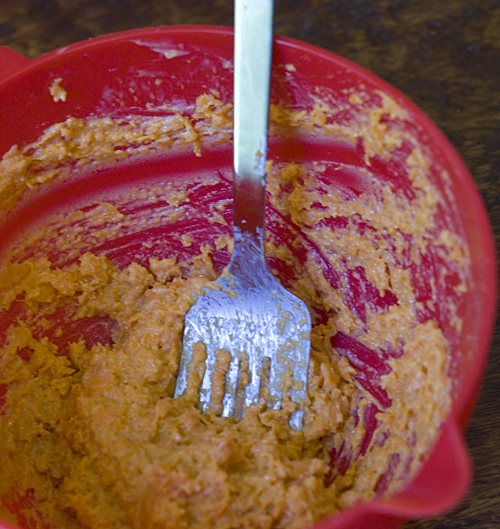 to make a fabulous slightly chunky batter,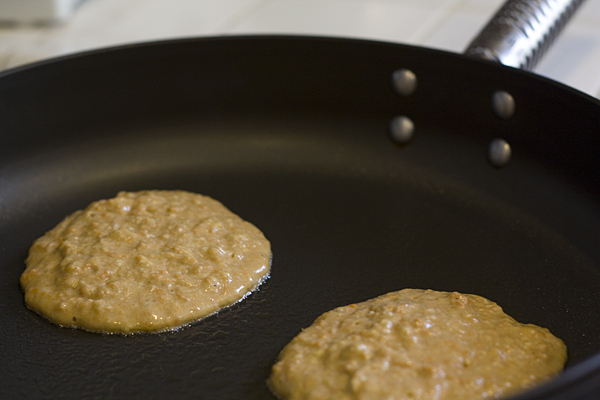 that cooks up into gorgeous golden orange rich fluffy pancakes.  They are wonderful with a bit of butter and drizzled with honey.  They are also amazing eaten with creamy buttermilk syrup.  If you want the recipe for the buttermilk syrup, I'm sharing it today over on the Family Kitchen!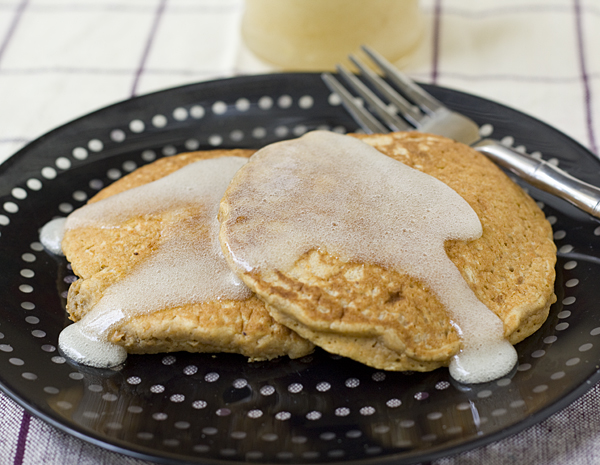 Either way, the pancakes won't last long.  I know from experience.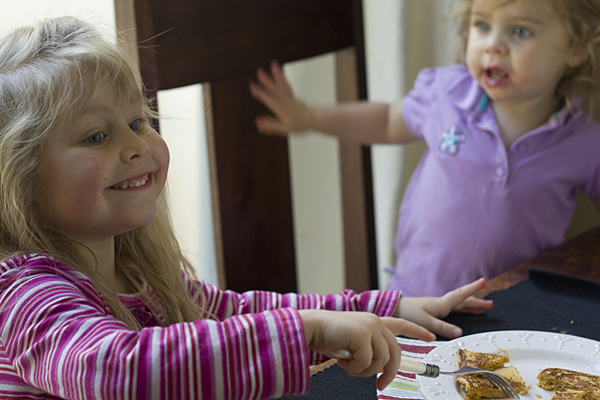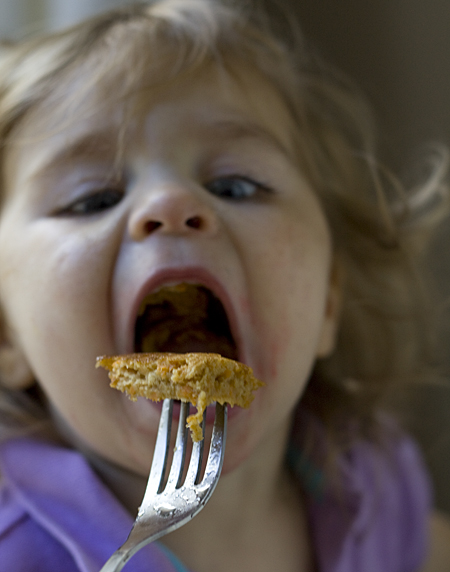 So Damaris, these are for you.  I hope you enjoy your sweet potato pancakey goodness!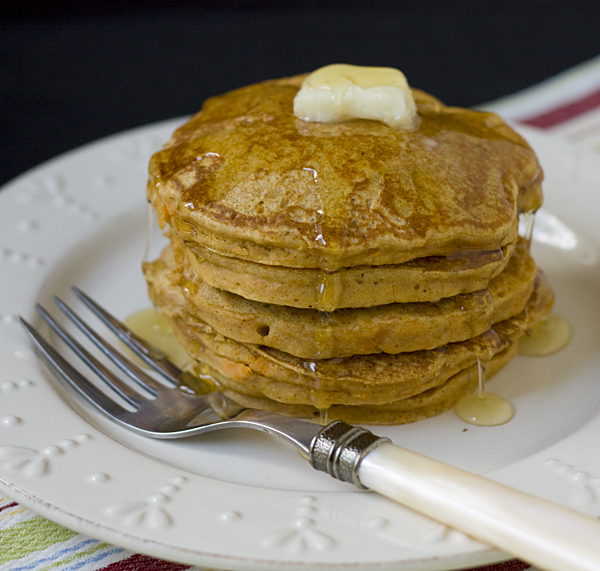 Print This Recipe
Sweet Potato Pancakes
Makes about 24 pancakes
Recipe Notes: The recipe gives directions for cooking the sweet potatoes by boiling them.  If you would rather cook them in the microwave, scrub the sweet potatoes and pierce all over with a fork. Microwave for 6 to 7 minutes on high, until they are easily pierced through with a knife or fork. Slit them in half lengthwise and let them cool enough so they can be handled, about 5 minutes, then proceed with step 2 of the recipe. The recipe directs you to mash the cooked sweet potatoes.  This will result in some small pieces of sweet potato being visible in the cooked pancakes.  I like them this way, but if you'd like a smooth sweet potato puree, process the cooked flesh in the bowl of a food processor with the butter until smooth, the proceed with the rest of step 3 of the recipe.
16 ounces orange-flesh sweet potato (about 2 medium sweet potatoes)
3/4 cup whole-wheat flour
3/4 cup all-purpose flour
1 tablespoon baking powder
1 teaspoon kosher salt
1 teaspoon ground cinnamon
1/2 teaspoon ground nutmeg
1/2 teaspoon ground ginger
1/4 cup (4 tablespoons) unsalted butter, at room temperature
2 large eggs, beaten
1 1/2 tablespoons unsulphured molasses
1 tablespoon vanilla extract
1 1/2 cups plain soy milk
1. Cook the sweet potatoes: Scrub the sweet potatoes and place them in a medium saucepan of boiling water. Cook them until they are tender, about 15 minutes. Drain the water and immediately immerse the sweet potatoes in cold water to loosen their skins. Drain the water again, remove the skins, then chop and mash the flesh.*
2. While the sweet potatoes are cooking, sift together in a large mixing bowl the whole wheat flour, all-purpose flour, baking powder, salt, cinnamon, nutmeg, and ginger. Set aside.
3. When the potatoes have cooled slightly, add the butter, and mash until relatively smooth. Add the eggs, molasses, and vanilla extract and blend. Finally, mix in the soymilk.
4. Add the sweet potato mixture to the dry ingredients and mix with a spoon until just moistened (the batter will be lumpy), about 50 strokes. Set aside to rest.
5. Preheat a lightly greased skillet or griddle over medium heat. Using a 1/4 cup measure, pour the batter onto the preheated skillet or griddle. Turn the pancakes once with a spatula when the surface begins to bubble. Cook until golden brown.  Serve hot with your favorite pancake toppings.