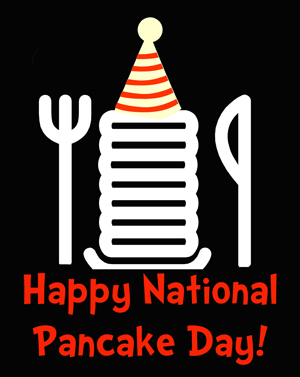 Happy
National Pancake Day
!  (Make sure you read about
what IHOP is doing to raise money for the Children's Miracle Network Hospitals today!
)  I decided I need to go big for National Pancake Day 2011, so I called upon a talented friend to create something worthy of a celebration.  My friend,
Chef Austin Szu
is a rockstar in the kitchen, and dreamed up some decadent white chocolate and coconut pancakes for us!  But before we get to those, a bit about the chef! 
Chef Austin Szu
is a native Californian.  After graduating from the California School of Culinary Arts in Pasadena he was hired as the pastry cook at Mirabeau French Bistro in Dana Point.  Since then, he has also had worked at other acclaimed Orange County restaurants such as Zov's Bistro in Tustin and most recently, he was the pastry chef at Scott's Seafood Grill in Costa Mesa.  He also served as the corporate chef for Paulson Reporting and Litigation Services in their Costa Mesa office in 2006.  Now he's focusing his energy on his catering company,
Austio's Catering
, and working towards his dream of opening his own patisserie.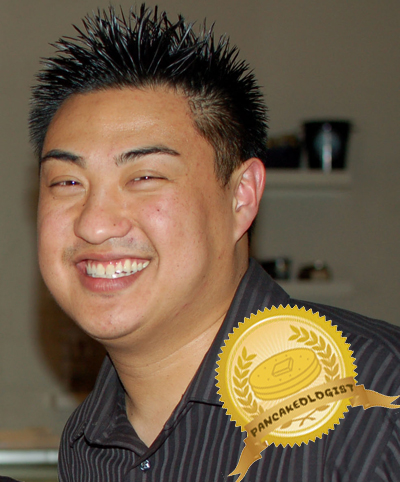 I asked Austin a few pancake questions and his signature sense of humor shone through.
Rachael: Why are these your favorite pancakes?
Chef: Well, I just like pancakes in general, but it's mainly the combination of white chocolate, coconut, and macadamia nuts that reminds me of a Hawaiian paradise and tranquility, haha.
Rachael: What are your favorite pancake toppings?
Chef: I'm sometimes a purist and just prefer syrup and butter, but once in awhile if I'm feeling adventurous, I'll add some sliced bananas or chocolate chips.
Rachael: When do you like to make them?
Chef: Typically for breakfast, but I think pancakes are good any time of day or night.
Rachael: Any favorite tricks or tips to pancake making?
Chef: I don't have a large griddle like at a restaurant, so I will turn the oven on to about 140-150 degrees to keep the pancakes warm as I finish cooking them.
Rachael: What would you do for a stack of pancakes?
Chef: You mean would I kill someone? no… hahaha, but I might shank someone with my fork.
Ummmm . . . guess we know whose pancake to stay away from!  That being said, I think I would be pretty territorial about these pancakes too . . . thank you Chef!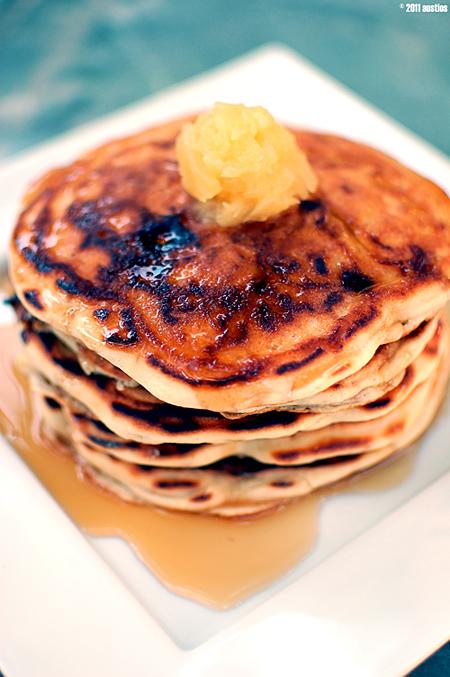 Print This Recipe
Chef Austin Szu's White Chocolate and Coconut Pancakes
1 1/2 cups all-purpose flour
3 1/2 teaspoons baking powder
1 teaspoon salt
4 teaspoons granulated sugar
1 1/4 cups milk
1 large egg
3 tablespoons butter, melted
1/2 cup white chocolate chips (or dark if preferred)
3/4 cup shredded coconut, toasted
1/2 cup macadamia nuts, chopped
chopped pineapple or sliced bananas
syrup or whipped butter
1. Preheat the oven to 350 degrees Fahrenheit. Spread shredded coconut in a thin layer on a cookie sheet and stirring and tossing every couple of minutes, toast coconut until golden. Set aside to let cool. Lower oven temp and crack the door to allow to cool oven faster.
2. Preheat the oven to 140-150 degrees Fahrenheit and put a cooling rack or cookie sheet on middle rack. Preheat a griddle or nonstick pan on low heat. In a medium bowl, combine flour, baking powder, salt, and sugar, briefly stirring to help aerate. Melt the butter in the microwave in 10-15 second intervals until just melted.  Add the egg, milk, and butter and whisk until well combined and batter is smooth. Add the white chocolate chips and coconut and stir until well combined.
3. Lightly grease the cooking surface and using a spoon or ice cream scooper, scoop desired amount of batter onto pan. Cook on the first side until edges are dry and/or top starts to bubble. Flip and cook for about one minute or until the bottom is golden. Transfer to warm the oven and cover with a tea towel. Repeat with the remaining batter. Sprinkle chopped macadamia nuts and top with a spoonful of chopped pineapple or sliced bananas. Add syrup and butter as desired. Eat, enjoy, repeat.