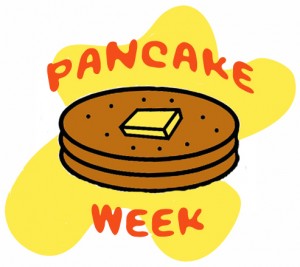 How's the pancaking going?  I can't wait to hear how everyone has been celebrating!  Yesterday I spent time in the Fuji Test Kitchen coming up with a fun recipe to celebrate Hinamatsuri tomorrow.  Can't wait to share!  But for today, I've got an extra special treat.  My friend Chris Garboski is sharing her favorite pancake recipe with us!
Chris is the manager of Nestle HQ test kitchens here in Southern California.  On top of that, she is the mom to triplets.  Ok, look at this gorgeous woman and tell me how she does it all?  In addition, she is the nicest person on the planet!  Seriously!  Seems almost criminal that one person can be so awesome, but I love her anyways.  I wrote about Chris a year ago when I tried out her tweak on the original Nestle Toll House Chocolate Chip Cookie Recipe, and then finally got to meet her in person at Camp Blogaway last May.  It's impossible not to like Chris!  After you finish swooning over her pancake recipe, make sure you hop on over to the Nestle Kitchens Blog and check out her other creations.  If you're on Twitter, her handle is @nestlefoodie!  Chris, thank you so much for taking time out of your crazy busy schedule to get pancaking with us!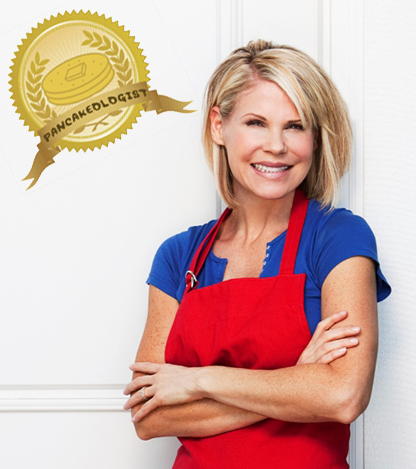 Here is one of my favorite pancake recipes…Whole-Wheat Pumpkin Blueberry Pancakes.
A few notes about the recipe…
Many think of pumpkin as a seasonal ingredient. For me, this is anything but true. I use it year round in both savory and sweet applications. It's loaded with fiber and Vitamin A! It's also a great fat substitute. In this recipe, I am using pumpkin to add moisture, boost nutrition and add flavor. The pumpkin also makes the pancakes super puffy, which my kids love!
I am calling for white whole-wheat flour because it's what my family likes best, but regular whole-wheat flour or a combo of whole-wheat, barley flour or soy four work just fine (and they will boost nutrition even more). So that your pancakes aren't too heavy, you might want to mix the grain flour with a little all-purpose flour or white whole-wheat flour to retain the light texture of traditional pancakes.
The blueberries are optional, but I add them because they are loaded with antioxidants and bursting with flavor (and they compliment pumpkin so well!).  On occasion, I do replace the blueberries with chocolate mini morsels.  This is the triplets' favorite, especially for sleepovers!
Here are some fun pumpkin stats:
Fiber, along with a balanced diet, helps protect your body from heart disease and certain types of cancers. One serving of LIBBY'S® 100% Pure Pumpkin provides 20% of your daily requirement for fiber.
Vitamin A promotes healthy eyes, skin and bones. Just one serving of LIBBY'S® 100% Pure Pumpkin provides more than 100% of your daily allowance. 80% of the Vitamin A comes from beta-carotene – the deep orange pigment in ripe pumpkins.
Antioxidants in pumpkin protect the body from damage caused by free radicals. Free radicals are harmful by-products in our body that cause cell damage that may be linked to disease.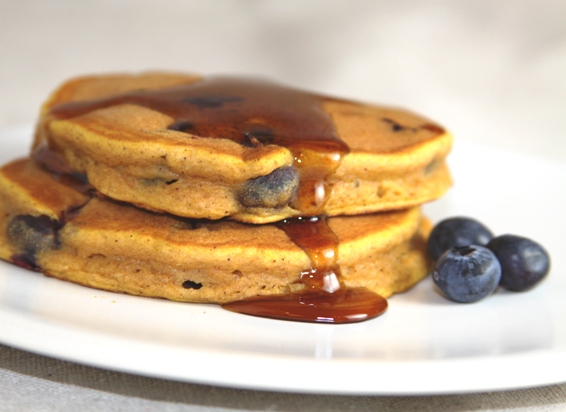 Whole-Wheat Pumpkin Blueberry Pancakes
Makes 18 pancakes
2 cups white or regular whole-wheat flour
1 tablespoon baking powder
2 teaspoons pumpkin pie spice
1/2 teaspoon salt
2 cups 1% milk
2 large eggs
1 cup LIBBY'S® 100% Pure Pumpkin
1/3 cup packed brown sugar
1 cup fresh blueberries or ½  cup NESTLÉ® TOLL HOUSE® Semi-Sweet Chocolate Mini Morsels
Pure maple syrup
1. COMBINE flour, baking powder, pumpkin pie spice and salt in large bowl. Combine milk, eggs, pumpkin and sugar in medium bowl; add to flour mixture. Stir just until moistened (batter may be lumpy). Fold in blueberries or morsels.
2. HEAT griddle or skillet over medium heat; brush lightly with oil. Pour 1/4 cup batter onto hot griddle; cook until bubbles begin to form (about 2 minutes). Turn; continue to cook about 1 minute longer or until golden brown. Repeat with remaining batter.
3. SERVE with maple syrup.