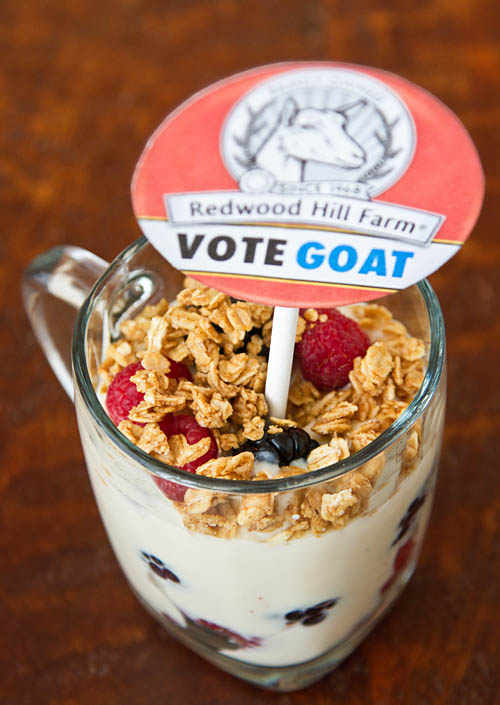 I try not to be political here on LFM, so you'll have to excuse me for breaking my own rule today.  With election day coming up a week from tomorrow, there has been a lot of hubbub and debates between "donkeys" and "elephants." I'm here to suggest that there is another animal that you should be considering, and so today I am campaigning to convince you why you should Vote Goat.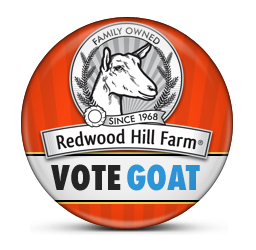 Before you click away, give my candidate a chance.  Goats are the unsung heroes of dairy, and goat's milk is the most consumed milk in the world.  I've sung their praises before.  I personally have problems digesting cow's milk products, and so goat's milk products are one of my favorite choices, not only because they don't upset my stomach, but also because they are delicious!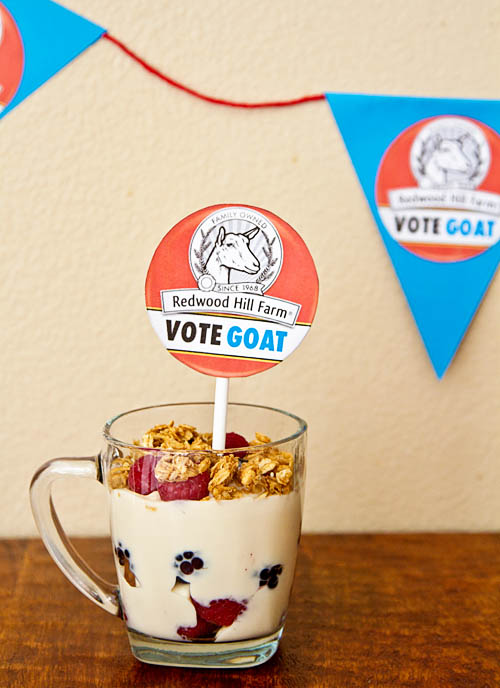 Why vote goat?  According to Registered Dietitian Tamara Duker Freuman, here are three good reasons why:
Goat's milk is naturally lower in lactose than cow's milk, making it easier to digest for people who are mildly lactose intolerant.
Goat's milk dairy is as good of a source of calcium—if not better—than cow's milk dairy. According to the USDA's National Nutrient Database, one cup of goat's milk actually has about 18% MORE calcium than an equivalent serving of cow's milk.
Unlike other calcium rich foods, goat's milk actually seems to enhance iron absorption.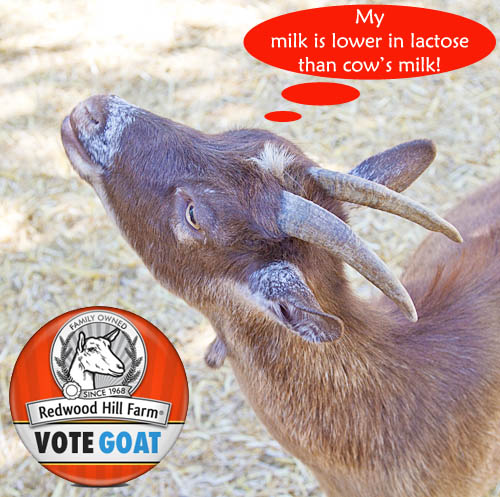 I'm gearing up for election day with one of my favorite breakfast treats—a goat's milk yogurt berry parfait.  I layer Redwood Hill Farm vanilla yogurt with raspberries and blackberries and top it off with some homemade granola.  It makes a filling, nutritious treat, and it's very patriotic looking.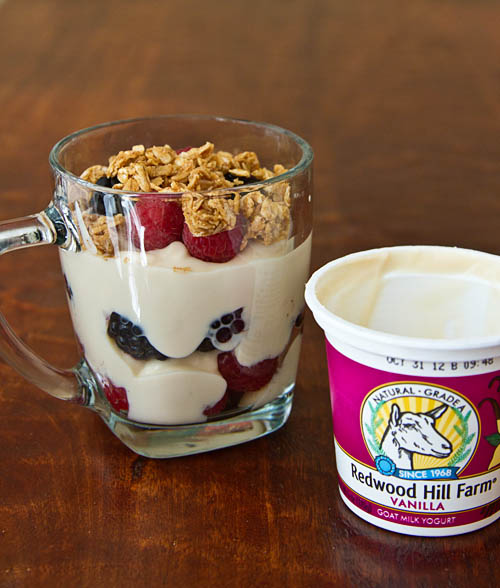 To help "Rock the Goat Vote" I have teamed up with my friends at Redwood Hill Farm  to send one of you some goat goodies.  Redwood Hill Farm currently has a "Vote Goat" campaign running now through Election Day (November 6th, 2012).  I couldn't help but jump on the campaign wagon.  Their campaign is fun, and everyone who votes has a chance to win a year's supply of goat goodies during Redwood Hill Farm's 45th anniversary in 2013.  Redwood Hill Farm is the award-winning producer of America's first and favorite goat milk yogurts and kefirs.  Owner Jennifer Bice lives with her award-winning herd on the family's solar powered goat farm, founded by her parents in 1968, which was the first Certified Humane goat dairy in the U.S.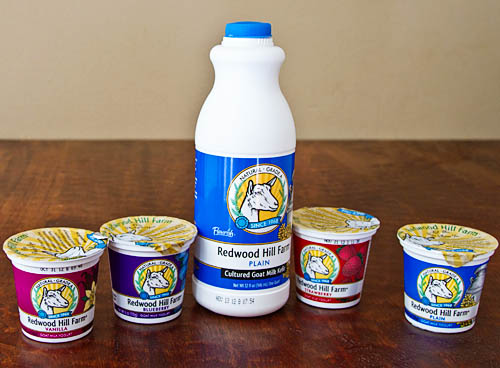 Okay, so now I know you want to win some goaty goodness, so here are two ways you can win!  First, you can enter Redwood Hill Farm's larger campaign.  Voting goat is as easy as 1-2-3:
Like Redwood Hill Farm's Facebook page at http://www.facebook.com/pages/Redwood-Hill-Farm-Creamery/77974801817
Click on the Vote Goat event (top right of RHF's Facebook page) to join the Vote Goat and post about your favorite goat yogurt or what new or existing flavor you'd most like to try: Apricot Mango, Blueberry, Cranberry Orange, Strawberry, Vanilla, Wildflower Honey, Plain or X?. Just by posting you will be entered into a drawing for the chance to win a year's supply of goat goodies and other daily and weekly prizes between now and Election Day Nov. 6. For those that want to get creative, they can have fun with their posts – whether that means posting 'an ode to goat yogurt' poem or story, getting your family or pets involved, sharing a photo or under one-minute video.
Download your free "Vote Goat" badge at http://basno.com/s/Vote_Goat and share it on Facebook, LinkedIn and/or Twitter
And second, Redwood Hill Farms is sponsoring a special giveaway for LFM readers—a box of goat goodies that is similar to what the Grand Prize Winner of the Vote Goat will receive each month next year!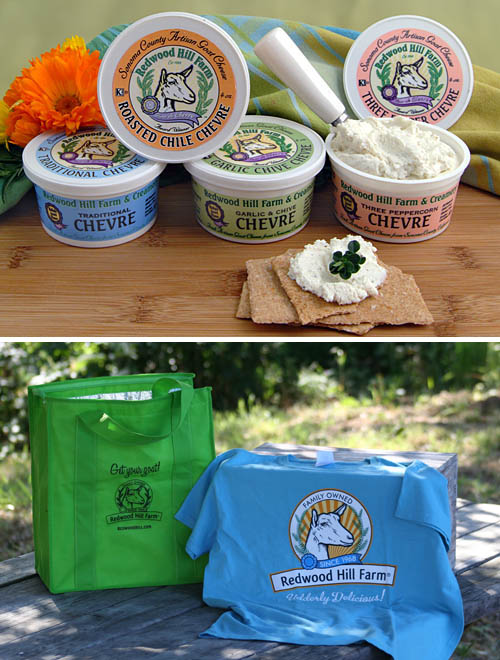 Redwood Hill Farm Vote Goat Giveaway!
There will be one (1) lucky winner who will receive:
A special delivery box full of Redwood Hill Farm's award-winning artisan goat cheeses  (Fresh Chevres,  Goat Milk Cheddar & Smoked Goat Milk Cheddar, and Raw Milk Feta)
Free product coupons for Redwood Hill Farm's award-winning goat milk yogurts and kefirs
A Redwood Hill Farm t-shirt and tote bag
And an 8×10 glossy "signed" poster of Redwood Hill Farm's star show goat "Zimba," a "Goat Milk?" bumper sticker and a half-dozen adorable goat postcards.
Rules: The giveaway will close Wednesday, November 7th, 2012 at 12:01 am EST. The giveaway is open to readers with a US address. The winner will be chosen randomly and notified by email. The winner will have 48 hours to respond before another winner is chosen.  To enter, please follow the steps below.
More reasons to Vote Goat:
* Legal Disclosure: Redwood Hill Farm did not compensate me for my time. All products used in this post were bought with my own money.  Giveaway sponsored by Redwood Hill Farm.  All opinions are my own!