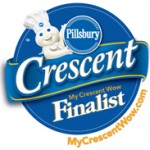 Have you voted yet today?
You can vote once every day
between now and December 31st!
Help me win the title of favorite Crescent Cook
and be entered for the chance to win $5,000! (See more voting details at the end of this post.)
*
=============================================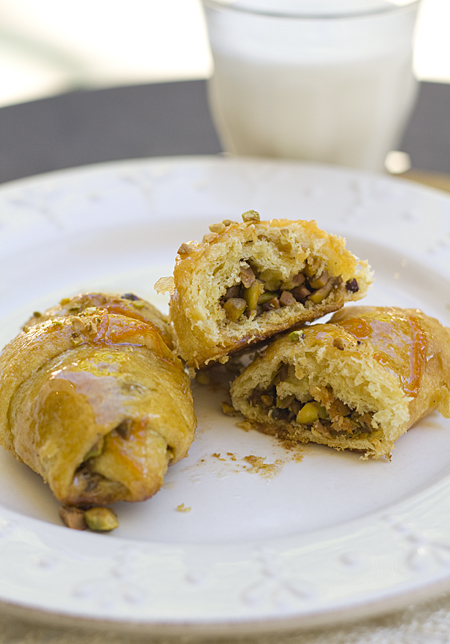 The other day I had a craving for baklava, but didn't have any phyllo dough in the freezer, so I improvised and used a tube of Pillsbury crescent roll dough that I had on hand and made some rolls inspired by the flavors of baklava.  These rolls are filled with a sweet pistachio nut filling and topped with an orange honey glaze.  They are super easy to make, but if you don't believe me, I've provided a video to prove it. (Printable recipe after the video.)



Print This Recipe
Baklava Crescent Rolls
Makes 8 crescent rolls
For the nut filling:
1/2 cup finely chopped pistachios
5 teaspoons granulated sugar
1/4 teaspoon ground cinnamon
1/8 teaspoon ground cloves
3 tablespoons butter, melted
1 can (8 ounces) refrigerated crescent roll dough
For the syrup:
1/4 cup water
1/4 cup granulated sugar
2 tablespoons honey
1 1/2 teaspoons lemon juice
1 1/2 teaspoons finely grated orange peel
1/4 teaspoon ground cinnamon
1/4 teaspoon vanilla extract
Finely ground pistachios for garnish (optional)
1. Preheat the oven to 375 degrees Fahrenheit.
2. Make the nut filling: Combine the nuts, sugar, cinnamon, and cloves in a bowl.
3. Put the melted butter in a separate bowl.
4. Unroll the crescent roll dough and separate into 8 triangles. Using a pastry brush, brush the dough triangles with the melted butter. Spoon approximately 1 tablespoon of the nut mixture over the melted butter. Roll up each triangle, starting at the wide end, and place them 1 inch apart on an ungreased baking sheet. Bake for 11 to 13 minutes or until lightly golden brown.
5. While the crescents are baking, make the syrup: Combine the water, sugar, honey, lemon juice, orange peel, cinnamon, and vanilla extract in a small saucepan. Bring the mixture to a boil over medium heat, then reduce the heat to medium-low and let it simmer for about 7 minutes. The syrup should have slightly thickened. Allow to cool slightly.
6. Spoon the syrup over the hot crescents. Garnish with finely crushed pistachios (if using). Let cool. The rolls are best after sitting for several hours.
==================================================
* Pillsbury Crescent Cook Contest Voting:
To vote for me in the Pillsbury Crescent Cook Contest, you have to fill out the entire form below the pictures and set up an account for your vote to count. After registering the first time, you then have to log in for each subsequent vote (log in area is at the top of the page), hit the vote button, then scroll down and hit the "Enter Now" button. You'll know that your vote has been counted if you then get a screen that starts with, "Thank you for entering the My Crescent Wow Sweepstakes!" Thank you so much for your support!!