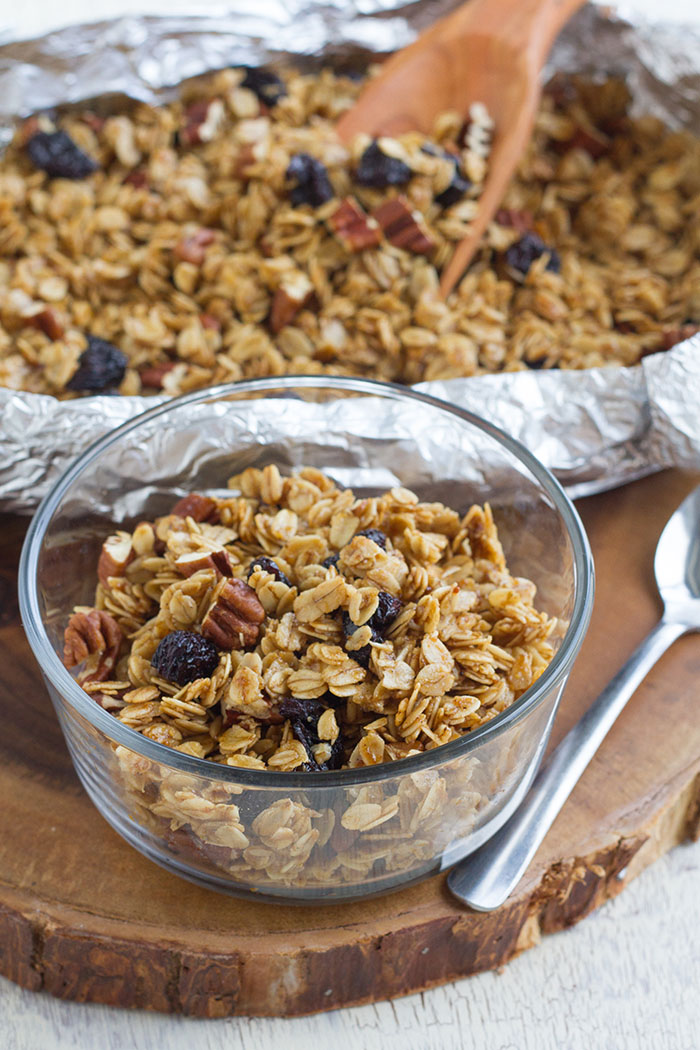 My friend Jesseca Hallows from the blog One Sweet Appetite is kind of amazing. I've had the privilege of getting to know her over the past few years as we have both been working as Harmons bloggers. She is a hard worker, extremely creative, a good friend, and an amazing cook. I have been anxiously awaiting the arrival of her first book and now that it's here I finally get to share it with you!  The book is called Foiled! Easy, Tasty, Tin Foil Meals.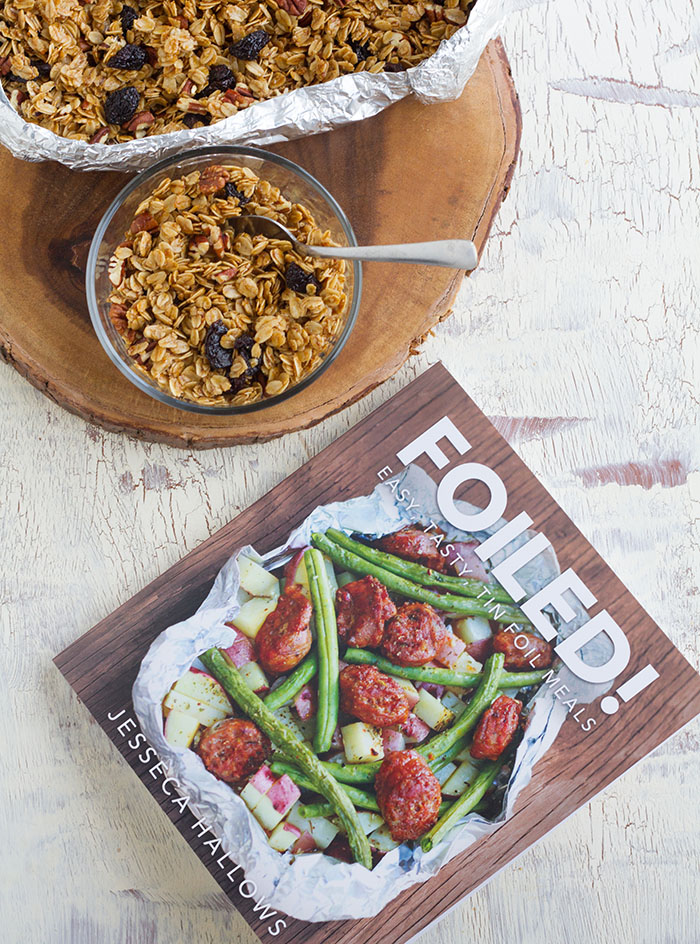 The book is filled with ideas that go beyond the normal Hobo Dinner. Jesseca has included breakfast recipes (everything from breakfast burritos to maple bacon rolls), main dishes (cheese enchiladas!), side dishes (jalapeno poppers…be still my heart), and desserts (monkey bread and s'more quesadillas? Yes please). She gives a ton of information on how to properly create your tin foil packets, how to heat your campfire coals and how to know when they are ready. What if you aren't going camping anytime soon? She also gives instructions on how to cook your tin foil meals on the grill or in the oven.
The recipes are easy to follow and will make you want to plan your next camping trip (or glamping trip!) ASAP. When I was trying to decide what recipe I wanted to share with you I kept going back to the breakfast section. It's probably my favorite—not because the recipes are better, but because the ideas are fun and not what I would have expected to see. My favorite so far is the recipe for a warm granola bowl.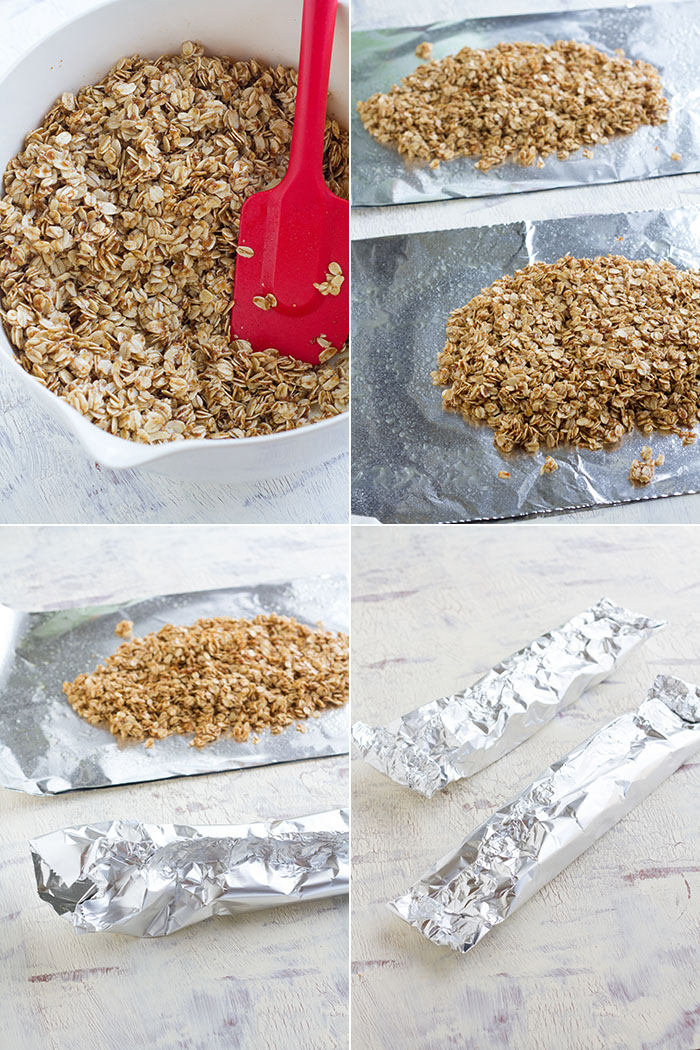 Jesseca, like me, loves granola.  We were actually talking the other day about our granola obsession. This granola is now on our regular rotation. It is chewy, sweet and just a bit salty…like the perfect salted caramel. It is unbelievably good eaten warm right out of the tin foil packet, with milk in a bowl, on top of yogurt, or even ice cream! If you can't eat it right away, it stores really well in an airtight container stored in the pantry. I have been filling a snack container with the granola and keeping it in my purse so that I have a treat with me whenever I want one.
Basically, you need a copy of this book! So go order a copy and whip up a batch of granola while you are waiting for your book to arrive. And while you are at it, enter the huge summer giveaway that Jesseca has set up to celebrate her book launch! (Giveaway details are at the end of this post.)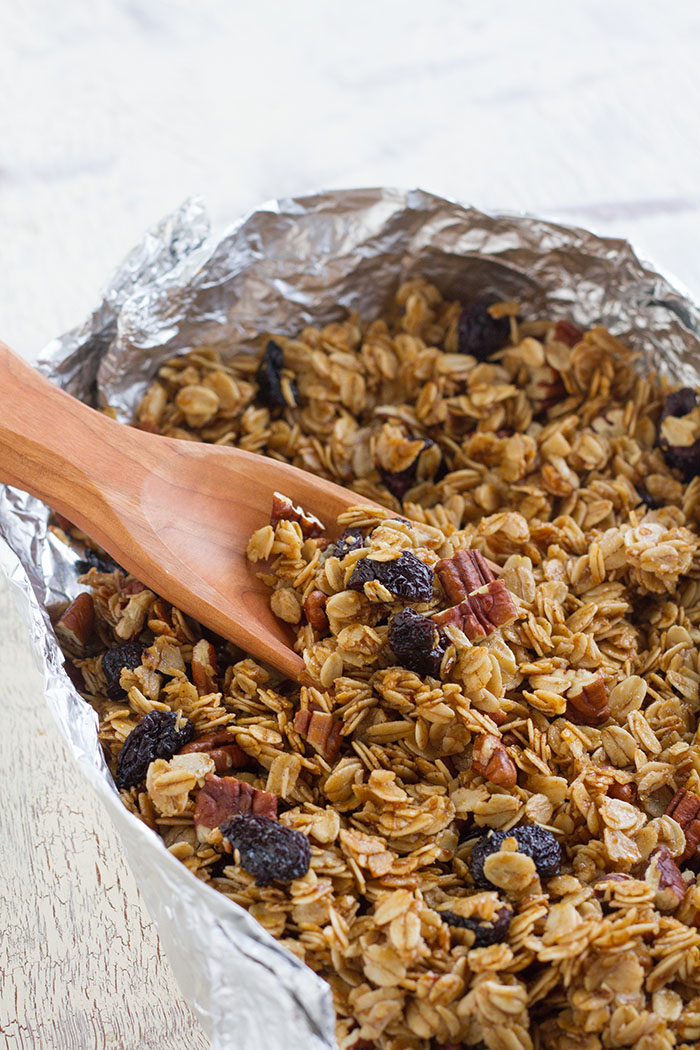 Print This Recipe
Warm Granola Bowl
Reprinted with permission from Foiled! Easy, Tasty, Tin Foil Meals, by Jesseca Hallows
Makes 4 large servings
Ingredients:
4 cups rolled oats
1/2 cup brown sugar (I used coconut sugar)
1/4 teaspoon fine grain sea salt
1/4 teaspoon ground cinnamon
1/3 cup oil (I used melted coconut oil)
1/4 cup honey (I used maple syrup)
1 tablespoon maple syrup
4 teaspoons pure vanilla extract
Add-ins: dried fruit, toasted nuts, toasted coconut, etc.
Directions:
1. Layer two, 18-inch long, heavy-duty sheets of foil together then spray with a generous coat of nonstick spray. Repeat so that you have two foil packets prepared.
2. Combine the oats, brown sugar, salt, and cinnamon together in a large bowl.
3. Stir the oil, honey, maple syrup, and vanilla together in a separate bowl.
4. Divide the oats and put them directly in the center of the prepared foil.
5. Bring the two longer edges together above the food (bringing up both layers of foil). Fold the edges down twice, creating the top seal. Press the side edges together and fold, creating a secure packet.
6. Place the packets on a grill grate over hot coals*.
7. Cook the granola for 12 to 15 minutes, gently shaking the packets every few minutes to help the granola cook evenly.
8. Remove the packets from the heat and carefully open them. Stir the granola then add in dried fruit or additional ingredients.
* Recipe Notes: Let the coals heat for at least half an hour before cooking so that they reach the best cooking temperature (the coals should be white). Tin foil recipes are not exact. You will have to adjust the cooking time according to the heat level of your coals. The packets can also be cooked on a grill or in the oven (preheated to 350 degrees Fahrenheit).
————————————————————————————-
ONE lucky reader will win:
1 Char-Broil Classic 4 Burner Gas Grill
Bayou 3 piece cast iron skillet set
7 piece walker Edison patio dinning set
$50 gift card to the grocery store of winners choice
1 copy of Foiled! Easy, Tasty, Tin Foil Meals.
1 Copy of Sun And Sizzle
Enter here: