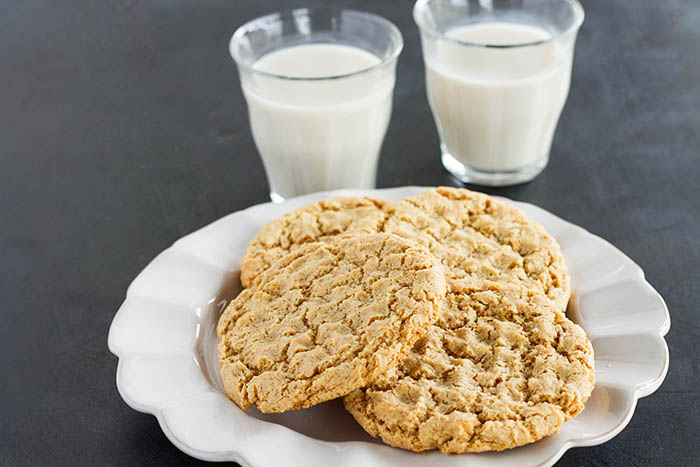 I went gluten-free a year and a half ago (along with some other dietary restrictions) on the request of my rheumatologist as a way of naturally reducing some of my body's inflammatory response (gotta love autoimmune disease!).   Although I haven't had a miraculous recovery (don't I wish), I have definitely seen many benefits.  For the most part I have done away with eating things like bread and cake, as a lot of the gluten-free all-purpose flour mixes contain things I'm not supposed to have.  But occasionally I get a craving for something like pie or chocolate chip cookies, and it's nice to have an option that will satisfy my craving without me having to fall off the wagon that I've been so diligently trying to stay on.  So when I was asked to come up with a recipe to post for Gluten Free Month at Harmons Grocery, I jumped at the chance to come up with a recipe for something I've been having a particularly annoying craving for: any kind of good chewy cookie.  I don't know about you, but I'm in the camp of people who loves a cookie that is soft and chewy, with a bit of crispiness at the edges.  The combination seems to be the elusive Loch Ness Monster of the cookie world.  Many recipes promise it, but most don't end up delivering the full package.  Ironically, it has taken me going gluten-free to achieve my dream cookie.  Even my friends who aren't gluten-free have loved these cookies, so whether or not you are on a special diet, this cookie is for you!  I was so excited by the results, that this recipe turned into 4.  So today I am sharing the base recipe with you, and in the next few days you will be getting three more variations.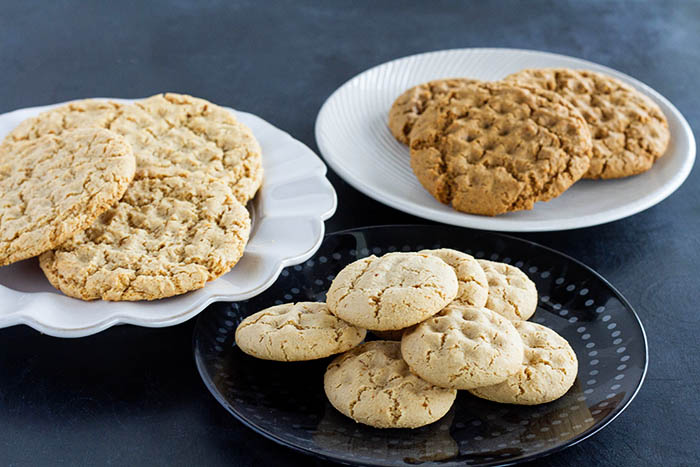 When I went to Harmons Grocery to buy ingredients, I ended up just grabbing a bunch of different flours, sweeteners, and other things to try adding to the cookies. I love going to Harmons for all of my gluten-free items because they have such a huge selection of products and make them easy to find because they mark them all with a purple gluten-free tag. It's nice just to be able to look down and aisle and spot where to find gluten-free selections. But I digress (as if you didn't already know how much I love Harmons). After 6 batches of cookies, playing with different variables like flour ratios, cooking temperature, and cooking time, I finally settled on a base recipe that I loved and the ingredients I ended up using where surprisingly simple. So often with gluten-free baking, you have to use a wide variety of flours to achieve the taste and texture you want that mimics gluten-full foods, but this recipe uses only 2 flours: blanched almond four and tapioca flour.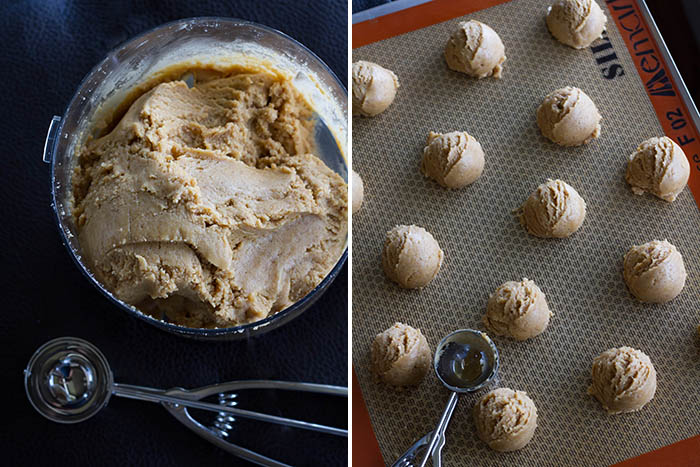 I make the dough in my food processor, so after the ingredients are all measured out, it only takes about 60 seconds to make the dough. You can make the dough and bake the cookies in less than an hour. Easy. After you make the dough, you will form the it into balls (I used a 2-inch scoop which uses 3 tablespoons of dough) and put them on a baking sheet lined with a silicone baking mat (or you can just lightly grease it as well), then using a cookie stamp or the palm of your hand, gently flatten the balls until they are a little more than 1/2-inch thick. I love using a cookie stamp, especially this waffle one that I recently found (love!), not because of the pattern (this dough doesn't hold one well), but because it helps the surface of the cookie have more texture as it's baking, encouraging a bit more of that crispy outside that I like so much. But if you don't have one, never fear, they will still be delicious!
The finished cookies remind me of a cross between peanut butter cookies and graham crackers in flavor.  These babies are begging to be dunked into a glass of ice cold milk (or cashew milk in my case)!  I hesitated to call these out as gluten-free and paleo, because these cookies are good no matter what (and oh, they happen to be gluten-free and paleo)!  So make a batch and enjoy chewy goodness.  Stay tuned to see what I do with this base!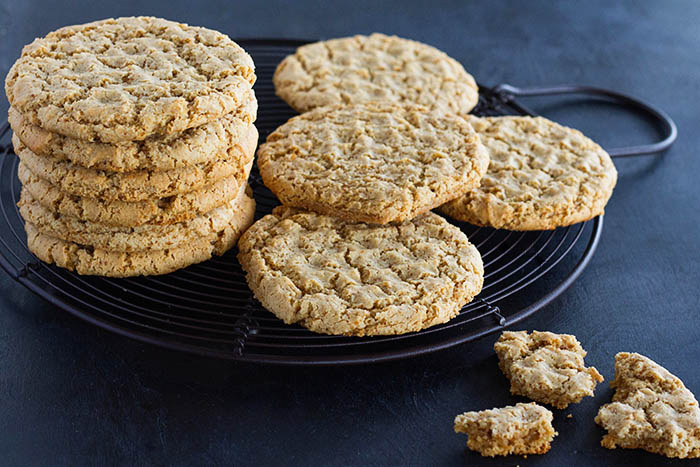 Print This Recipe
Chewy Almond Cookies
Makes 18 large cookies (4-inches in diameter)
Ingredients:
3 1/2 cups blanched almond flour
1 1/2 cups tapioca flour
1 cup coconut palm sugar (or granulated sugar)
1 teaspoon baking soda
1 teaspoon cream of tartar
1 teaspoon fine grain sea salt
1/3 cup palm shortening
1/3 cup honey
1 large egg
2 teaspoons vanilla extract (for Paleo: add the seeds from one vanilla bean instead)
Directions:
1. Preheat the oven to 350 degrees Fahrenheit. Lightly grease a baking sheet or line with silicone baking mat or sheet of parchment paper. Set aside.
2. Place the dry ingredients in a food processor and pulse to combine. Add the remaining wet ingredients and mix until everything is well incorporated and a thick dough forms.
3. Scoop the dough onto the prepared baking sheet (I use a 3 tablespoon (2-inch diameter) scoop, but you can roll the dough into golf ball-sized balls of dough by hand as well). Using a cookie press or the palm of your hand, gently flatten the cookies slightly until they are slightly more than 1/2-inch thick.
4. Bake the cookies in the oven for 9 minutes. Remove the cookies from the oven and let them cool for 5 minutes, then move them from the baking sheet to a cooling rack to finish cooling.
*Recipe Notes: Store the finished cookies in an airtight container.  They stay moist and chewy for a good 48 hours, though they start to lose some of their crispiness after a day or so.  They start to get a bit stale after 2 days.
—————————————————————————————————————–
*Disclosure: I was compensated by Harmons Grocery for my time spent developing this recipe and writing this post.