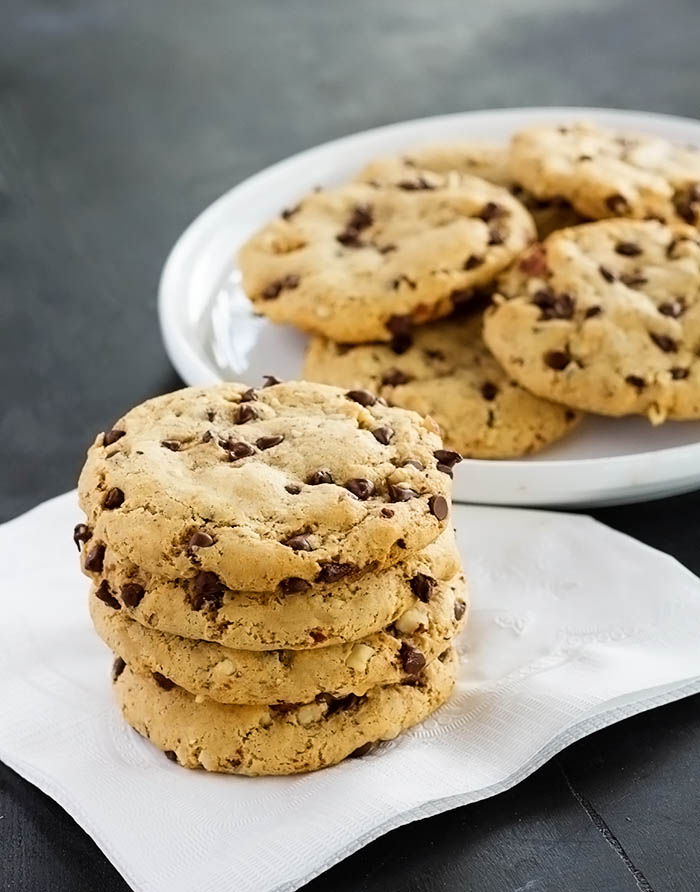 I think this may be my favorite recipe that came of my cookie cooking binge! Chewy chocolate chip hazelnut…how can you resist?!?  The addition of mini chocolate chips and chopped toasted hazelnuts to my chewy almond cookie base makes a cookie that is slightly thicker, soft, and chewy. The mini chocolate chips give a fantastic dispersion of chocolate throughout the entire cookie, and the toasted hazelnuts add a bit of crunch and wonderful flavor. I think about half of my neighborhood has tasted them so far and no one guessed that they were gluten-free, and when they found out they were really surprised!  One of my testers says it's her "favorite chocolate chip cookie ever." I have to admit, I think it's mine as well.  And…drum roll please…you may have already guessed that these beauties are gluten-free and Paleo (if you are in the Paleo camp that uses allergen-free mini chocolate chips that is)!
My kids were all over these,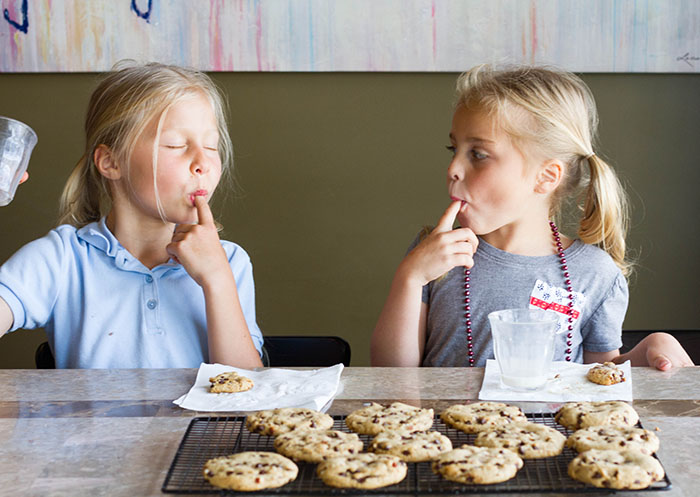 and I quickly learned that they bring out the crazy in Miss Bug.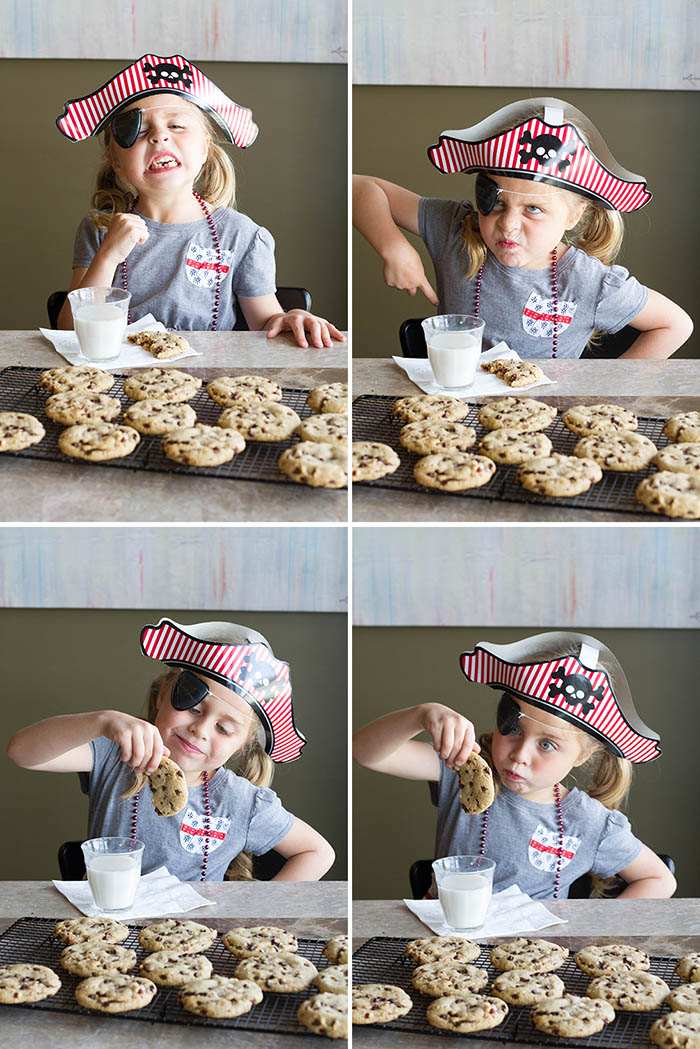 But hey, I won big-time brownie points from the Fujilings, so I think I can handle a bit of crazy from time to time.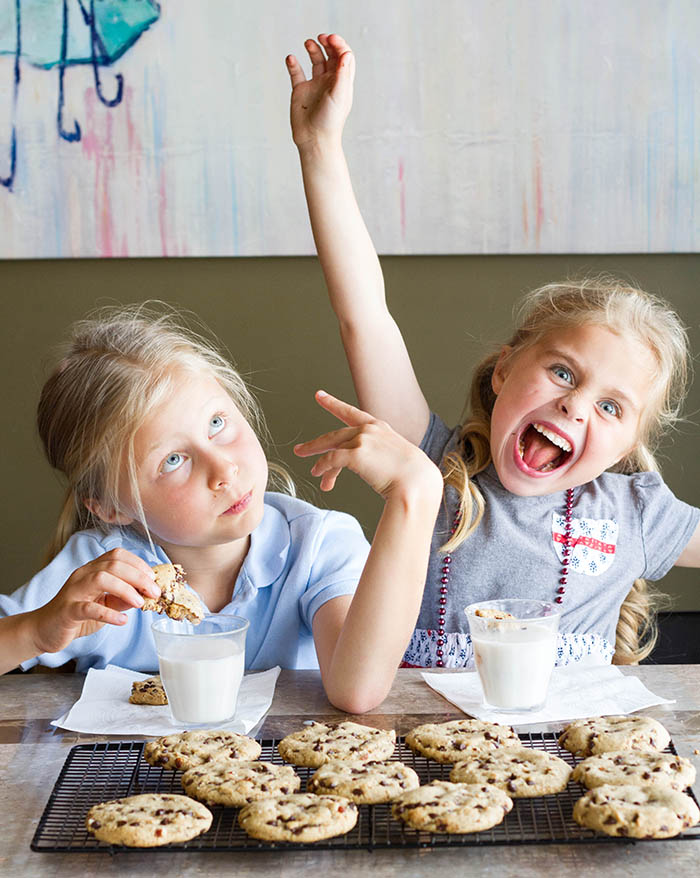 So grab your ingredients my friends, it's time for some chocolate chip cookie therapy!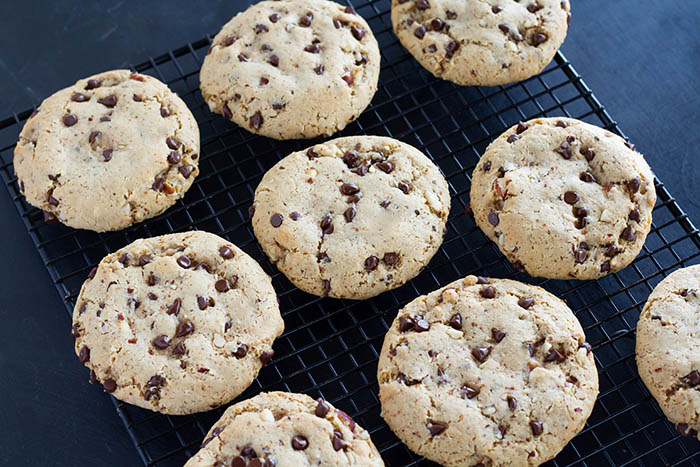 Print This Recipe
Chewy Chocolate Chip Hazelnut Cookies
Makes 25 cookies (3.25-inches in diameter)
Ingredients:
3 1/2 cups blanched almond flour
1 1/2 cups tapioca flour
1 cup coconut palm sugar (or granulated sugar)
1 teaspoon baking soda
1 teaspoon cream of tartar
1 teaspoon fine grain sea salt
1/3 cup palm shortening
1/3 cup honey
1 large egg
2 teaspoons vanilla extract (for Paleo: add the seeds from one vanilla bean instead)
1 (10 ounce) bag allergen-free mini chocolate chips (I like Enjoy Life mini chocolate chips)
1 cup roughly chopped hazelnuts, toasted
Directions:
1. Preheat the oven to 350 degrees Fahrenheit. Lightly grease a baking sheet or line with silicone baking mat or sheet of parchment paper. Set aside.
2. Place the dry ingredients in a food processor and pulse to combine. Add the remaining wet ingredients and mix until everything is well incorporated and a thick dough forms.
3. Scrape the dough into a large bowl, add the chocolate chips and chopped hazelnuts, and mix them into the dough.
4. Scoop the dough onto the prepared baking sheet (I use a 3 tablespoon (2-inch diameter) scoop, but you can roll the dough into golf ball-sized balls of dough by hand as well). Using the palm of your hand, gently flatten the cookies slightly until they are slightly more than 1/2-inch thick.
5. Bake the cookies in the oven for 9 minutes. Remove the cookies from the oven and let them cool for 5 minutes, then move them from the baking sheet to a cooling rack to finish cooling.
*Recipe Notes: Store the finished cookies in an airtight container.  They stay moist and chewy for a good 48 hours, though they start to lose some of their crispiness after a day or so.  They start to get a bit stale after 2 days.