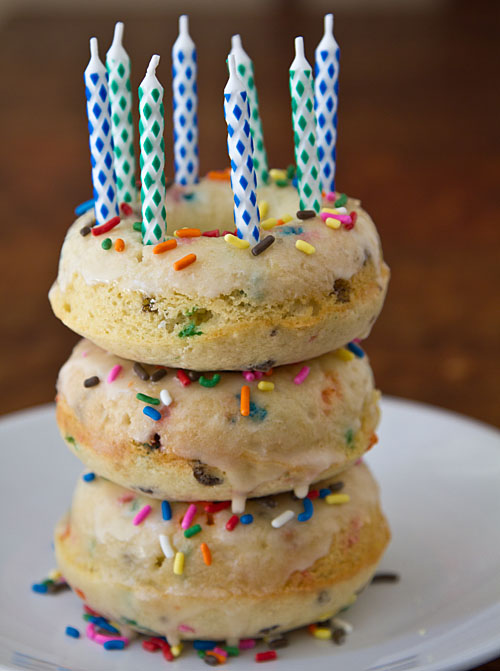 Confetti cake baked doughnuts topped with a light vanilla glaze are a fun twist on confetti cake—the fluffy white or yellow cake studded with flecks of color that is a popular choice for a child's birthday cake.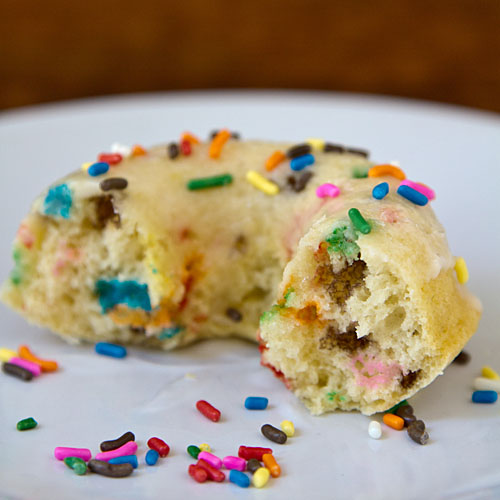 May is Lucy's birthday month, and so we thought she would appreciate an old favorite dressed up as a doughnut, another one of her favorite treats!
Plus, when you make a stack of doughnuts and add some candles, they turn into an even better creation!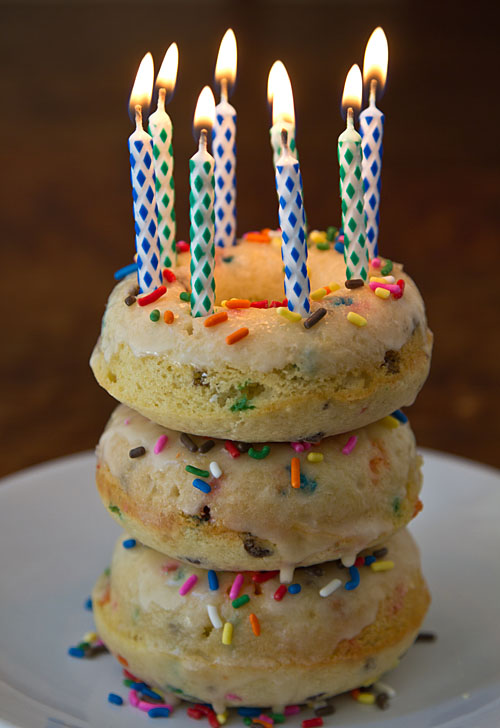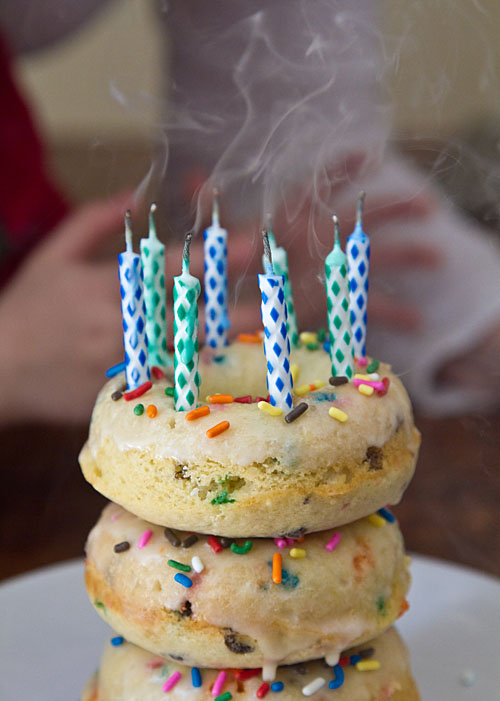 This particular recipe was a bit of a pain in the backside.  My initial batch had a wonderful flavor, but the crumb was too dry.  The next batch was more moist, but the flavor was bland.  On and on it went, as I tweaked things here and there until I finally came up with a recipe that fit what I wanted—moist and flavorful!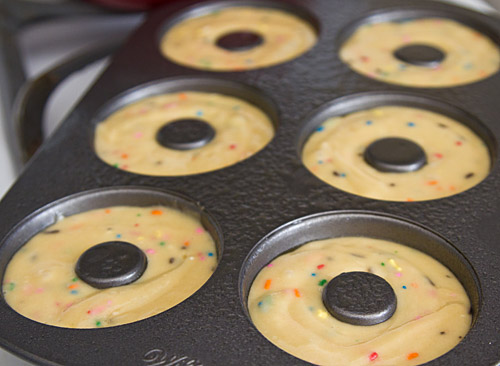 My secret weapon?  A bit of honey!  Honey is hygroscopic, meaning that it is a natural humectant, giving it the ability to absorb and retain moisture.  Honey rocks. Just sayin'. (More about the awesomeness of honey.)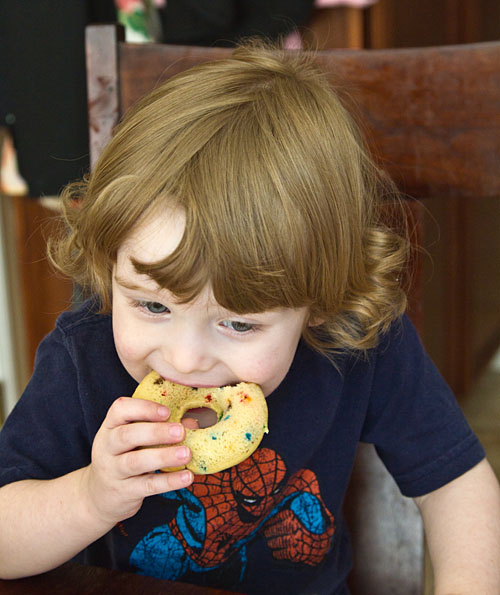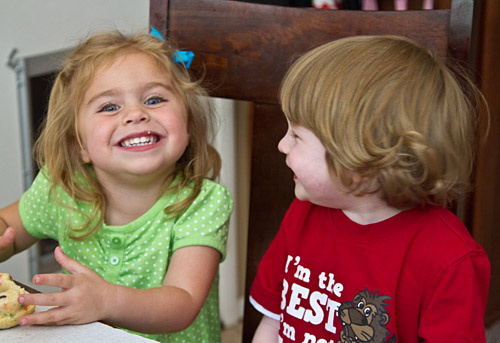 We hope you enjoy these doughnuts as much as Lucy and our kids did!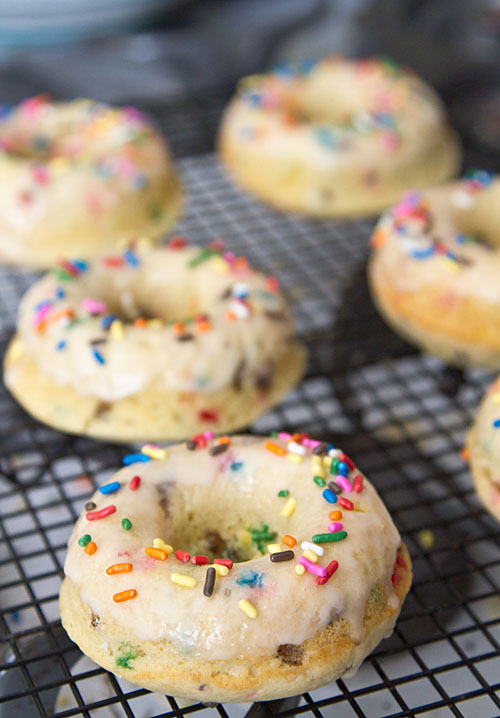 Print This Recipe
Confetti Cake Baked Doughnuts
Makes 6 doughnuts
For the doughnuts:
3/4 cup all-purpose flour
1 tablespoon granulated sugar
1 teaspoon baking powder
1/8 teaspoon salt
1/3 cup milk
1 large egg
2 tablespoons honey
1 1/2 tablespoons plain Greek yogurt
1/2 teaspoon vanilla extract
1/4 teaspoon almond extract
1 1/2 tablespoons multi-colored jimmies (sprinkles)
For the vanilla glaze:
1/2 cup confectioners' sugar, sifted
1 tablespoon softened butter
1/4 teaspoon vanilla extract
1/8 teaspoon salt
1 tablespoon milk
1. Preheat the oven to 350 degrees Fahrenheit.
2. Make the doughnut batter: Whisk together the flour, graunulated sugar, baking powder and salt in a medium-sized mixing bowl.
3. In a separate bowl, beat the eggs, honey, yogurt, vanilla, and almond extract together until foamy.
4. Pour the liquid mixture all at once into the flour mixture and stir just until combined. Then add the multi-colored jimmies and stir until they are evenly distributed.
5. Butter or grease the doughnut pan. Fill each doughnut form half full.
6. Bake the doughnuts in the preheated 350 degree Fahrenheit oven for 13 to 15 minutes. when done, the doughnuts will spring back when touched lightly, and will have just started to brown on top.
7. Remove the doughnuts from the oven, remove them carefully from the pan, and allow them to cool on a wire rack.
8. Make the vanilla glaze: While the doughnuts are cooling, combine all of the glaze ingredients in a small bowl. Stir until the glaze is smooth and well blended.
9. After the doughnuts have cooled slightly, dip the tops of them in the vanilla glaze, then return them to the wire rack (glaze side facing up) to finish cooling and to allow the glaze to set.  Sprinkle additional jimmies on top if desired.