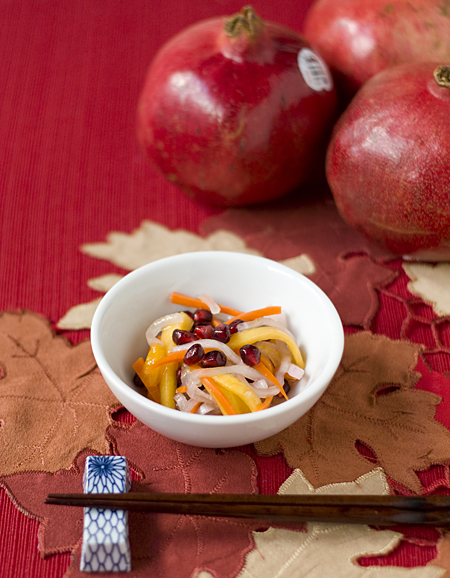 Ask me to describe a perfect day and my response would be, "An afternoon spent with friends, two happy little girls, two loving dogs, rare warm autumn afternoon sunshine, and a garden bursting at the seams with ripe fruits and vegetables."  Last month the girls and I went to visit Todd and Diane (White On Rice Couple) and raid their persimmon tree.  We spent a wonderful afternoon enjoying the sunshine and the bounty of their wonderful garden.  It was one of those days that makes a memory that fills you with warmth and leaves a smile on your face.
(A huge thank you to Diane for snapping these gorgeous photos with my camera!)
It made quite the impression on Squirrel, and she has mentioned the trip on multiple occasions since.  In fact yesterday as I was standing at the stove making dinner, I felt a tug on my shirt.  I looked down to see Squirrel looking up at me with a serious look on her face.  When she saw that she had my attention, she said, "Mommy, when are we going to go visit my best friends?  They miss me!"  I asked her who her best friends were, and she replied in a tone that implied that I was completely daft, "Mommy, Todd and Diane are my best friends!"  Squirrel is a great judge of character—Todd and Diane are two pretty special people.  Not only are they some of the sweetest people I have the privilege of knowing, but they made my day by sending me home with a bag bulging with fuyu persimmons that we picked from their tree.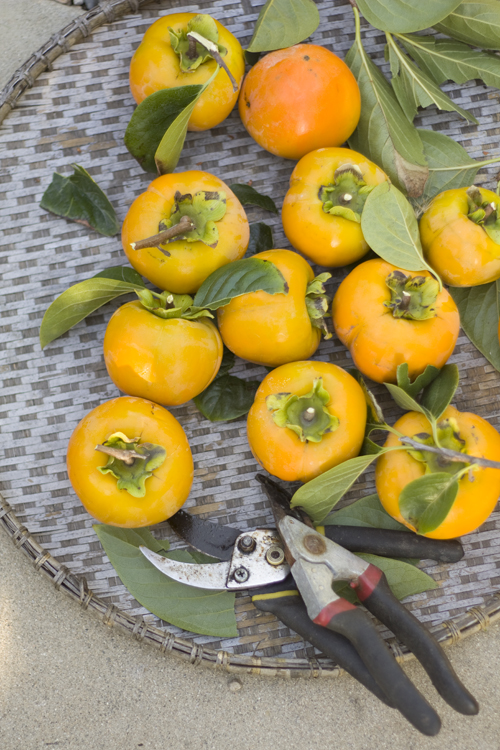 I fell in love with persimmons while living in Japan.  There two main types of persimmons, sweet persimmons and astringent persimmons, both of which are grown and eaten in Japan.  Fuyu persimmons and hachiyas persimmons are the most commonly available in North America.  Hachiyas are astringent and cannot be eaten unless they are overripe due to high levels of tanning in the fruit.  As a result, these persimmons are usually cooked or dried, which transforms the fruit into a sweet treat.  Fuyus, on the other hand, can be eaten while the fruit is still crisp, so they are often peeled, sliced, and added to salads or eaten plain.  The flesh is lightly sweet and creamy, with a flavor that hints at pumpkin.  As I was trying to decide what dishes to make for my POM Dinner Party, I decided that a harvest meal wouldn't be complete without using some of those beautiful fuyus that I had come home with.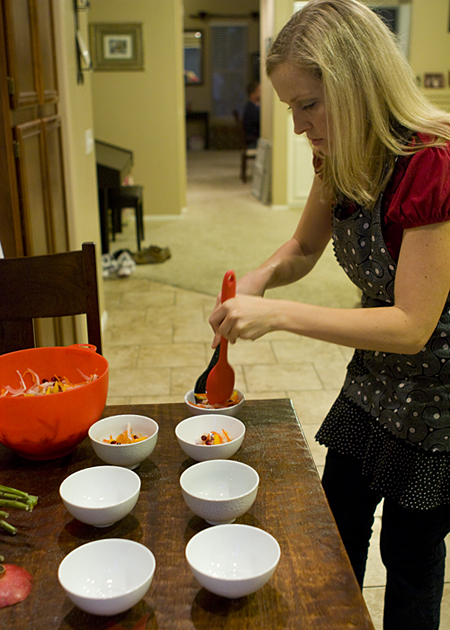 So I dreamed up a salad that would combine persimmons with fresh pomegranate arils.  I chose to make a sunomono, a Japanese salad made with a vinegar-based dressing that lightly pickles the ingredients.  I chose daikon radish, carrot, persimmon, and pomegranate for my sunomono.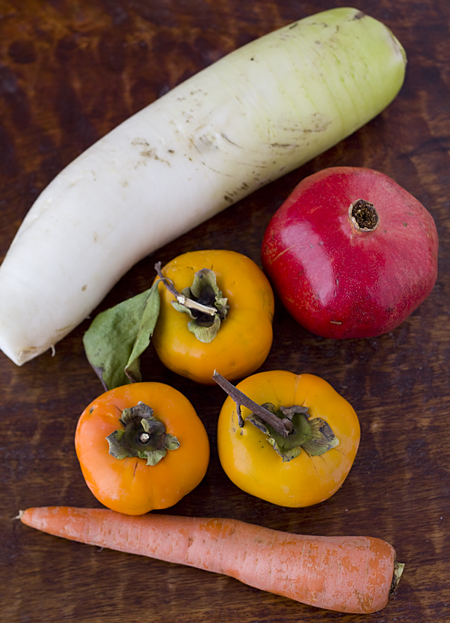 I cut the daikon, carrot, and persimmon into matchsticks, and tossed them with the pomegranate arils.  I made a light dressing from rice vinegar, sugar, and salt, and added a bit of dashi to soften the flavor.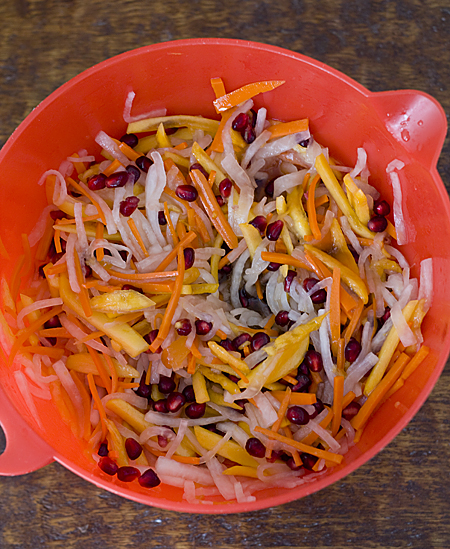 The combination worked beautifully.  Each ingredient added color and texture, and the flavors complimented one another.  The daikon and carrot added crunch and a bit of sweetness, the persimmon provided creamy sweetness, and the pomegranate arils added a juicy tang.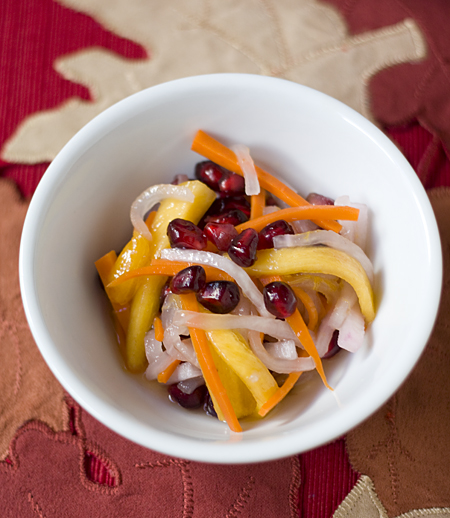 Print This Recipe
Daikon, Carrot, Persimmon, and Pomegranate Sunomono
Makes approximately 5 servings
Recipe Note: The sunomono can be made and stored in the refrigerator ahead of time.  After about 6 hours the flavors start to become stronger, which I personally like, but which may be less appealing to some guests.  So if you're planning on making this ahead of time, I would use it within 6 hours! Vegetable stock can be substituted for the dashi to make the dish vegetarian.
Sunomono Dressing:
1/4 cup rice vinegar
1/4 cup dashi
2 tablespoons granulated sugar
1 tablespoon salt
10 ounces daikon radish, cut into 2-inch long matchsticks
2 teaspoons salt
1 medium fuyu persimmon, ripe but not too soft, cut into 2-inch long matchsticks
1 medium carrot, cut into 2-inch long matchsticks
1 cup fresh pomegranate arils
1. Make the sunomono dressing: In a medium bowl, combine the sunomono dressing ingredients and let it sit for about 30 minutes.
2. Make the sunomono: In a medium bowl, toss  the daikon matchsticks with the tablespoon of salt, and let stand for 10 minutes.  Then transfer the daikon to a colander, briefly rinse it under cold running water, then drain it and squeeze it tightly to remove excess water.  Taste the daikon—if it is too salty, rinse, drain, and squeeze it again.
3. In another bowl, toss the daikon, carrot, persimmon, and pomegranate arils with the dressing.  Cover the bowl and let the sunomono rest in the refrigerator until ready to serve.  Serve chilled.