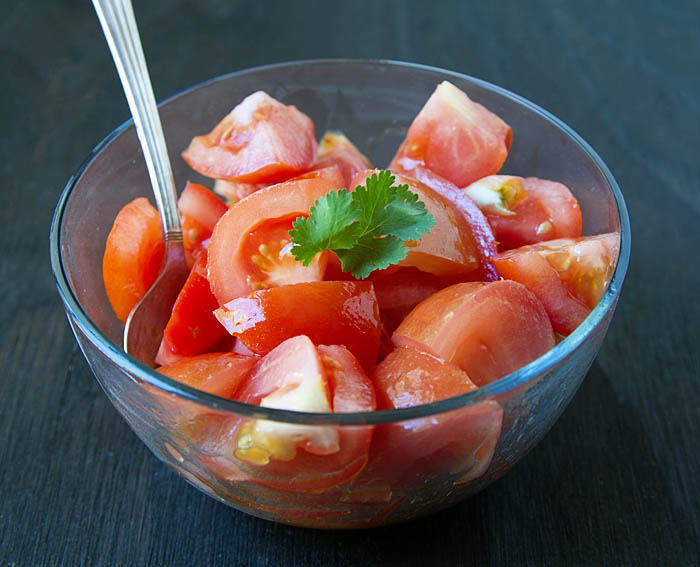 Ensalada de Tomate, or tomato salad, is a side dish that only takes a few minutes to put together.  This recipe is about as simple as you can get, but I thought it was important because sometimes the simplest recipes give an interesting window into the soul of a country's cuisine, and such is the case with this little salad.  The three most widely eaten vegetables in Chile are avocados, onions, and yep, you guessed it, tomatoes!  Another ingredient that is used often in Chilean cooking is olive oil. Chile is serious about its olive oil.  Chilean olive oil has become increasingly well known around the world for its quality, and the country specializes in producing extra virgin olive oil.  In recent years Chilean olive oils have racked up awards in internationally recognized olive oil competitions throughout Europe and the United States.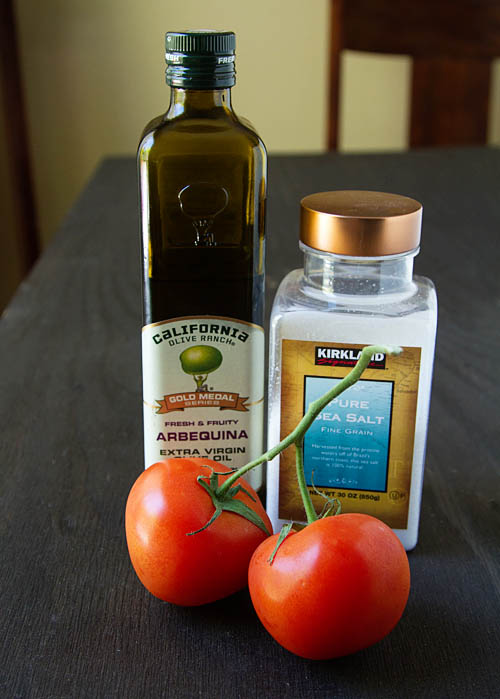 This salad features both tomatoes and olive oil, with the addition of salt.  In Chile, the word ensalada or salad, is a generic term for any fresh vegetable that is served cold as an accompaniment to a meal.  This particular ensalada, was the accompaniment to the meal that I cooked with Ms. M.  (Ooooh, and just wait until you see what the main dish was!  That's coming tomorrow!)

Print This Recipe
Ensalada de Tomate (Chilean Tomato Salad)
Makes 4 servings
*Recipe Notes: Fat, juicy tomatoes that have never seen the interior of a refrigerator are best suited for this salad.  If you have the time, peeling the tomatoes before chopping them up is the best.  By peeling away the skin, the flavors of the olive oil and sea salt are better able to meld with the flesh of the tomatoes, amping up the flavor factor considerably.
4 large tomatoes
1/4 cup olive oil
2 teaspoons fine grain sea salt
1. Peel the tomatoes, then cut them into chunks.
2. Put the tomatoes in a small serving bowl. Drizzle the olive oil over the tomatoes, then sprinkle with the sea salt. Toss the tomatoes to coat them in the oil. Serve immediately.