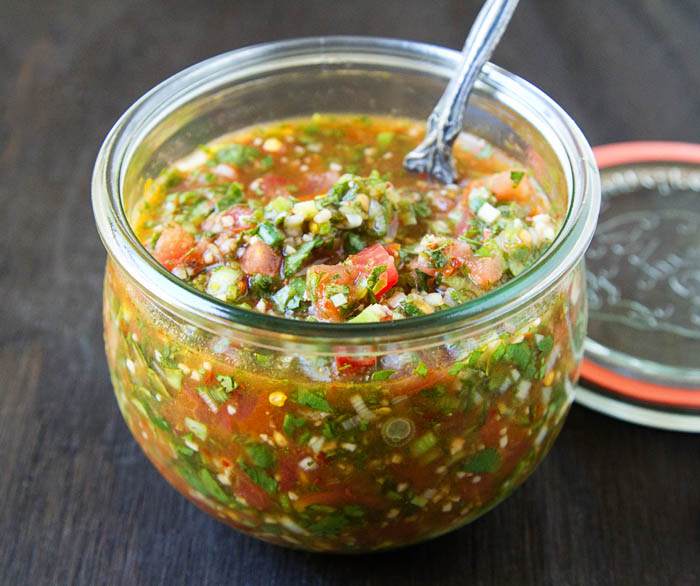 Pebre, a ubiquitous Chilean condiment that can be found accompanying a wide variety of meals throughout the country, in restaurants and homes alike, was a revelation to me.  It was love at first bite.  The sauce varies depending on the region of Chile and the household in which it's made in, but the basic building blocks are cilantro, garlic, onion, olive oil, and ground aji chili peppers.  If Mexican pico de gallo and Argentinian chimichurri had a baby, it might look something like pebre.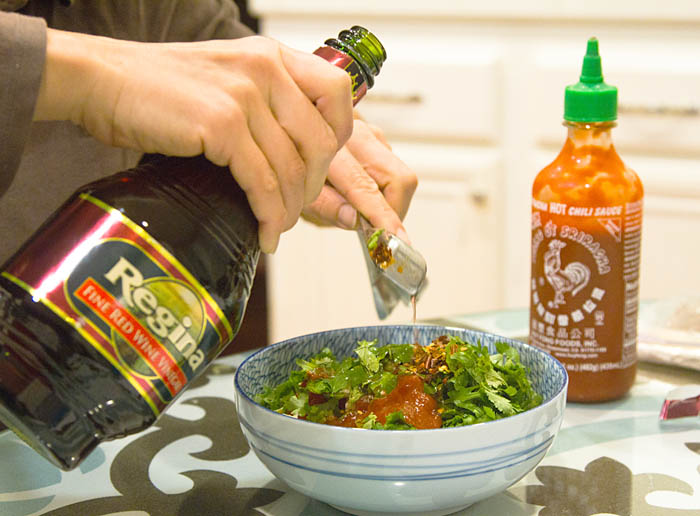 When I was cooking with Ms. M, she explained that pebre is something you always have on hand because in Chile they put it on top of everything, from boiled potatoes to empanadas, from stirring it into soup or spooning it over meat.  As she chopped ingredients, Ms. M told me stories of the giant jars of pebre her grandmother would make and keep in the refrigerator, constantly having to replenish what she had made because everyone ate so much of it.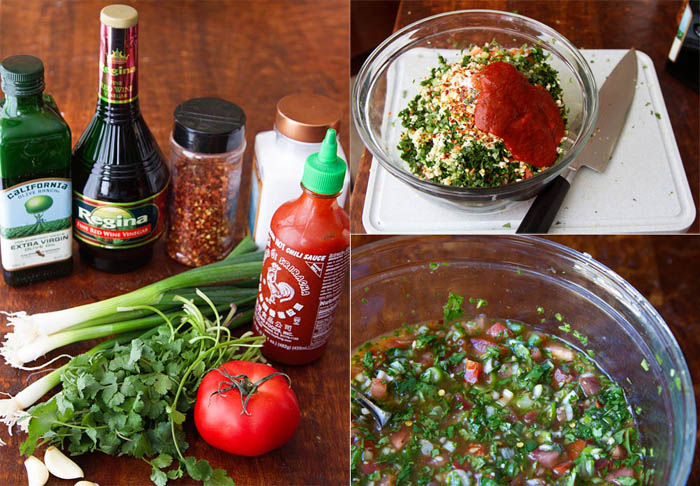 Making the sauce is easy.  All you have to do is chop up all of your ingredients into little bits, then mix in a few other ingredients like crushed red chili pepper flakes, olive oil, spicy red chili sauce (Ms. M says sriracha makes a perfect substitution for the Chilean ingredient, Aji Chileno, that she would use in Chile!), and red wine vinegar.  Ms. M's mom suggests using the Regina red wine vinegar, as it tastes most like the kind she would by in Chile.  Once all of that is mixed up, then you add enough cold water to just barely cover the ingredients in your bowl, stir everything again, then cover it and put it in the refrigerator for a bit to let the flavors meld and develop.
The result is a spicy, tangy, herbaceous sauce that will have your taste buds popping.  I dare you not to love it.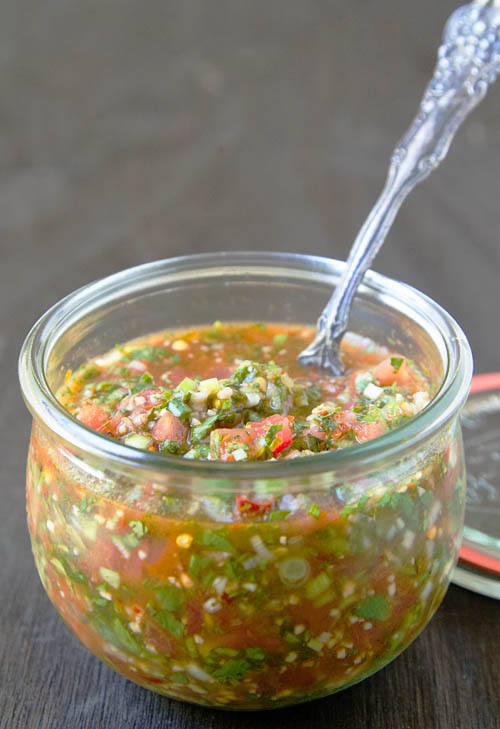 Print This Recipe
Pebre (Chilean Chili Salsa)
Makes approximately 3 cups
*Notes: This is the way Ms. M's grandmother taught her to make pebre.  Ms. M is from Santiago, so her pebre may look very different from a pebre made in someone's home in another part of the country.  That's the beauty of this condiment!  Some versions use tomatoes, others don't.  Some use onion, and others, like Ms. M's family recipe, use scallions.  Some use chopped chilis, and others use a chili paste!  The sky is the limit.  If you don't like something, change it up and make you're own version of pebre!
6 scallions, finely chopped
1 large tomato, finely chopped
1 small bunch cilantro (approximately 1.5 ounces), leaves and small stems finely chopped
3 to 4 large garlic cloves, minced
3 tablespoons red wine vinegar (Regina Red Wine Vinegar is best)
1 1/2 tablespoons spicy red chili sauce, like sriracha
1/2 tablespoon olive oil
1/2 tablespoon crushed red chili pepper flakes
1/2 teaspoon fine grain sea salt, plus additional to taste
water
1. Mix everything, except the water, together in a medium sized bowl.
2. Add enough cold water to barely cover the contents of bowl.
3. Mix everything together, cover, and place in the refrigerator for a few hours to let all of the flavors blend.  Best eaten the day it is made.