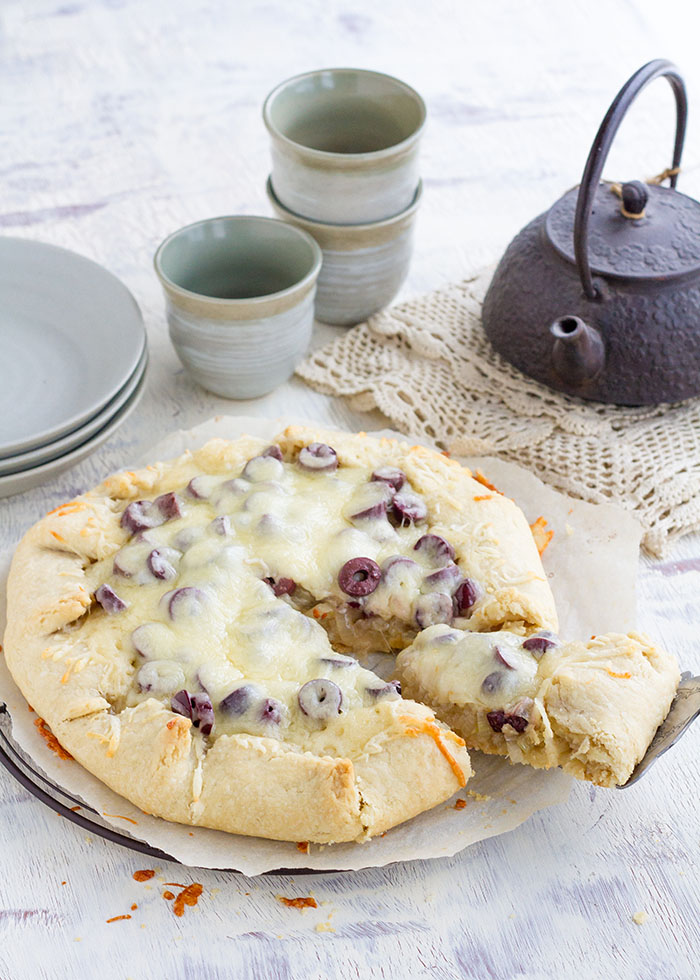 Tomorrow is National Pie Day, which is always a big celebration at our house, helped by the fact that it's also my birthday.  It helps that I am a pie addict and haven't had birthday cake in years.  It's birthday pie for me all the way!  So when I received a copy of Dinner Pies by Ken Haedrich to review, I knew it would be perfect for Pie Day celebrations!  Savory pies tend to play second fiddle with sweet pies claiming the limelight.  This is unfortunate, because there are some pretty magical combinations of savory ingredients that play beautifully inside a buttery, flaky pie crust.  Ken illustrates this beautifully in his book which is filled with 100 recipes for savory dinner pies.
Although some of the usual suspects are present, such as chicken pot pie and shepherd's pie (and for good reason—they're delicious!), there is a fantastic array of other choices to tickle your fancy such as Cornish Meat Pies, Eggs Florentine Breakfast Pies, and Moroccan Lamb Pie.  Haedrich takes inspiration from other cultures and dishes in wonderful ways.  Can you imagine a Reuben sandwich or a Philly Cheesesteak in pie form?  Delicious!  Or Potato & Pea Samosas or Spicy Chicken & Empanadas?  The first time I flipped through the book I think I marked every other recipe as something I wanted to try.  The book also provides thirteen different recipes for pie dough, from Ken's fabulous "Go-To Pie Dough" to Cornmeal Pie Dough and Cheddar Cheese Pastry.
Everything I've tried from the book so far has been nothing short of delicious.  The Free-Form French Onion Tart was especially fantastic and I got permission to share it with you.  The pie dough is dead simple to make, using a food processor to make quick work of it.  The filling is simple as well, made by slowly cooking thinly sliced sweet onions with some beef broth until they are tender and golden.  The onions are then put on top of the pie dough after it has been rolled out, then the edges are folded over to form a rustic tart, which is then put into the oven to bake.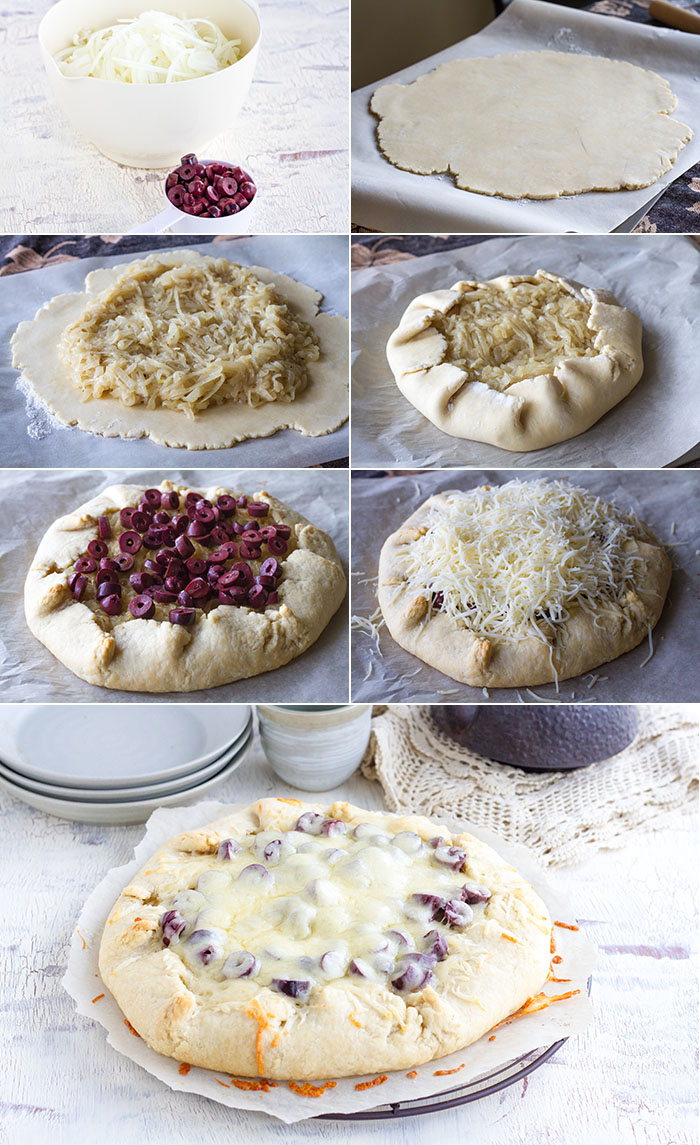 When the tart is almost completely cooked, the onions are topped with sliced olives and shredded cheese and returned to the oven to finish cooking.  Heavenly!  The great thing about this recipe is that it is easily made vegetarian by replacing the beef broth with a vegetable or mushroom broth, and it is easily made gluten-free by using a gluten-free pie dough instead of the regular dough (my favorite gluten-free pie dough recipe can be found here).
See?  You need savory pies in your life, so remedy that by buying a copy of Dinner Pies.  You won't be sorry.  Happy National Pie Day (tomorrow)!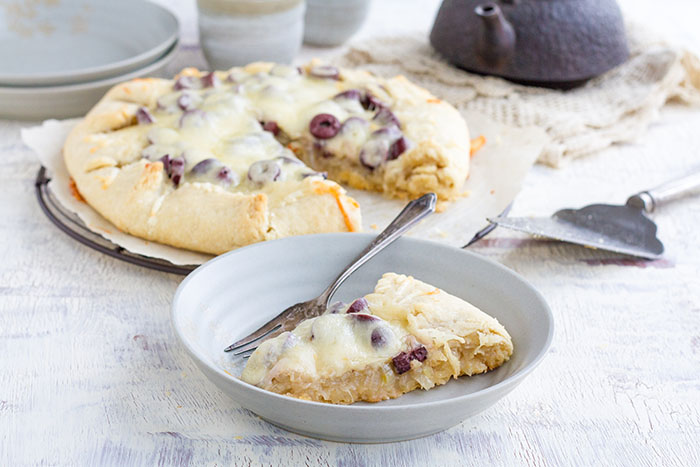 Print This Recipe
Free-Form French Onion Tart
Recipe © 2016 from Dinner Pies by Ken Haedrich and Used by Permission of The Harvard Common Press
Ken Haedrich writes, "This delicious tart borrows flavor and form from a couple of dishes I've always loved: French onion soup topped with melty cheese, and pissaladière, the onion pizza that's a specialty of Nice in southern France. Whereas the latter is built on a yeasted bread dough, our version is made with a flaky pastry. This is rich and flavorful enough to be served in small wedges, as a small-plate appetizer. But it's equally wonderful as a main dish, accompanied by a large and colorful garden salad."
Makes 6-10 servings
Ingredients:
1 recipe Go-To Pie Dough (recipe follows), refrigerated
FILLING:
4 tablespoons (1/2 stick) unsalted butter
3 large sweet onions, preferably Vidalias, halved and thinly sliced (about 7 cups)
3/4 cup beef broth
1 tablespoon dry sherry or Cognac (optional)
3/4 cup oil-cured black olives, pitted and sliced
1 1/2 cups grated Swiss or Jarlsberg cheese
Directions:
1. If you haven't already, prepare the pastry and refrigerate it for at least 11/2 hours.
2. Melt the butter in a large skillet over medium heat. Add the onions, and salt and pepper them lightly. Sauté the onions until limp, 10 to 12 minutes.
3. Start adding the beef broth, about 1/4 cup at a time. Continue cooking the onions, stirring occasionally, 12 to 15 minutes longer, adding more broth as it evaporates. You don't want the liquid to evaporate too quickly, so cover the skillet periodically to keep the onions moist. If you're adding it, stir in the sherry or Cognac during the last few minutes of cooking. When the onions are very soft, golden, and still a little thick- saucy, remove them from the heat. Taste, adding more salt and pepper if needed. Cool.
4. Preheat the oven to 375°F. On a lightly floured sheet of parchment, roll the dough into a circle about 12 inches in diameter. Slide the paper and dough onto a large rimless baking sheet.
5. Scrape the onions into the center of the pastry and spread them evenly, leaving a 1 1/2-inch border around the edges. Using the paper to help you lift the dough—or by sliding a dough scraper under the pastry— fold the edge of the pastry over the onions; the dough will sort of pleat itself as you do so.
6. Bake on the center oven rack for 35 minutes. Slide the tart out, scatter the olives over the onions, then sprinkle on the cheese. Continue to bake just long enough to melt the cheese, 5 to 6 minutes more. Don't allow the cheese to bubble and blister or it won't stay soft.
7. Transfer the baking sheet to a cooling rack. Allow to cool for 5 minutes, then slide the paper and tart off the pan and onto the rack. Cool for another 5 to 10 minutes before serving.
—————————————————————————
Go-To Pie Dough
Ken Haedrich writes, "It's no mystery why I call this my "go-to" dough: It's so versatile that I use it for perhaps four out of every five of the savory (and sweet) pies that I make. You can't beat it for reliability, and it bakes up to a beautiful texture, perfectly balanced between flaky and short. This is the single crust recipe; the double crust version follows. The recipe calls for a food processor; to make the dough by hand, see the Note."
MAKES ENOUGH FOR 1 (9 ½-INCH) PIE OR TART SHELL)
Ingredients:
8 tablespoons (1 stick) cold unsalted butter plus 2 tablespoons cold vegetable shortening (or 10 tablespoons cold unsalted butter), cut into 1/2-inch cubes
1 1/2 cups all-purpose flour
1 1/2 teaspoons cornstarch
1/2 teaspoon salt
2 teaspoons white vinegar
Scant 1/3 cup cold water
Directions:
1. Put the butter and shortening cubes in a single layer on a flour-dusted plate, with the shortening off to one side of the plate by itself. Refrigerate for at least 30 minutes. Combine the flour, cornstarch, and salt in a bowl and refrigerate that mixture also. Pour the vinegar into a 1-cup glass measure. Add enough cold water to equal 1/3 cup liquid. Refrigerate.
2. When you're ready to mix the pastry, transfer the flour mixture to a food processor. Pulse several times to mix. Remove the lid and scatter about 6 tablespoons of the butter—a little more than half of the total fat— over the dry mixture. Pulse the machine five times—that's five 1-second pulses—followed by an uninterrupted 5-second run. Remove the lid and add the remaining fat. Give the machine six or seven 1-second pulses.
3. Remove the lid and loosen the mixture with a big fork; you'll have a range of fat clods, most quite small but a few larger ones as well. With the lid off, drizzle about half of the liquid over the mixture. Replace the lid and give the machine three very quick, half-second pulses. Remove the lid, loosen the mixture with your fork, and add the rest of the liquid. Pulse briefly three or four times, just like before. The mixture will still look crumbly, but the crumbs will be starting to get a little clumpier.
4. Transfer the contents of your processor to a large bowl, one large enough to get your hands in. Start rubbing the crumbs together, as if you were making a streusel topping—what you're doing is redistributing the butter and moisture without overworking the dough. (Note: If your dough mixture came out of the food processor more clumpy than crumb-like, don't worry. Just pack it together like a snowball, knead it very gently two or three times, and proceed to step 5.) You can accomplish the same thing by "smearing" the crumbs down the sides of the bowl with your fingers. When the dough starts to gather in large clumps, pack it like a snowball and knead gently, three or four times, on a lightly floured surface.
5. Put the dough on a long piece of plastic wrap and flatten it into a 1-inch-thick disk. Wrap tightly in plastic wrap and refrigerate for at least 1 1/2 to 2 hours; overnight is fine. (You can also slip the wrapped dough into a gallon-size plastic freezer bag and freeze it for up to 2 months. Thaw overnight in the refrigerator before using.)
*Note:  To make the dough by hand, chill all of your ingredients as specified in step 1, but increase the flour to 1 1/2 cups plus 1 1/2 tablespoons. Remove the butter and shortening from the refrigerator 5 to 8 minutes before mixing; it should have a little "give" to it when squeezed between your fingers. Add about 6 tablespoons of the butter to your dry mixture; toss to coat with flour. Using your pastry blender, cut in the butter until the largest pieces of fat are pea-size. Add the remaining fat, toss to coat, and cut that in. The entire mixture should look like it has been "touched" by the fat, and nothing should be larger than pea-size. Pour half of your liquid down around the sides of the bowl, but not in any one spot. Mix well with a large fork, moving the mixture in from the sides and up from the bottom. Repeat with the remaining liquid, but add the last few teaspoons only if needed. Rub and smear the crumbs as specified in step 4 until a dough starts to form. Pack the dough and knead gently a couple of times. Flatten into a disk, then wrap and refrigerate.
========================================================
*Disclosure: I was provided a review copy of Dinner Pies for review.  I was not compensated for my review.  All opinions and experiences are my own!