"I don't think a really good pie can be made without a dozen or so children peeking over your shoulder as you stoop to look in at it every little while." —
John Gould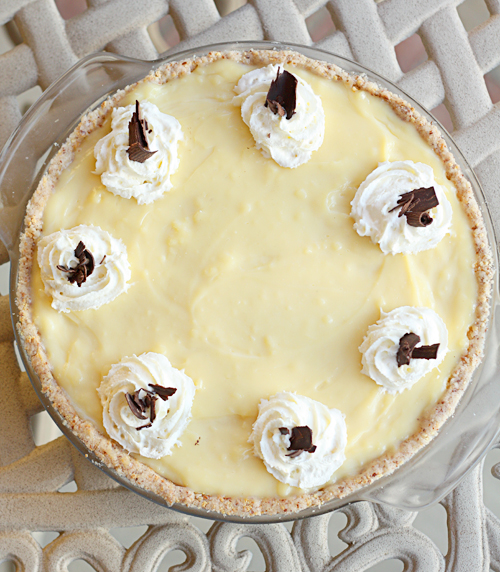 Ok, so maybe I don't have a dozen or so children to peek over my shoulder as I'm making pie, but I do have 2 eager little girls and one bigger eager husband.  Pie is one of those things that almost requires a family to enjoy it.  For me, the word pie conjures up images of family and memories of my childhood and family get togethers.  When I think of pie, I think of my mom's amazing flaky pie crusts.  I think of the blueberry and lemon pie recipe she brought back with her after a trip to Mammy's Cupboard in Natchez, Mississippi.  I think of pumpkin pies at Thanksgiving and of canning apple pie filling during the summer.  All of these memories have a common theme: love.
As I mentioned in my last post, I have had sweetened condensed milk on my mind.  I have also been craving banana cream pie, a personal favorite of mine when it is done well.  I decided to combine the two thoughts and made a banana cream pie with a twist.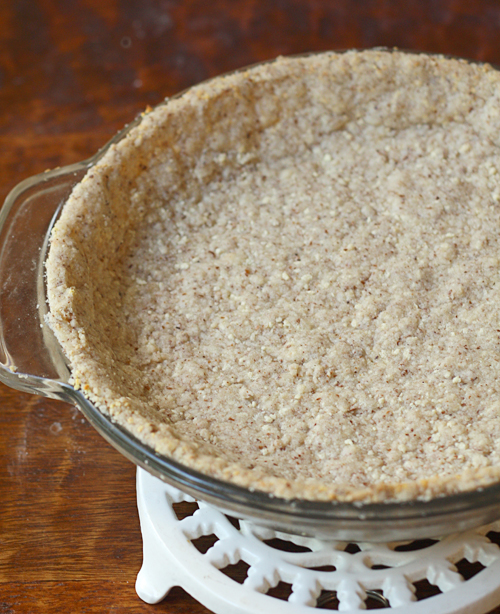 I made an almond crust, then added a thin layer of dark chocolate (if that doesn't scream love, I don't know what does!), a single layer of fresh sliced bananas, and then a sweetened condensed milk custard.  I decorated the pie with simple whipped cream rosettes and dark chocolate shavings.  This is a nearly no-bake pie.  The only time you have to turn on the oven is to bake the crust for 12 to 14 minutes.  The almond, chocolate, banana, and custard flavors were fabulous together.  The banana wasn't overwhelming, allowing the flavors from the almond crust, chocolate layer, and custard to come through.  I also thought that the bit of crunch that the almond crust added was a nice addition to the pie—better than the traditional banana cream pie which tends not to have as much variation in texture.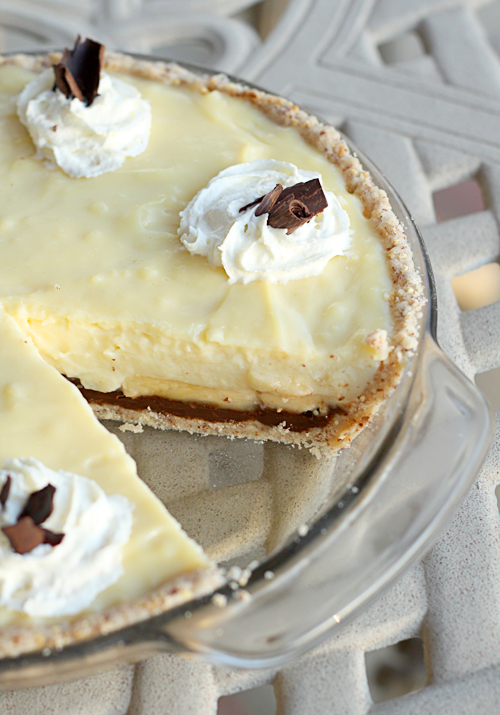 The pie is super easy to make.  You start out by making the almond crust.  The dough is a soft crumbly mess which you then press into a 9-inch pie plate and bake until it puffs up slightly.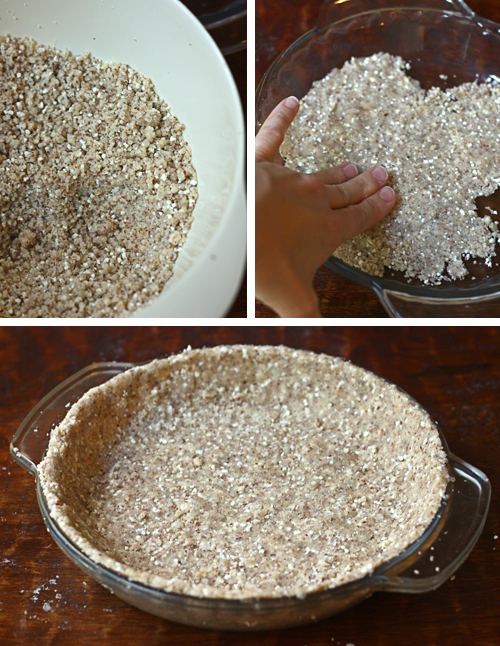 When the crust has cooled, you make the custard.  The hardest part to this step is the waiting.  You have to sit and stir for a few minutes, and it will seem like nothing is happening.  Then almost instantly the mixture will thicken and start to bubble and it's ready!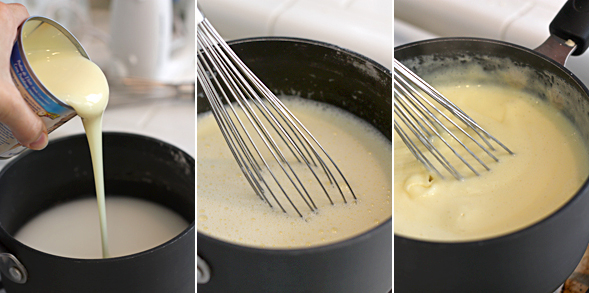 Then you spread a chocolate layer on the bottom, add a layer of sliced bananas, pour the custard over the bananas, and stick the pie in the refrigerator to chill for a few hours until it has set up.

When you are ready to serve it, you can decorate it or just leave it plain!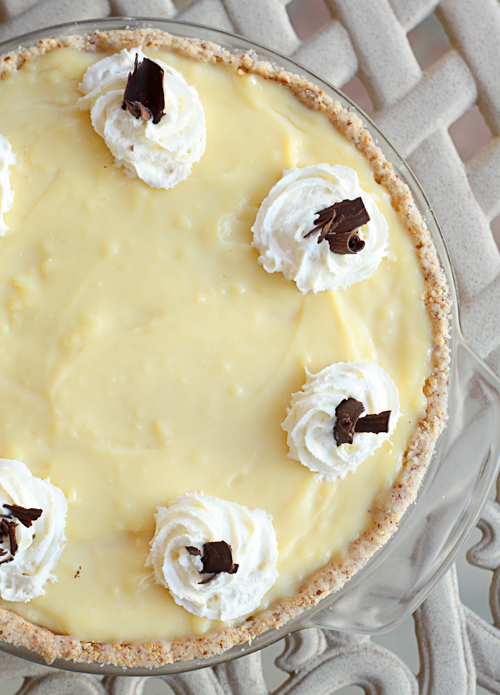 To share the love (and make sure that my dear mother, Fuji Nana, shared some of the calories), I took the pie to my parents' house when we went for dinner this past Sunday evening.  I'm really glad that I decided to share this pie, because I'm afraid I may have ended up hiding in a dark corner with a fork while I ate the entire thing myself.  My dad declared this to be my best dessert ever.  Although I think I have several other desserts that I prefer (chocolate of course), this is definitely now one of my favorite pies.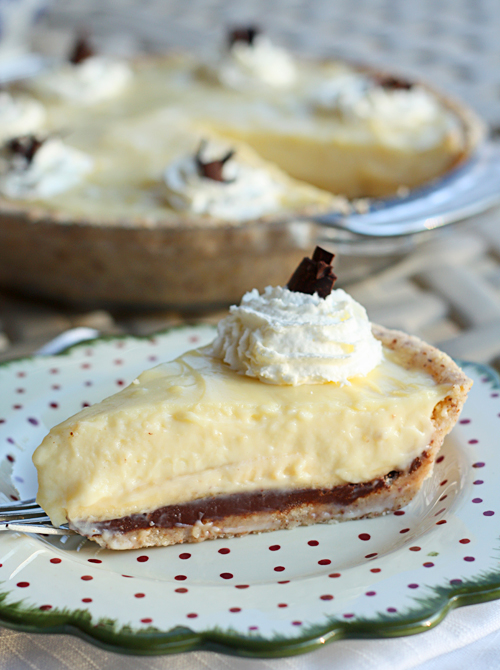 Print This Recipe
Fudge & Banana Custard Pie
Custard recipe adapted from Cooks.com
Makes one 9-inch pie, about 8 — 10 servings
For the almond crust:
2/3 cup all-purpose flour
½ cup granulated sugar
½ cup ground almonds
6 tablespoons butter, softened
1/3 cup powdered milk
For the sweetened condensed milk custard:
1 2/3 cups water
3 tablespoons cornstarch
1 can (14-ounces) sweetened condensed milk
3 large egg yolks, beaten
2 tablespoons butter
1 teaspoon vanilla extract
For the chocolate layer:
2/3 (4.5 ounces) cup semi-sweet chocolate chips
2 tablespoons butter
1 1/2 medium bananas, sliced (you can use more bananas if you like a stronger banana flavor)
Whipped cream and dark chocolate shavings, to garnish
1. Make the almond crust: Preheat oven to 350 degrees Fahrenheit. In a small mixer bowl, beat flour, sugar, almonds, butter and powdered milk until a soft crumbly dough forms. Press the dough into 9" pie pan.  Bake 12-14 minutes until puffed. Cool completely.
2. Make the sweetened condensed milk custard: Put the water into a heavy saucepan.  Add the cornstarch and stir until it has completely dissolved.  Whisk in the sweetened condensed milk and egg yolks.  Cook over medium heat until the mixture thickens and is bubbly.  Remove from the heat and add the butter and vanilla extract.  Stir until everything is mixed together and set aside to cool slightly.
3. Make the chocolate layer: In a small saucepan, heat the chocolate chips and butter together over low heat until melted, stirring constantly until the chocolate is shiny and smooth (it will be thick.)
4. Assemble the pie: Spread the hot chocolate layer over the bottom of the cooled almond crust.  Arrange the banana slices on top of the chocolate.  Pour the custard over the bananas.  Cover the pie and chill in the refrigerator for 4 hours or until set.  Decorate the pie with whipped cream and dark chocolate shavings.  Refrigerate the leftovers.