My mom's side of the family is a lot of fun.  We have a family email system where we can send out one email and it goes out to the entire family.  Not only does this facilitate some hilarious family banter and the sharing of fun family stories and pictures, but it also leads to some fun projects.  For
National Pi Day
back in March my mom challenged everyone to make a pie to celebrate the day and then send her a picture and the recipe.  She compiled all of the recipes and pictures and featured them in a series of Pi/Pie Day posts on her blog.  She recently emailed everyone again proposing another food theme week using one of her favorite foods: sweetened condensed milk.  Needless to say I've had sweetened condensed milk on the brain every since!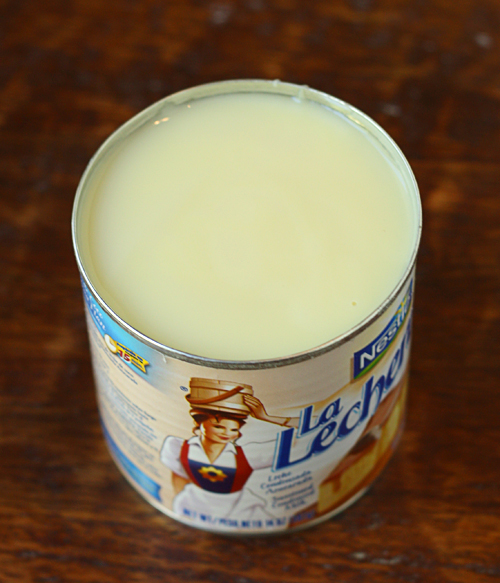 This past Saturday we met up with friends for a movie being shown at a local park.
When I was trying to decide what kind of treat to make, take, and share, I immediately thought of my MIL's recipe for caramel corn.  Why? Well, not only is it nice gooey delicious caramel popcorn, but it also contains . . . sweetened condensed milk!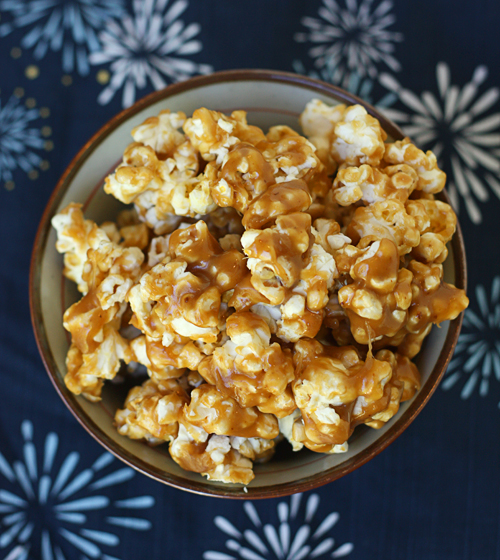 And not just a little bit of sweetened condensed milk—oh no.  This recipe goes all the way.  We're talking an entire 14-ounce can of sweetened condensed milk.  You mix the sweetened condensed milk with a few other ingredients like butter and brown sugar, and then cook it in a pot over medium heat until the caramel is at softball stage (at 235 degrees Fahrenheit the caramel will form a soft ball when dropped into cold water).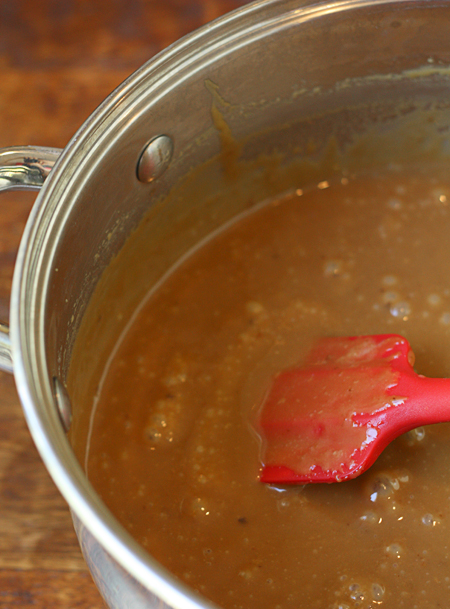 Then you pour the caramel over popped popcorn and quickly, but gently (you don't want to break up all those puffy kernels of popped corn!), mix the popcorn to coat it with the caramel.  The quicker you work, the more evenly distributed your caramel will be.  You can use air popped popcorn or microwave popped popcorn.  I like using light butter microwave popped popcorn to add a bit of a salty element to the finished caramel popcorn, and I figure at this point it's already not going to qualify for the healthy category, so why not go all the way?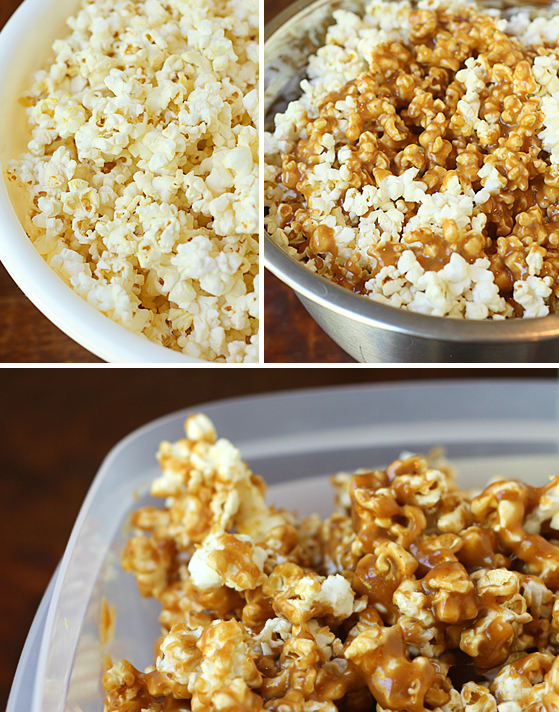 The recipe makes a large amount of popcorn (30 cups), which makes it perfect for sharing (my MIL makes this when we are all there to scarf it down)!   However, if you want to make a smaller amount, the recipe works just as well when cut in half.  If you like caramel popcorn that is popcorn with a thin glossy crunchy coating, this recipe isn't for you.  But if you like caramel popcorn that has a softer slightly gooey caramel on it, you will love this recipe!  Fuji Nana, I'm just putting you on notice now that if I gain 5 pounds from the insane amount of caramel popcorn I ate over the weekend, I am blaming it on you!  It's your fault that I have been thinking about sweetened condensed milk for the past week, and thus your fault that I made this caramel popcorn.  You have been warned.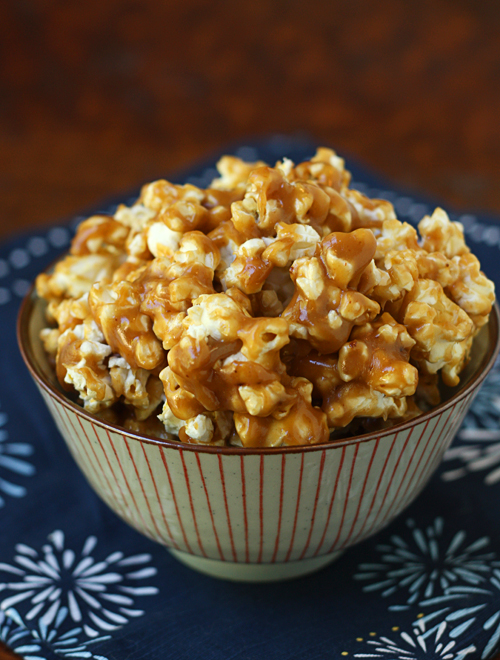 Print This Recipe
Caramel Corn
Makes 30 cups
30 cups of popped popcorn (about four 2.9-ounce bags of microwave popcorn)
1 pound light brown sugar
1 cup butter
1 cup light corn syrup
1 can (14-ounces) sweetened condensed milk
1 teaspoon vanilla extract
1. Put the popped popcorn in a large mixing bowl.
2. In a large pot, mix together the brown sugar, butter, and corn syrup.  Place it over medium-high heat and heat until it is boiling.  Then add the sweetened condensed milk and reduce the heat to medium heat (reduce the heat to medium-low if it is cooking too quickly/starting to burn).  Stirring constantly, continue cooking the caramel mixture until it reaches softball stage (235 degrees Fahrenheit/caramel forms a soft ball when dropped into cold water).
3. Remove the caramel from the heat and stir in the vanilla.  Pour the caramel over the popped popcorn and mix it quickly and gently to coat.  Let it cool and enjoy!  The caramel corn will keep for several days stored in an airtight container at room temperature.