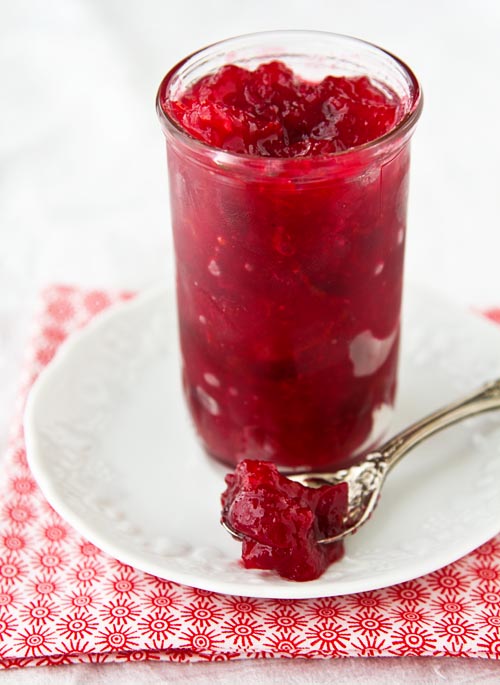 I love cranberry sauce.  In fact it may just be my favorite part of the Thanksgiving meal lineup.  But cranberry sauce shouldn't be reserved for the Thanksgiving table—I think it should be a part of the entire holiday season because of its versatility.  Not only can it be eaten with turkey, but I love eating it with turkey and boiled potatoes!  One of my guilty pleasures is eating lunch at an IKEA cafeteria, where I always order Swedish meatballs, which comes with little boiled potatoes, gravy, and a bit of lingonberry jam on the side.  Cranberry sauce has a similar effect, giving a wonderful tart brightness to the starchy richness of the potatoes.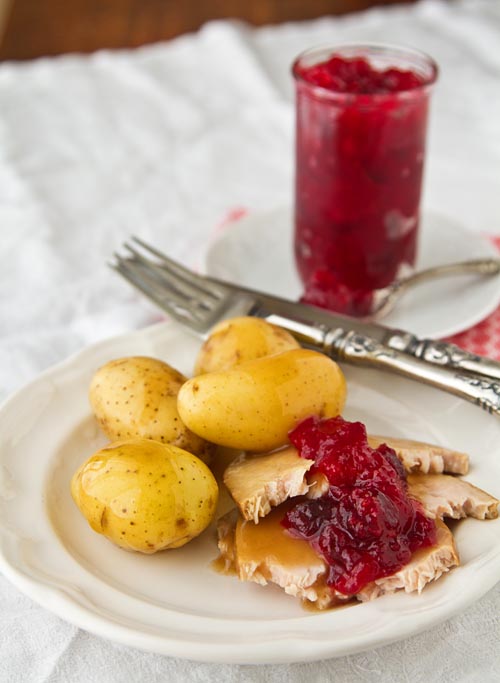 It's also fabulous for breakfast on a toasted bagel.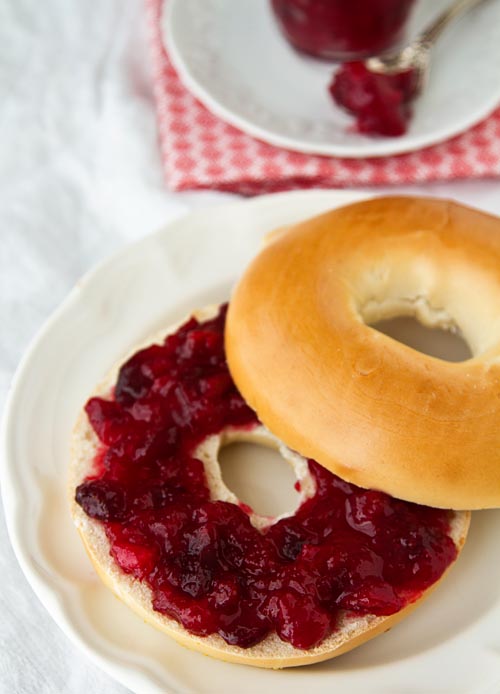 Or how about as a topping on cheesecake?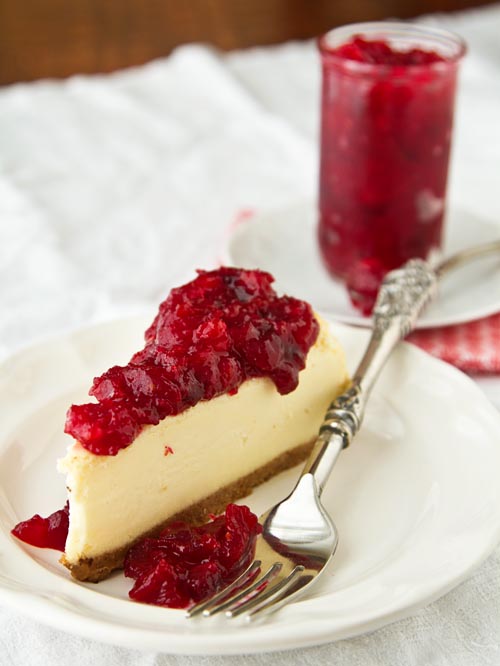 But I'm not talking about that stuff that comes in a can.  Nope, you can just keep that to yourself.  I'm talking about the stuff that's made from fresh, tart cranberries.  I don't know why anyone settles for the canned stuff, when making it from scratch is so easy and the results are so much better.
One change I made to my cranberry sauce recipe this year was to cut down on the sugar.  You need quite a bit of sugar to balance out the mind-blowing tartness that the cranberries lend, and I've found that this normally equates to about 2 cups of granulated sugar per pound of fresh cranberries that you use.  That's a lot of sugar.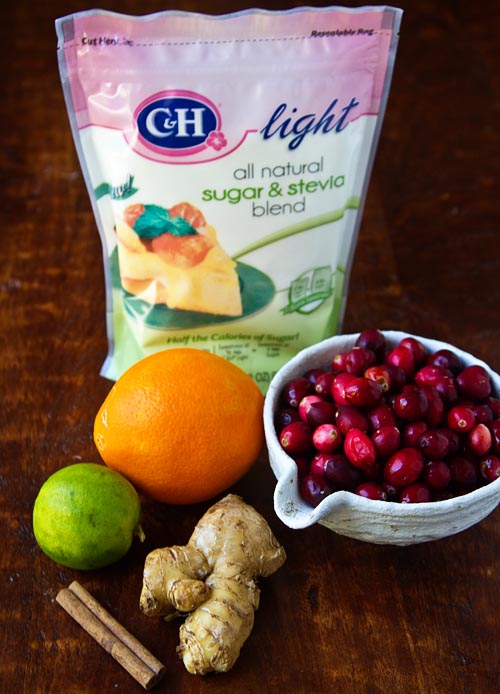 C&H® Sugar has a new product out called C&H® Light, which is a blend of all natural pure cane sugar and stevia, a naturally sweet extract from the stevia plant, which has half the calories of sugar and no artificial ingredients.  Not only is it lighter in calories, but it's also sweeter than regular granulated sugar, so you only have to use half the amount of sugar you would normally use in a recipe.  That meant that I was able to cut the sugar in my cranberry sauce from 2 cups down to 1 cup, and the calories added from the sugar from 1,548 calories down to 480 calories.  And the best part is that the flavor didn't suffer at all.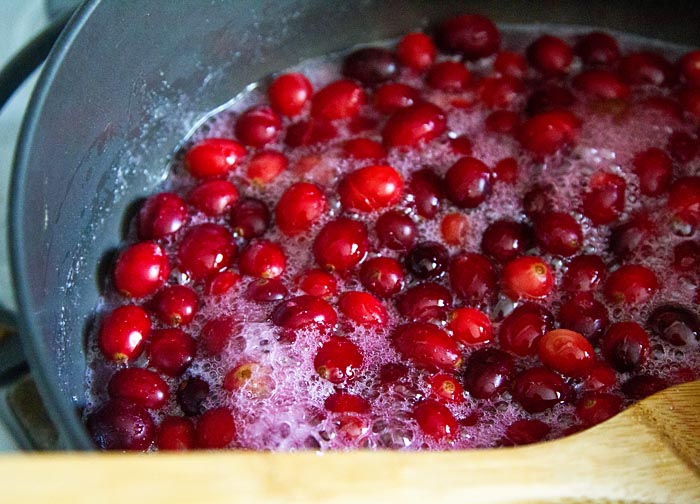 This sauce is a snap to make.  All you do is combine cranberries with some sugar and water in a saucepan and bring it to a simmer, then add a bunch of spices and fresh ginger and continue to simmer until the sauce has turned into a beautiful shiny, scarlet sauce.  Then you stir in some orange and lime juice and zest and let it cool.  The sauce is perfect for whipping up ahead of time and keeping in an airtight container in the refrigerator to use whenever you might need it!  To help you out with your holiday cooking, C&H Sugar is going to send one of you a $25 Visa Giftcard to help you out with your holiday cooking! (Details after the recipe below.)

Print This Recipe
Fuji Light Cranberry Sauce
Makes about 2 cups
12 ounces fresh cranberries, washed and drained
1 cup C&H Light Sugar & Stevia Blend (or 2 cups granulated sugar)
1/4 cup water
1 tablespoon grated fresh ginger
1 cinnamon stick (about 5-inches)
1/2 teaspoon ground cloves
1/4 teaspoon ground nutmeg
1/4 cup freshly squeezed orange juice
2 tablespoons freshly squeezed lime juice
2 tablespoons finely grated orange zest
2 teaspoons finely grated lime zest
1. Combine the cranberries and sugar in a large saucepan, then stir in the water. Bring to a boil over medium heat.
2. Add the cinnamon stick, nutmeg, cloves, and ginger, then reduce the heat to bring the mixture to a simmer. Simmer for 8 to 10 minutes, until the mixture has thickened and many of the cranberries have burst (some will remain whole).
3. Remove the saucepan from the heat, then stir in the orange and lime juice and zest. Allow to cool before serving.
===============================================
$25 Visa Giftcard Giveaway!
There will be one (1) lucky winner who will receive a $25 Visa Giftcard to help out with their holiday cooking, courtesy of C&H Sugar!
Rules: The giveaway will close Thursday, December 13th, 2012 at 12:01 am EST. The giveaway is open to readers with a US mailing address. The winner will be chosen randomly and notified by email. The winner will have 48 hours to respond before another winner is chosen.  To enter, please follow the steps below.
* Legal Disclosure: C&H Sugar compensated me for my cooking supplies and is sponsoring this giveaway.  All opinions are my own!