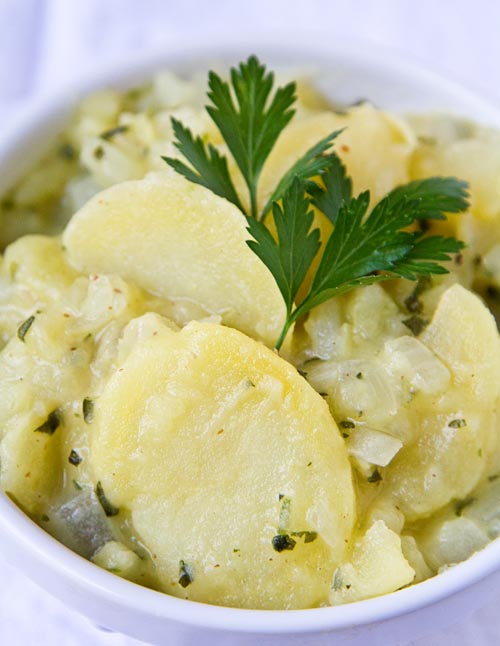 I love a good potato salad, but I'm also quite picky about how I like it prepared.  I have three favorites—my mother-in-law's potato salad, Japanese-style potato salad, and kartoffelsalat (German potato salad).  I love the sharp vinegary marinade of German potato salad, and the creamy tart flavor always reminds me of visits to Siegfried's deli in Salt Lake City, where my German grandmother worked for many years.  Memory is such a powerful force, especially when it comes to food.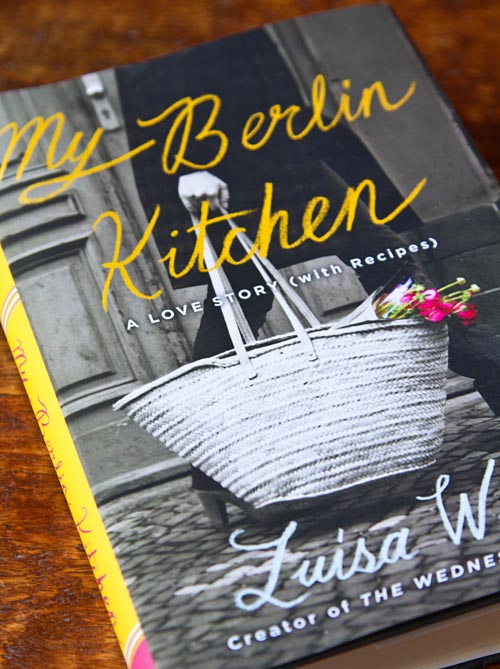 The tie between food and memory is beautifully captured in Luisa Weiss's (author of the popular blog, The Wednesday Chef) memoir, My Berlin Kitchen, detailing her childhood spent commuting between her American father's home in Boston and her Italian mother's home in Berlin, and how she eventually found her way "back home" as an adult, one meal at a time, to her beloved Berlin.  My Berlin Kitchen would be a wonderful gift for anyone in your life that loves food and loves to read!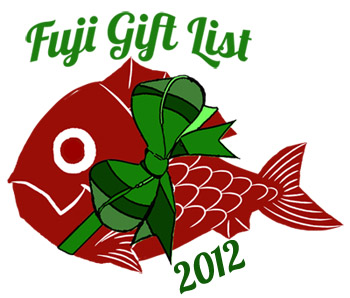 Luisa's prose will give you a window into her life and her soul.  As she explains at the beginning of My Berlin Kitchen, "Busying myself in the kitchen was how I conjured the people and places I loved the most in the steam rising off the pots on the stove.  And when I came down with a rare and chronic illness known as perpetual homesickness, I knew the kitchen would be my remedy."  She shares her recipe for Pizza Siciliana, reminiscing about her Sicilian uncle who not only taught Luisa how to cook, but as she writes, "he taught me how to feed people too."  She writes, "I am of the belief that everyone needs a Sicilian uncle . . . They have opinions about which pasta brands to buy; they put escarole on deep-dish pizza, and left alone with a pot of salted water and a pile of broccoli, they can make magic happen.  A Sicilian uncle might just be your gateway to a life at the stove."  After mouth-watering descriptions of "fat slices of Sicilian pizza" and big bowls of "penne slicked with a simple tomato sauce . . .. stewed with basil and garlic and mixed with a generous dollop of sheep's milk ricotta from the dairy down the road," I think Luisa's right, and now I'm wishing for my own Sicilian uncle.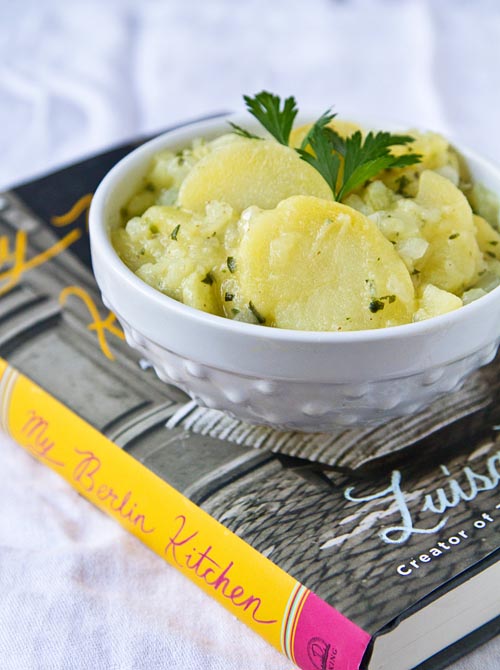 She writes about her homesickness for whichever home she was missing and how she would go to the kitchen to find comfort, making foods from the places she missed.  She writes, "Those little moments soothed me, made me feel as if the huge expanse of ocean separating my two lives wasn't all that big after all.  All I had to do, I decided was get in the kitchen and bring Berlin to New York via the stove a little more often."
But when she wrote about potato salad, she had me giggling.  "There were, as I saw it, two camps of potato salad eaters.  Either you were in the camp that bound their potato salad with mayonnaise to make it rich and creamy or you were from the faction that used a hot vinegar dressing for a light and sour salad."  She writes about her, then boyfriend (now husband), Max and the difficulties of figuring each other out, and learning to compromise, but how she knew they were on "the right path" when they managed to agree on potato salad.
Here's to being on "the right path" Luisa!  This potato salad is simple, but don't let its simplicity fool you.  The flavors are rich and complex and will have you returning for a second helping faster than you can say kartoffelsalat!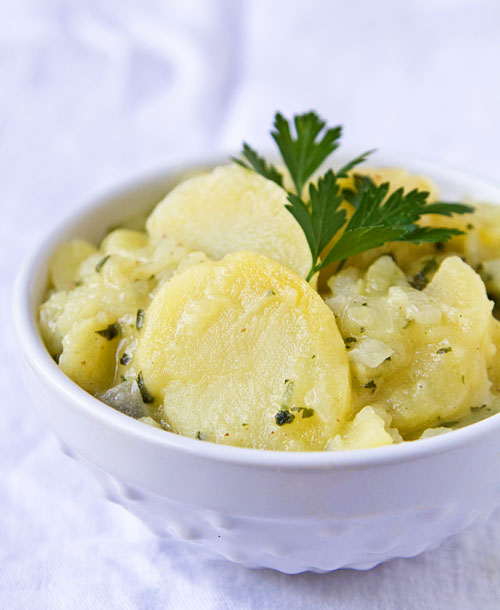 Print This Recipe
Luisa's German Potato Salad (Kartoffelsalat)
Reprinted by arrangement with Viking, a member of Penguin Group (USA) Inc., from My Berlin Kitchen by Luisa Weiss. Copyright © 2012 by Luisa Weiss.
Makes 4 servings
2 pounds Yukon Gold or other waxy potatoes
3 1/2 tablespoons unsalted butter
2 yellow onions, finely chopped
1/3 cup white wine vinegar
2/3 cup beef or chicken broth
1 tablespoon Dijon mustard
3 tablespoons olive or sunflower oil
1 teaspoon salt
Freshly ground black pepper
2/3 cup loosely packed flat-leaf parsley, minced
1. Wash the potatoes and put them in a pot with cold salted water just to cover. Bring to a boil with the lid on; then reduce the heat to medium and cook the potatoes until they are just tender. Depending on their size, this should take between 20 and 30 minutes. Drain the potatoes and let them cool for at least an hour or two and up to overnight.
2. Peel the potatoes and cut them into very thin slices, about 1/8-inch thick. Put the potato slices into a serving bowl.
3. Melt the butter in a 10-inch saute pan and add the onions. Mix well and cook for 3 minutes over medium heat. Pour in the vinegar and the broth. Add the mustard and stir well. Let the mixture simmer over low heat for an additional 3 minutes.
4. Carefully whisk in the oil, and then pour the hot marinade over the sliced potatoes and mix well. The potatoes will take a few minutes to absorb all the dressing. Add the salt and as much freshly ground pepper as you'd like.
5. Just before serving, add the minced parsley to the bowl and mix well. Taste for seasoning and serve.