I was thinking recently about the "right and wrong" aspect of the human experience.  Not in the moral sense of things (like whether it's right or wrong to lie to your mom about whether or not you may or may not have eaten the last chocolate chip cookie), but in how we do the little things.  For instance, I was thinking about
what Chef Duffy said when I interviewed him last week
, about how we need to get back to our roots and to having dinner as a family.  I loved what he said about how it may not be realistic for us to have dinner as a family 6 nights a week, but that even 2 nights a week is something good.  Life isn't so black and white.  Just because "so-and-so's" family is able to sit down together as a family for dinner 6 nights a week, doesn't make it wrong that your family may only be able to have family dinner 3 nights a week.  We need to take into account how individual the human experience is in so many ways, otherwise we will end up just alienating each other.
The same is true with cooking and flavors.  Sometimes I smile at the conversations that develop in the comments to my posts, the posts of others, on twitter, or even among friends chatting over lunch.  I love seeing someone comment about their experience with a dish and another reader excitedly responding, "Me too!" or "Oooh, I hadn't thought of that!"  But just as often, there is someone who criticizes the experience or tastes of another, passing out labels of "wrong" or "mistaken" as if they were deemed the magistrate over all food experiences for mankind.  While I appreciate that there are "authentic" ways of creating certain dishes, I also believe that there is an equal amount of room for invention, tweaking, and fusion.  Without such deviations from what someone has labeled as "correct" or "right," we would never have the great innovations in the culinary world of people like Chef Duffy.  We also wouldn't have our own personal food experiences that bring us joy, comfort, and fond memories.  If we all had to be "correct," many of us wouldn't have such fond memories of childhood dishes that our mothers lovingly prepared for us, because those dishes would never have been allowed to see the light of day, due to some grave misstep in culinary laws.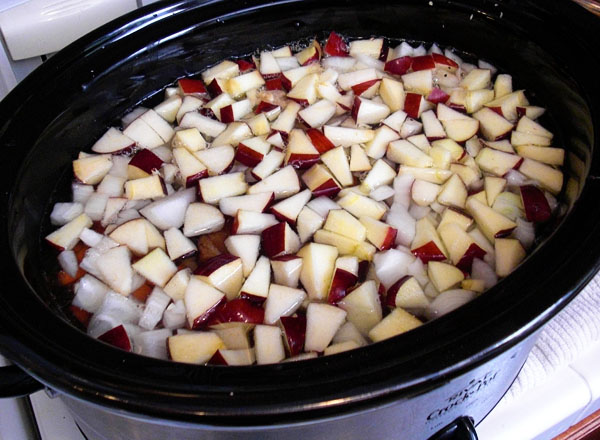 As I was throwing ingredients into my slow cooker yesterday (and I don't say throw lightly—I had about 3 minutes to get the slow cooker going before we had to leave, otherwise we were going to be late for church), I giggled as I thought of all the possible unwritten laws I was most likely pulverizing as I built the base of my soup.  An apple, why not? *giggle giggle giggle*  Split pea soup.  A simple dish that has graced many an American dinner table.  Yet there are so many ways to make it, and although I may not be particularly fond of one variation or another, none of them are wrong.  And that, my friends, is what I love about food.  When it comes to food, I am free to be who I am and whoever I want to be.  So what that I'm a short white girl with blond hair who spent her childhood in Southern California?  That doesn't mean that I can't prepare my favorite Japanese dishes, tweaking them (sometimes beyond recognition) to suit the ingredients that I have on hand and to the changing tastes of my family.  If you don't like it, you don't have to eat it! HA! I don't say this to sound rude, flippant, or even snobby.  I say this because it's liberating!  Too often we get caught up in the "rules."  We think we have to do something a certain way because it's the "authentic" way, or because a recipe "says so."  When it comes right down to it, what's most important to me, isn't that I correctly execute a certain cut or technique, or produce an authentic version of a dish.  What's most important to me is that it tastes good and that I can feed and nourish my little family and show them that I love them.  Don't get me wrong, I am grateful for rules, and they definitely have their place.  Very often a newly learned rule transforms a home cooked meal from edible to downright fantastic.  But sometimes we miss the forest for the trees when we allow "rules" to dictate our relationship with food.
So with that thought, I'm sharing the "how" of how I made split pea soup for dinner to feed my family yesterday.  We loved it.  Is it "correct"?  Probably not.  Is it the best?  For us yesterday, it was!  Tomorrow, maybe not, because I'll probably be craving different ingredients!  For you?  Who knows!  But that's the beauty, right?  So take my recipe for what it's worth.  Follow it religiously, or not at all.  Love it or hate it.  Use celery instead of apples.  Hate ginger? Skip it!  But here's to sharing this great big food portion of our human experience, with all its differences and the changes yet to come.  It is my hope that we are all a little less critical of each others' preferences and experiences so that food can become, for each of us, what's most important in our own lives, and so that we can get past the "rules" and just get back into the kitchen.  Let's rejoice in each others discoveries, creativity, and progress.  Bring it on, disasters and all!

Print This Recipe
Fuji Mama's Horribly Wrong, Yet Strangely Delicious, Slow Cooker Split Pea Soup
Makes about 8 servings
Recipe Notes: The cooking times indicated are normally more than adequate to soften split peas. They do not need to be pre-soaked. If you find that your peas are not softening, then you have one of two problems. Either your peas are old enough that they are so dried out that they won't soften, or the water you are using to make your soup is hard, containing lots of dissolved minerals that prevent the peas from softening. If this happens to you, you may end up having a pot of crunchy soup. My advice? Laugh about it and next time ditch the old peas or use bottled water.
1 (16-ounce) package dried green split peas, rinsed
2 ham hocks
2 medium carrots, peeled and chopped
1 medium yellow onion, chopped
3 cloves garlic, finely chopped
1 tablespoon freshly grated ginger
1 medium apple (I used Red Delicious), cored and chopped
2 teaspoons coarse sea salt
1 teaspoon freshly ground black pepper, plus more as needed
5 cups vegetable stock
1. Layer the ingredients in the slow cooker in the order given, adding the water last (do not stir the ingredients). Cover and cook on high for 4 to 6 hours, or on low for 8 to 10 hours, until the peas are very soft and the ham is falling off the bone.  Thin with water, if desired.
2. Remove the ham hocks from the pot.  Cut away the outer skin and fat and remove the meat from the bones.  Chop the meat into small pieces, then stir it into the finished soup.  Add additional salt and pepper, as needed and serve.